Who is Dennis Rodman?
Introducing the famous American Basketball player Dennis Rodman. Yes, Dennis Rodman is a defender of basketball teams from the NBA. He has a very shining career in basketball. Rodman achieved a number of awards and honors for his skill in basketball.
In his basketball career, he earned NBA All-Defensive First Team honors seven times. Besides this, he won the NBA Defensive Player of the Year Award two times. He has some more achievements. Besides his basketball career, Dennis Rodman is a deep thinker.
He observes life and basketball very closely and expresses his own thoughts. These thoughts of him are called Dennis Rodman quotes. Some of his quotes are here.
Top 50 Dennis Rodman Quotes :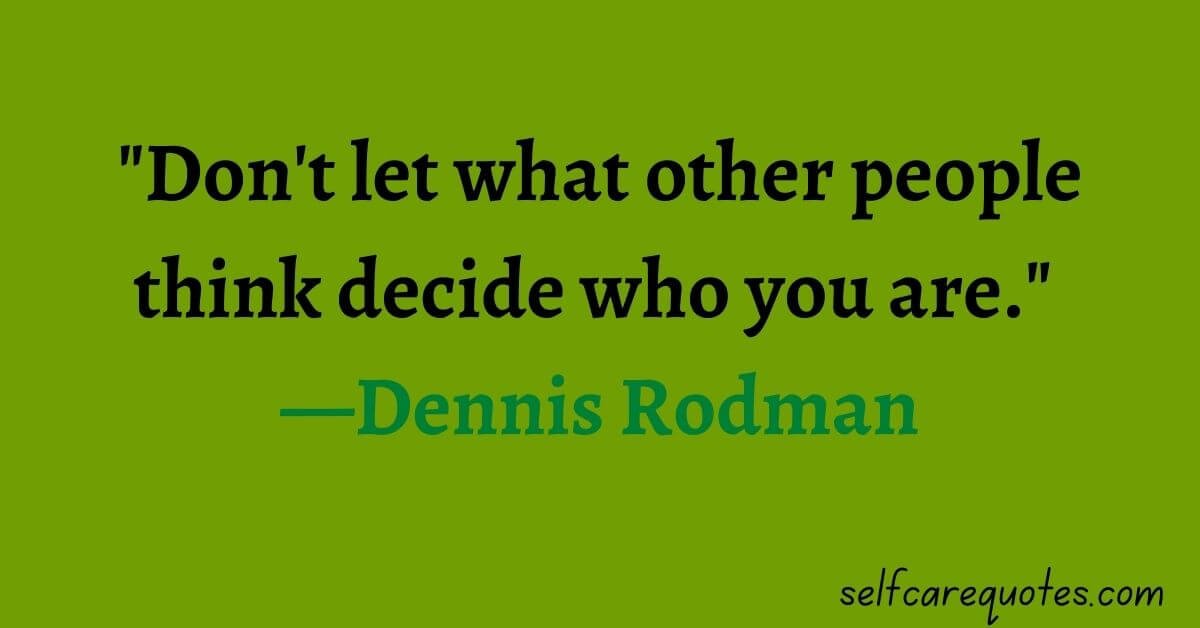 1. Don't let what other people think decide who you are. —Dennis Rodman
2. I'm hungrier than those other guys out there. Every rebound is a personal challenge.—Dennis Rodman
3. I go out there and get my eyes gouged, my nose busted, my body slammed. I love the pain of the game.—Dennis Rodman
4. I want to do for rebounds what Michael Jordan did for dunks.—Dennis Rodman
5. If I don't finish in the top three for the next Nobel Peace Prize, something's seriously wrong.—Dennis Rodman
6. This life is like a swimming pool. You dive into the water, but you can't see how deep it is.—Dennis Rodman
7. Everybody's talking trash these days, so why not keep quiet?—Dennis Rodman
8. When a high-profile personality lives like I do, everybody thinks that person is fated to die young.—Dennis Rodman
9. If I die young, everybody's going to say they saw it coming.—Dennis Rodman
10. My feet are like gnarled old tree branches.—Dennis Rodman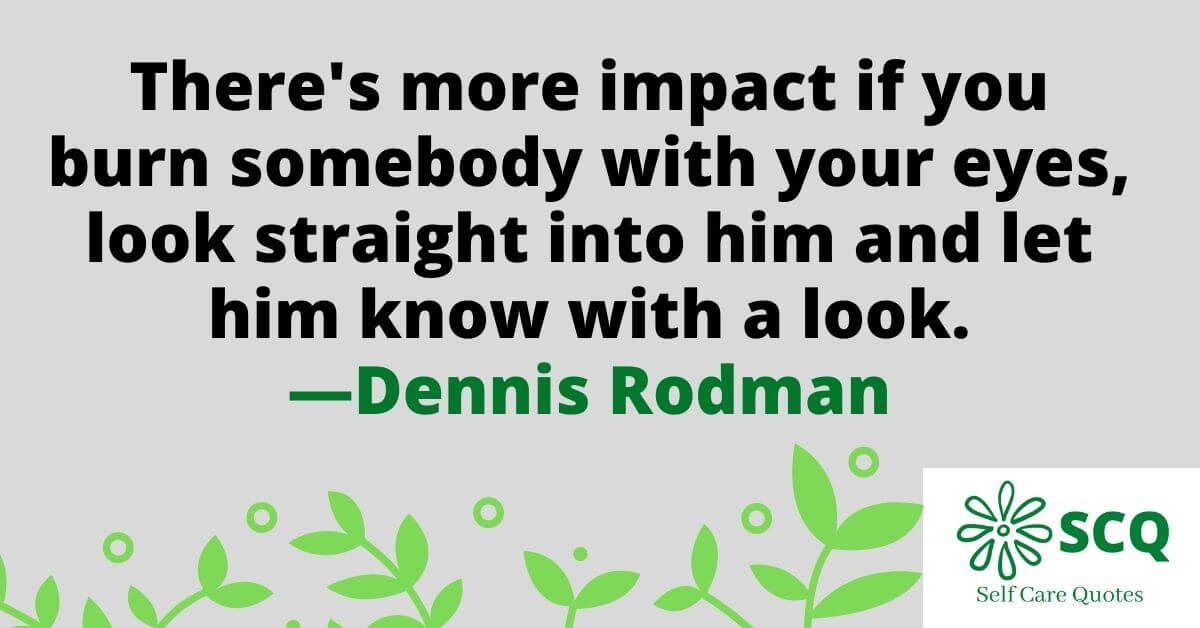 11. There's more impact if you burn somebody with your eyes, look straight into him and let him know with a look.—Dennis Rodman
12. It's all about what they can get out of me.—Dennis Rodman
13. I spent my whole childhood looking for an escape.—Dennis Rodman
14. Chemistry is a class you take in high school or college, where you figure out two plus two is 10, or something.—Dennis Rodman
15. They say Elvis is dead. I say, no, you're looking at him. Elvis isn't dead; he just changed color.—Dennis Rodman
16. There's no image we can't improve.—Dennis Rodman
17. The one thing I do that nobody else does is jump three and four times for one rebound.—Dennis Rodman
18. I'll be the judge of my own manliness.—Dennis Rodman
19. You can love me or you can hate me.—Dennis Rodman
20. There's one thing everyone should understand: I like my character.—Dennis Rodman
21. If I want to wear a dress, I'll wear a dress.—Dennis Rodman Click To Tweet
22. I couldn't care less if the guy I'm guarding has HIV. I'm going to slam him anyway.—Dennis Rodman
23. They didn't have a problem with me being wild and crazy when it came time to fill the arenas.—Dennis Rodman
24. For five years I've felt like the best prostitute in a high-class whorehouse. But all the other girls get paid more than I do.—Dennis Rodman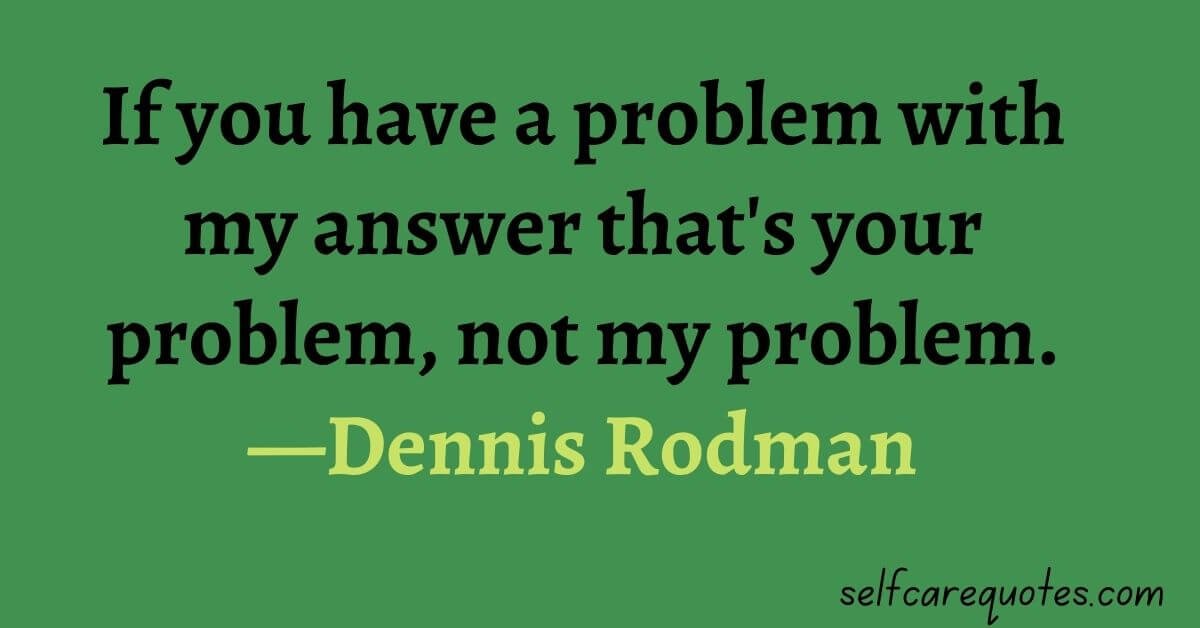 25. If you have a problem with my answer that's your problem, not my problem.—Dennis Rodman
26. I'm calling on the Supreme Leader of North Korea, or as I call him, 'Kim,' to do me a solid and cut Kenneth Bae loose.—Dennis Rodman
27. I can score 20 points if I want to, but that's not my desire.—Dennis Rodman
28. Why should I try to make you believe the things I believe in?—Dennis Rodman
29. I have one regret: I wish I was a better father.—Dennis Rodman
30. I like to describe my life as a black hole with a little light out there.—Dennis Rodman
31. I don't want to be bulky and stiff.—Dennis Rodman
32. I want to be anywhere in the world that I'm needed. I want to spread a message of peace and love throughout the world.—Dennis Rodman
33. Music soothes my savage beast. I got a beast in me running wild.—Dennis Rodman
34. I don't fit into the mold of the NBA man, and I think I've been punished financially for it.—Dennis Rodman
35. I'm the basketball version of a gravedigger.—Dennis Rodman
36. I say I'm Jimi Hendrix, Jim Morrison, Janis Joplin all wrapped up into one. If I die early … I'll be just like those guys.—Dennis Rodman
37. Why it's been left to me to smooth things over, I don't know. Dennis Rodman, of all people. Keeping us safe is really not my job; it's the black guy's [Obama's] job. But I'll tell you this: If I don't finish in the top three for the next Nobel Peace Prize, something's seriously wrong.—Dennis Rodman
38. I'm fighting against becoming soft. That's the worst thing you can say to a basketball player.—Dennis Rodman
39. Sometimes I'm not even satisfied when I got 6 points and 22 rebounds, because I'm always looking to do more.—Dennis Rodman
40. The people at the top of the league think they need to rein me in so I don't become another Michael Jordan, somebody they aren't able to mold and shape and make their puppet.—Dennis Rodman
41. Shaq is not the man. He's the man because the NBA wants him to be the man, but before you can be the man, you've got to be the man.—Dennis Rodman
42. I only weigh 220, so I have to do something to keep from being tossed around by all the guys who weigh 250 and more. I train hard, but I don't try to get too big.—Dennis Rodman
43. If Lebron was playing in the late 80's and early 90's, just an average player—Dennis Rodman
44. If the North wanted to hack anything in the world, anything in the world, really, they are going to go hack a movie? Really?!—Dennis Rodman
45. You watch some teams these days and you wonder if they just met on the playground and decided to choose up sides.—Dennis Rodman
46. I don't feel anything when I watch Shaquille O'Neal play. I don't feel anything coming off him.—Dennis Rodman
47. I don't trust what this life has given me.—Dennis Rodman
48. Some people want to have controversy between the races.—Dennis Rodman
49. I'm trying to find new ways to make this game more attractive.—Dennis Rodman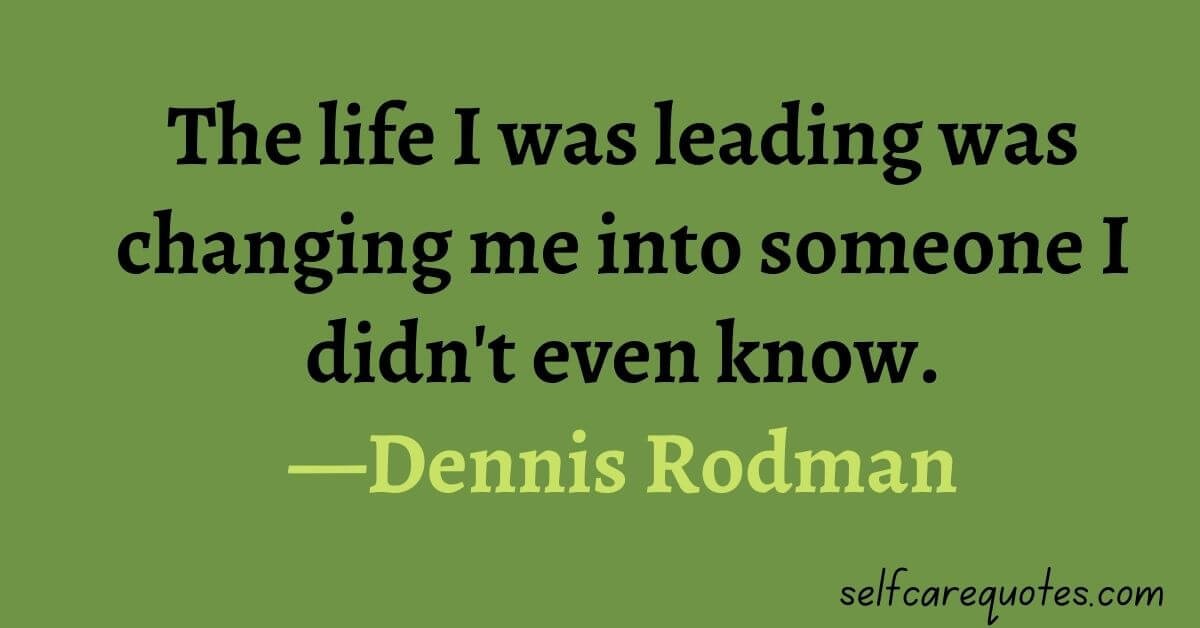 50. The life I was leading was changing me into someone I didn't even know.—Dennis Rodman
The biography presents a man in whole in the form of words. As we are reading Dennis Rodman quotes, we should know about him well. Here is a short biography of Dennis Rodman.
Dennis Rodman Early Life
The early life of Dennis Rodman is totally different from the other American boys. He was born on May 13 in 1961. His birthplace is Trenton, New Jersey. His parents are Shirley and Philander Rodman, Jr. Rodman's early life is different because of his father. He left them and did not return.
In his biography, Rodman said that he has no father, someone only brings him into this world. In his childhood, Rodman's mother ran the family through her hard work. Rodman had almost 47 siblings from his father's side. In his early life, Rodman loved his mother a lot. He did not want to leave her.
Dennis Rodman Education
Though Shirley was struggling to maintain the family for the want of money, she tried her best to educate her children. She did not let them work except study. Dennis Rodman's elementary education is not known but he completed his high schooling at South Oak Cliff High School.
The later part of his education was based on Basketball. He started his college education at Cooke County College. Besides his study, Dennis Rodman practiced basketball with this college basketball coach. After completing college education Rodman was transferred to  Southeastern Oklahoma State University for better training and education.
Dennis Rodman Career
His basketball career is world famous now. But the start was very plain. Dennis Rodman was removed from the high school basketball team for his height. But after completing his schooling, his height increased a lot. And he started playing basketball again. This time he got better support from his family friends. His college and university coaches helped him a lot. When he retired from basketball, he was one of the great basketball players of America.
Why Should We Follow Dennis Rodman?
We follow the person who has some special qualities. Dennis Rodman is a special person. He struggled in his life to make his dream real. He is also a mother-lover boy. These are two special qualities of him. Anyone can follow him for these two qualities. Besides these, Dennis Rodman is a talented basketball player and a deep thinker. We can also follow him for these reasons.
Dennis Rodman quotes are all about life and basketball. Every time he tried to express his experience and also emotion by his quotes. If we read his above quotes, then we will find a new way to think and approach the world.