We all have a plan and purpose for doing all our work. The purpose and plan of all our work are called motives. We all should have some motives in our life and even in our every work. Motive helps us to work properly and neatly.
It also helps us to reach our goal very fast. But the motive should be good for all things. A bad motive is enough to destroy us and also our surroundings. Famous people's quotes about motive are called motive quotes. These quotes play a guiding role in our life. Let's find some motive quotes here in this article.
Top 50 Motives Quotes :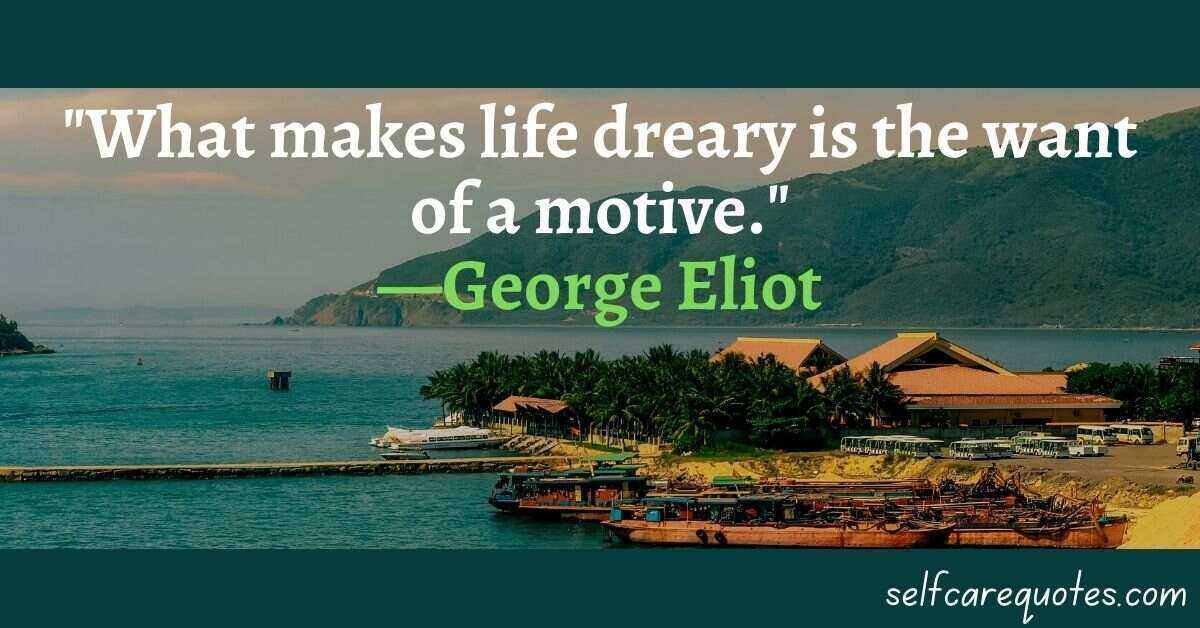 1. What makes life dreary is the want of a motive. —George Eliot
2. Never judge a man's actions until you know his motives—Vikas Swarup Click To Tweet
3. It is futile to judge a kind deed by its motives. Kindness can become its own motive. We are made kind by being kind. —Eric Hoffer
4. The most heinous and the most cruel crimes of which history has record have been committed under the cover of religion or equally noble motives.—Mahatma Gandhi
5. We are all selfish and I no more trust myself than others with a good motive.—Lord Byron
6. Never complain and never explain.—Benjamin Disraeli
7. Faith is the great motive power, and no man realizes his full possibilities unless he has the deep conviction that life is eternally important and that his work well done is a part of an unending plan.—Calvin Coolidge
8. Patriotism is an ephemeral motive that scarcely ever outlasts the particular threat to society that aroused it.—Denis Diderot
9. The difference there is betwixt honor and honesty seems to be chiefly the motive; the mere honest man does that from duty which the man of honor does for the sake of character.—William Shenstone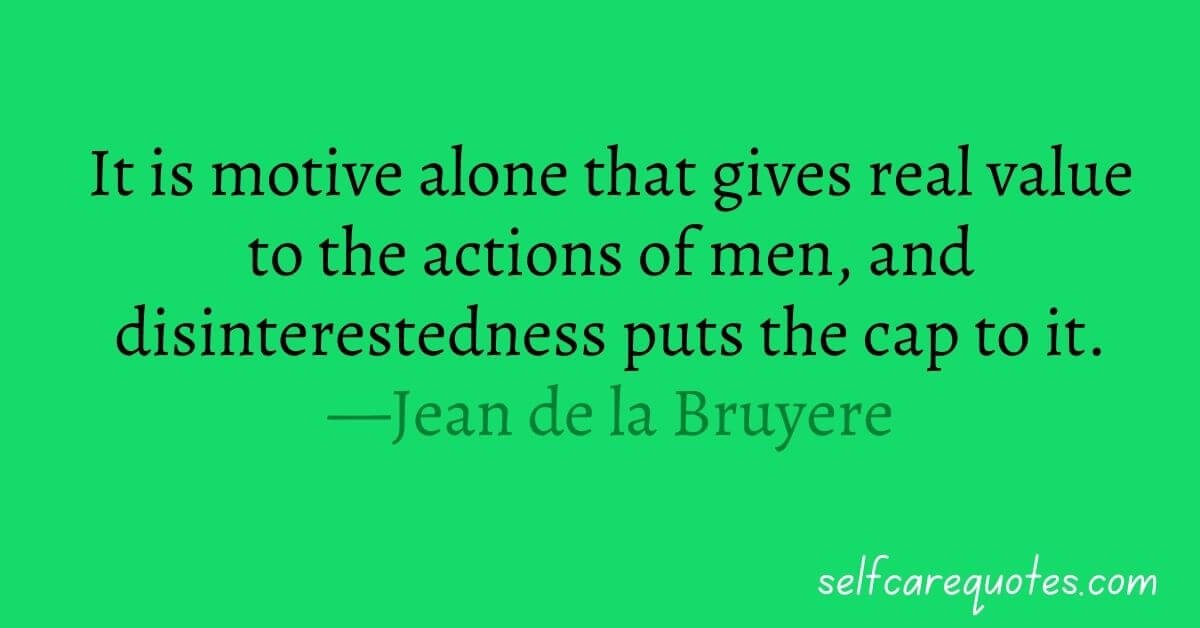 10. It is motive alone that gives real value to the actions of men, and disinterestedness puts the cap to it.—Jean de la Bruyere
11. Who sweeps a room, as for Thy laws, makes that and the action fine.—George Herbert
12. No labor is hard, no time is long, wherein the glory of eternity is the mark we level at.—Francis Quarles
13. The impulse to perform a worthy action often springs from our best nature, but is afterwards tainted by the spur of selfishness or sinister interest.—Emile Souvestre
14. No man does anything from a single motive.—Samuel Taylor Coleridge
15. Whenever a man does a thoroughly stupid thing, it is always from the noblest motives.—Oscar Wilde
16. Motives are better than actions. Men drift into crime. Of evil they do more than they contemplate, and of good they contemplate more than they do.—Christian Nestell Bovee
17. If your motives are high and noble and your work is hard and you do a good job, then whatever the task is in your life, it will benefit you.—Frederick Lenz
Personal Motives Quotes
Our personal plan of doing something is called personal motive. The thought we keep in our mind before completing a task is a kind of our personal motive. There are a lot of quotes on this. These quotes help us to make our personal motive sharper and successful. We should follow these quotes for our personal betterment.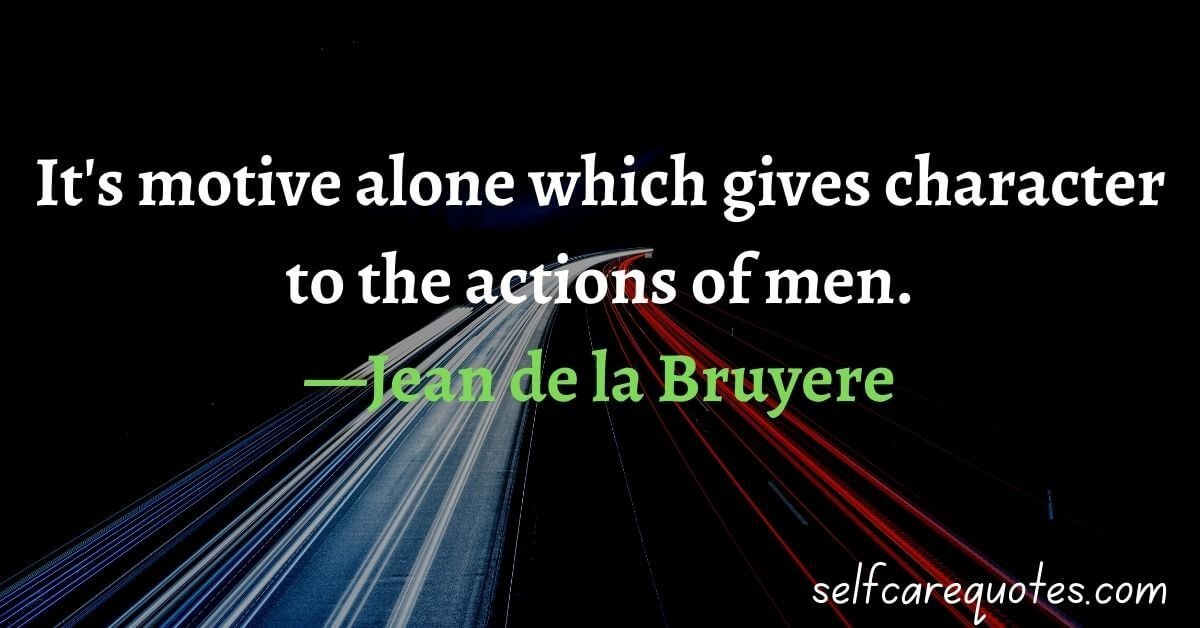 18. It's motive alone which gives character to the actions of men.—Jean de la Bruyere
19. How to gain, how to keep, how to recover happiness is in fact for most men at all times the secret motive of all they do, and of all they are willing to endure.—William James
20. Everything pertaining to what's happening has never come to the surface. The world will never know the true facts of what occurred, my motives. The people who had so much to gain, and had such an ulterior motive for putting me in the position I'm in, will never let the true facts come above board to the world.—Jack Ruby
21. The main question … is not what motive inspired the law, but what it will be possible for men of bad motive to do with the law.—Benjamin Tucker
22. In a promise, what you thought, and not what you said, is always to be considered.—Marcus Tullius Cicero
23. Never ascribe to an opponent motives meaner than your own.—James M. Barrie
24. Motives are symptoms of weakness, and supplements for the deficient energy of the living principle, the law within us. Let them then be reserved for those momentous acts and duties in which the strongest and best-balanced natures must feel themselves deficient, and where humility no less than prudence prescribes deliberation.—Samuel Taylor Coleridge
25. Persons attempting to find a motive in this narrative will be prosecuted; persons attempting to find a moral in it will be banished; persons attempting to find a plot in it will be shot. BY ORDER OF THE AUTHOR per G.G., CHIEF OF ORDNANCE—Mark Twain
26. The people, and the people alone, are the motive force in the making of world history.—Mao Zedong
27. The mingled incentives which lead to action are often too subtle and lie too deep for us to analyze.—Johann Kaspar Lavater
28. Man, it is not thy works, which are mortal, infinitely little, and the greatest no greater than the least, but only the spirit thou workest in, that can have worth or continuance.—Thomas Carlyle
29. As the grand discordant harmony of the celestial bodies may be explained by the simple principles of gravity and impulse, so also in that more wonderful and complicated microcosm, the heart of man, all the phenomena of morals are perhaps resolvable into one single principle, the pursuit of apparent good; for although customs universally vary, yet man in all climates and countries is essentially the same.—Charles Caleb Colton
Bad Motives Quotes
There are different kinds of motives based on its result. Among them, one is a bad motive. If you plan to do something and you expect a bad result from it then it will be a bad motive. The bad motives are not expected. We should avoid this thing from our minds.
We should plan to do something good for society and also for our family. The bad mind leads us to a bad motive and a bad motive leads us to a bad end. For this reason, we should avoid bad motives from our minds. We always should think better for all.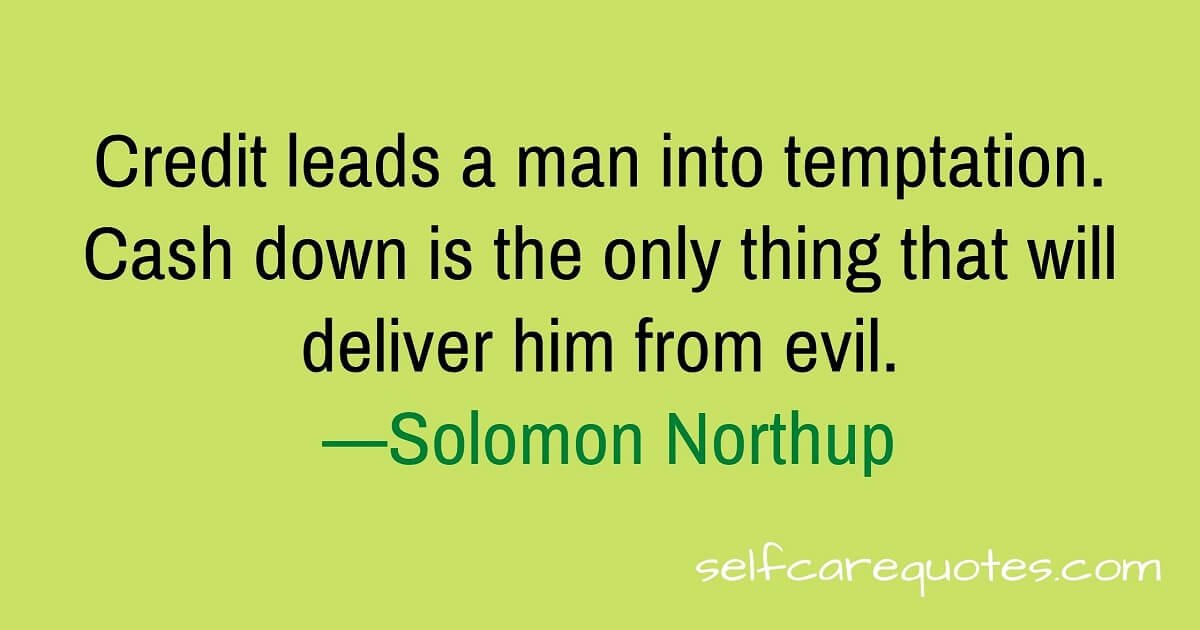 Credit leads a man into temptation. Cash down is the only thing that will deliver him from evil. —Solomon Northup
30. Cruel and cold is the judgment of man, Cruel as winter, and cold as the snow; But by-and-by will the deed and the plan Be judged by the motive that lieth below.—John L. Bates
31. Prudent men lock up their motives, letting familiars have a key to their hearts, as to their garden.—William Shenstone
32. For there's nothing we read of in torture's inventions, Like a well-meaning dunce, with the best of intentions.—James Russell Lowell
33. Men's minds are as variant as their faces. Where the motives of their actions are pure, the operation of the former is no more to be imputed to them as a crime, than the appearance of the latter; for both, being the work of nature, are alike unavoidable.—George Washington
34. Iago's soliloquy – the motive-hunting of a motiveless malignity – how awful it is!—Samuel Taylor Coleridge
35. God made man to go by motives, and he will not go without them, any more than a boat without steam or a balloon without gas.—Henry Ward Beecher
36. Pure motives do not insure perfect results.—Christian Nestell Bovee
37. The motives of the best actions will not bear too strict an inquiry. It is allowed that the cause of most actions, good or bad, may be resolved into the love of ourselves; but the self-love of some men inclines them to please others, and the self-love of others is wholly employed in pleasing themselves. This makes the great distinction between virtue and vice.—Jonathan Swift
38. One should guard against preaching to young people success in the customary form as the main aim in life. The most important motive for work in school and in life is pleasure in work, pleasure in its result, and the knowledge of the value of the result to the community.—Albert Einstein
39. However much I may sympathise with and admire worthy motives, I am an uncompromising opponent of violent methods even to serve the noblest of causes.—Mahatma Gandhi
40. To withdraw myself from myself has ever been my sole, my entire, my sincere motive in scribbling at all.—Lord Byron
41. Marcel Proust shut out visitors from his cork-lined room, where he wrote, but he probably expected to be immortalized in the literary canon. Even the most introverted drives and motives are set in a social context and amplified by the potential for achieving fame.—Tyler Cowen
42. One who faces and who fears the right things and from the right motive, in the right way and at the right time, posseses character worthy of our trust and admiration.—Aristotle
43. You will find in politics that you are much exposed to the attribution of false motive. Never complain and never explain.—Stanley Baldwin
44. My sole motive is to inform the public as to that which is done in their name and that which is done against them.—Edward Snowden
Selfish Motives Quotes
Like a bad motive. Selfishness is another side of our motives. There are so many people who are self-centered. These people are good for themselves but not for society. This type of motive is not bad but not good also. They just think to make them satisfied. By doing so, they sometimes harm others. This type of motive should be avoided. The selfish motives quotes are also very powerful to change our motives. Sometimes they motivate us to be more selfish and some to be open to others.
Selfishness is the grand moving principle of nine-tenths of our actions.—Francois de La Rochefoucauld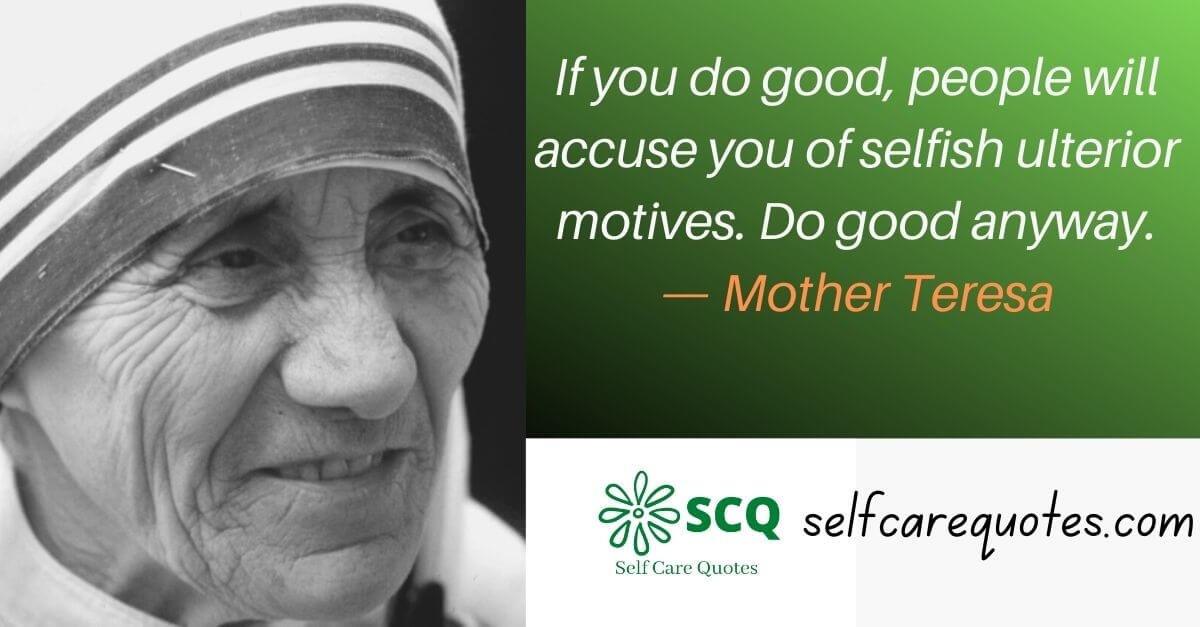 45. If you do good, people will accuse you of selfish ulterior motives. Do good anyway. — Mother Teresa
46. If you are kind, people may accuse you of ulterior motives. Be kind anyway.—Mother Teresa
47. The beginning of self-knowledge: recognizing that your motives are the same as other people's.—Mason Cooley
48. I don't necessarily find superheroes in general, for me, that appealing. I'd much prefer to play, if I was to be cast in a superhero film, I'd prefer to play the villain because there's a reason, there's a motive behind their madness.—Ryan Kwanten
49. But behavior in the human being is sometimes a defense, a way of concealing motives and thoughts, as language can be a way of hiding your thoughts and preventing communication.—Abraham Maslow
50. We must not inquire too curiously into motives. they are apt to become feeble in the utterance: the aroma is mixed with the grosser air. We must keep the germinating grain away from the light.—George Eliot Click To Tweet
Hidden Motives Quotes
Most motives are hidden in the mind of the person. They come out only after the complication of that. The internal plan in our mind about our deeds are called hidden motives. Some people love to hide their intention of work to make it surprising.
This is a psychological matter. But some other people love spreading their thoughts and ideas to others. Both the categories are good and huge in number in society. Hidden motives quotes are more famous among the motives quotes lovers.
"His appearance in reality a hidden masquerade"— Justin Bienvenue
"Insecure people often falsify the past, in order to make the future pure." ― Shannon L. Alder
Click To Tweet
Motives should be good for society and also for us. We should make our mind dedicated to doing better for this society and also for our family. If you fail to guide and control your mind to do good for all then you can take help from the motive quotes. Great man always thinks great. So, their thinking will help you a lot.