Being a first responder is an extremely rewarding job. They get to be the ones that people depend on in times of need. It can even be life-changing. It can be challenging to deal with the emotional fallout from all the tragedy and other events they encounter. The quotes below give a glimpse into what it's like to be a first responder.
Top 50 First Responder Quotes
1. "A hero is born among a hundred, a wise man is found among a thousand, but an accomplished one might not be found even among a hundred thousand men." – Plato
2. "I've always seen first responders as unsung heroes and very special people because, when everyone else is running away from danger, they run into it." – Dwayne Johnson
3. "As we express our gratitude, we must never forget that the highest appreciation is not to utter words, but to live by them." – John F. Kennedy
4. "My heroes are those who risk their lives every day to protect our world and make it a better place—police, firefighters, and members of our armed forces." – Sidney Sheldon
5. "Honor to the soldier and sailor everywhere, who bravely bears his country's cause. Honor, also, to the citizen who cares for his brother in the field and serves; as he best can, the same cause." – Abraham Lincoln
6. "A hero is one who knows how to hang on one minute longer." – Novalis
7. "A hero cannot be a hero unless in a heroic world." – Nathaniel Hawthorne
8. "On Sept. 11, 2001, thousands of first responders heroically rushed to the scene and saved tens of thousands of lives. More than 400 of those first responders did not make it out alive. In rushing into those burning buildings, not one of them asked, 'What God do you pray to?' What beliefs do you hold?" – Michael Bloomberg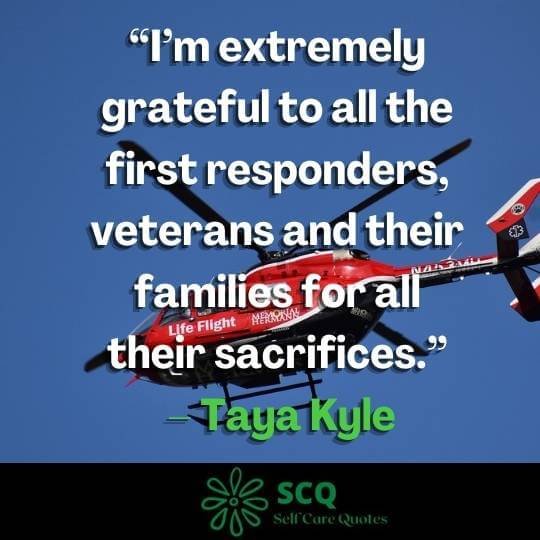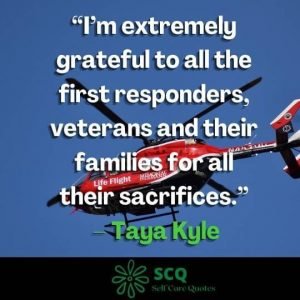 9. "I'm extremely grateful to all the first responders, veterans and their families for all their sacrifices." – Taya Kyle
10. "Real heroes don't wear capes. Real superheroes wear uniforms and badges and stethoscopes! Real superheroes are members of our military, law enforcement, and first responders. Pretend superheroes wear capes!" – Dean Cain
11. "There are certain people who react well in life-threatening situations, and our military and our law enforcement and our first responders tend to be those types of folks." – Dean Cain
12. "First responders will be on the frontlines if there is a terrorist attack in our communities, and we must provide them with the tools they need to do their difficult jobs." – Ed Markey
Thank you messages to first responders
In the wake of a disaster, first responders are often overlooked. The police officers, firefighters, paramedics, and emergency medical technicians that respond to life-threatening calls put their own lives in peril to save others. It is important to thank these individuals for their service and sacrifice.
Thankful gestures can be as simple as a "thank you" or a handshake.
13. "Don't forget, you are the hero of your own story." – Greg Boyle
14. "It doesn't take a hero to order men into battle. It takes a hero to be one of those men who goes into battle." – Norman Schwarzkopf
15. "For one thing, I don't think that anybody in any war thinks of themselves as a hero." – Steven Spielberg
16. "Dr. Martin Luther King is not a black hero. He is an American hero." – Morgan Freeman
17. "What I've noticed is not only in the military but in the first responder's community, that when you reach out your hand to help one of them, they almost always grab your hand with only one of theirs, because they're using their other hand to reach behind them and pull up somebody else with them." – Taya Kyle
18. "…'Chicago Fire' has been a wonderful outlet for me. We're thrown into the gritty streets of Chicago working among actual first responders. They're a wonderful bunch, and the sense of community among Midwesterners is very similar to Australians." – Jesse Spencer
19. "It's so important to talk to the first responders." – Brooke Baldwin
20. "Connecticut's first responders and defense workers work every day to help us achieve these goals." – Christopher Dodd
21. "Whether it's police officers, firefighters, first responders, or 911 dispatchers, many dedicated Americans work long hours, and often in difficult conditions, to make sure that when someone's in need, they can help." – Ajit Pai
22. "The men and women who serve this great nation, whether they are stationed in Iraq, Fort Riley, or the Korean Peninsula, or they serve us at home as our community first responders, serve because they believe in America." – Kathleen Sebelius
23. "As we try to compete in this global marketplace, we need to rebuild our infrastructure. We need to rebuild our schools. We need to make sure that teachers and first responders and veterans who are coming home from serving our country so proudly have jobs waiting for them." – Valerie Jarrett
24. "In modern warfare, journalists are among the first responders, seeking out truth in the turmoil and wreckage, wherever it takes them." – Nancy Gibbs
25. "Quite simply, when D.C. Metro riders – often the first to see a problem developing – try to notify first responders, they frequently are unable to receive a signal strong enough to make a simple call to 9-1-1 to report the emergency." – Michael O'Reilly
26. "Police officers, firefighters, EMTs – they are all out there every single day – literally just a phone call away for anyone who needs them." – Doreen Cronin
27. "Be Prepared… the meaning of the motto is that a scout must prepare himself by previous thinking out and practicing how to act on any accident or emergency so that he is never taken by surprise." – Robert Baden-Powell
28. "The most basic job of an EMT is to notice things and then wonder about them." – Thom Dick
29. "You have to keep the body going until the brain and the heart recover enough to go on their own." – Joe Connelly
Creative Ways To Thank First Responders
Thanks to first responders, we live in a safer and more secure world. They risk their lives every day to protect us from the dangers inherent in working as a first responder, such as death, disease, and injury. Many of those who choose this profession do so to help others and provide for their families. Though they often face danger, they risk far more than those who live normal lives by helping those who need it most.
The people that work as first responders such as firefighters and police officers risk their lives to protect the lives and property of others. There are many ways we can thank them for their efforts. We can thank them by donating to causes they support, by volunteering to help various organizations, or by writing a letter thanking them for what they do.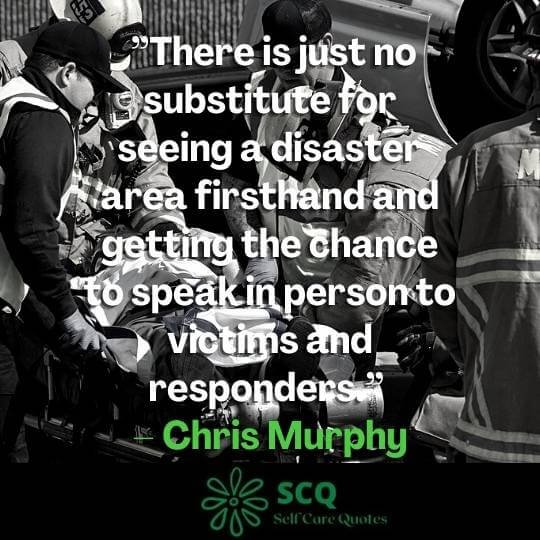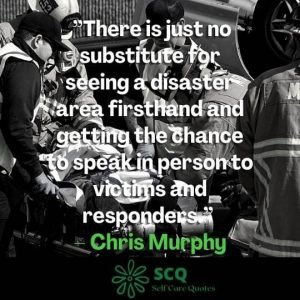 30. "There is just no substitute for seeing a disaster area firsthand and getting the chance to speak in person to victims and responders." – Chris Murphy
31. "We need strong public health institutions to respond to any challenge. We need to deal with critical infrastructure. The reality is that very little money has flowed to communities to help our first responders; to help our hospitals; to help the public health infrastructure." – Bob Menendez
32. "We cannot watch another family lose everything – risking their lives and the lives of the first responders sent to rescue them – because the flood insurance program's seal of government approval fooled them into thinking they were safe. That's more than wrong: it's immoral." – Jeb Hensarling
33. "We don't think about the first responders until we need them. Like I don't unconsciously think every day about these people and their lives, but that is what they are doing." – Oliver Stark
34. "I extend my deepest gratitude to our Armed Forces and first responders serving both at home and abroad in the war against terrorism." – John Doolittle
35. "When you first become an EMT, you are extremely gung-ho, with a sense that you save lives, … You are the antidote to all of life's miseries. You make people rise from the dead. But when you are an EMT for a length of time, you come to the grim reality that the number of lives that you actually save is small. You stabilize people until they get to the hospital. You make sure they can breathe and don't bleed to death and nothing more." – Michael Stern
36. "No hero is mortal till he dies." – W.H. Auden
37. "The hero is never the star of the story." – Marilyn Manson
38. "There is no higher honor than to be given the responsibility to care for another human being." – Richard K. Schachner
39. "Next to creating a life, the finest thing a man can do is save one." – Abraham Lincoln
40. "The National Guard has served America as both a wartime force and the first military responders in times of domestic crisis. Hundreds of times each year, the nation's governors call upon their Guard troops to respond to fires, floods, hurricanes, and other natural disasters." – Russel Honore
41. "Answer the urgent call. Help when tragedy strikes. And do it for free." – Isabella Koldras
42. "Playing a cop on TV and working closely with actual cops on set, I do think the media does a disservice to our first responders." – Jesse Lee Soffer
43. "I have this dream that the first responders to 911 calls will not be law enforcement personnel but robots. Robots can put eyes and ears on the scene much faster than you can with policemen or women." – Vijay Kumar
44. "NSS strongly supports the usage of space to provide benefits to people living on the Earth. The Iridium satellites enable first responders to communicate rapidly during an emergency anywhere in the world." – Bruce Pittman
45. "From the Bush Administration to the 9-11 Commission, there is an urgent and universally recognized need to change the broken formula through which Homeland Security grant money currently is allocated to our first responders." – Vito Fossella
46. "Every day, first responders put their own lives on the line to ensure our safety. The least we can do is make sure they have the tools to protect and serve their communities." – Joe Lieberman
47. "You can't get through a lot of doors unless you are at least perceived as an EMS professional." – Skip Kirkwood
48. "The Gulf Waterkeepers are our first line of defense against the BP oil disaster. Their incredible knowledge of the marshes, wetlands, beaches, and inner-coastal waters make them invaluable first responders. Their commitment makes them critical and effective community leaders." – Sophie B. Hawkins
49. "First responders are a resilient lot. They deal with many types of situations and are very good at improvisation in their work." – Jesse Spencer
50. "I see artists as the first responders. And when the proverbial crap hits the fan, we are there to be of service, to tell the story, to bring a balm, to soothe, to provide catharsis. You know, not to make our work any more important or less important, but just that there is great importance to it." – Elizabeth Marvel
"In the midst of the heartbreak and wreckage of 9-11, the world also witnessed what is America's greatest strength. Firefighters, nurses, police officers, first responders, and local residents worked around the clock to rescue and care for those injured." – Dan Coats
"Our military, police, and first responders risk their lives to protect ours, and so today – and every day – we should thank those who serve and honor those we've lost." – Kim Reynolds
"Every Medal of Valor recipient has confronted life-threatening danger. Each had their fight-or-flight moment. But each one stood their ground for our safety. We hold them up as examples to other first responders – and to all Americans." – William Barr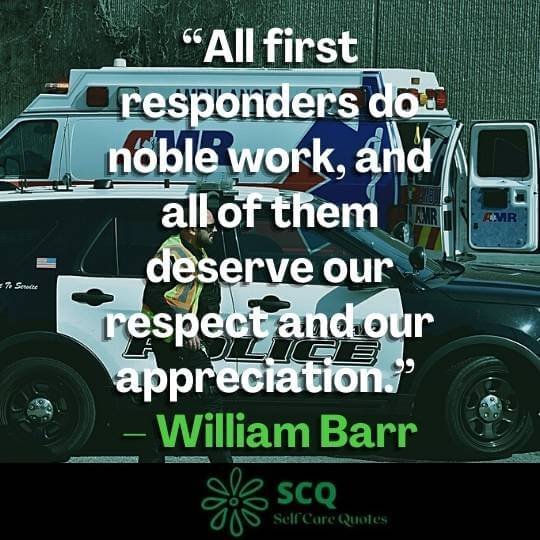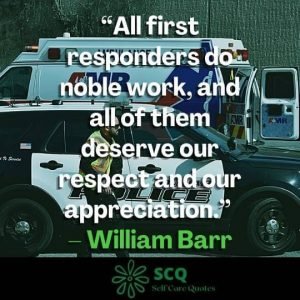 "All first responders do noble work, and all of them deserve our respect and our appreciation." – William Barr
Finally, First Responders are very important to the safety of a community. It is a lot more difficult for a police officer, firefighter, or paramedic to do their job if they do not have the support of other first responders. These brave men and women should be recognized for all that they do for their cities and communities.
Clearly, First Responders are an integral part of any community. They deserve to be praised and thanked for what they do on a daily basis.