I think love is the world's most famous word which has various types of use. There are different types of love in this world. Some are parental love, conjugal love, friendly love, love for animals, love for nature, and everything. The types of love are almost uncountable but actually, our today's topic is the emotional love of a person to another person.
We can say it as conjugal love. In conjugal love, we find two different conditions. One is a happy condition and another is a sad condition. Sad condition is a time of break up. When your loved person leaves you alone, that is the sad moment of love. To feel the original sad moment, sad love quotes are best to read. These sad love quotes make us feel the real condition of our minds.
Top 100 Sad Love Quotes:
1. "The worst feeling in the world is knowing you've done everything you can to show someone you love them, and yet they still choose someone else over you." – Bernajoy Vaal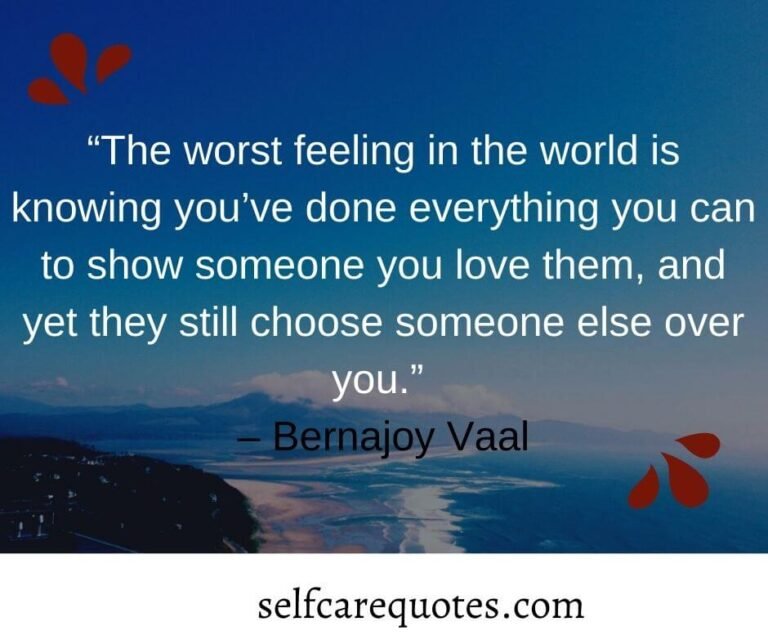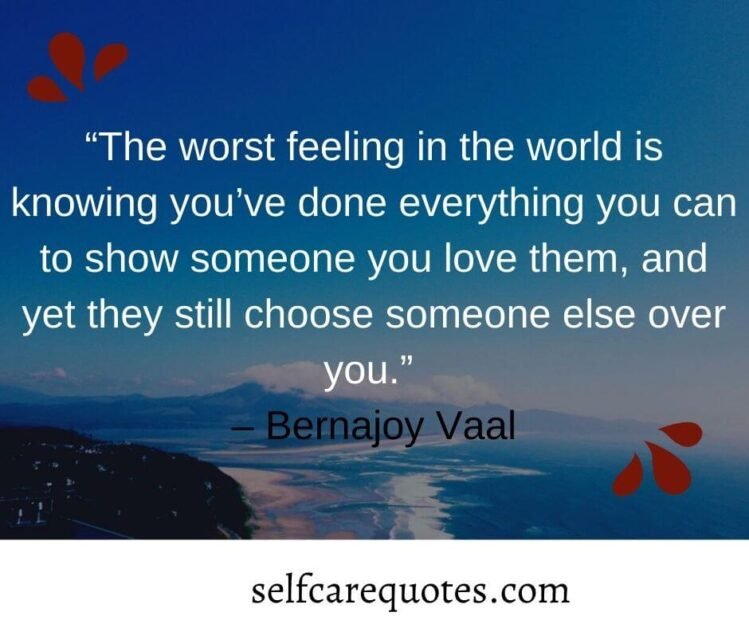 2. "So it's true, when all is said and done, grief is the price we pay for love." – E.A. Bucchianeri
3. "Hearts can break. Yes, hearts can break. Sometimes I think it would be better if we died when they did, but we don't." – Stephen King
4. "The worst feeling is not being lonely. It's when someone makes you feel special, then suddenly leaves you and you have to pretend you don't mind at all." – Nishan Panwar
Sad love quotes to cheer you up:
When we have a breakup with our loved person then we feel really bad. Some people don't find any meaning in their life. Among these, some become so depressed that they even think of suicide. There are huge incidents of suicidal incidents in our society relating to love, especially failed love.
But this is an injustice with ourselves. We should love ourselves more than others. If someone left you then don't think about her/him. She or he was not for you. You should have a cheerful feeling in the time of failed love. You can get this cheerful feeling from some famous quotes. Sad love quotes can cheer you up in a short time.
5. "Hearts are breakable. Even when you heal, you're never what you were before." – Cassandra Clare
7. "I felt her absence. it was like waking up one day with no teeth in your mouth. you wouldn't need to run to the mirror to know they were gone." – James Dashner
8. "Missing someone special to you bring tears to your eyes, but remembering all the good times you had brings a smile to your face." – Nishan Panwar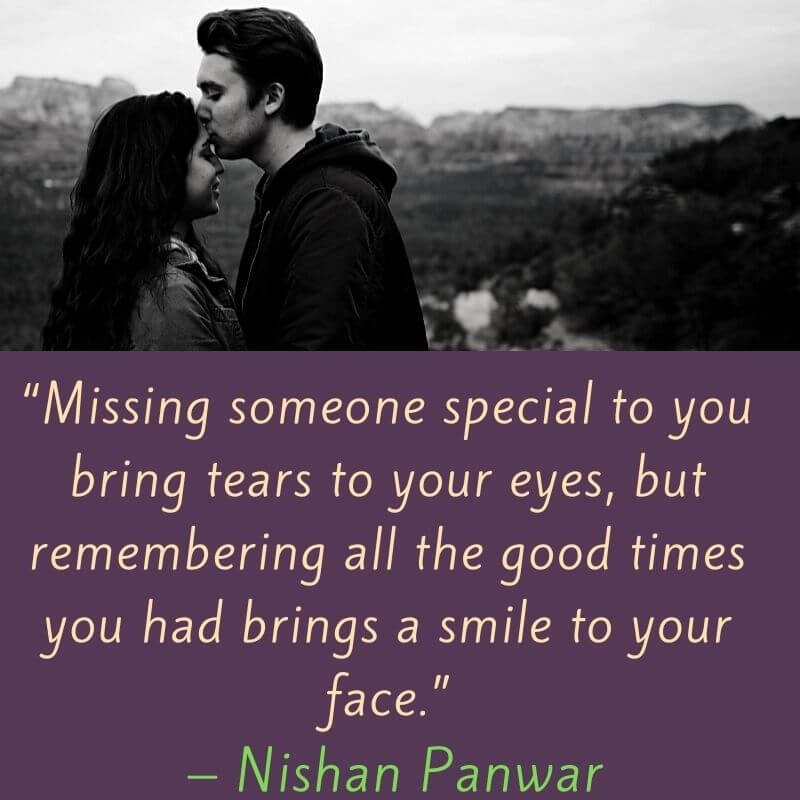 9. "I just wanted to tell you that I understand if you go. It's okay if you have to leave us. It's okay if you want to stop fighting." – Gayle Forman
10. "I wore your promise on my finger for one year. I'll wear your name on my heart till I die. Because you were my boy, you were my only boy forever." – Coco J. Ginger
11. "Sometimes we get sad about things and we don't like to tell other people that we are sad about them. We like to keep it a secret. Or sometimes, we are sad but we really don't know why we are sad, so we say we aren't sad but we really are."– Mark Haddon
12. "The sweetest part of being a couple is sharing your life with someone else. But my life, evidently, had not been good enough to share." – Charlaine Harris
13. "Tears are words the mouth can't say nor can the heart bear."– Joshua Wisenbaker
14. "A million words would not bring you back, I know because I tried, neither would a million tears, I know because I cried." – Unknown
Sad love quotes for him and her:
If you are a boy or girl that does not matter. Love is universal for both genders. Happy moments of love help us to laugh in the same way the sad moments cry us. We feel really bad when we lose our loved ones. Human psychology is a mystery. Here male and female psychology also has a difference too. Boys get motivation from some things where girls feel better in other conditions. But both have the same feeling in the sad moment of love. The love quotes are a really good instrument to heal mental illness after getting a breakup in a love relationship. Sad love quotes can heal him and her in the same way.
15. "Some people are going to leave, but that's not the end of your story. That's the end of their part in your story." ― Faraaz Kazi
16. If we must part forever, Give me but one kind word to think upon, And please myself with, while my heart's breaking. – Thomas Otway
17. "It's amazing how someone can break your heart and you can still love them with all the little pieces." – Ella Harper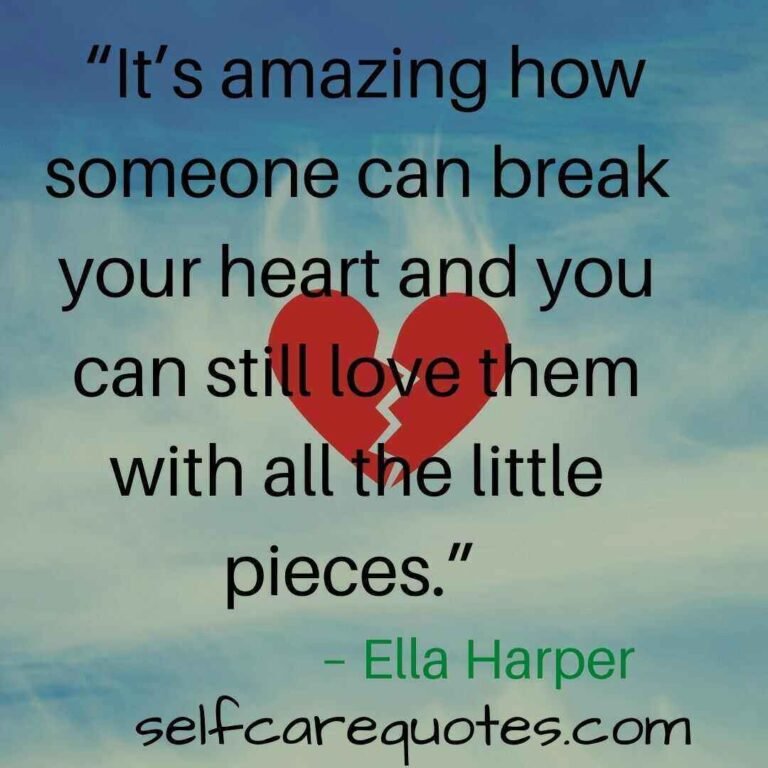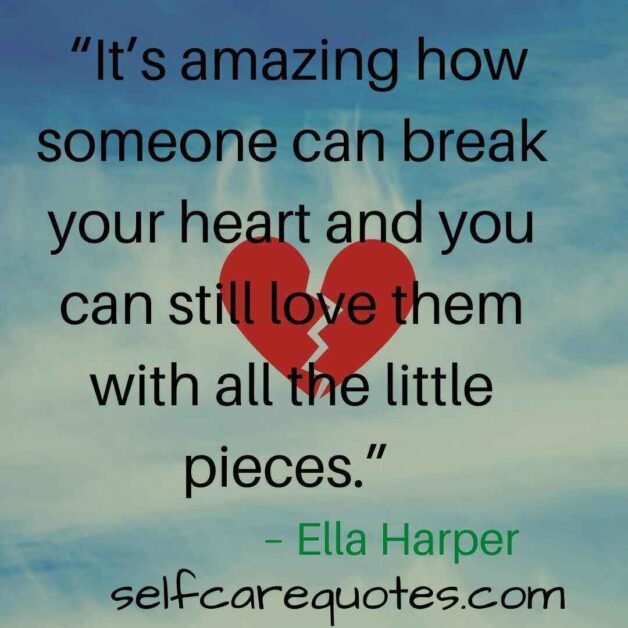 18. There is one pain, I often feel, which you will never know. It's caused by the absence of you. – Ashleigh Brilliant
Sad love quotes about heartbreak:
If someone left you then he or she has broken your heart. A broken heart can not be fixed again. But some quotes can help to get you in a fresh mental situation. These sad love heartbreaking quotes can work like some magic words for you.
19. "He taught me how to love, but not how to stop." ― Anonymous
20. "How could an Angel break my heart? Why didn't he catch my falling star? I wish I didn't wish so hard. Maybe I wished our love apart." ― Tony Braxton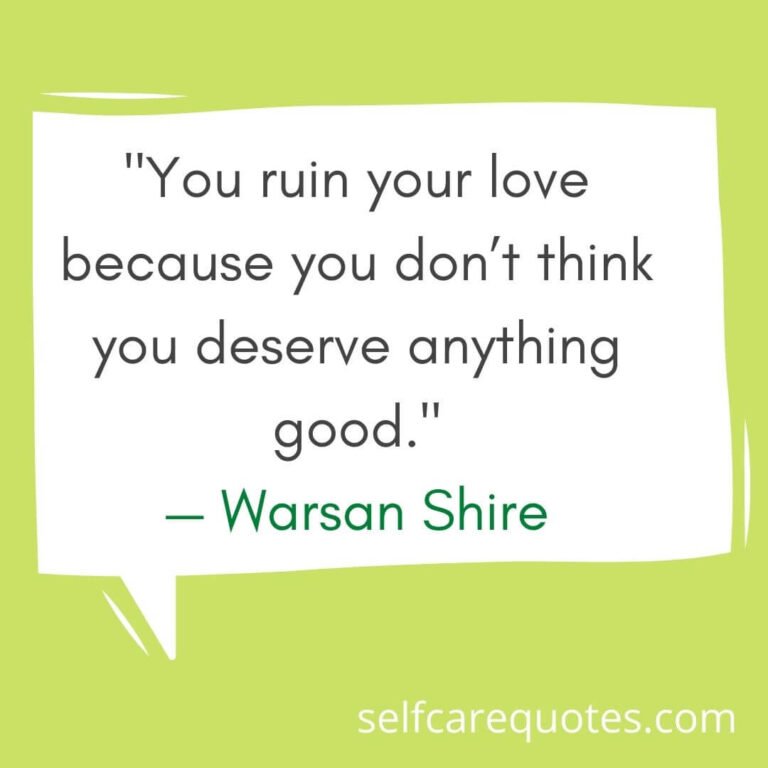 21. You ruin your love because you don't think you deserve anything good.— Warsan Shire
22. The word 'happy' would lose its meaning if it were not balanced by sadness. – Carl Jung
23. First, accept sadness. Realize that without losing, winning isn't so great. – Alyssa Milano
24. You can never control who you fall in love with, even when you're in the most sad, confused time of your life. You don't fall in love with people because they're fun. It just happens. – Kirsten Dunst
25. Things change. And friends leave. Life doesn't stop for anybody. – Stephen Chbosky
26. "Unrequited love is the infinite curse of a lonely heart." – Christina Westover
27. "Sometimes it takes a heartbreak to shake us awake and help us see we are worth so much more than we're settling for." – Mandy Hale
28. "The way to my heart was shattered when you left me, but I was glad because your memories were invulnerable, locked inside my heart." – Anmol Rawat
29. "It is strange how often a heart must be broken before the years can make it wise." – Sara Teasdale
30. "I understand that if you have never suffered a broken heart, then you have never really known what it is to truly be alive." – Patti Roberts
31. "I'd rather love a million times and have my heart broken every time, than hold a permanently empty heart forever." – H.C. Paye
32. "I know my heart will never be the same but I'm telling myself I'll be okay." – Sara Evans
33. "The shattering of a heart when being broken is the loudest quiet ever." – Carroll Bryant
34. "You know, I'll be loving you still. The nights are lonely, the days are so sad and I just keep thinking about the love that we had. And I'm missing you and nobody knows it but me." – Shayne Ward
35. "Love is never supposed to hurt. Love is supposed to heal, to be your haven from misery, to make living worthwhile." – Mia Asher
36. "One day you're going to remember me and how much I loved you… then you're gonna hate yourself for letting me go." – Aubrey Drake Graham
37. "Death leaves a heartache no one can heal, love leaves a memory no one can steal." – Richard Puz
38. "Don't cry when the sun is gone, because the tears won't let you see the stars." – Violeta Parra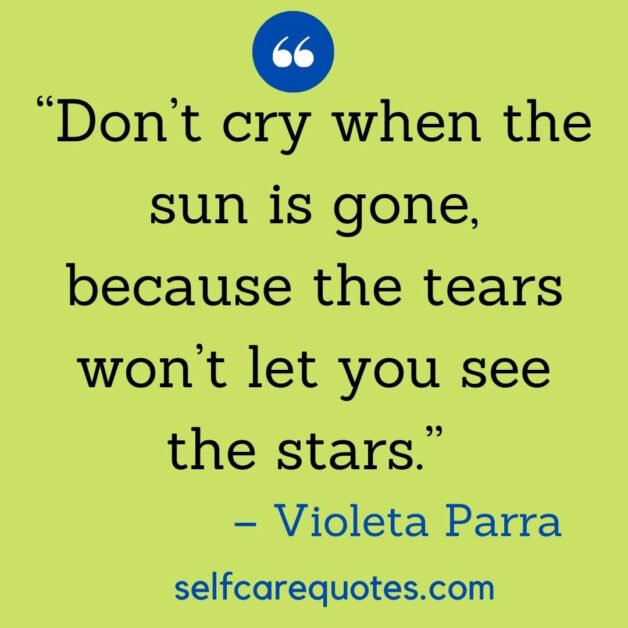 39. "Love is the most beautiful of dreams and the worst of nightmares." – Aman Jassal
40. "The heart was made to be broken." – Oscar Wilde
41. "A broken heart is just the growing pains necessary so that you can love more completely when the real thing comes along." – J.S.B. Morse
42. "The clouds wept when my heart sang a song of sorrow." – Sonya Watson
43. "It's the love that goes through the hardest trials and survives that's worth having." – Katie Ashley
44. "Just because we can't be together doesn't mean I don't love you." –Cecily von Ziegesar
46. "I was never one to patiently pick up broken fragments and glue them together again and tell myself that the mended whole was as good as new. What is broken is broken — and I'd rather remember it as it was at its best than mend it and see the broken places as long as I lived." – Margaret Mitchell
47. "It is better to have loved and lost than never to have loved at all." – Samuel Butler
48. "Let your tears come. Let them water your soul." – Eileen Mayhew
49. "A sad thing in life is that sometimes you meet someone who means a lot to you only to find out in the end that it was never bound to be and you just have to let go." – Anonymous
50. "Life goes on… with or without you." – Faraaz Kazi
51. "To fall in love is awfully simple, but to fall out of love is simply awful." – Bess Myerson
52. "To the world, you may be one person, but to one person you are the world." – Bill Wilson
53. "Love is ironic. Only when you hurt someone, they realise they truly love you. We shall always fall in love with the people who break our hearts." – Anonymous
54. "The worst feeling is to be ignored once, then twice, then again and again by someone you consider precious." – Betsy Kenton
55. "Sometimes, when one person is missing, the whole world seems depopulated." – Lamartine
56. "The way to love anything is to realize that it might be lost." – G.K. Chesterton
57. "Love reckons hours for months, and days for years; and every little absence is an age." – John Dryden
58. "The more I know of the world, the more I am convinced that I shall never see a man whom I can really love." – Jane Austen
59. "People who have lost relationships often wonder why they can't just let it be "water under the bridge." It is water under the bridge – the trouble is we do not live on the bridge but in the river of life with its many twists and turns." – Santiz Grant Fairley
60. "You flew off with the wings of my heart and left me flightless." –Terri Guillemets
61. "Every time your heart is broken, a doorway cracks open to a world full of new beginnings, new opportunities." – Patti Roberts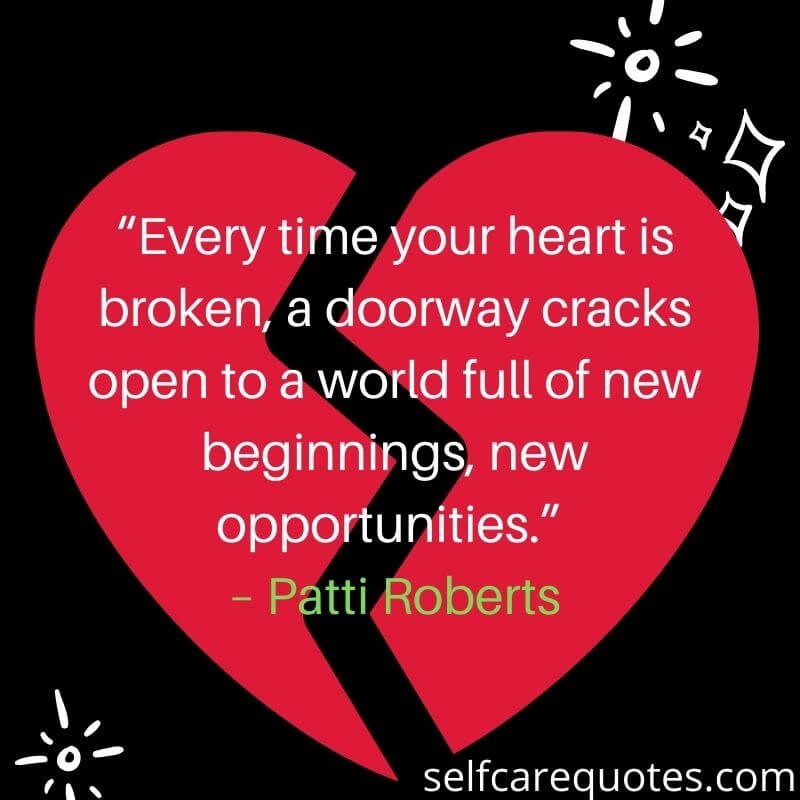 62. "Hearts will never be made practical until they are made unbreakable." – L. Frank Baum
63. "There is a distinct, awful pain that comes with loving someone more than they love you." – Steve Maraboli
64. "There are many ways of breaking a heart. Stories were full of hearts broken by love, but what really broke a heart was taking away its dream – whatever that dream might be." – Pearl Buck
65. "Loving can cost a lot but not loving always costs more, and those who fear to love often find that want of love is an emptiness that robs the joy from life." – Merle Shan
67. "The magic of first love is our ignorance that it can ever end." – Benjamin Disraeli
68. "Don't let your happiness depend on something you may lose." – C.S Lewis
69. "We are afraid to care too much, for fear that the other person does not care at all." — Eleanor Roosevelt
70. "Relationships fail because people take their own insecurities and try and twist them into their partner's flaws." — Baylor Barbee
71. "The heart will break, but broken live on." — Lord Byron
72. "That feeling you get in your stomach when your heart's broken. It's like all the butterflies just died." – Unknown
73. "The cure for a broken heart is simple, my lady. A hot bath and a good night's sleep." — Margaret George
74. "You stopped saying good morning, you stopped saying goodnight, that's when I knew I had lost you." – Unknown
75. "Sharp are the arrows of a broken heart." — Cassandra Clar
Deep sad love quotes:
If you love someone from the depth of your heart then this can be called deep love. And when your deep loved person leaves you then you feel really broken. This sad moment can be called deep sadness. Love can change people's lives in both positive and negative ways.
When you are left alone in a bad moment by your loved one then you may be spoiled. Here love quotes can help you to be strong and start your life again. If you are in a situation of deep sadness then you can read the deep sad love quotes to get confidence in life.
76. When you think your first falling in love, just then you realize your falling out of love. – David Grayson
77. "You can close your eyes to things you don't want to see, but you can't close your heart to things you don't want to feel." – Johnny Depp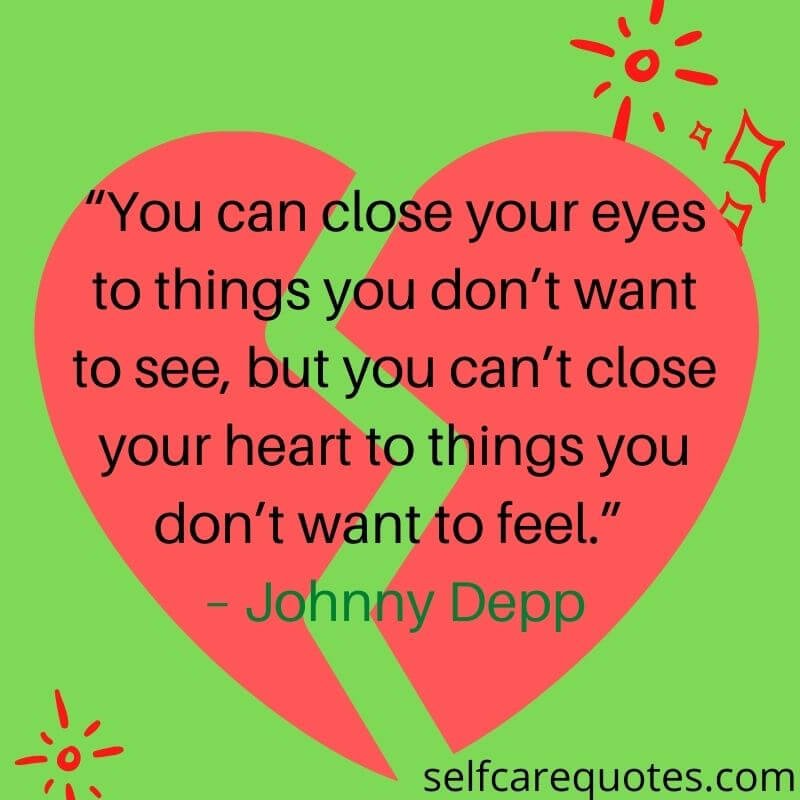 78. "Since I can't be with you right now I will have to be content just dreaming about when we will be together again." – Susan Polis Schutz
79. "Never lose yourself while trying to hold on to someone who doesn't care about losing you." – Unknown
80. "I'm not crying because of you; you're not worth it. I'm crying because my delusion of who you were was shattered by the truth of who you are." – Unknown
81. "I try to make people feel loved and wanted because I know what it's like to not feel loved and wanted." – Unknown
82. "Loving you was like going to war; I never came back the same." – Unknown
83. "Yeah, I miss you. I miss you. I miss having you to talk to whenever I wanted. But I know I have to move on because this is pointless." – Unknown
84. Nothing is worse than when someone who's supposed to love you just leaves.— Ava Dellaira
85. Tears come from the heart and not from the brain. – Leonardo da Vinci
86. I wish I could give you my pain just for one moment so you can understand how much you hurt me.— Mohsen El-guindy
87. A marriage is no amusement but a solemn act, and generally a sad one. –Queen Victoria
88. It hurts to leave a light on for nobody.— Graham Foust
89. "As the light begins to intensify, so does my misery, and I wonder how it is possible to hurt so much when nothing is wrong."― Tabitha Suzuma
90. "Breathing is hard. When you cry so much, it makes you realize that breathing is hard."― David Levithan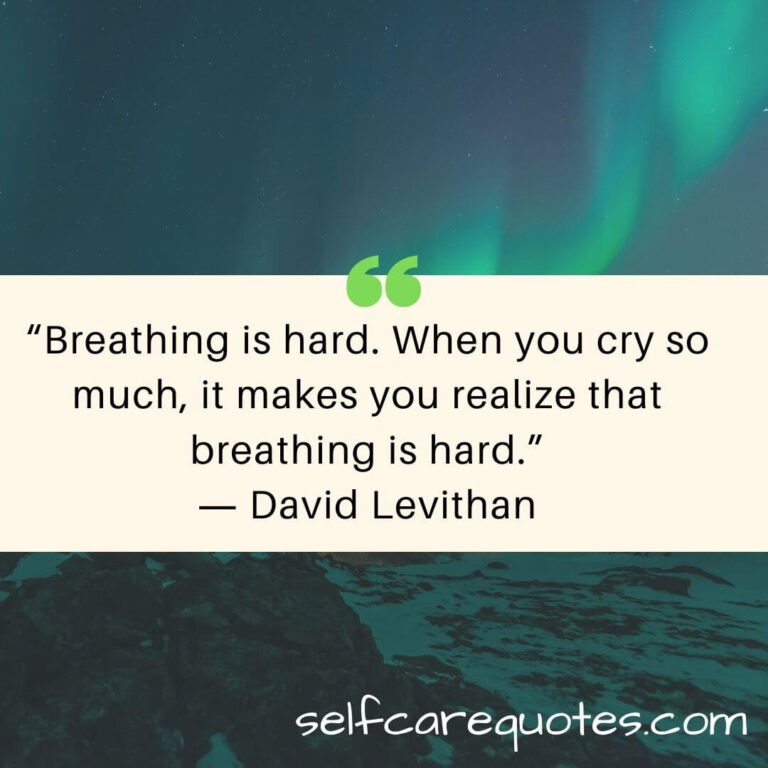 91. It's sad when someone you know becomes someone you knew. – Henry Rollins
92. Let my soul smile through my heart and my heart smile through my eyes, that I may scatter rich smiles in sad hearts. – Paramahansa Yogananda
93. Sad things happen. They do. But we don't need to live sad forever. – Mattie Stepanek
94. "Even if I fall in love again with someone new, it could never be the way I loved you." – Unknown
95. "Sadly, the only way some people will learn to appreciate you is by losing you." – Unknown
96. "You don't die from a broken heart. You only wish you did." – Unknown
97. "You know you love someone when you can't hate them for breaking your heart." – Unknown
98. "A broken heart is the worst. It's like having broken ribs. Nobody can see it but the pain is unbearable every time you breathe." – Unknown
99. "I'm technically single but my heart is taken by someone I can't call my own." – Unknown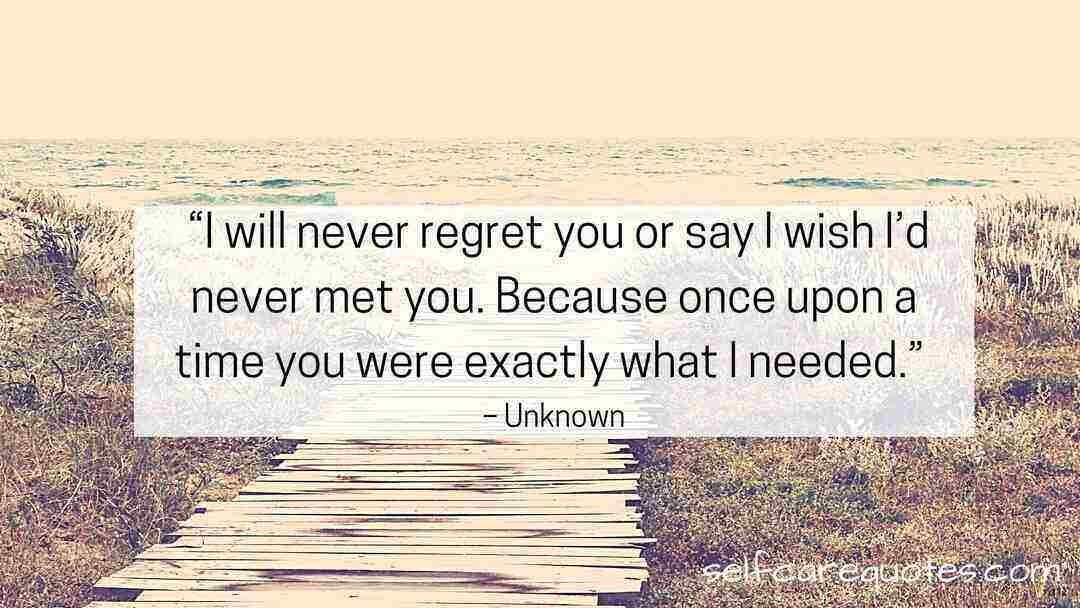 100. "I will never regret you or say I wish I'd never met you. Because once upon a time you were exactly what I needed." – Unknown