After spending a busy week, we get very excited about our holidays. We try to use this day to refresh ourselves from the monotony experience of our routine work. Saturday is the official holiday for most of the country. So the routine of Saturday is different from the other six days of the week. Most of the people want to spend this day uniquely. Different people have different choices to spend the holiday. 
Some people want to rest in their holidays while others go on a trip whenever they get any opportunity. However, the appeal of 'Saturday' is different for different people. There are a lot of Saturday quotes which are very popular among the people. Most of the people like to start their weekend by reading the Saturday motivational quotes.  
Saturday Motivational Quotes:
1. "There was nothing like a Saturday – unless it was the Saturday leading up to the last week of school and into summer vacation. That, of course, was all the Saturdays of your life rolled into one big shiny ball." – Nora Roberts
2.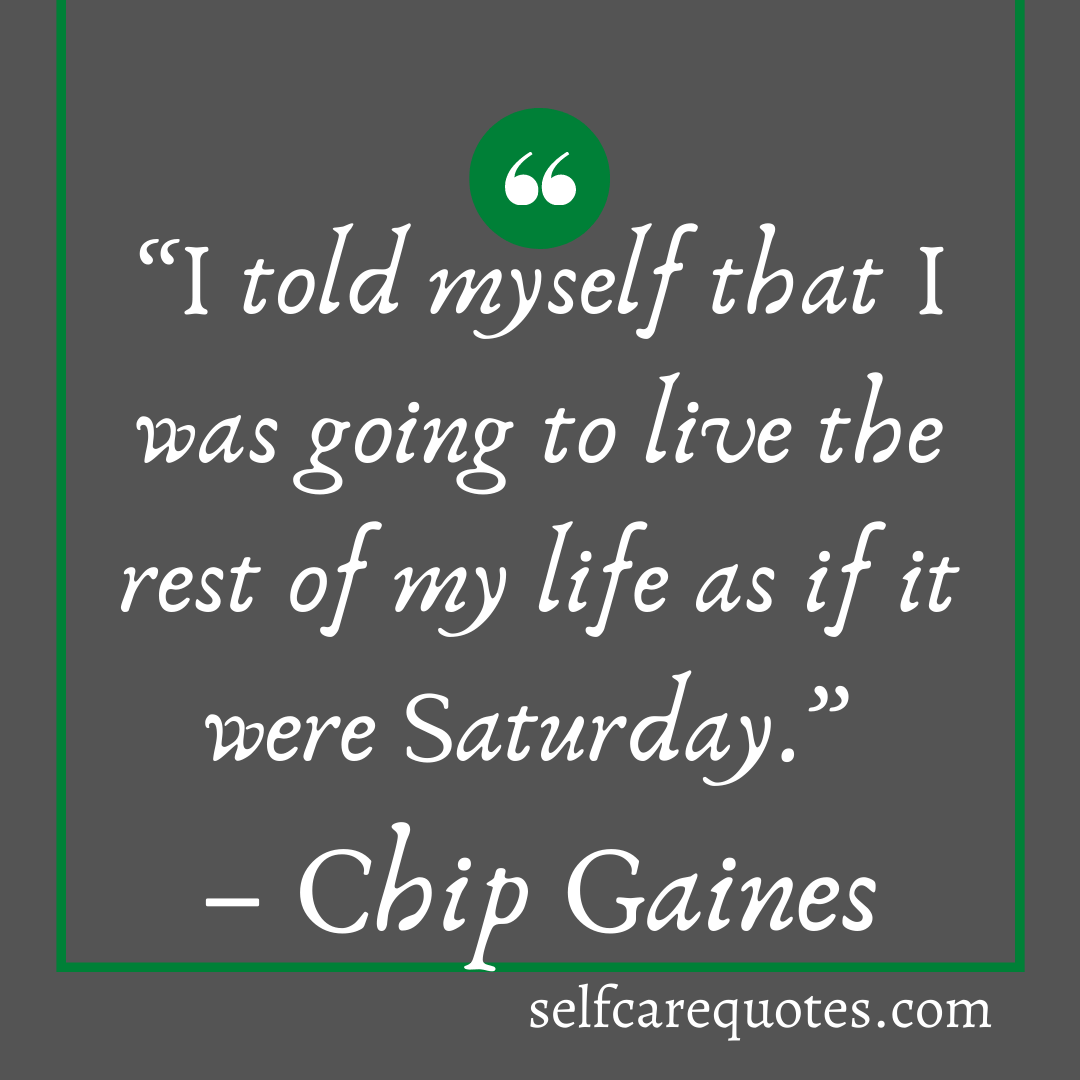 "I told myself that I was going to live the rest of my life as if it were Saturday." – Chip Gaines

3. "Weekends don't count unless you spend them doing something completely pointless." – Bill Watterson

4. "It's not that we spend five days looking forward to just two. It's that most people do what they enjoy most in those two days. Imagine living a life where every day are your Saturdays and Sundays. Make everyday your weekend. Make everyday a play-day." – James A. Murphy

5. "Love me like Saturday night, like three glasses of champagne, like the room is spinning, like you're drunk on my love." – C.J. Carlyon

6. "Spirituality is the sacred center out of which all life comes, including Mondays and Tuesdays and rainy Saturday afternoons in all their mundane and glorious detail." – Christina Baldwin

7. "It is the kind of Saturday night that torches your life for a few hours, makes it seem like something is happening." – Annie Proulx

8. "Your body tells you what it needs, and if you sleep past your alarm on a Saturday morning, it's probably because you need the sleep." – Sophia Bush

9. "Weekends are a bit like rainbows; they look good from a distance but disappear when you get up close to them." – John Shirley

10.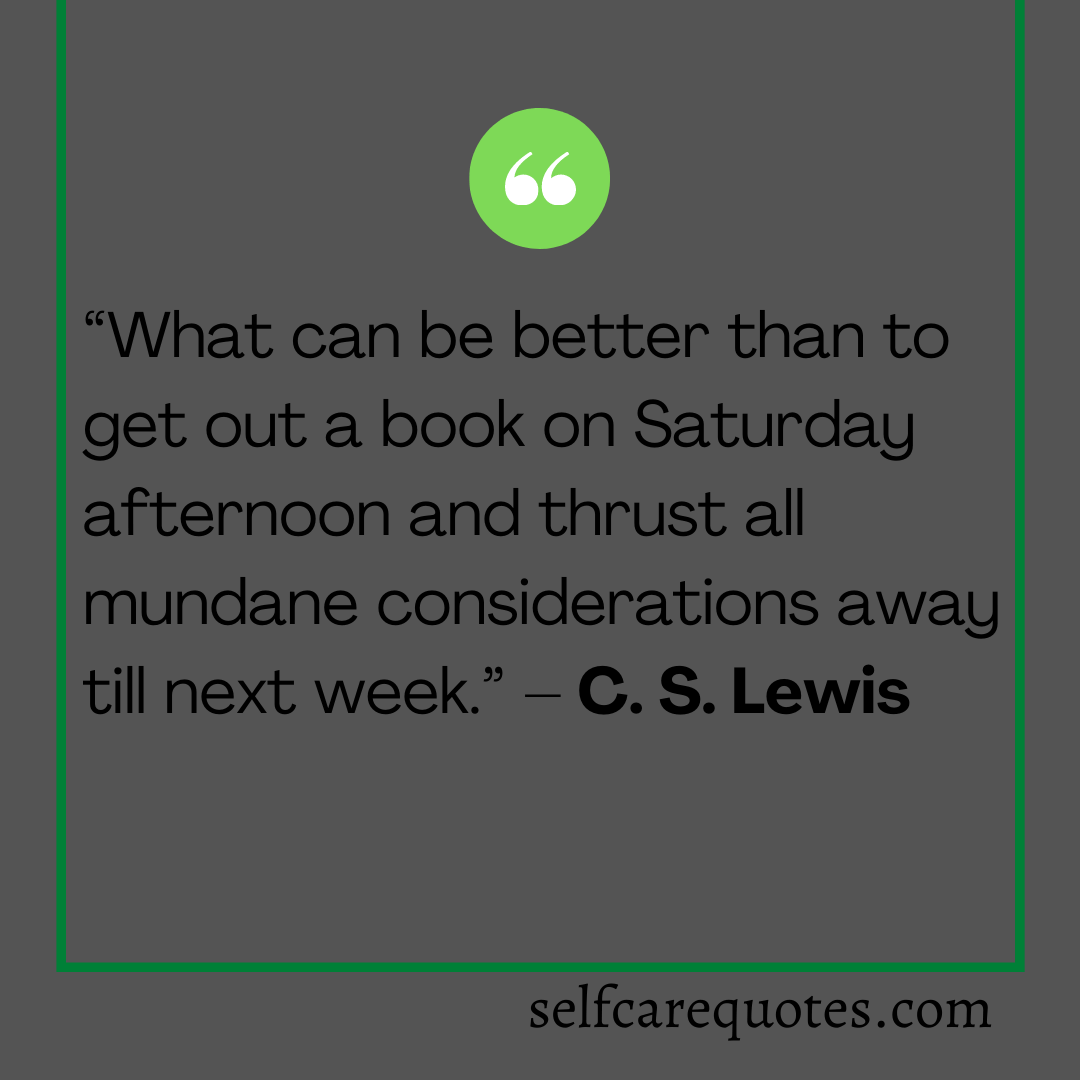 "What can be better than to get out a book on Saturday afternoon and thrust all mundane considerations away till next week." – C. S. Lewis
11. "Saturday is the mightiest day of the week. It's unshakably, overwhelmingly superior. Not only is it a day off of school, the following day is also a day off, like some kind of Super Saiyan bargain sale." – Wataru Watari
12. "I've taken Saturdays to be the day I pull back completely. I do things that are more creative, and I've actually found that helps me when I get back into work to be more thoughtful." – Padmasree Warrior
13. "Oh my sweet Saturday, I have been waiting for you for six long days." – Charmaine J Forde
14. "If you had to work 14 hour days, Mondays to Fridays, then you have to keep Saturdays and Sundays sacred." – Nicole Ari Parker
15. "Different cocktails for different Saturday nights." – Drew Barrymore
16. "Hands up if you're ready to do something you'll regret this weekend. Go forth! You have my blessing." – Florence Welch
17. "Be in the habit of getting up bright and early on the weekends. Why waste such precious time in bed?" – Marilyn vos Savant
18. "The dog doesn't know the difference between Saturday, Sunday, and Monday, so I have to walk the dog early those days too." – Donna Shalala
19. "Saturday is a day for the spa. Relax, indulge, enjoy, and love yourself, too." – Ana Monnar
20.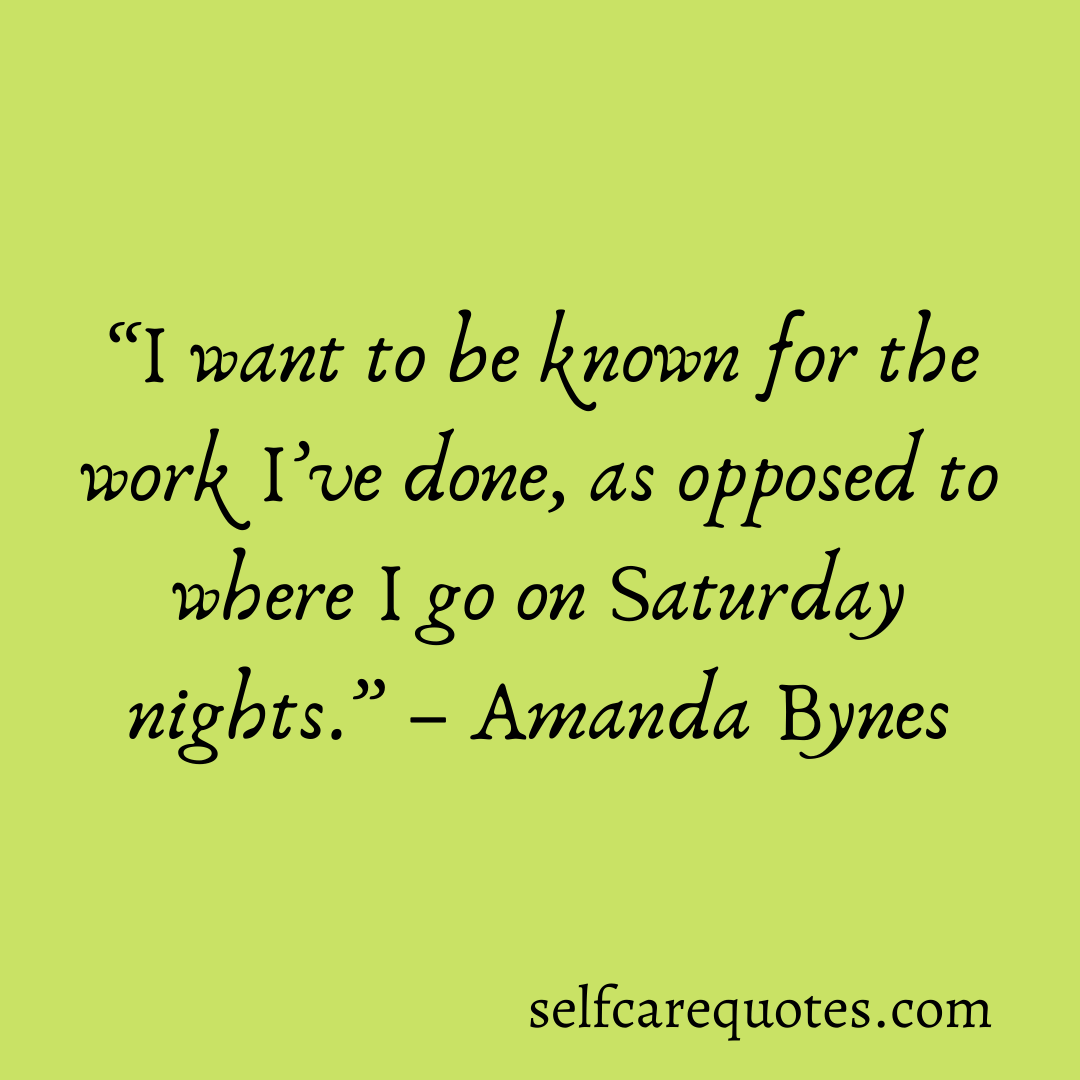 "I want to be known for the work I've done, as opposed to where I go on Saturday nights." – Amanda Bynes
21. "We need the spirit of Sunday carried over to Monday and continued until Saturday." – Edward McKendree Bounds
22. "I have to be alone very often. I'd be quite happy if I spent from Saturday night until Monday morning alone in my apartment. That's how I refuel." – Audrey Hepburn
23. "Always take some of the play, fun, freedom and wonder of the weekend into your week and your work" – Rasheed Ogunlaru
24. "Anybody have plans to stare at their phone somewhere exciting this weekend?" – Nitya Prakash
25. "Happy Saturday! When you rise in the morning, give thanks for the light, for your life, for your strength. Give thanks for your food and for the joy of living. If you see no reason to give thanks, the fault lies in yourself." – Tecumseh
26. "The only reason why we ask other people how their weekend was is so we can tell them about our own weekend." – Chuck Palahniuk
27. "My favorite way to spend Saturday is in and out of bed, watching sports on TV and eating." – Alan King
28. "Your Monday is not going to be like Saturday; the emotions are going to be different." – Jean Grae
29. "I'm mostly pretty quiet on the weekends. I either read or visit friends or go hiking or something like that." – Troian Bellisario
30.
"Entrepreneurs don't have weekends or birthdays or holidays. Every day is my weekend, my birthday, my holiday. OR, every day is my workday. Mostly it's a choice." – Richie Norton
 When I dare to be powerful, to use my strength in the service of my vision, then it becomes less and less important whether I am afraid. ― Audre Lorde
31. When one door of happiness closes, another opens, but often we look so long at the closed door that we do not see the one that has been opened for us. ― Helen Keller
32. When one door of happiness closes, another opens; but often we look so long at the closed door that we do not see the one which has been opened for us. ― Helen Keller
33. Whatever you are, be a good one. ― Abraham Lincoln
34. Without continual growth and progress, such words as improvement, achievement, and success have no meaning. — Benjamin Franklin
35. Write it. Shoot it. Publish it. Crochet it, sauté it, whatever. MAKE. ― Joss Whedon
36. Whenever you see a successful person you only see the public glories, never the private sacrifices to reach them. ― Vaibhav Shah
37. You can either experience the pain of discipline or the pain of regret. The choice is yours. ― Unknown
38. Your present circumstances don't determine where you can go; they merely determine where you start. ― Nido Qubein
39. You may have to fight a battle more than once to win it. ― Margaret Thatche
40.
Yesterday I was clever, so I wanted to change the world. Today I am wise, so I am changing myself. ― Rumi
Different Types of Saturday quotes:
We all know that people possess diverse tastes and choices. If we go through the Saturday quotes, we'll find different types of Saturday quotes. While some quotes are motivational, some quotes are funny. We'll also find some blessed, love, happy and super Saturday quotes. Through reading these quotes, we can start our day in a positive attitude.  
Saturday Inspirational Quotes:
We find various inspirational quotes to read on our holiday. Saturday is a day when we can entirely give our concentration to our life. On this day, we get enough time for self-motivation, which is very significant for our life. Self-inspiration helps us to overcome the obstacles of our life. After waking up on Saturday morning, we can read the Saturday morning inspirational quotes. By reading the Saturday morning quotes, we can motivate ourselves at the beginning of the day. 
41. "I'm not an early bird at all. Ideally, on Saturday morning I'd allow myself a lovely lie-in. 10:45 would be just right." – Shilpa Shetty
42. "I'm not sure what it was or where she sprayed it, but her scent will be the end of the life I loved. And I will find comfort in the simpleness of sitting with her on a Saturday afternoon with nothing else to do." – Darnell Lamont Walker
43.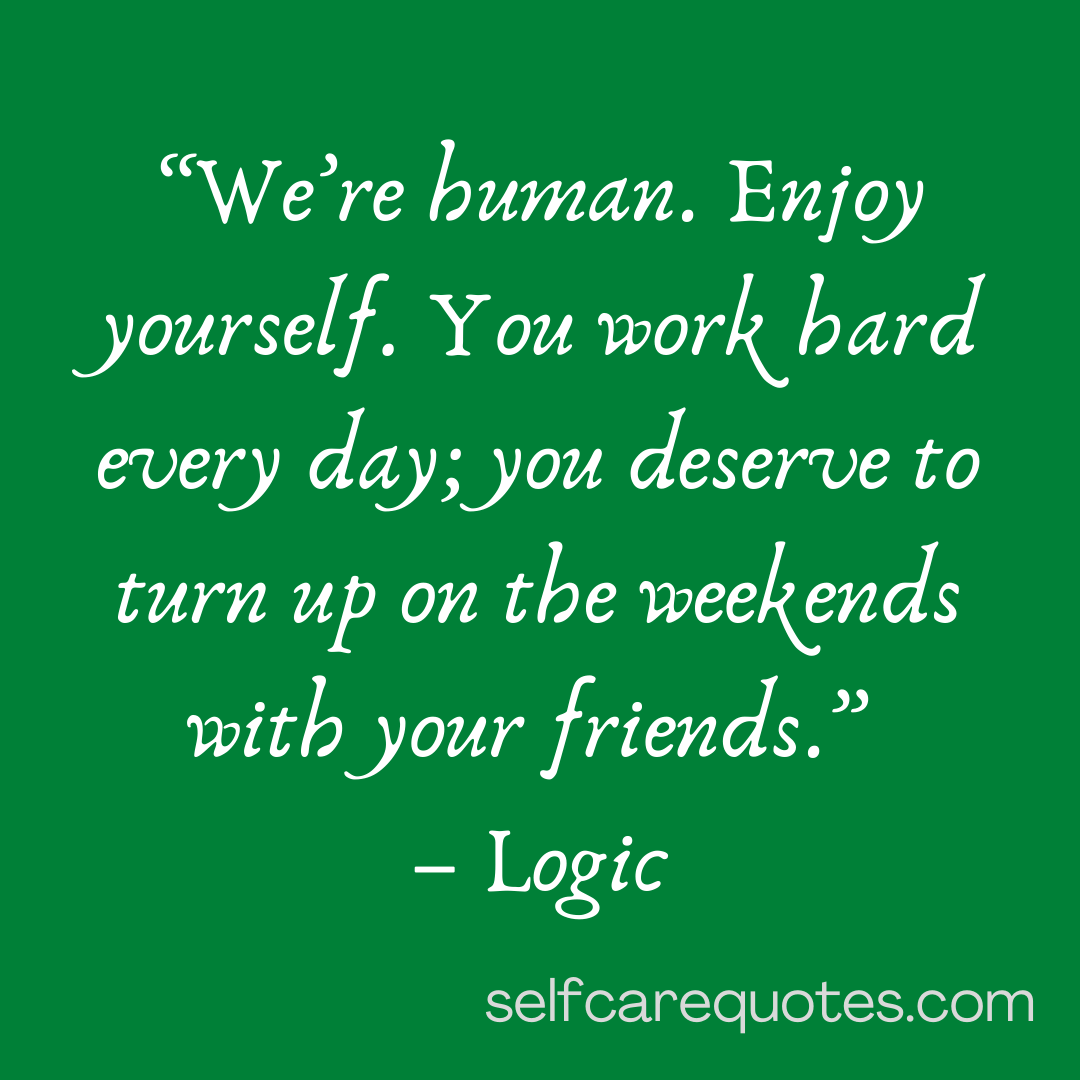 "We're human. Enjoy yourself. You work hard every day; you deserve to turn up on the weekends with your friends." – Logic
44. "Honestly, I never really understood the glorification of Fridays & weekends. I don't want to build a life and career, where I spent five days a week waiting for the weekend. No! I want to enjoy my life, and don't wish any weekday away. I want each day to matter to me, in some way, even if it's a small tiny way. I love my life. Everyday. That's the spirit we should convey all around us." – Akilnathan Logeswaran
45. "I learned that the hardest party to pull off successfully is Saturday night dinner." – Ina Garten
46. "Saturday mornings, I've learned, are a great opportunity for kids to sneak into your bed, fall back asleep, and kick you in the face." – Dan Pearce
47. "You know what I want to do? Wake up one weekend and not have to go anywhere and do nothing." – Derek Jeter
48. "On the Sixth Day, God created man, the sort of result you often get when you go in to work on a Saturday." – Robert Brault
49. "When you are unemployed, weekends are seven days long." – Mokokoma Mokhonoana
50. "I miss Saturday morning, rolling out of bed, not shaving, getting into my car with my girls, driving to the supermarket, squeezing the fruit, getting my car washed, taking walks." – Barack Obama
Saturday Funny Quotes: 
We have previously mentioned that some Saturday quotes are funny and amusing. If we want to start our day in a jolly mood, we may read the funny and amusing Saturday quotes. We'll find some quotes with hidden amusing meaning, which makes the Saturday quotes funny. The Saturday funny quotes reduce the gloominess from our minds. The quotes refresh our mind with new energy.
51. It's a funny thing about life; if you refuse to accept anything but the best, you often get it. — W. Somerset Manghan
Saturday Happy Quotes:
The Saturday quotes have a positive impact on its readers. The Saturday quotes help us to reduce our tension, sadness, the pressure of work etc. The happy Saturday quotes divert our minds from our present problems and the pressures. When we read the quotes, the incredible meaning of the quotes attracts our attention. The quotes impact on our minds with its pleasant and happy meaning. We find pleasure in our minds by reading these happy quotes. Then we feel like the quotes are the blessed Saturday quotes. 
52. "I am always happy to meet my friend, and my friend is my weekend." – Debasish Mridha
53. "How pleasant is Saturday night, When I've tried all the week to be good, and not spoke a word that was bad, And obliged everyone that I could." – Nancy Sproat
54. "My work is like my vacation, so in a way every day is like Saturday." – Ludacris
55. "Most people are in a factory from nine till five. Their job may be to turn out 263 little circles. At the end of the week they're three short and somebody has a go at them. On Saturday afternoons they deserve something to go and shout about." – Rodney Marsh
56. "Saturday night is perfect for writers because other people have plans." – Mike Birbiglia
57. "Middle age is when you're sitting at home on a Saturday night and the telephone rings and you hope it isn't for you." – Ogden Nash
58. "Saturday is what gives us a weekend of enjoyment." – Anthony T. Hincks
59. "I love Saturday nights with my best friend and a big bowl of pasta, wanting a good scare, something that will say, 'Listen, your life is not as bad as this. Your life can be so much worse.'" – Vera Farmiga
60. "On a lazy Saturday morning when you're lying in bed, drifting in and out of sleep, there is a space where fantasy and reality become one." – Lynn Johnston
61. "If Sunday is the Lord's day, then Saturday belongs to the Devil. It is the only night of the week when he gives out Free passes to the Late Show at the Too Much Fun Club." – Hunter S. Thompson
Saturday Love Quotes:
For the couples, there are a lot of love quotes for their Saturday. The Saturday love quotes are the representation of the emotion and feeling of the hearts of the lovers. Lovers can reinvent their feelings by reading love quotes. Because of the busy schedule of life, most people cannot give proper time to their partners. Saturday love quotes help to remind them of their feelings towards their partners. The quotes remind them to use their free time for the person they love. 
62. Loving ourselves allows us to show up in the world so we can love others, uplift others, and make the world a more loving place. Troy L Love, A Year of Self Love -Unknown 
63. Have a joyful Saturday. Oh my sweet Saturday, I have been waiting for you for six long days.-Unknown 
64. Do one thing every day that makes you happy. Good Evening Saturday! -Unknown 
65.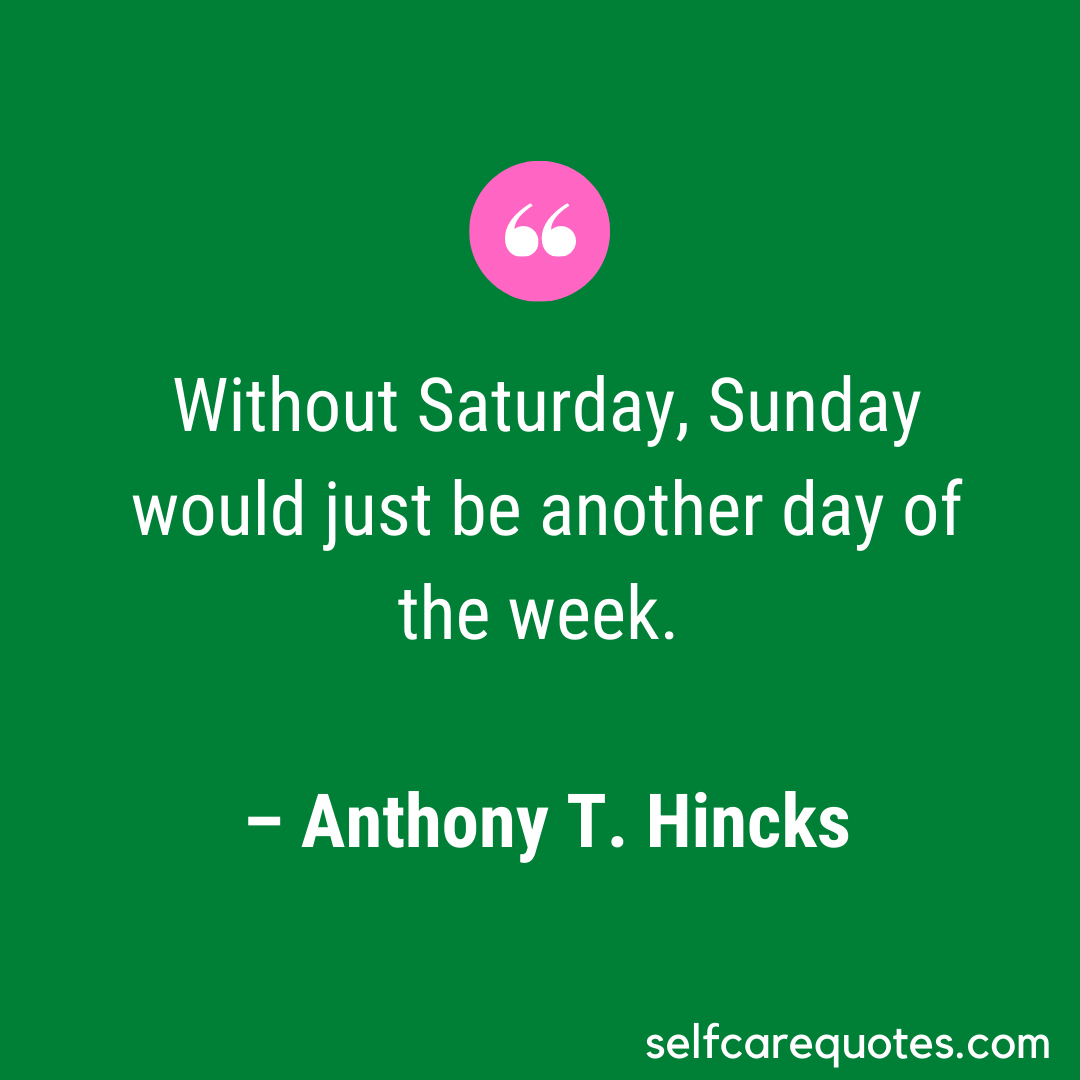 Without Saturday, Sunday would just be another day of the week. – Anthony T. Hincks