David Bowie is a famous songwriter, actor and singer. The full name of David Bowie is Davis Robert Jones. He had made a permanent place in the hearts of people through his excellence in music. He is the most influential figure in the history of English music and the music history of the world. We may find evidence of the innovative intelligence and the creativity of David Bowie in each of David Bowie quotes.
Not only the fans but also the critics have acknowledged the unique creativity of David Bowie. Through his successful works, he has become a role model in the music industry. David Bowie has a significant influence on English popular music.
50 David Bowie Quotes:
1.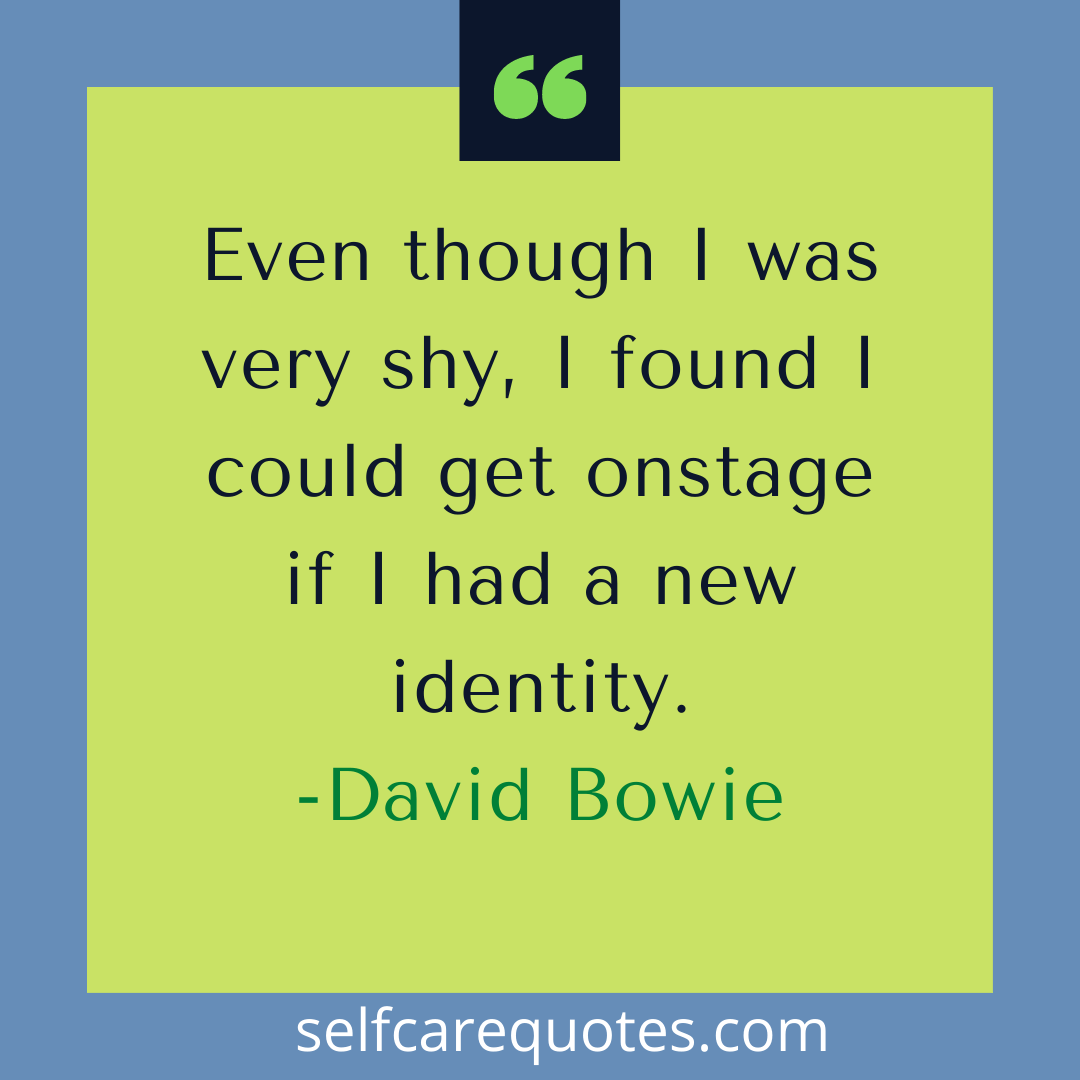 Even though I was very shy, I found I could get onstage if I had a new identity.
-David Bowie
2. I had to resign myself, many years ago, that I'm not too articulate when it comes to explaining how I feel about things. But my music does it for me, it really does.
-David Bowie
3. The truth is of course is that there is no journey. We are arriving and departing all at the same time.
-David Bowie
4. But I'm pretty good with collaborative thinking. I work well with other people.
-David Bowie
5. When I'm stuck for a closing to a lyric, I will drag out my last resort: overwhelming illogic.
-David Bowie
6. Heathenism is a state of mind. You can take it that I'm referring to one who does not see his world. He has no mental light. He destroys almost unwittingly. He cannot feel any Gods presence in his life. He is the 21st century man.
-David Bowie
7. However, there's no theme or concept behind Heathen, just a number of songs but somehow there is a thread that runs through it that is quite as strong as any of my thematic type albums.
-David Bowie
8. But I've got to think of myself as the luckiest guy. Robert Johnson only had one album's worth of work as his legacy. That's all that life allowed him.
-David Bowie
9. Frankly, I mean, sometimes the interpretations I've seen on some of the songs that I've written are a lot more interesting than the input that I put in.
-David Bowie
10. I believe that I often bring out the best in somebody's talents.
-David Bowie
11. I never could get over the fact that The Pixies formed, worked and separated without America taking them to its heart or even recognizing their existence for the most part.
-David Bowie
12. I felt I really wanted to back off from music completely and just work within the visual arts in some way. I started painting quite passionately at that time.
-David Bowie
13. I think it all comes back to being very selfish as an artist. I mean, I really do just write and record what interests me and I do approach the stage shows in much the same way.
-David Bowie
14. I went through all the musicians in my life who I admire as bright, intelligent, virtuosic players.
-David Bowie
15. I'm just an individual who doesn't feel that I need to have somebody qualify my work in any particular way. I'm working for me.
-David Bowie
16. I've never responded well to entrenched negative thinking.
-David Bowie
17. On the other hand, what I like my music to do to me is awaken the ghosts inside of me. Not the demons, you understand, but the ghosts.
-David Bowie
18. Nearly all the synth work on Heathen is mine and some of the piano.
-David Bowie
19. Pixies and Sonic Youth were so important to the eighties.
-David Bowie
20.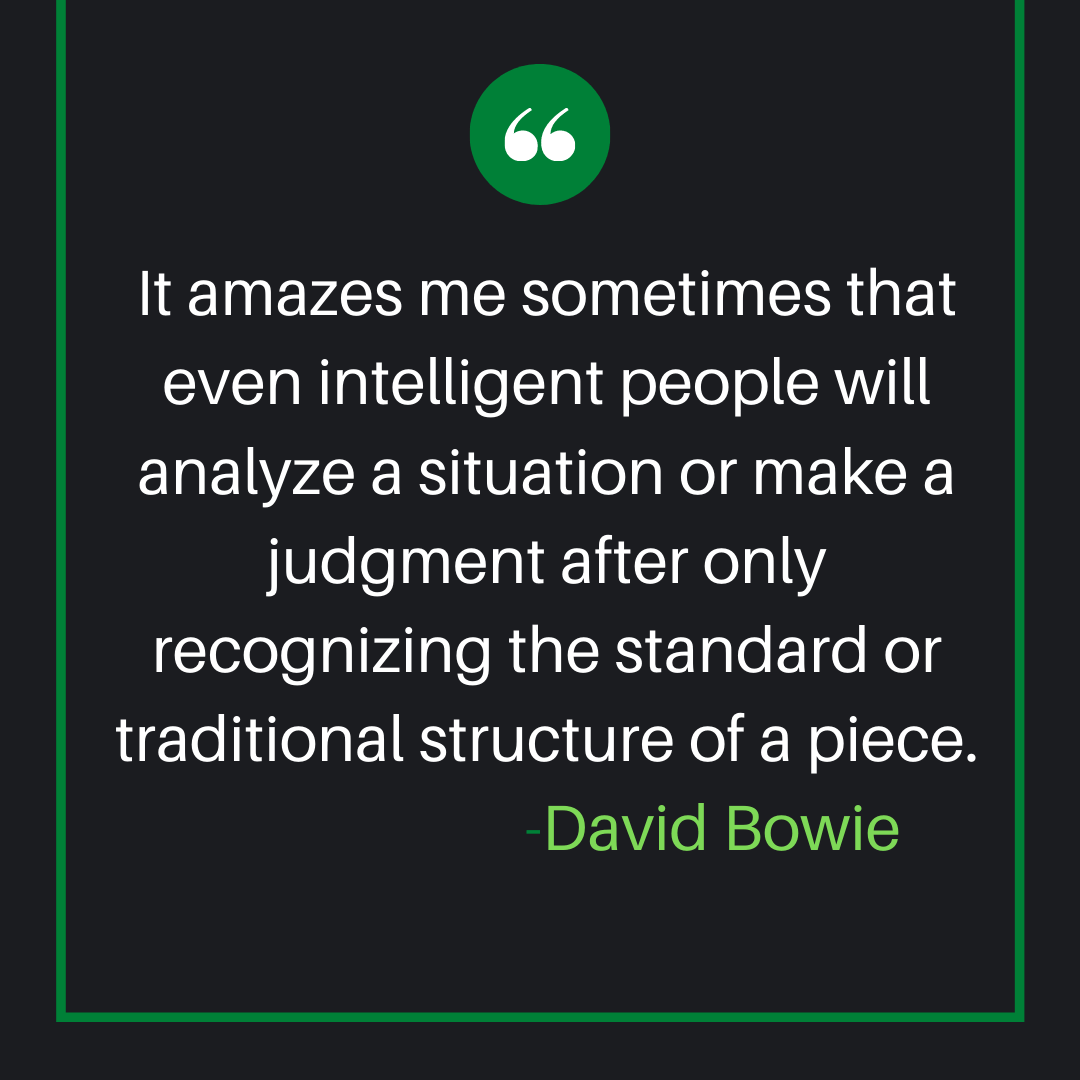 It amazes me sometimes that even intelligent people will analyze a situation or make a judgment after only recognizing the standard or traditional structure of a piece.
-David Bowie
21. Strangely, some songs you really don't want to write
-David Bowie
22. To not be modest about it, you'll find that with only a couple of exceptions, most of the musicians that I've worked with have done their best work by far with me.
-David Bowie
23. Tony Visconti and I had been wanting to work together again for a few years now. Both of us had fairly large commitments and for a long time we couldn't see a space in which we could get anything together.
-David Bowie
24. I'm always amazed that people take what I say seriously. I don't even take what I am serious.
-David Bowie
25. I don't know where I'm going from here, but I promise it won't be boring.
-David Bowie
26. I'm not a prophet or a stone aged man, just a mortal with potential of a superman. I'm living on.
-David Bowie
27. I think Mick Jagger would be astounded and amazed if he realized that to many people he is not a sex symbol, but a mother image.
-David Bowie
28. I rate Morrissey as one of the best lyricists in Britain. For me, he's up there with Bryan Ferry.
-David Bowie
29. It would be my guess that Madonna is not a very happy woman. From my own experience, having gone through persona changes like that, that kind of clawing need to be the center of attention is not a pleasant place to be.
-David Bowie
30. I'm looking for backing for an unauthorized auto-biography that I am writing. Hopefully, this will sell in such huge numbers that I will be able to sue myself for an extraordinary amount of money and finance the film version in which I will play everybody.
-David Bowie
31.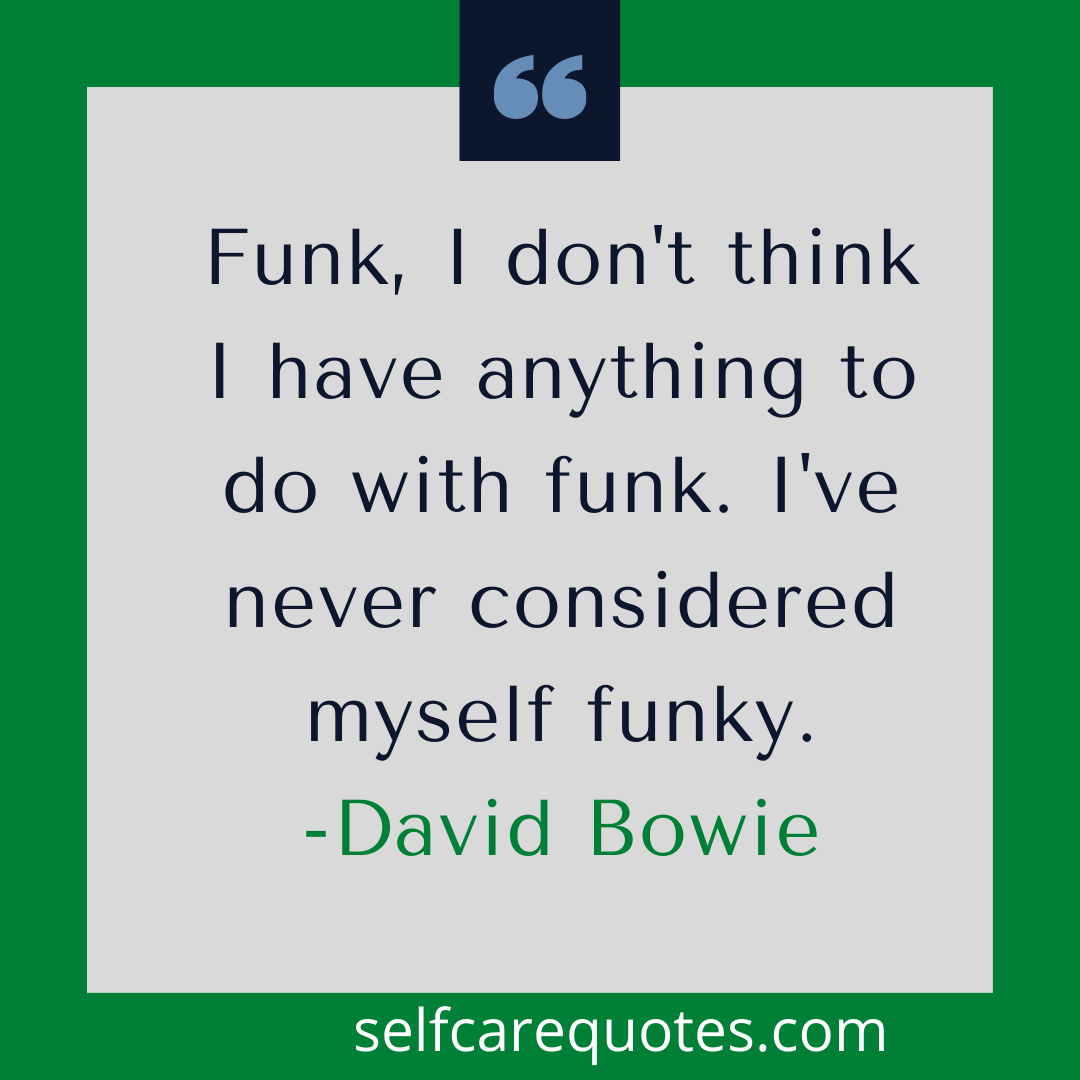 Funk, I don't think I have anything to do with funk. I've never considered myself funky.
-David Bowie
32. Confront a corpse at least once. The absolute absence of life is the most disturbing and challenging confrontation you will ever have.
-David Bowie
33. I don't profess to have music as my big wheel and there are a number of other things as important to me apart from music. Theatre and mime, for instance.
-David Bowie
34. I wish myself to be a prop, if anything, for my songs. I want to be the vehicle for my songs. I would like to colur the material with as much visual expression as is necessary for that song.
-David Bowie
35. Since the departure of good old-fashioned entertainers the re-emergence of somebody who wants to be an entertainer has unfortunately become a synonym for camp. I don't think I'm camper than any other person who felt at home on stage, and felt more at home on stage than he did offstage.
-David Bowie
36. Questioning my spiritual life has always been germane to what I was writing. Always. It's because I'm not quite an atheist and it worries me. There's that little bit that holds on: 'Well, I'm almost an atheist. Give me a couple of months.'
-David Bowie
37. I realized the other day that I've lived in New York longer than I've lived anywhere else. It's amazing: I am a New Yorker. It's strange; I never thought I would be.
-David Bowie
38. I'm very at ease, and I like it. I never thought I would be such a family-oriented guy; I didn't think that was part of my makeup. But somebody said that as you get older you become the person you always should have been, and I feel that's happening to me. I'm rather surprised at who I am, because I'm actually like my dad!
-David Bowie
39. That's the shock: All cliches are true. The years really do speed by. Life really is as short as they tell you it is. And there really is a God – so do I buy that one? If all the other cliches are true… Hell, don't pose me that one.
40.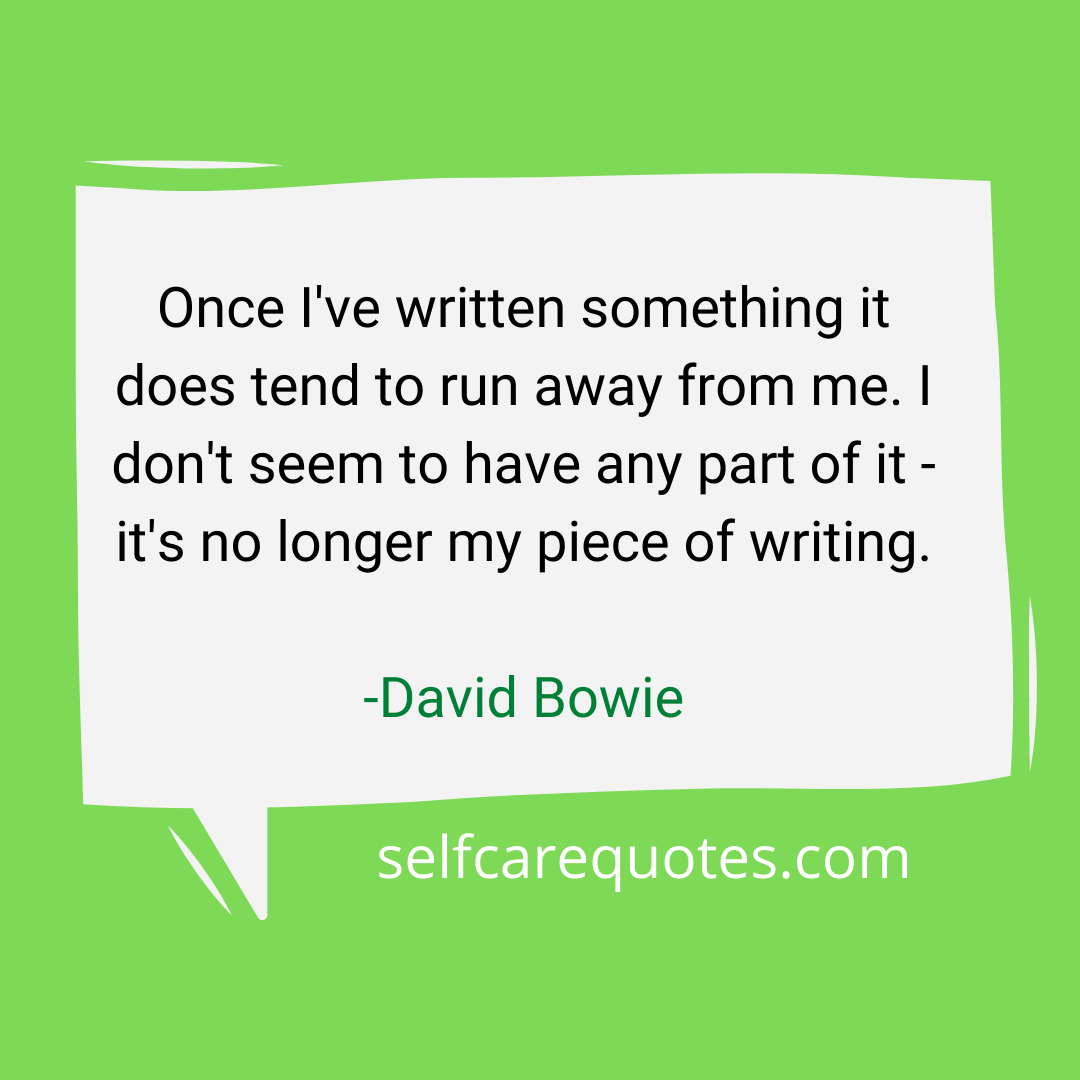 Once I've written something it does tend to run away from me. I don't seem to have any part of it – it's no longer my piece of writing.
-David Bowie
41. Radio in England is nonexistent. It's very bad English use of a media system, typically English use.
-David Bowie
42. I've made over 25 studio albums, and I think probably I've made two real stinkers in my time, and some not-bad albums, and some really good albums. I'm proud of what I've done. In fact it's been a good ride.
-David Bowie
43. What I do is I write mainly about very personal and rather lonely feelings, and I explore them in a different way each time. You know, what I do is not terribly intellectual. I'm a pop singer for Christ's sake. As a person, I'm fairly uncomplicated.
-David Bowie
44. I have all the admiration in the world for somebody like Bono, who really puts himself on the line and tries actively to do something about our world situation.
-David Bowie
45.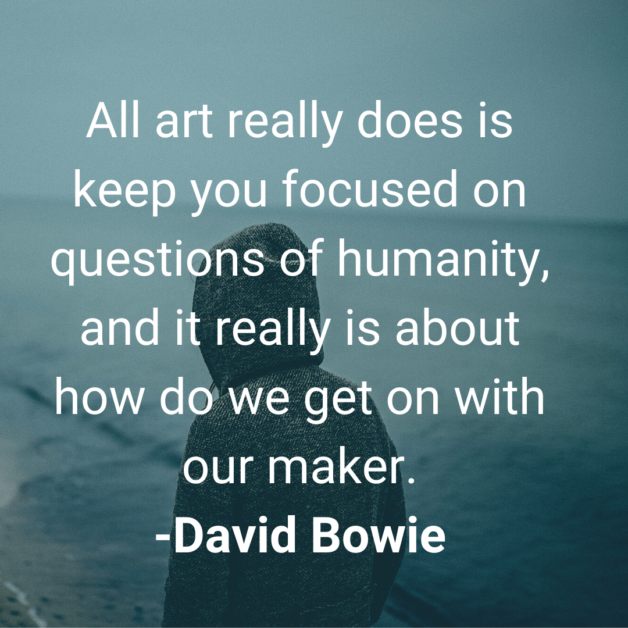 All art really does is keep you focused on questions of humanity, and it really is about how do we get on with our maker.
-David Bowie
46. Art was, seriously, the only thing I'd ever wanted to own. It has always been for me a stable nourishment. I use it. It can change the way that I feel in the mornings.
-David Bowie
47. I'm not actually a very keen performer. I like putting shows together. I like putting events together. In fact, everything I do is about the conceptualizing and realization of a piece of work, whether it's the recording or the performance side.
-David Bowie
48. I'm rather kind of old school, thinking that when an artist does his work, it's no longer his… I just see what people make of it.
-David Bowie
49. All my big mistakes are when I try to second-guess or please an audience. My work is always stronger when I get very selfish about it.
-David Bowie
50.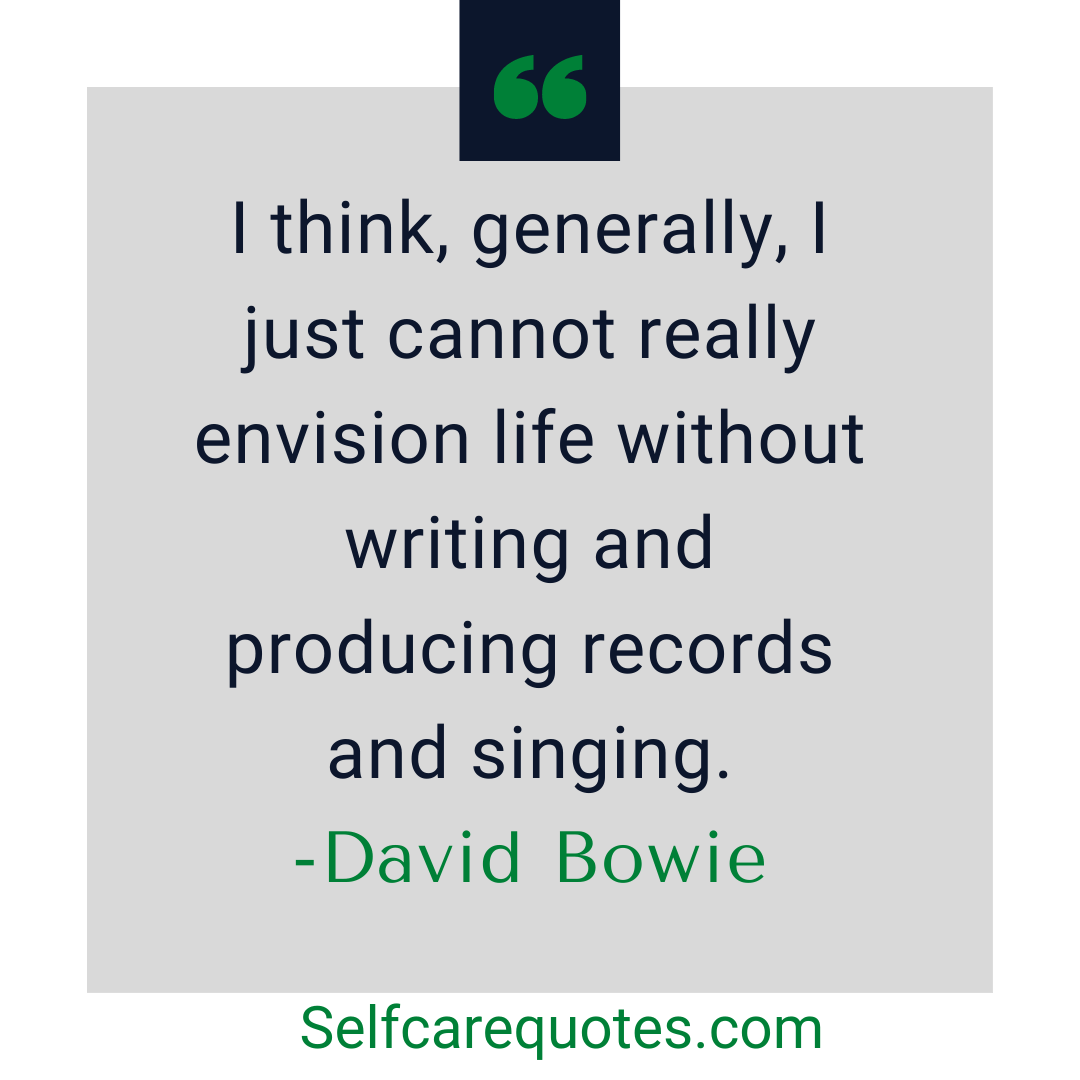 I think, generally, I just cannot really envision life without writing and producing records and singing.
-David Bowie
We find the excellence of David Bowie in various fields like music, dance, acting, musical instrument etc. in every field, he astonished the people with his excellent creativity and innovative intelligence. He proved himself as the multitalented person. In every field he had entered, he proved himself as skilled. He started his career in his teenage age.
We should follow this aspect of him. He can decide his career himself. We also dare to choose our careers. We should also have a soul like him. As a person, he is also exemplary. He maintained a good relationship with the friend who had beaten his eye and made it seriously injured. We should follow his characteristic of forgiveness.
Biography of David Bowie:
Early Life:
David Bowie was born in London in the year of 1947. He was the son of Haywood Stenton and Margaret Mary. He had grown up in the Brixton near the Stockwell. In his childhood, he had admitted to 'Stockwell Infants School.' After that, he had admitted to the 'Brunt Ash Junior School.' In this school, he also showed his abilities. Here his exceptional intelligence was invented. After that, he had attended the 'Bromley Technical High School.' He was seriously injured in one of his eyes in his childhood.
Childhood Intelligence:
From childhood, David Bowie had an interest in music. He studied music, art and design. David was excellent at playing the recorder. In his childhood, he also shows his unique dancing style. His teachers termed him as 'vividly artistic' for his extraordinary talent. He made astonished all through playing the piano in a stage performance.
Family Life:
David Bowie married to Mary Angela in 1970. Bowie had a son with Mary Angela, and the name of the son was Duncan. There was no emotional attachment and love affection between David Bowie and Mary Angela. So the marriage did not last forever. They got divorced after ten years of their marriage.  Then, in 1992, Davis Bowie married to Iman, who was a Somali-American Model. Bowie had a daughter with her in 2000. His daughter's name is Alecxandria.
Career:
David Bowie had started his career only at the age of 15. He used to play music at weddings and the local youth gathering. Bowie wanted to be a pop star. Later he became one of the best performers of popular music. He had a significant impact on rock music as well as western music.
Some of his famous albums are 'Let's Dance,' 'Aladin Sane,' Black Star,' 'Hunky Dory,' 'Diamond Dogs,' 'David Bowie,' 'Glastonbury 2000', 'The Rise and Fall of Ziggy Stardust and the Spiders from Mars,' 'Low,' 'Young Americans' etc.  Some of the movies of David Bowie are 'Just a Gigolo,' 'Absolute Beginners,' 'The Hunger,' 'Basquiat,' 'The Last Temptation of Christ,' 'Labyrinth,' 'The Prestige' etc.