Top 40 Joe Biden quotes:
1.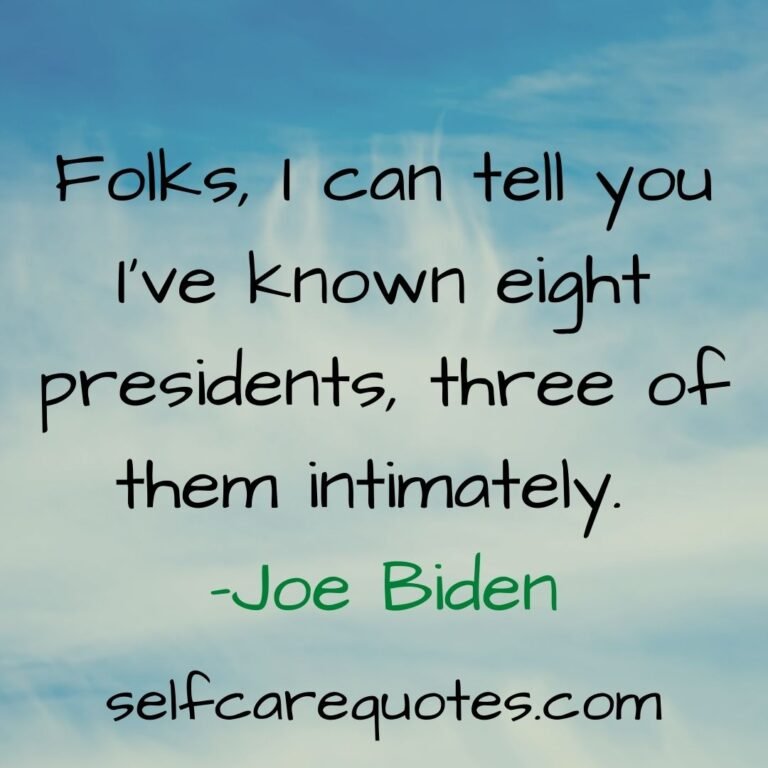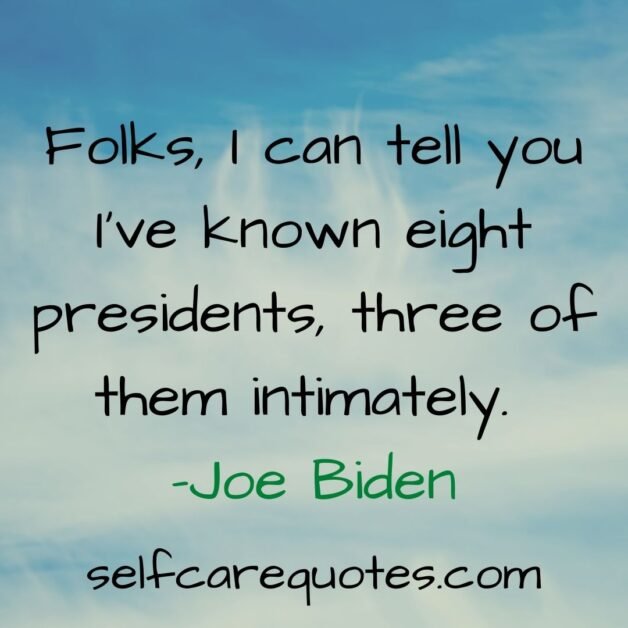 Folks, I can tell you I've known eight presidents, three of them intimately. -Joe Biden
2. Our future cannot depend on the government alone. The ultimate solutions lie in the attitudes and the actions of the American people. -Joe Biden
3. If you need more than 10 rounds to hunt, and some argue they hunt with that many rounds, you shouldn't be hunting. If you can't get the deer in 3 shots, you shouldn't be hunting. You are an embarrassment. -Joe Biden
4. The effects of climate change are real and must be acted on. -Joe Biden
5. My dad always said, 'Champ, the measure of a man is not how often he is knocked down, but how quickly he gets up.' -Joe Biden
6. Corruption is a cancer: a cancer that eats away at a citizen's faith in democracy, diminishes the instinct for innovation and creativity; already-tight national budgets, crowding out important national investments. It wastes the talent of entire generations. It scares away investments and jobs. -Joe Biden
7. Reality has a way of intruding. Reality eventually intrudes on everything. -Joe Biden
8. Here at home, when Americans were standing in long lines to give blood after the attack on the World Trade Center and the Pentagon, we squandered an obvious opportunity to make service a noble cause again, and rekindle an American spirit of community. -Joe Biden
9. We didn't crumble after 9/11. We didn't falter after the Boston Marathon. But we're America. Americans will never, ever stand down. We endure. We overcome. We own the finish line. -Joe Biden
10.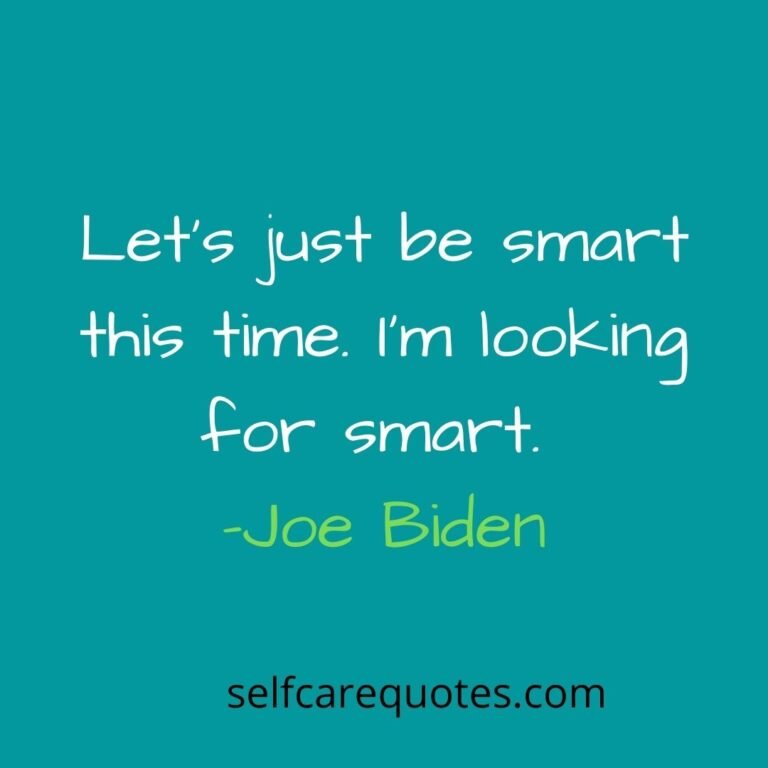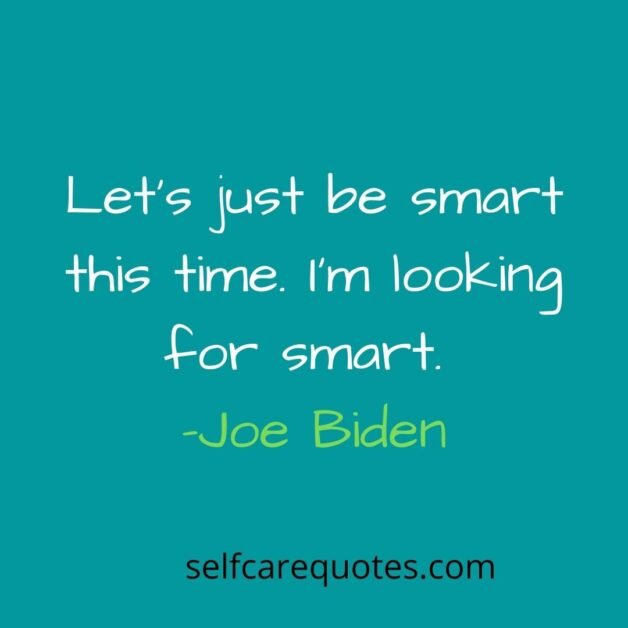 Let's just be smart this time. I'm looking for smart. -Joe Biden
11. When the stock market crashed, Franklin Roosevelt got on the television and didn't just talk about the princes of greed. He said, 'Look, here's what happened.' -Joe Biden
12. Failure at some point in your life is inevitable, but giving up is unforgivable. -Joe Biden
13. No fundamental social change occurs merely because government acts. It's because civil society, the conscience of a country, begins to rise up and demand – demand – demand change. -Joe Biden
14. Fighting corruption is not just good governance. It's self-defense. It's patriotism. -Joe Biden
15. My dad used to have an expression – 'It is the lucky person who gets up in the morning, puts both feet on the floor, knows what they are about to do, and thinks it still matters.' -Joe Biden
16. Other than being crazy enough to press a button, there is nothing that Putin can do militarily to fundamentally alter American interests. -Joe Biden
17. In my heart, I'm confident I could make a good president. -Joe Biden
18. I used to stutter really badly. Everybody thinks it's funny. And it's not funny. It's not. -Joe Biden
19. If I don't run for president, we'll all be OK. -Joe Biden
20. I exaggerate when I'm angry, but I've never gone around telling people things that aren't true about me. -Joe Biden
21. I ran for the Senate six times. And one of the things I know about Senate races off years and on races, and on years, the same as governor's races, is it's all local. It all gets down to what the specific issues in that – in that district or that state is. -Joe Biden
22. I support immediate financial assistance to the newly elected Palestinian president. Now, I don't know what those numbers will be, and I don't know how it's going to be framed. -Joe Biden
23. No one ever doubts that I mean what I say. The problem is I sometimes say all that I mean. -Joe Biden
24. Hillary Clinton is as qualified or more qualified than I am to be Vice President of the United States of America. Let's get that straight. She's a truly close personal friend. She is qualified to be President of the United States of America. She's easily qualified to be Vice President of the United States of America. -Joe Biden
25. You never make fun of anybody with a club foot or a withered arm, but it's open season on anybody who stutters. -Joe Biden
26.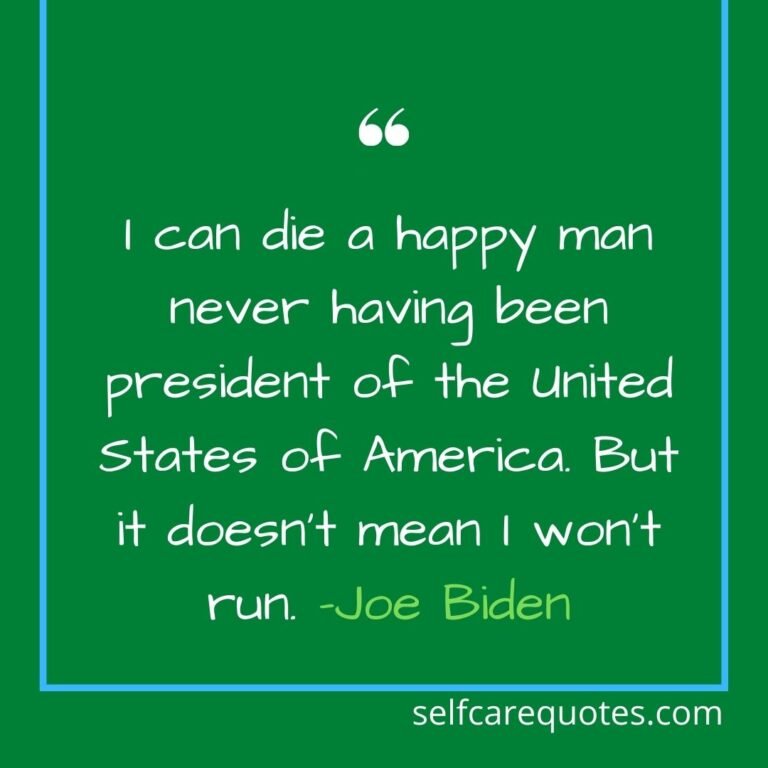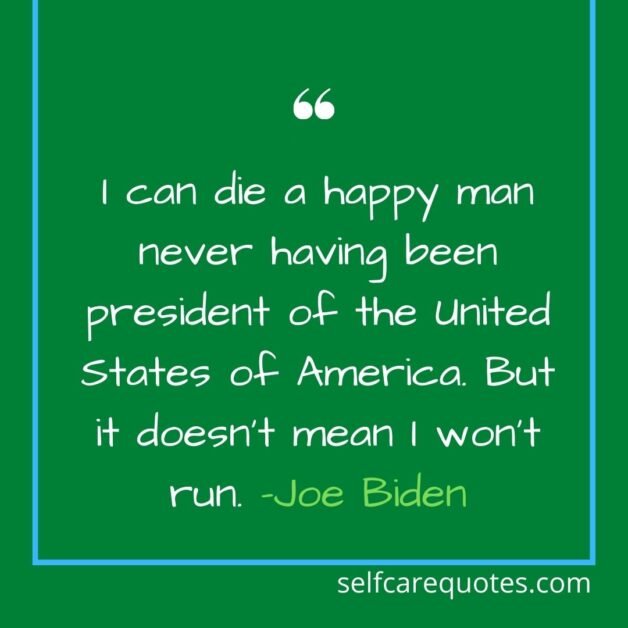 I can die a happy man never having been president of the United States of America. But it doesn't mean I won't run. -Joe Biden
27. Life is a matter of really tough choices. -Joe Biden
28. For any young democracy, the most difficult but important step is burying the legacy of tyranny and establishing an economy and a government and institutions that abide by the rule of law. Every country faces challenges to the rule of law, including my own. -Joe Biden
30. Corruption is just another form of tyranny. -Joe Biden
31. Two million felons have tried to buy a gun and, because of the background check, have been denied. -Joe Biden
32. Unions did in fact build the middle class. And here's what that did. That built the United States of America as we know it. -Joe Biden
33. For too long in this society, we have celebrated unrestrained individualism over common community. -Joe Biden
35. I have no doubt that Russia will and should remain a major source of energy supplies for Europe and the world. -Joe Biden
36. For too long in this society, we have celebrated unrestrained individualism over common community. -Joe Biden
37. I don't say very much I don't really think through. I know that sounds inconsistent with Joe Biden. -Joe Biden
38. I used to say to my late wife, 'I have great faith in the American people.' -Joe Biden
39. In this world, emotion has become suspect – the accepted style is smooth, antiseptic and passionless. -Joe Biden
40.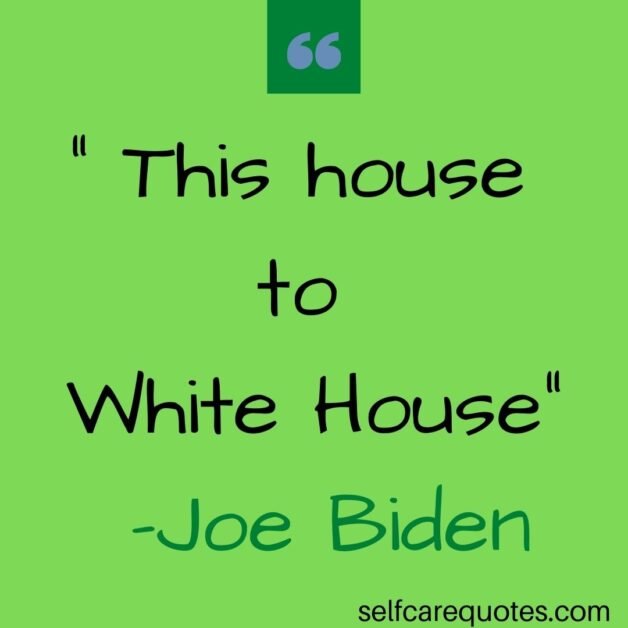 On Election Day-2020, Biden visited Ex House and wrote the quotes from Ex. House then gave the quotes to the house owner  "This house to White House" -Joe Biden
History of Joe Biden:
Joe Biden. Age is now 77. His long political life is about 50 years. The dream of going to the White House that you have been cherishing for a long time, the path of that dream is now at war!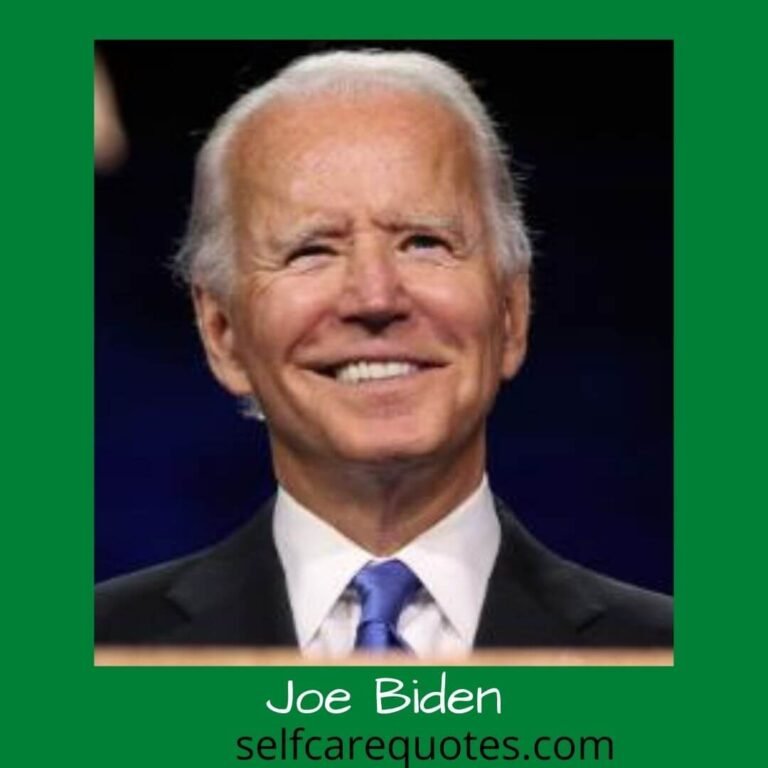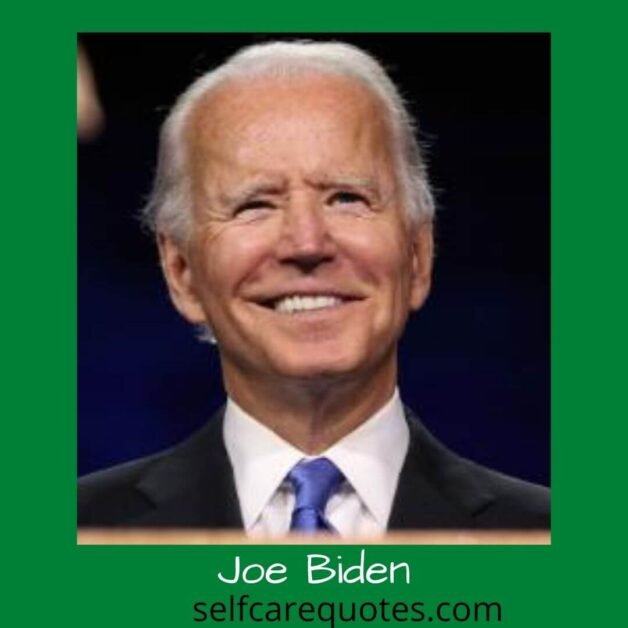 He ran for the presidency of the United States once in 1986. Democrats wanted party nominations. But he was accused of stealing someone else's writing and running it in his own name! Another allegation was made on the basis of this allegation. An incident in student life, when he used exactly another person's writing on his citation paper as a law student. He said at the time that he did not know that it was outside the rules.
He was forced to withdraw from the campaign when he was accused of dishonesty!
Later, one of his biographers, Mr. Biden said the incident had "eaten away at him. I have always thought of myself as an honest man. That place has been hit hard."
Elsewhere, he wrote, "I am responsible for this. I am suffering from anger and frustration. This is not the true identity of Joe Biden. It's just a big mistake of mine "!
After that, Biden struggled with himself for 20 years in various crises including loss of relatives, loss of wife and son, bleeding in his brain. Many have become presidents of the United States, including Bill Clinton, George W. Bush, Barack Obama and Trump!
In 2008 he ran for party nomination. However, Barack Obama did not get along. Although Obama made him vice president. He did not get party nomination in the 2016 election again, he lost to Hillary Clinton. But the president of the Republican Party Donald Trump.
But Joe Biden did not give up! His dream was to become the President of America. He was finally nominated for the 2020 presidential election. There was also uncertainty. It was as if he was losing. But get nominated at the very last minute. "
People are not like that, Joe Biden. I was overwhelmed by his life! Joe Biden has shown for a long time how he can nurture people's dreams.
Joe Biden often said, "One of the biggest lessons of my life is the words of my father – no matter how many times he pushes you, no matter how fast you get up, that will be the key to your success as a human being."
The one whose life is full of struggles, who says such beautiful things, should be the President of the USA.
But the misfortune of the world is that the whole world is now occupied by reactionary politicians. In a world ruled by Donald Trump, Shin Jinping, Narendra Modi, Kim Jong Un, Netanyahu, Macro, Biden may be out of place.  The nature of the world is generosity, sensitivity, and humility!