Human beings are very emotional. People become emotional due to despair, dejection and annoyance. These are the different mental states of the people. Annoyance is one of the most unpleasant states of the human psyche.
Different people show their annoyance in different ways. Generally, people outbreak their annoyance by quarreling or by rebuking the person to whom he is annoyed. 
Some people show their anger through their speeches, writings, quotes etc. Generally, they do it decently. To soothe the restless mind through writing is a modest way. Without harming anyone, you can reduce your irritation.
You'll find various quotes about being annoyed in this article. Many people can't show their anger, but they get hurt. 
Quotes About Being Annoyed:
1.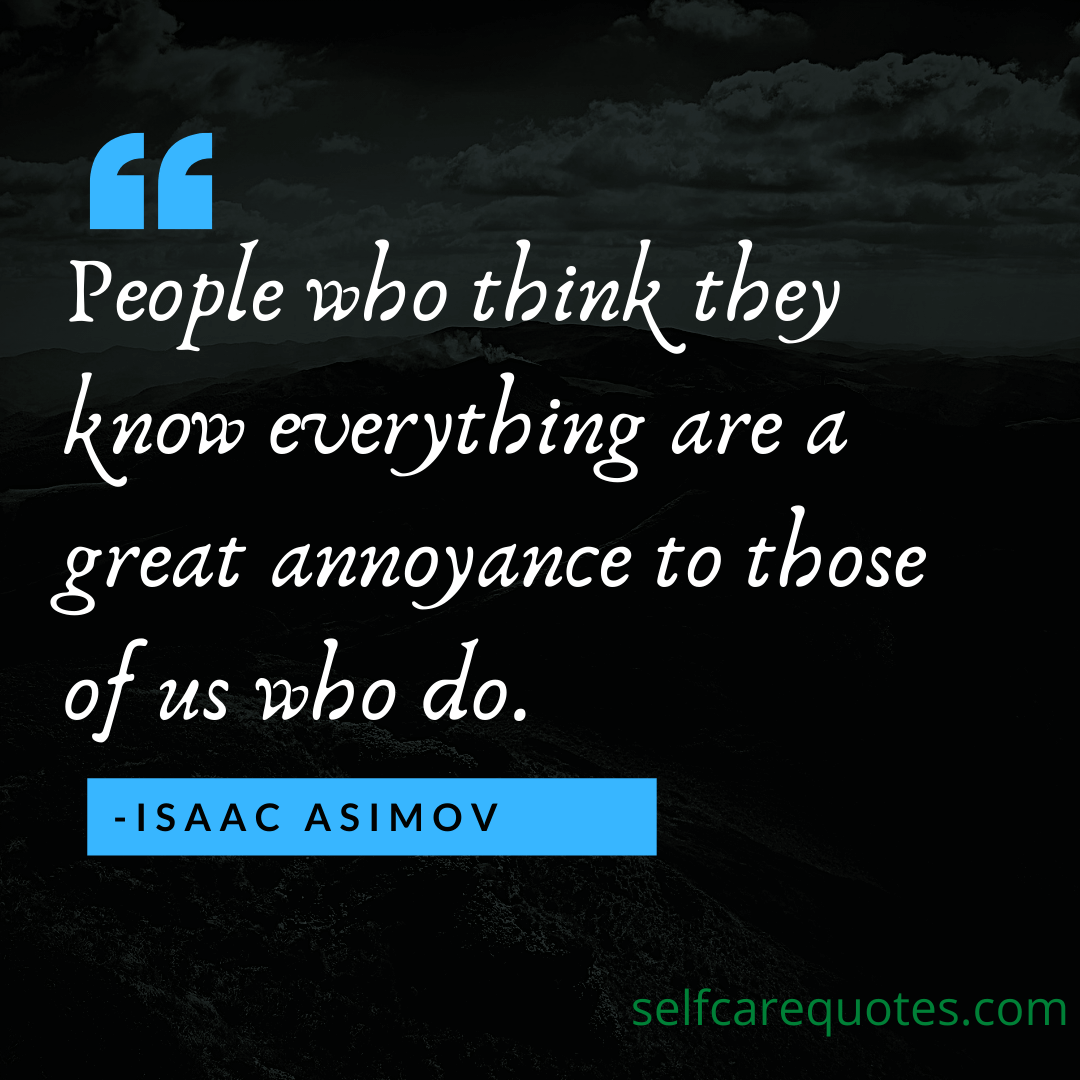 People who think they know everything are a great annoyance to those of us who do. -Isaac Asimov
2. Anyone who has declared someone else to be an idiot, a bad apple, is annoyed when it turns out in the end that he isn't. -Friedrich Nietzsche
3. When I was a little boy in school I had to dress up as a bunny and there's a picture of me with an annoyed face, and when I saw it, I thought I should name myself 'Bad Bunny.' -Bad Bunny
4. I get very annoyed when people think I'm nice or diffident or a polite English gentleman. I'm a nasty piece of work, and people should know that. -Hugh Grant
5. Status anxiety definitely exists at a political level. Many Iraqis were annoyed with the US essentially for reasons of status: for not showing them respect, for humiliating them. -Alain de Botton
6.
I'm always annoyed about why black people have to bear the brunt of everybody else's contempt. If we are not totally understanding and smiling, suddenly we're demons. –Toni Morrison
7. I don't get dressed up every day. I'm very busy. I get really annoyed when people talk about me as a 'fashionista.' I get dressed up when I have to go out. Most of the time, I'm running around in jeans. -Iris Apfel
8. It's like there's some unwritten rule that if you're mates, you can say what you want to each other, and you don't really get that annoyed about it. -Karl Pilkington
9. My sons and I thoroughly enjoy Legos. We go to the toy store every week for more. I never want to take what we build apart; I want to put it on a shelf. My wife is starting to get a little annoyed with the Legos lying around. -Mark Wahlberg
10. I remember, when I was an up-and-coming comic, how annoyed I would be when the famous guys would show up and just take everyone's spots. -Seth Rogen
11. My dreams were all my own; I accounted for them to nobody; they were my refuge when annoyed – my dearest pleasure when free. -Mary Shelley
12. I don't really have any traits that I deplore. I get annoyed with myself sometimes, but that's about it. -George Michael
13. I almost get annoyed at the fact that I'm not going to use all that I got. -Jerry Lewis
14. I just get annoyed at myself. A lot of swearing goes on generally when I am driving. -Lando Norris
15. When I said I didn't have a cent, I didn't. I used to get annoyed with people who said they were broke when they had five dollars. -Paul Lynde
16.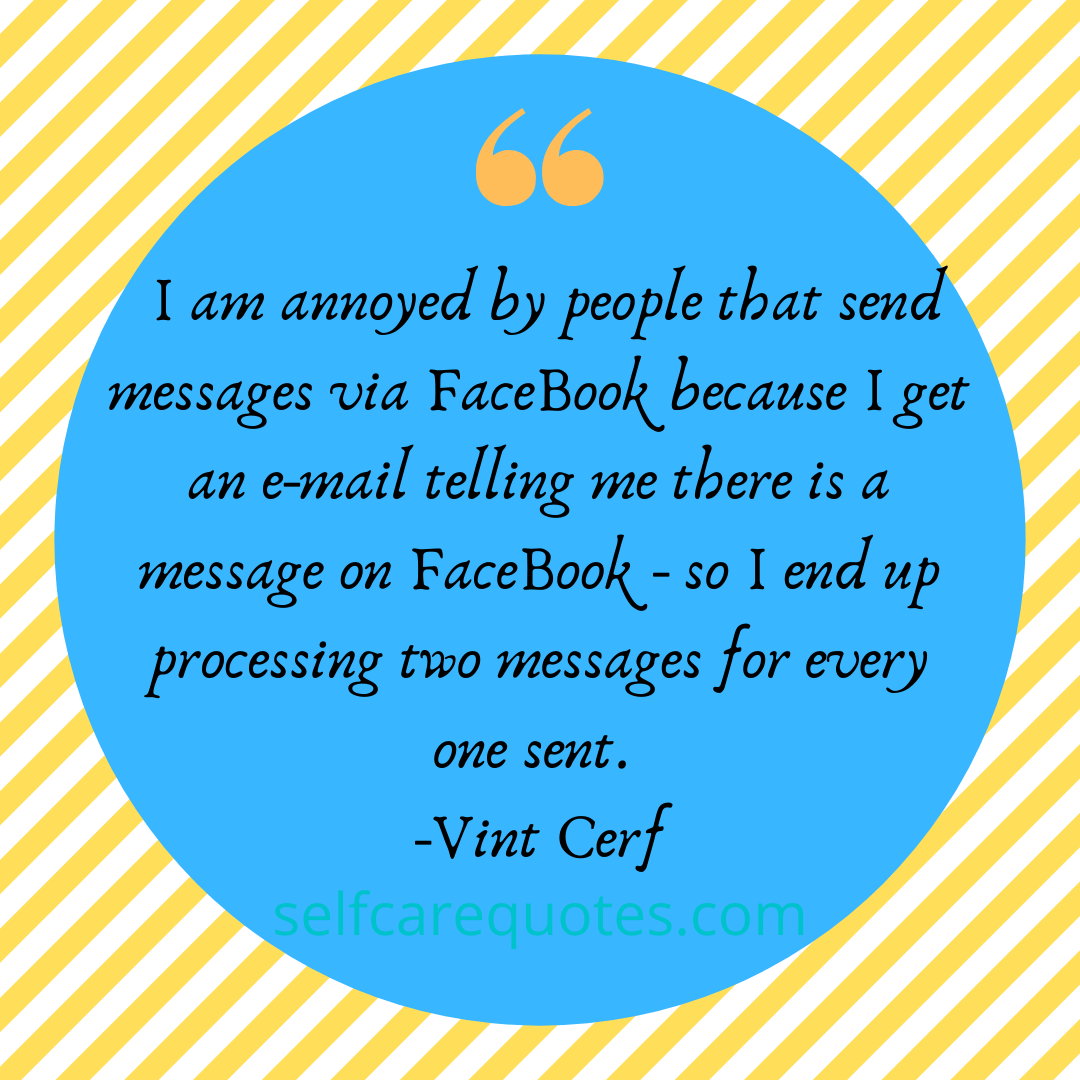 I am annoyed by people that send messages via FaceBook because I get an e-mail telling me there is a message on FaceBook – so I end up processing two messages for every one sent. -Vint Cerf
17. I think people could be a bit friendlier. The only real contact you have with people is when they're annoyed if you've had a party – you know, it's been a bit too noisy for them or something. -Boy George
18. William Regal once told us he people-watched when he was in the ring. He would see things that people would do. And if they annoyed him, chances are they would annoy someone else. A lot of times I'll just people watch when I'm traveling or at the airport or living everyday life. -Alexa Bliss
19. If I get annoyed because I'm not in the headlines and don't do well in training, I won't do well if I have to go in. I've to be prepared because the World Cup isn't easy. -Paulo Dybala
20. If I were gay, life would be a lot simpler. I'm kind of annoyed that I'm not. -Grace Slick
21. I can understand why people get annoyed at being remembered for one thing, but a lot of actors aren't remembered for anything. I don't mind that. -Julie Walters
22. I'm really annoyed by the wave of country music that's just a list of stuff. It almost sounds like L.A. people writing country music, because it's just a list of stuff: 'My pickup truck and my cowboy boots and my Levi's jeans and my girlfriend with the short shorts.' It's so boring! -Kathleen Hanna
23. My music puts people in a dreamy mood. It's edgy. It's nuanced. I get annoyed when people say it's R&B because it's not that simple. I call it futuristic soul. -Ravyn Lenae
24. If you're going to play the bargaining game, you just need to make the other side mad. You want them to get a little annoyed. Then you know that you've come in with a good price. -Christopher Voss
25.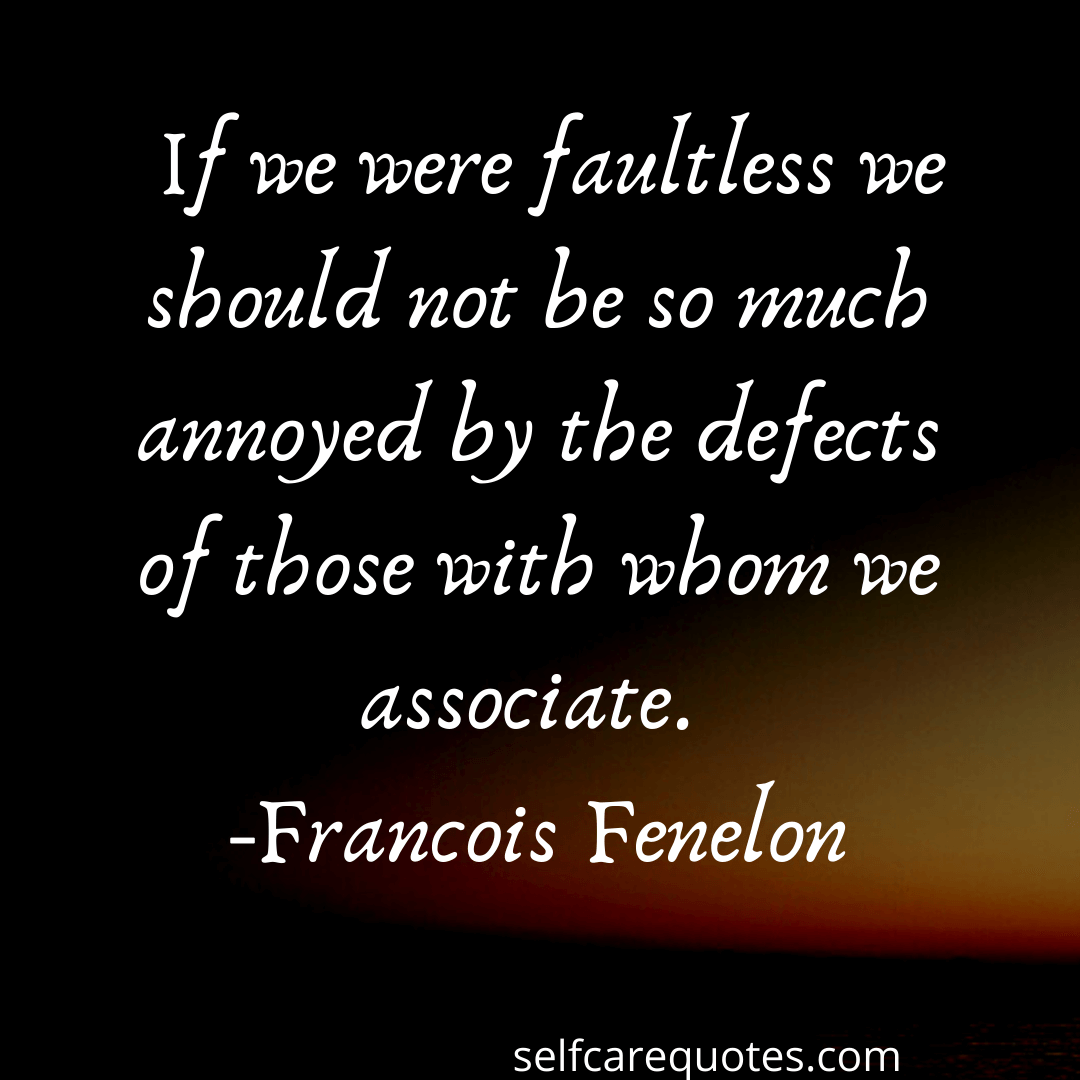 If we were faultless we should not be so much annoyed by the defects of those with whom we associate. -Francois Fenelon
26. New Yorkers, by reputation, are fast-talking, assertive and easily annoyed; I fit right in. -Jane Pauley
27. After years in white theaters, I dreaded working in colored houses. The noise, the stomping, whistling, and cheering that hadn't annoyed me when I was young was now something I dreaded. -Ethel Waters
28. Name anything – high-definition TV, computer obsolescence – and I'm pretty much annoyed by it. -Martin Freeman
29. My door was open part of the time, and part of the time I tried to get a nap and their voices annoyed me, and I closed it. I kept it open in summer more or less, and closed in winter. -Lizzie Andrew Borden
30. I fumbled my senior year in the playoffs. It just annoyed me. -Saquon Barkley
31.
If you find yourself annoyed at his lazy tendencies early on, be wary – because that's one trait of his that won't magically change when he gets a better job or finally joins that gym. -Matthew Hussey
32. I get annoyed a lot with things. -Josh Widdicombe
33. I pop gum. My parents get so annoyed with me. I know my dad wishes he never taught me how to do that. -Hilary Duff
34. I'm not prolific, I go over stuff and it goes for me and sometimes against me. I'm annoyed that I don't do enough stuff off-the-cuff. It's a difficult thing to do something quickly and stand behind it. -Ben Howard
35. A long time ago, I had a bird that annoyed me, and the bird had to go. The bird's neck was snapped. I would also snap Conor McGregor's neck in a similar fashion. -Michael Bisping
36. The only thing that might have annoyed some mathematicians was the presumption of assuming that maybe the axiom of choice could fail and that we should look into contrary assumptions. -Alonzo Church
37. I came to Turin above all for my family, because at Manchester, they had inserted a clause in our agreement which changed the situation considerably. It really annoyed me. -Patrice Evra
38. I think I am too old to be doing teen movies. I am just kind of annoyed, because you have all these teen movies coming out with usually either Lindsay Lohan or Hilary Duff doing four of the exact teen movies over and over again. -Alexa Vega
39. I'm a huge 'Breaking Bad' fan; I would be really annoyed if anyone told me anything about what was going to happen in the last eight episodes. -Nikolaj Coster-Waldau
40.
Typically, we get annoyed when our spouses complain. We get defensive. But, really, when your spouse complains, he or she is giving you wonderful information about what would make him or her feel loved. -Gary Chapman
41. Our relationship is very good. When Ibra gets annoyed, I prefer not to reply because I know how he can react. I prefer to calmly count to ten. -Thiago Silva
42. What I do is spend too much time thinking. Most of the time I just walk around annoyed. Would I describe myself as relatively happy, I suppose, but society gets to me. And the people that have mastered life seem to not care, and then they die, and then the grenade goes off. -Neill Blomkamp
43. I think that it's interesting how shows like 'Walking Dead' or even 'Game of Thrones,' with all its fantasy elements, have become so popular. Sometimes, though, I get a little bit annoyed because the whole nerd thing taking over and is now cool, and it wasn't cool when I was younger. -AJ Lee
44. Writing has been so much a part of my life that I'm really quite annoyed that I can't do as much as I used to. -Anne McCaffrey
45.
It's the reaction I've gotten my whole life: that I learn something and try to tell people in conversation, but when I tell them, they are annoyed. -Adam Conover
46. I know it sounds funny, but every time I have a disaster in the kitchen, it knocks my confidence level a little bit more, and I feel annoyed with myself that I can't do better. -Lesley Nicol
47. My mother had to stop me reading to make me go and get some fresh air. I used to get so annoyed. She actually had to sit on my book because, otherwise, I would find it. -Michelle Paver
48. I love my last-minute lifestyle because I just sort of don't have plans, and things kind of happen. Plans make me annoyed a little bit, personally. I'm not the most prompt, on-time person. -Maxwell
49. I think people who lack humility are really annoying. -Emily Vancamp
50.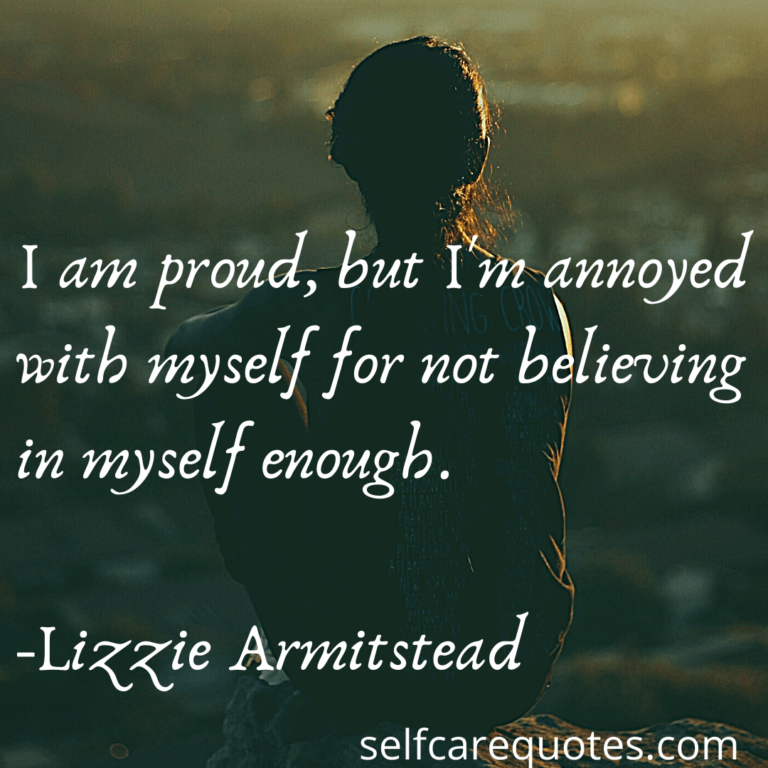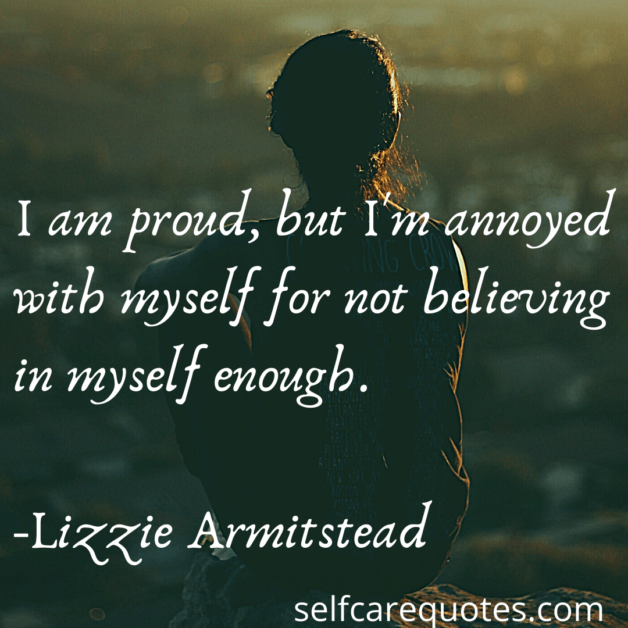 I am proud, but I'm annoyed with myself for not believing in myself enough. -Lizzie Armitstead
Different Types of Annoyed Quotes:
If you search the annoying quotes, you'll find different types of it. These quotes are different based on the diversity of the relationship.
Some quotes are about the annoyance for the friends, people around us, and the adverse situations. You'll also find various kinds of quotes about being annoyed with someone you love.
Some quotes are for the irritation or the irritating person of your life. Even some annoyed quotes are amusing and funny. 
Funny and Amusing Annoyed Quotes:
Generally, you'll find annoying quotes as serious. But you'll also find the funny annoyed quotes. When you suffer from the anger, wrath, or rage, go through the funny annoyed quotes.
If you read the funny, annoying quote, it will diversify your mind's focus from your angry situation. By refreshing your mind, it will reduce your annoyance.    
Annoyed Quotes Related to Love and Affection:
If you search, you'll find a lot of annoying quotes about love. Every relation goes through ups and downs. People love their lovers or beloved at the same time they are upset with them.
In every good relation, we may find both affection and annoyance. That's why there are annoying quotes about love for different dimensions of the relationship.
You can show your annoyance to your partner in different ways. If you are angry at your lover or your husband, you may send annoyed quotes for him. Of course, you have to choose a decent one.    
Quotes about Irritation:
People get angry mostly if he is irritated by someone or by any situation. There are a few people who can react if someone irritates them.
If you show your anger on the people who irritate you, the situation may go out from your hand. To reduce your anger without making the situation complex, you may read 'the person who irritates you quotes.' 
If you read the irritating quotes, you'll get similar kinds of experiences of different people. The quotes will work as consolation for you. 
It is really irritating to work with irritating people.
-Joshua Ferris
Being natural is one of the most irritating poses I know in people.
-Alexander Theroux
Nothing is as irritating as the fellow who chats pleasantly while he's overcharging you.
-Kin Hubbard
In some cases, I quite like irritating people who need to be irritated.
-Robert Smith
Annoying Attitude quotes: 
When someone treats rudely with you, you become sad and also annoyed. Rude and harsh behavior is very disappointing.
The rude behavior of others always hurts our ego. We write the annoying attitude quotes when others badly hurt us.
We show we are mentally strong enough to endure all kinds of adversity through such kinds of quotes. Friends are the best part of our lives.
These friends sometimes become the reason for our annoyance. You'll also find various quotes about annoying friends.