The two words, 'Movie' and 'popcorn,' are closely related to each other. If you are a movie lover, then, of course, you are acquainted with this relationship.
During any movie show, the eating of popcorn is a common scenario. We may call this scenario the habit or the trend.
Taking popcorn during watching the movie has become a popular trend in the world. You will observe the same scenario in all the movie theater.
At first, the movie theater owner did not want to allow the popcorn vendor to their theater. The snack creates a disturbing sound, and its trash makes the theater dirty. Later they allow the vendor for their profit.
Now, this snack has become part and parcel of the movie shows. Then, with time, the popularity of popcorn has increased. With the increasing popularity of the popcorn trend, the popcorn quotes have also become popular. 
50 Top Popcorn Quotes:
1.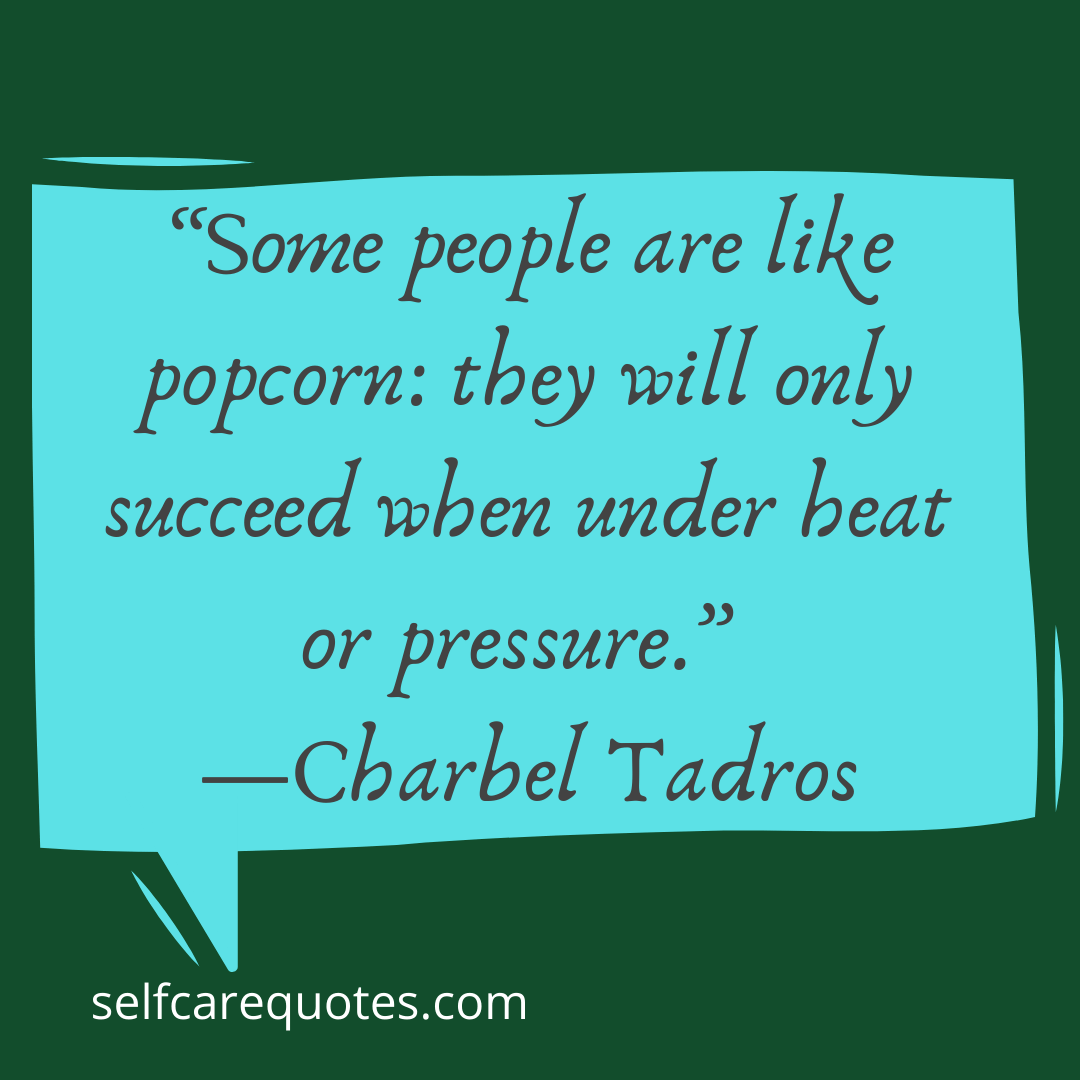 "Some people are like popcorn: they will only succeed when under heat or pressure." —Charbel Tadros

2 "The laziest man I ever met put popcorn in his pancakes so they would turn over by themselves." —W. C. Fields

3 "The popcorn button on the microwave is a miraculous invention. More miraculous than even the microwave itself." —Gary Gulman

4 "I'm a popcorn fanatic. No matter how full I am, I can eat popcorn." —Julianne Philllips

5."It means the third rail has seven hundred volts of direct current running through it. Touch it and you're human popcorn.-James Patterson

6. "Love is sharing your popcorn." —Charles M. Schulz

7."Finishing the popcorn before the movie start." —Unknown

8. "If I don't work, I'll be sitting on the couch watching TV, eating popcorn and getting like a cow." —Celia Cruz

9. "People that say I have a 'fear of commitment' don't understand my relationship with popcorn." —Dov Davidoff

10
"Sometimes I think that all anyone needs in life is lots of popcorn and a few Lovelies." —Sam Savage
11. Antiques Roadshow' is my favorite show. Every Monday night I have one hour of appointment television. I get the popcorn out and tell my husband, "Don't bother me." -Lara Spencer
12. I've always loved the rush you get from watching a really scary movie, but I never watch them alone. It's fun to turn out the lights and scream and clutch someone's hand and spill the popcorn all over the place and hide under each other.-Sunny Mabrey
13. I don't really drink sodas, but when I have popcorn or pizza I need a little. It's the perfect combination. -Alessandra Ambrosio
14. When I was ten, I had a weird cinema party where I invited everybody from my street to come. I pretended I was an usher and tried to sell them all popcorn. -Sophie McShera
15. Popcorn is the sentimental good-time Charlie of American foods. -Patricia Linden
16. What I remember about the experience is that if you went to go see 'Born On The Fourth Of July' and you happened to take a bathroom break real quick or grab some popcorn, you probably missed me. It was short, but it was memorable.-Vivica A. Fox
17. When I was 14 years old, I made this PowerPoint presentation, and I invited my parents into my room and gave them popcorn. It was called 'Project Hollywood 2004' and it worked. I moved to L.A. in January of 2004.-Emma Stone
18. Some of my foster families used to send me to the movies to get me out of the house and there I'd sit all day and way into the night. Up in front, with the screen so big, a little kid all alone, and I loved it. I loved anything that moved up there, and I didn't miss anything that happened, and there was no popcorn either.-Marilyn Monroe
19.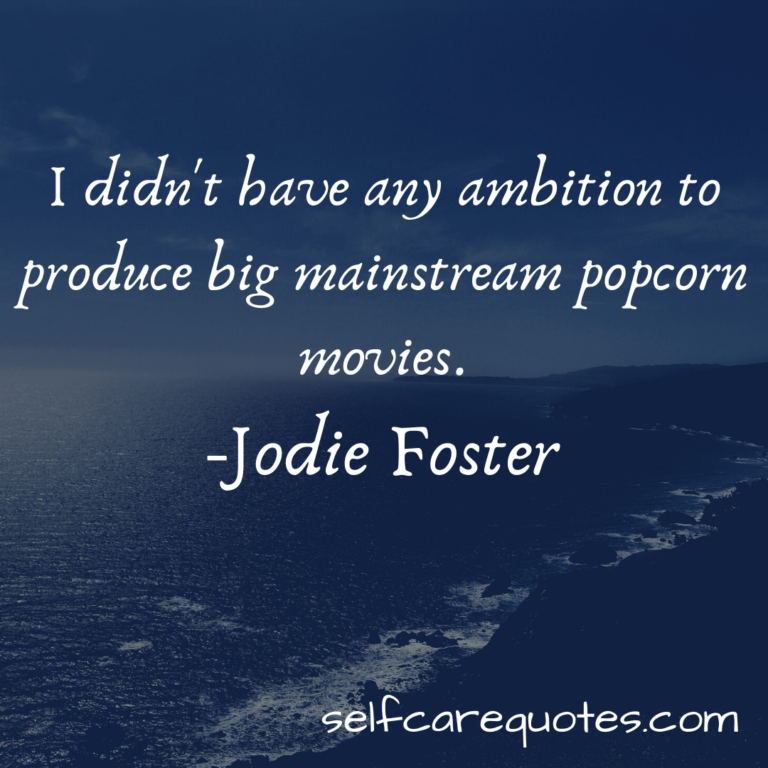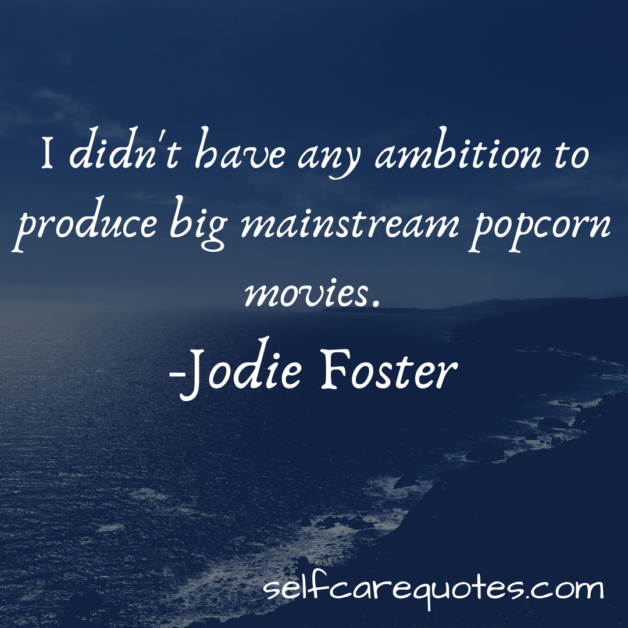 I didn't have any ambition to produce big mainstream popcorn movies.-Jodie Foster
20. Any role that's proactive is a great role, and action roles are by their very nature proactive. You get to do stuff. I hate sitting in the corner – I'd much prefer an action role in a popcorn movie rather than pining in a movie not doing anything.-Helen Mirren
21. When I found out that I was going to be CBS every morning, my first phone call was to Jenny Craig. Ten days later, I lost nine pounds. Now I even take the plan's popcorn with me to the movies.-Gayle King
22. I love going to the movies and getting Raisinettes, a big tube of popcorn and a Coke. That's definitely a guilty pleasure because I can't be doing that all the time. -Sanaa Lathan
23. Well, I'm a consumer as well. I go to the movies with my popcorn and believe everything I see.
-Kelly Lynch
24. If I don't work, I'll be sitting on the couch watching TV, eating popcorn and getting like a cow.
-Celia Cruz
25. I get scared easily, so I'm not one for just sitting down with a bowl of popcorn and watching horror stories. But, I mean, I'm learning more. Maybe one day I'd like to be able to watch them.
-Taissa Farmiga
26. On a super, super hot day, you can hear some of these cones popping open. And the people who were here during the fire heard a lot of it. Imagine popcorn – pop, pop, pop, pop, pop.
-Jennifer Chapman
27. The British are really good at that. They are so incestuous,… They pass around partners as if it was popcorn at a movie. 'Do you want some?' It's just bizarre. -Cameron Diaz
28.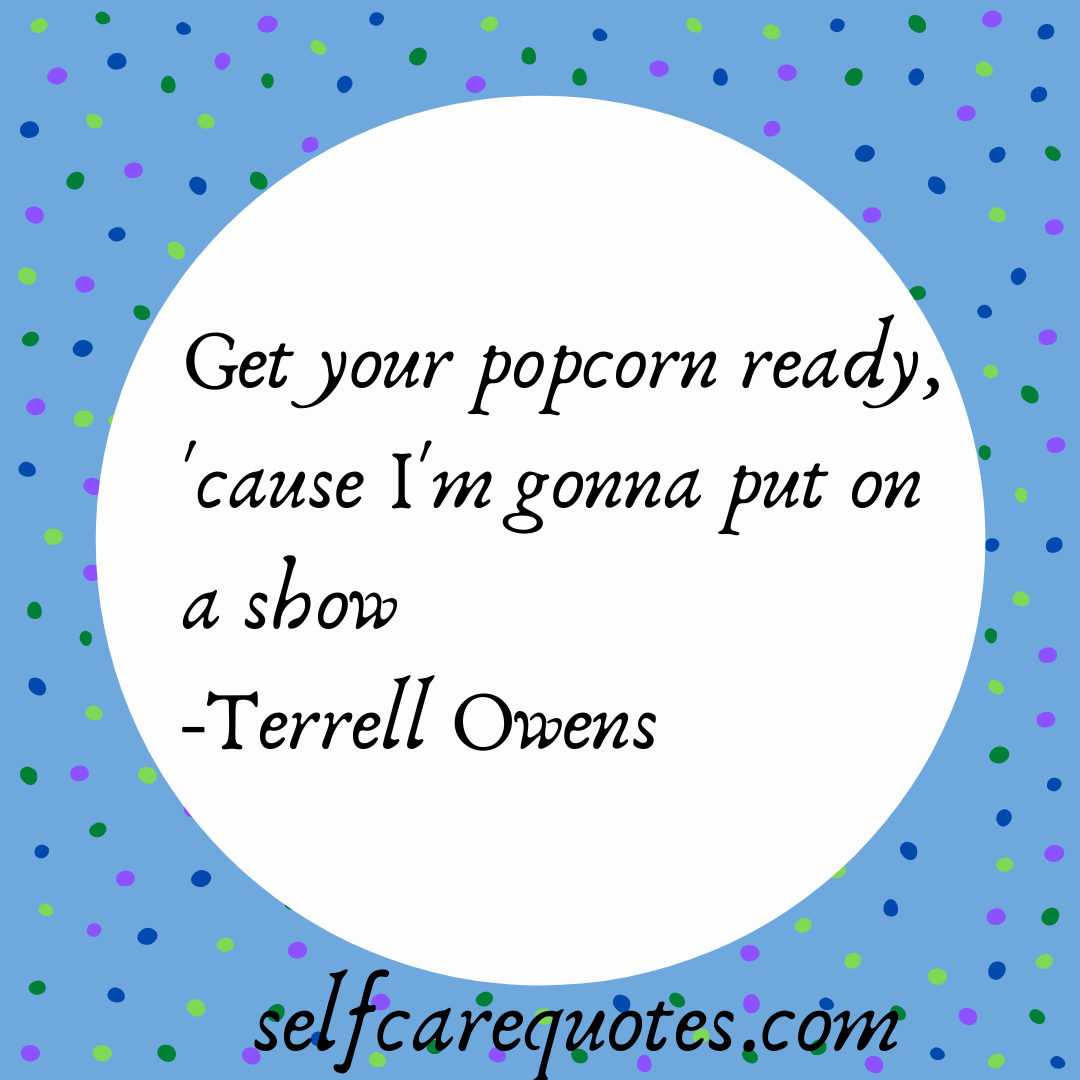 Get your popcorn ready, 'cause I'm gonna put on a show. -Terrell Owens
29. The laziest man I ever met put popcorn in his pancakes so they would turn over by themselves.-W. C. Fields
30. Enjoy your popcorn and enjoy the show. It's just a movie, so have fun! -Martin Lawrence
31. I was too young to be an avid enthusiast for the franchise, but like billions of people, I remember as a child sitting around with the family on a Friday night with pizza and popcorn and a 'Die Hard' movie on.-Jai Courtney
32. For those of you who like to scarf your popcorn in the sack, the good news is that Newman's Own contains an aphrodisiac.-Paul Newman
33. With all the horror in the world and all the crap that's going on, for an hour and a half you go eat some popcorn and laugh with your friends. That's what a movie is all about. -Michael Rosenbaum
34. There's a lot of dancing in football. You can see Victor Cruz doing a little bit of cha-cha or sambra move in the end zone. You can see Terrell Owens getting his popcorn ready. You can see Ochocinco doing the river dance. But not so much in the ballroom. -Emmit Smith
35. Horror is so often a "thinkless" genre, sort of considered popcorn movies, but you really put a lot of, not just heart and soul, but a lot of physical energy into it. -Fran Kranz
36.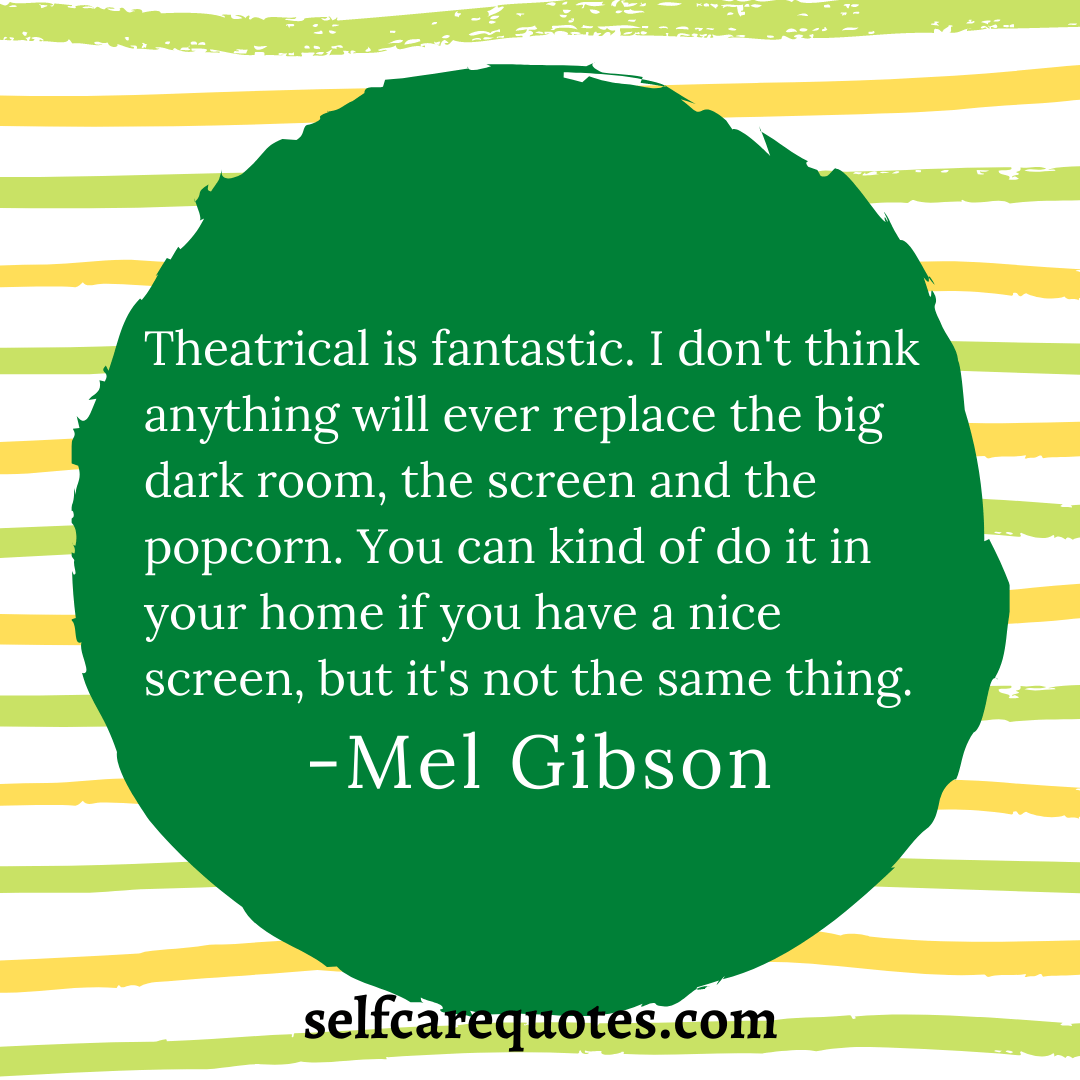 Theatrical is fantastic. I don't think anything will ever replace the big dark room, the screen and the popcorn. You can kind of do it in your home if you have a nice screen, but it's not the same thing. -Mel Gibson
37. We were in Chagrin Falls, Ohio. It's a nice town, but it's aggressively quaint. They've go a popcorn shop above a waterfall and parades that come through town. It's All-American.
– Nick Robinson
38. Whatever moisture is left in the popcorn when it gets from harvest to bag to your popper is what's going to determine how well the corn pops. -Ken Kercheval
39. That film 'Momento' creeped me out. I was looking over my back the whole thing. I get more creeped out than scared and spill popcorn all over the place. -Brendan Sexton lll
40. You don't want to mess with the Rock 'n' Sock connection. Who are you two popcorn farts?
– Dwayne "The Rock" Johnson
41. I'm paying 20 dollars for this nasty stale ass bullshit popcorn, the least you could do is put the butter on it. -Boondocks
42.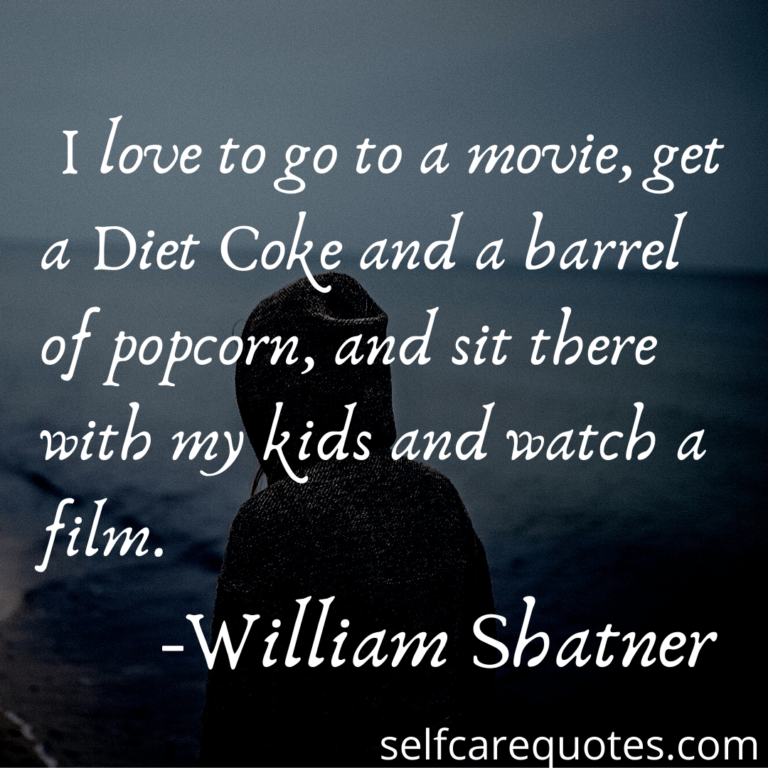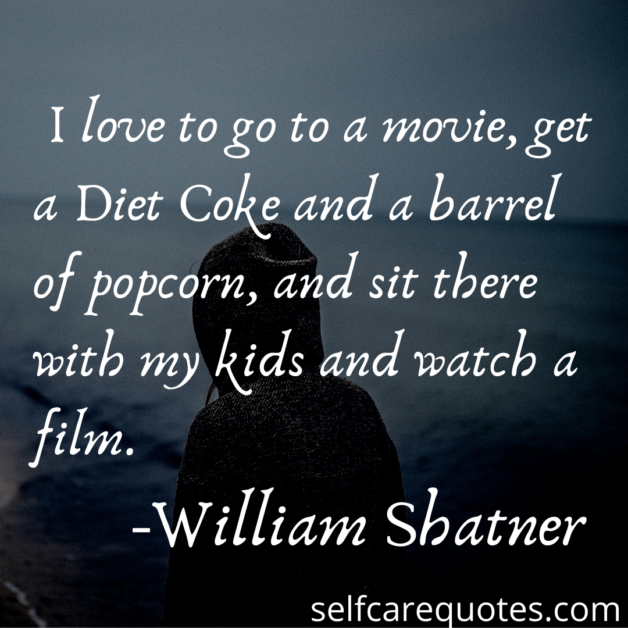 I love to go to a movie, get a Diet Coke and a barrel of popcorn, and sit there with my kids and watch a film. -William Shatner
43. I've been into the habit of freezing white grapes and using them as a snack. Instead of eating peanuts or popcorn or something like that or pretzels, I just eat the white grapes.-Mike Ditka
44. If you're wanting something salty, do air-popped popcorn. That, to me, would be healthier than having any kind of fried chip. -Bob Harper
45.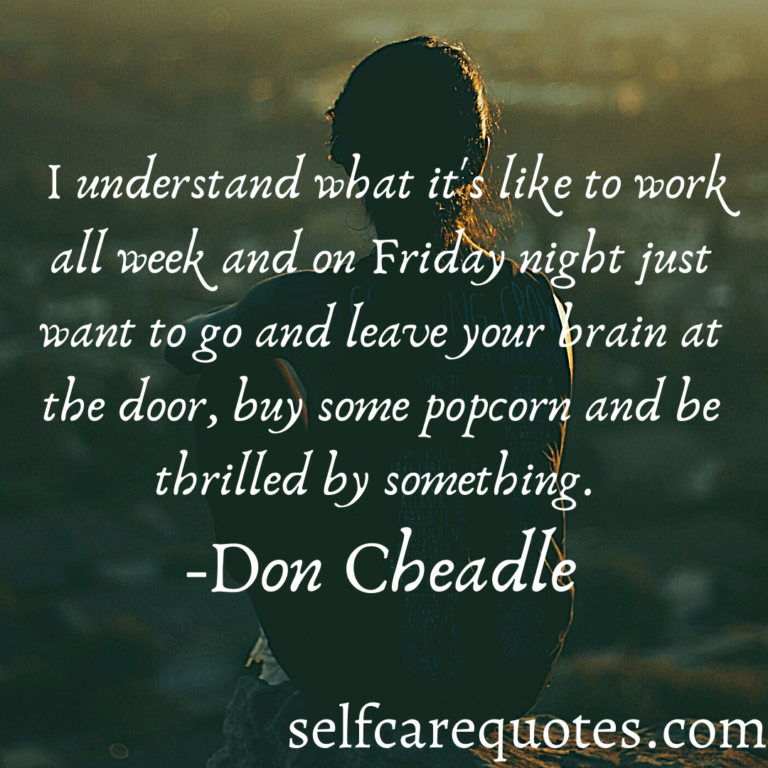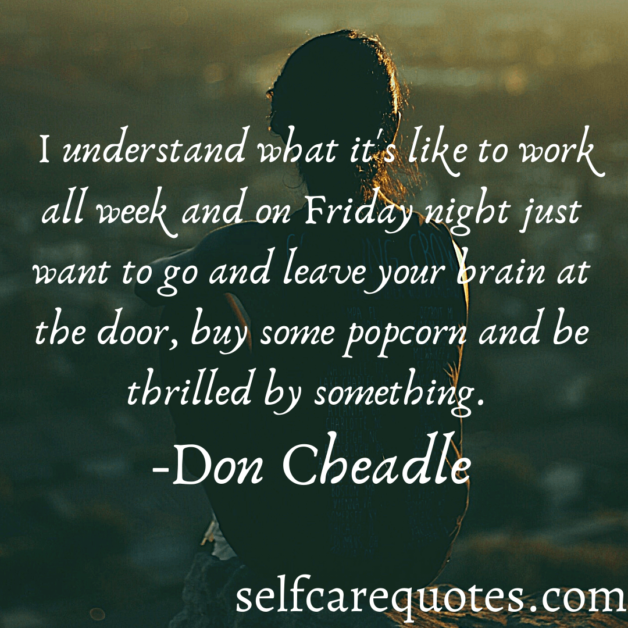 I understand what it's like to work all week and on Friday night just want to go and leave your brain at the door, buy some popcorn and be thrilled by something. -Don Cheadle
46. I think whether you're a movie critic and have seen a million movies, or you're just a normal popcorn movie watcher, you can tell the difference when someone is just laying it on too thick.-Josh Peck
47. The best to go to the movies is to be with other people. Eating the popcorn, being with other people you don't know. -Peter Weller
48. Humans love sex, we need sex, it's how we connect, it reminds us we're alive, it's the third most basic human need, after food and good movie popcorn.-Billy Crystal
49.
If you leave your seat to go get a soda and some popcorn you might miss ten points. -Wayne Thornton
50. "Don't you go to the movies? Mostly just to eat popcorn in the dark." —Charles Bukowski
Whether it's a popcorn movie or some really intellectual sociopolitical movie, I think to some degree they're all influenced by the social climate that we're living in. -James Wan
Different Types of Popcorn Quotes: 
The movie lover people also love popcorn quotes. People of all ages love to watch movies with popcorn.
So there are different types of popcorn quotes based on different ages and different tastes. Some quotes are funny, while some quotes are lovely.
Some quotes are cute, and some quotes are significant and motivational. Different quotes have appeal to different types of people who have different tastes. 
Funny Popcorn Quotes:
You find many popcorn quotes which are amusing and funny. Most of us like these types of quotes. The funny popcorn quotes are written for entertainment purposes.
These types of quotes always amuse us with its hidden, funny meaning. If you are upset or your mood is off, then you can go through the funny quotes.
The funny popcorn sayings will reduce the gloominess of your life and refresh it. 
Cute Popcorn Quotes:
We have previously mentioned the popcorn quotes which entertain us. Some quotes make the place in our hearts for them with its cuteness.
The meaning of some popcorn quotes is impressive and magical. It has the power to reduce the stress of our minds.
When we go through the cute popcorn quotes, our hearts fill with peace. It brings back the smile on our faces.    
Popcorn Love Quotes:
Most of us prefer to watch the movie with the person whom we love. He or she may be our lover, beloved or spouse.
There are a lot of popcorn quotes that represent the feelings of the lover. The popcorn love quotes defy the mixer of feelings of the heart of the lovers.
If we go through these quotes, we'll find the trace of emotion, affection, care, and love in an equal portion. 
Popcorn Motivational Quotes:
While some popcorn quotes are funny, some quotes are motivational too. We find a large section of our students likes to pass their free time watching the movies.
We also find a lot of popcorn quotes for students. The quotes for the students are not funny; instead, it is motivational.
The popcorn motivational quotes inspire the students to be attentive to achieve their goals. The quotes motivate the people for their lives.
If you read the motivational quotes, you'll develop your positive thinking power.