Tom Landry was a renowned football player and coach of America. His full name is Tom Wade Landry. We find him very creative and dedicative to his profession. Tom Landry has created different techniques and methods of football throughout his coaching career. Some of these methods are very popular now.
We find his contribution to popular methods like 3-4 defense, flex-defense, etc. We also find Tom Landry as a true patriot and a warrior. His quotes represent the different experiences him. You may go through the Tom Landry quotes to be acknowledged with the thinking of this legend.
Top 40 Tom Landry Quotes:
1. Leadership is getting someone to do what they don't want to do, to achieve what they want to achieve. ―Tom Landry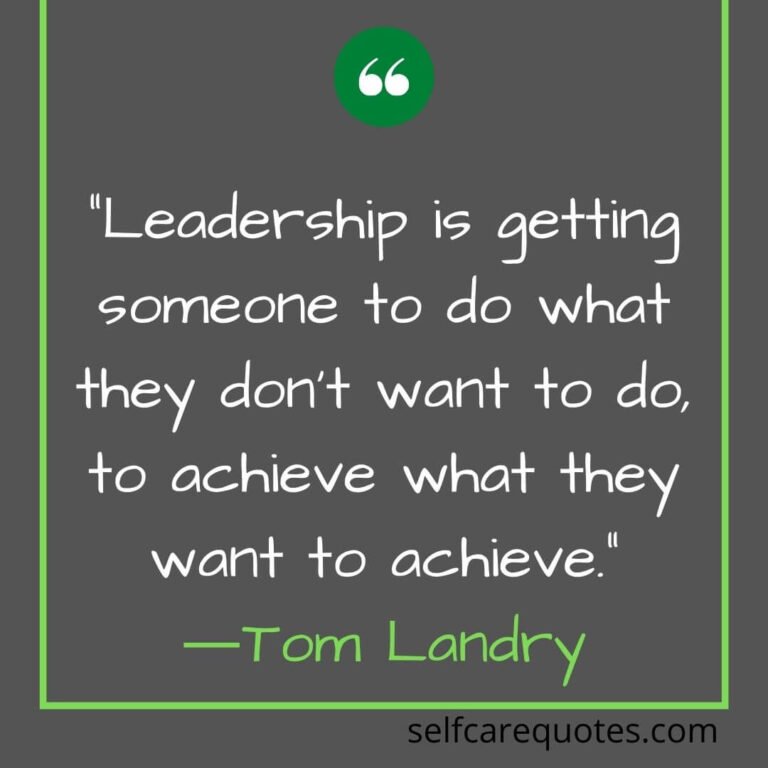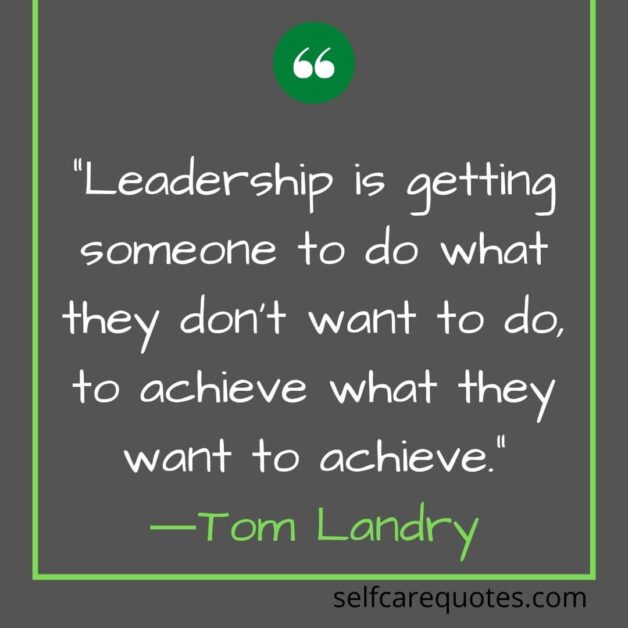 2. Setting a goal is not the main thing. It is deciding how you will go about achieving it and staying with that plan.―Tom Landry
3. Leadership is a matter of having people look at you and gain confidence, seeing how you react. If you're in control, they're in control.―Tom Landry
4. A winner never stops trying.―Tom Landry
5. When you want to win a game, you have to teach. When you lose a game, you have to learn.―Tom Landry
6. The secret to winning is constant, consistent management.―Tom Landry
7. I've learned that something constructive comes from every defeat.―Tom Landry
8. People striving, being knocked down and coming back… this is what builds character in a man.―Tom Landry
9. If you show emotion in competition, temporarily, you'll be ineffective. If you're disciplined enough, you don't get down when you're behind, and you have a chance to create something positive.―Tom Landry
10. Being the best at whatever talent you have, that's what stimulates life.―Tom Landry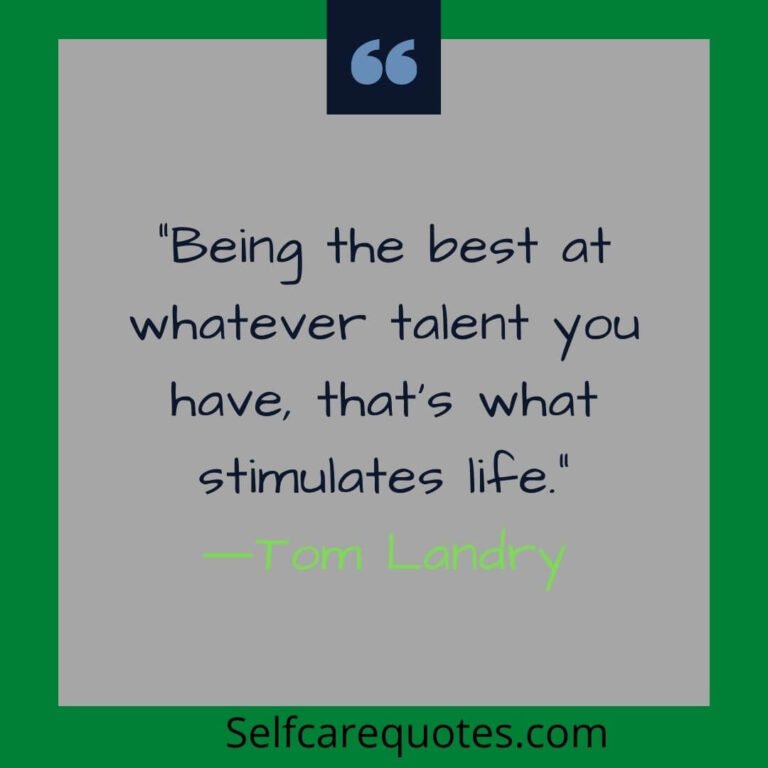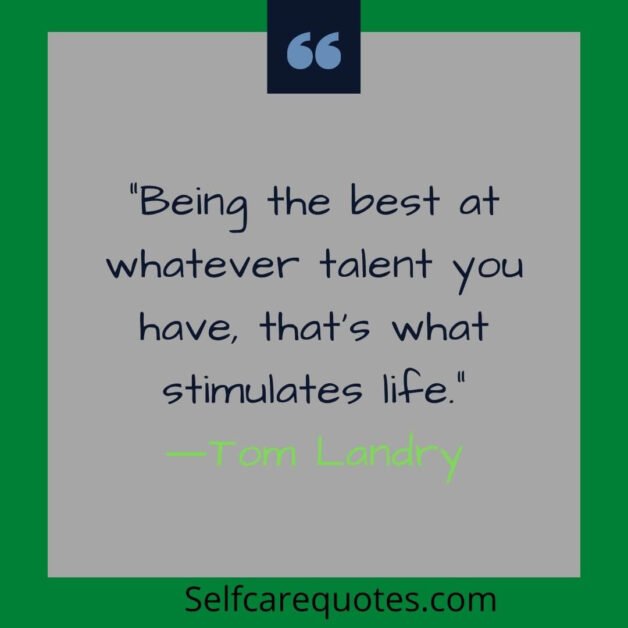 11. Really, coaching is simplicity. It's getting players to play better than they think that they can.―Tom Landry
12. If you don't believe in winning, you don't believe in free enterprise, capitalism, our way of life.―Tom Landry
13. My hats did give me an identity. In fact, if I had a dollar for every time someone has seen me bareheaded and said, 'I almost didn't recognize you without a hat on', I could have bought the Cowboys myself.―Tom Landry
14. Confidence comes from knowing what you're doing. If you are prepared for something, you usually do it. If not, you usually fall flat on your face.―Tom Landry
15. I don't believe in team motivation. I believe in getting a team prepared so it knows it will have the necessary confidence when it steps on a field and be prepared to play a good game.―Tom Landry
16. If you eliminate our way of life, the American way of life, what is the effect… what are the alternatives?―Tom Landry
17. If you are prepared, you will be confident, and will do the job.―Tom Landry
18. Football is an incredible game. Sometimes it's so incredible, it's unbelievable.―Tom Landry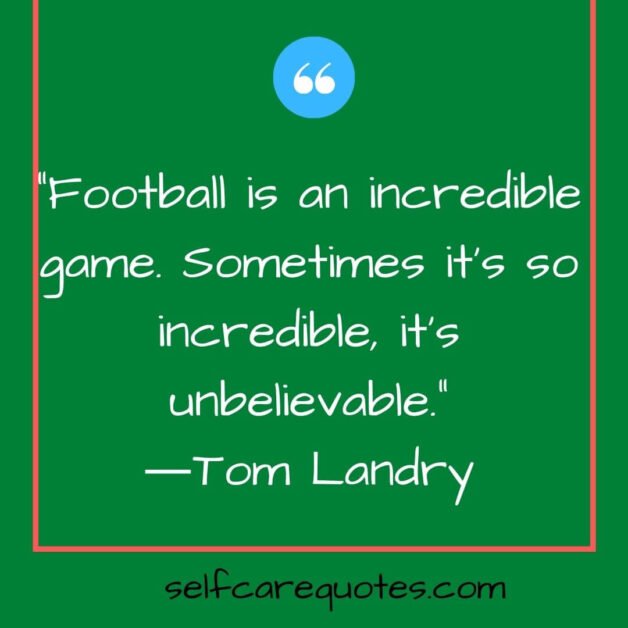 19. Character is the ability of a person to see a positive end of things. This is the hope that a man of character has.―Tom Landry
20. People say you have to know when to retire, which is a dumb thing to say. If you want to go out on top, yeah, it becomes important when you quit. But I wasn't afraid of that. And I wasn't worried about getting fired. I knew the risk. To me, it's not an ego thing. I enjoy coaching. I enjoy helping people achieve something.―Tom Landry
21. You don't have to drink or swear or hit people in the face when they're not looking, but you do have to be tough to win.―Tom Landry
22. When a big play occurs for our team, I'm concentrating on how the defense is reacting to it. Most of the time, I don't see the great catch or the long run. What I'm looking at is how the other team defended it.―Tom Landry
23. I learned early in sports that to be effective – for a player to play the best he can play – is a matter of concentration and being unaware of distractions, positive or negative.―Tom Landry
24. I know that life is really finding the right relationship between yourself and God.―Tom Landry
25. Achievement builds character.―Tom Landry
26. Take away winning, and you take away everything that is strong about America.―Tom Landry
27. There are coaches to whom winning or losing means something close to life or death. If they lose, then their life has somehow been diminished. I'm not that way, and it keeps me steady.―Tom Landry
28. I try to block out everything that distracts me. Even a big play, I blank it out.―Tom Landry
29. I just didn't want to leave the Cowboys when they were down. I at least wanted them to get into a respectable position before anyone else took over.―Tom Landry
30. People will forget me pretty quick.―Tom Landry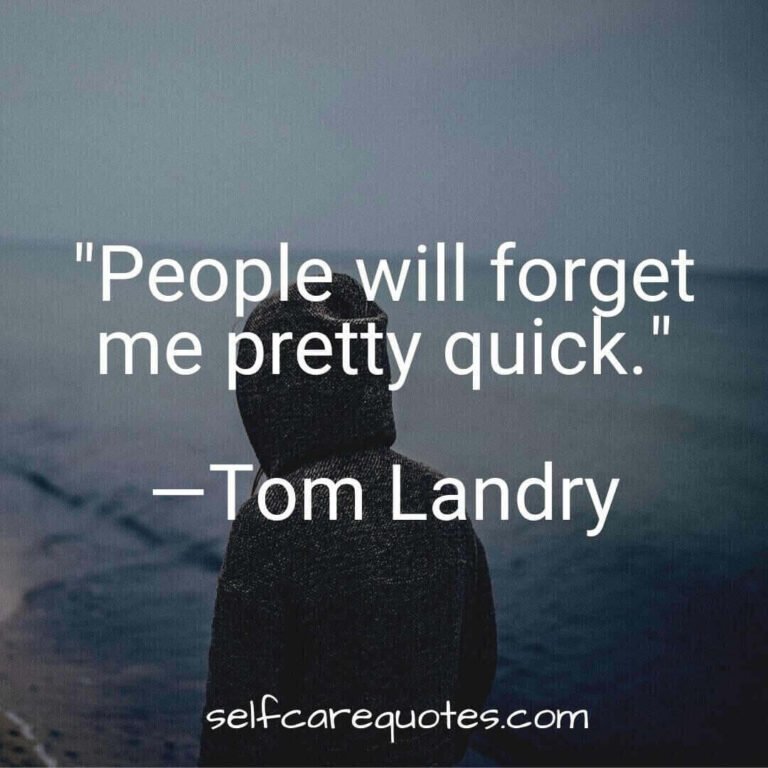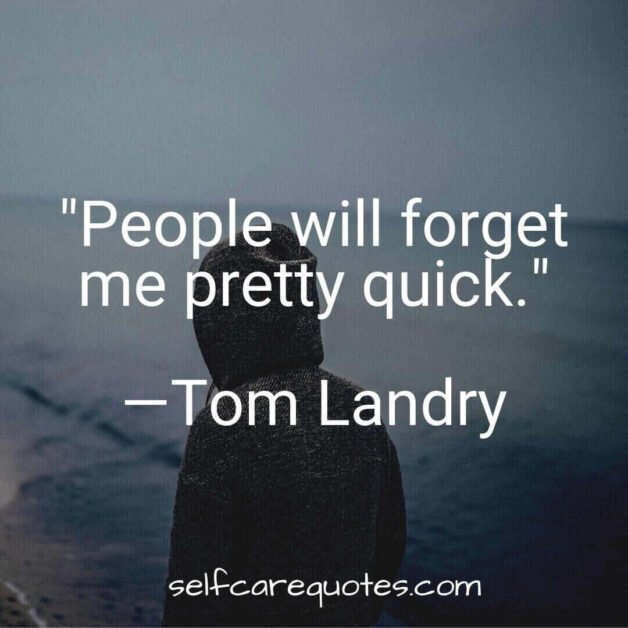 31. I probably should have gotten out, but I really enjoyed the challenge of bringing a team to that game. In fact, I probably enjoy the challenge of it more than the actual game.―Tom Landry
32. Generally, achieving goals… which in many cases means winning… is really the ultimate in this life we live in.―Tom Landry
33. Look at Bjorn Borg or Jack Nicklaus. Those guys really concentrate. With the world on their shoulders, they're so absorbed with what they're doing.―Tom Landry
34. If you don't win a Super Bowl, you're not considered successful in the National Football League. I can remember, when we finally won that first one, feeling so good for the players and fans.―Tom Landry
35. If you were to see me as a cheerleader, that would mean I was only watching instead of thinking.―Tom Landry
36. Right after the game, say as little as possible.―Tom Landry
37. I wouldn't think I would coach again, because it would just be hard not being in the Cowboys' blue.―Tom Landry
38. If I had to pick my greatest strength as a football coach, I say it would be innovation.―Tom Landry
39. The greatest thing is to win your first Super Bowl.―Tom Landry
40. Today, you have 100% of your life left. ―Tom Landry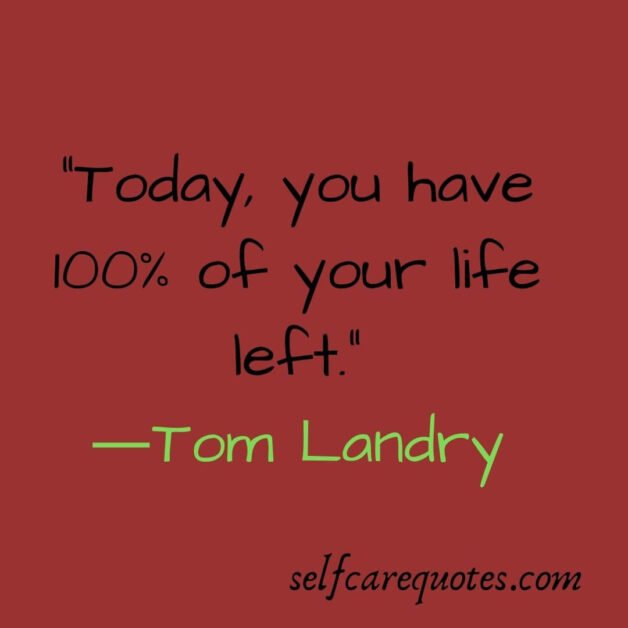 Every coach has his own style of play, but when you spend your whole life as a Cowboy, you have to be influenced by what we did. ―Tom Landry
I've come to the conclusion that players want to be treated alike.―Tom Landry
Early life:
The birth year of Tom Landry is 1924. He was born in Mission, Texas. The name of his parents is Ray Landry and Ruth Landry. They had four children, and Tom was second among them. Tom started to play football from his school days. The exciting thing is that the football stadium he used to play in his childhood, later named after him. It was named Tom Landry Stadium.
Education:
Tom Landry was admitted to the Mission High School. From this school, he started to play football. Later he joined the University of Texas. Tom Landry wanted to enroll at Mississippi State University. But he changed his decision as it was too far for his parents. He thought it would be difficult for his parents to come to watch his college football performances.
He left his study for two years to join Word War II. After ending the war, he returned to his University. In 1949, he achieved his bachelor's degree from the University of Texas. Tom Landry received his Master's degree in 1952 from the University of Houston.
Experiences in the Army:
During World War II, Tom Landry joined the United States Army Air Corps. From Wichita Falls, he took his primary training. Tom Landry received his training as a copilot from Sioux City, Iowa. In Liverpool, he joined the Eighth Air Force. From 1944 to 1945, Tom Landry joined about thirty missions.
Career:
In the career, Tom Landry worked as a professional footballer and a couch. We find him playing All America Football Conference, New York Giants. Later he became All-Pro. As a football player, he participated in 80 games.  In 1954, he became the Defensive Coordinator. He joined the Dallas Cowboys as the first head coach. We also find him inventing the popular method "4-3 defense."
Why should we follow him?
The whole world knows Tom Landry as a successful Football player and a successful coach. Besides this identity, he has another identity to which we should. If we go through the life history of Tom Landry, we'll find him a true patriot. During World War II, Tom Landry joined the Army by leaving his study.
During two years of his participation, he took part in many dangerous activities. He took part in many dangerous missions. During taking part in the war, he never thought about the study, dreams, and even about his life. He only thought about his country and joined the war. We should also think about the betterment of our country before our benefits.