It is really hard to introduce Tyler, the Creator in one sentence. Because he is a multi-talented artist. If you want to find a real artist all-rounder then Tyler, the Creator is the only suitable person in this era from America. He is at a time a singer, musician, rapper, songwriter, record producer, visual artist, and comedian too. He is known by his short name and a compliment. His main name is Tyler Gregory Okonma. In 2010 he co-founded alternative hip-hop group 'Odd Future'.  He also sings many famous solo songs. His quotes are famous among his fans and others. Tyler, the Creator's quotes are evergreen.
Tyler the Creator quotes :
1. "I never want to grow up." – Tyler, the Creator
2. "I'm not hip-hop. I'm Tyler." – Tyler, the Creator
3. "Youth is something I never wanna take for granted. I just want to smile and live life." – Tyler, the Creator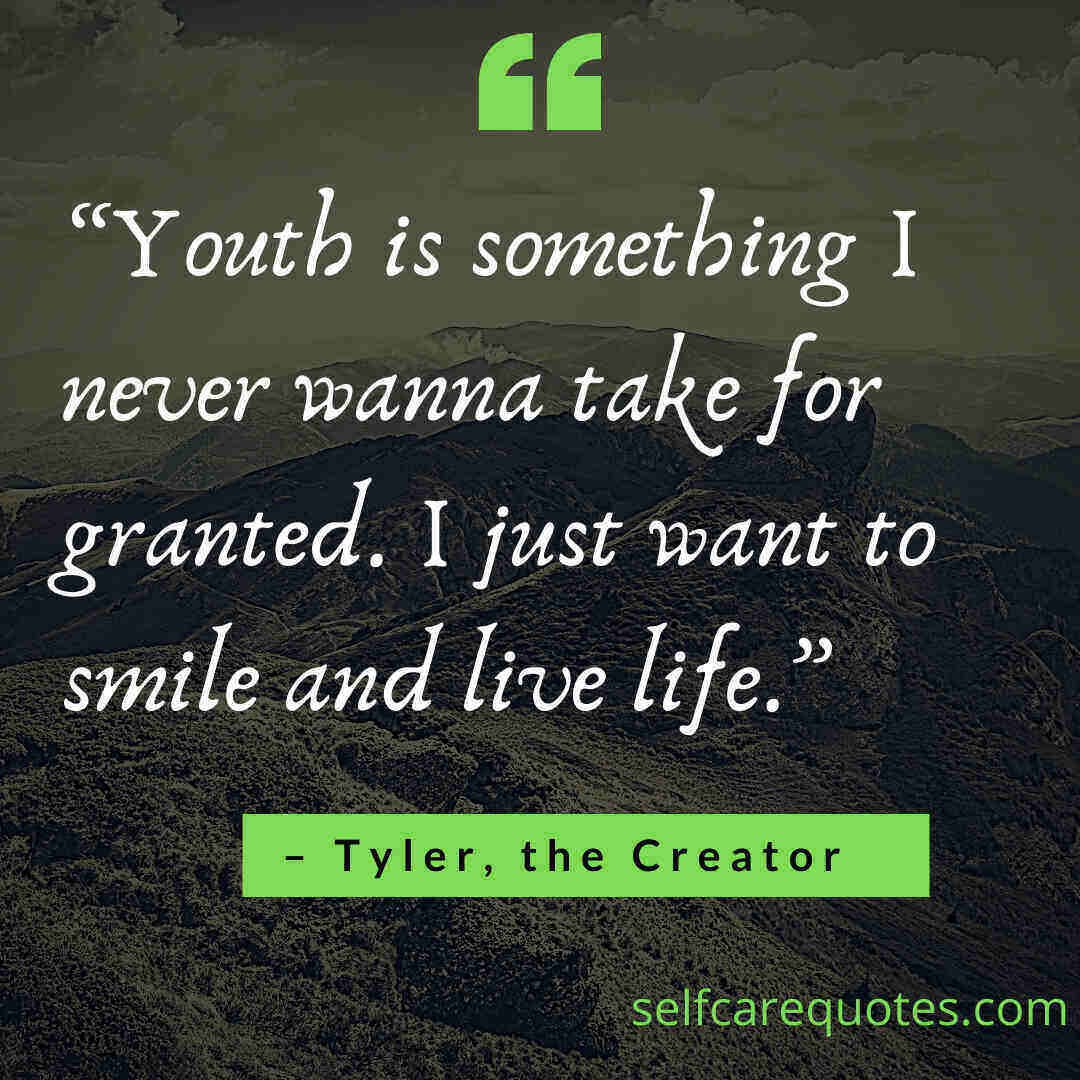 4. "I never had a drink in my life. I don't smoke or anything." – Tyler, the Creator
5. "I was sitting like, there's nothing I want to buy. I was fully okay with life. It was nothing I was stressed about. I wasn't sore anywhere. I'm financially good. Everyone around me is healthy. No grudges. The weather was great." – Tyler, the Creator
6. "Honestly, I'm a weak bitch. My punches are not good. I can run fast, but if I had to hold somebody from falling off a cliff, they're going to die." – Tyler, the Creator
7. "I'm f**king stoked. My life is sick. I get to still skate around like I did three years ago. I might have to take a couple of pictures, but whatever. I have money to go do stupid sh*t. I couldn't ask for nothing else." – Tyler, the Creator
8. "I'm a pretty nice dude. I have fun, and people take it the wrong way." – Tyler, the Creator
9. "I'm an optimistic guy. I'm one of those big dreamers. I'm one of those kids with that annoying imagination." – Tyler, the Creator
10. "I'm not a follower. I'm a leader. And anyone who speaks their mind is always criticized." – Tyler, the Creator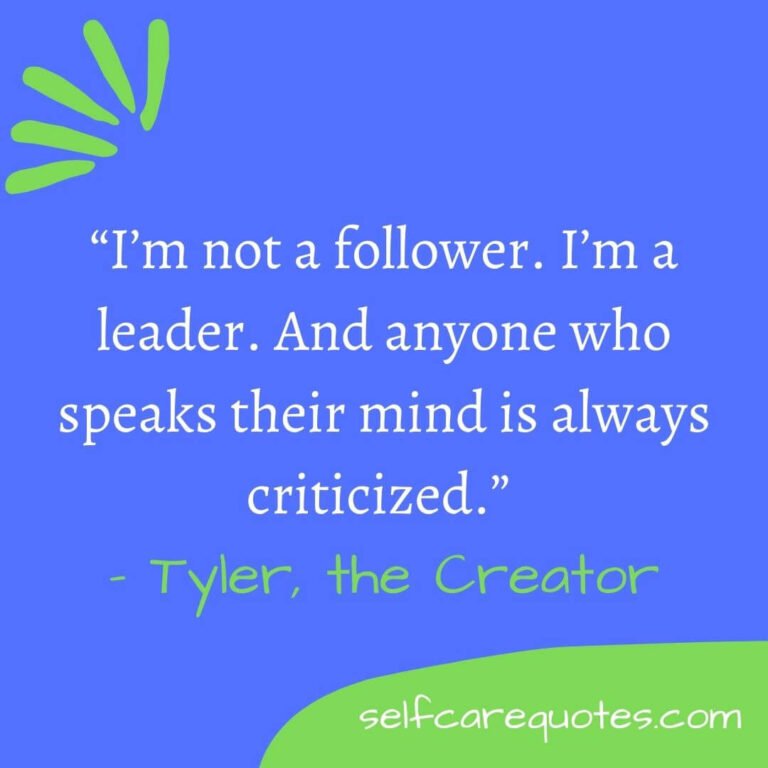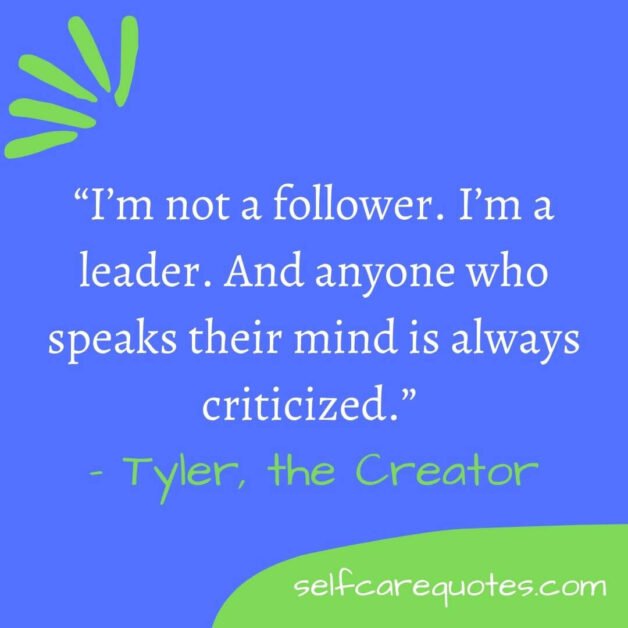 11. "I just want everyone to be awesome. That's all it is. I want everyone to be cool in their own way." – Tyler, the Creator
12. "I live in my own head and it all makes sense to me." ― Tyler, the Creator
13. "Being in love is cool as hell, like having feelings and sh*t, it's tight." – Tyler, the Creator
14. "If the world was ending, I think I would grab some Cinnamon Toast Crunch, a bunch of water, and I'd probably just… I'd probably go crazy." – Tyler, the Creator
15. "I wasn't shy, but I was really hyper. Nobody got my sense of humor. I was a black skater kid." – Tyler, the Creator
16. "I want to make as much money as I possibly can so that when my day comes, my mother and sister is fine. My close friends are fine. They don't have to worry about anything ever again." – Tyler, the Creator
17. "I'm a big 'Goosebumps' fan – 'Revenge of the Lawn Gnomes.' My favorites are the pick-your-own-death ones." – Tyler, the Creator
18. "Humans have voids, and you need things to fill voids… I didn't have a dad to fill that male model void, so when I heard Eminem or freaking seen Dave Chapelle, that's what I gravitated to." – Tyler, the Creator
19. "I was just such an erratic, wild personality….When you finally find someone to listen to you after years of not being taken seriously, you hold that sh*t to your heart." – Tyler, the Creator
20. "I just live life. I grew up in a Christian family, but, you know, the way Mom brought me up is to, you know, do you, to always be yourself." – Tyler, the Creator
21. "Hawthorne sucks… It's a crazy place, and I'm happy that I was the weird one that got out." – Tyler, the Creator
22. "I think, if I had a dad, I would have gone the normal college route. I'm so stoked my life panned out how it was." – Tyler, the Creator
23. "I'm the loneliest man alive, but I keep on dancing to throw 'em off." – Tyler, the Creator,
24. "You make my earthquake." – Tyler, the Creator
25. "I can grab the fireworks, the soda, all the cookies we can eat. Make you nauseous but be cautious, this is not Dawson's Creek." – Tyler, the Creator
26. "Listen deeper than the music before you put it in the box." – Tyler, the Creator
27. "Tell these black kids they can be who they are. Dye your hair blue. Sh*t, I'll do it too." – Tyler, the Creator
28. "In school I was the one thinking outside of boxes, so everybody in them would say I got problems." – Tyler, the Creator
29. "They say success is the best revenge so I beat DeShay up with the stack of magazines I'm in." – Tyler, the Creator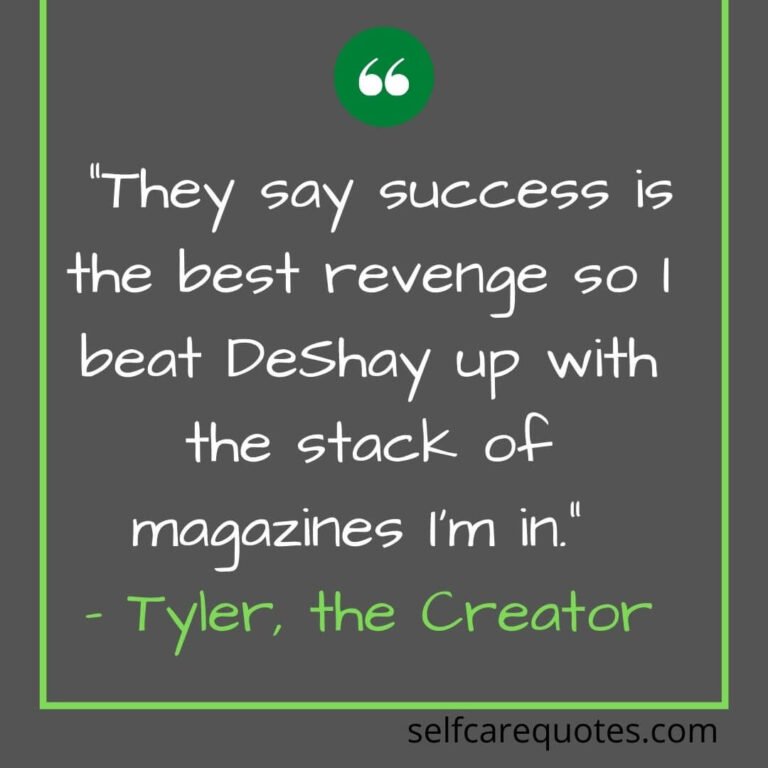 Powerful Tyler the Creator Quotes:
30. "Do what the f**k makes you happy. Because in the end, who's there? You." ― Tyler, the Creator
31. "Don't be scared of color." – Tyler, the Creator
32. "Do something productive, stay the f**k off of Snapchat." – Tyler, the Creator
33. "It's actually beautiful that we're aware of this superpower that we have where we're just us, no matter what. We don't get nervous in front of people. We look in the mirror and we're okay with it." – Tyler, the Creator
34. "People are more obsessed with the idea of failing than the idea of succeeding." – Tyler, the Creator
35. "I think people get caught up in having an identity. " – Tyler, the Creator
36. "Wherever my curiosity takes me, I follow. If I f**king hate it, I'm on to the next thing. A lot of people don't move like that and it just boggles my mind. It's like a math problem I can't comprehend." – Tyler, the Creator
37. "You gotta keep things fun…Laughing is really important to your health, believe it or not, so I guess I just always try to have fun and keep the energy alive." – Tyler, the Creator
38. "I don't have a therapist, so I use me as my own therapist when I'm making the music." – Tyler, the Creator
39. "Usually, when I'm rappin', I'm creating a big story or a concept song that sounds like a movie to me." – Tyler, the Creator
40. "Long story short, my biggest songs to date are all singing songs. And the people who were saying that I was bad were just projecting their inner fears of trying something that they wanted to try, but not being able to. And now I'm better at singing and they're probably not better at whatever they wanted to do." – Tyler, the Creator
41. "I want to design jewelry for girls and guys… I'ma spread it out, but I'ma design, probably when I'm just designing furniture and buildings, I'll probably being the jewelry thing, too." – Tyler, the Creator
42. "My lyrics aren't offensive. Some people find everything offensive." – Tyler, the Creator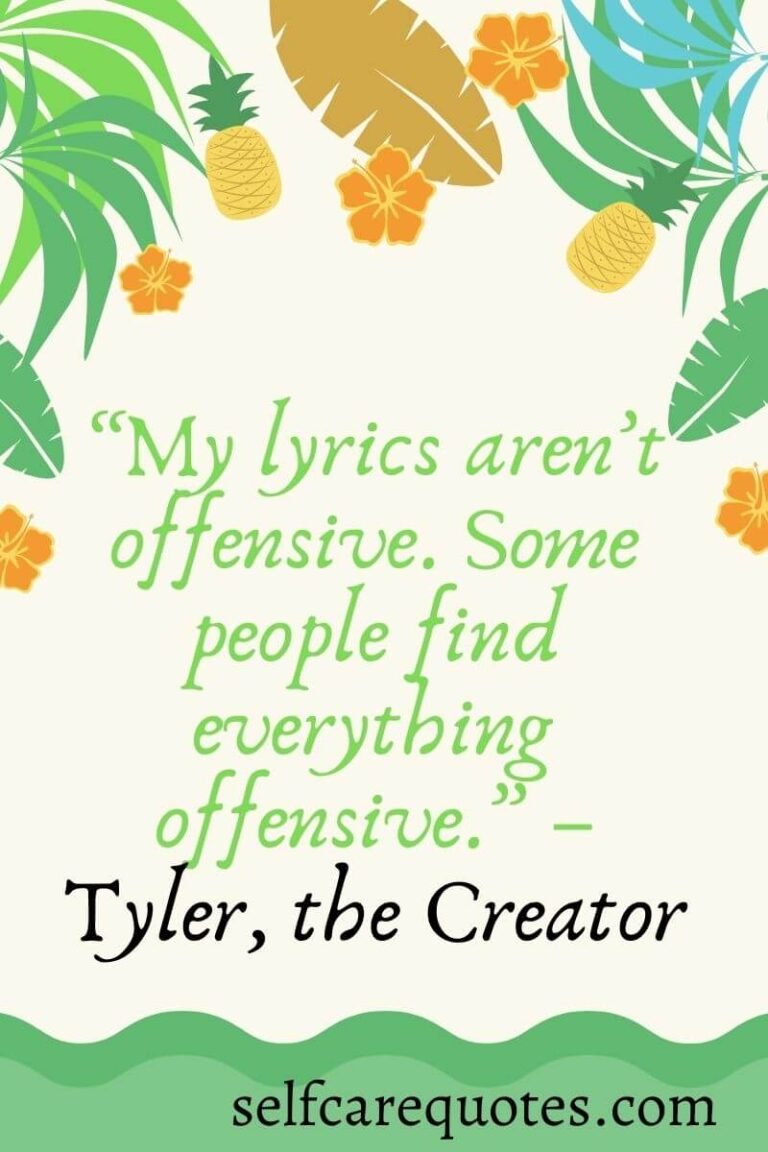 43. "I'm like a big 10-year-old when I'm on stage. I just go up there and do whatever I think is cool at the time." – Tyler, the Creator
44. "I want to take Justin Bieber for a month and just lock him up in a cage where we sit and make music. He's one of the most successful people in the world, but his music could be so much tighter." – Tyler, the Creator
45. "Rap is really just too conventional. Everybody does the same thing. No one ever pushes the box." – Tyler, the Creator
46. "Ni**a be like why didn't my fav rapper blow up prolly cause he has the personality of a chair ni**as be flat haha." – Tyler, the Creator
47. "Since day one, I've always wanted to make the prettiest s*it that's borderline boring or the hardest f**king sh*t…I've been trying to mix those together since my first album." – Tyler, the Creator
48. "I love talking about music. I'll show you a song and break it down for 50 minutes. I'm a geek about it." – Tyler, the Creator
49. "There are people I really admire. But they influence me pretty heavy right now because my own style is still blossoming. So I'm not going to tell you who they are because then you'll know where I'm stealing from." – Tyler, the Creator
50. "I want to do films and have my name mentioned next to Wes Anderson and Quentin Tarantino. I don't want my name mentioned next to other rappers at all." – Tyler, the Creator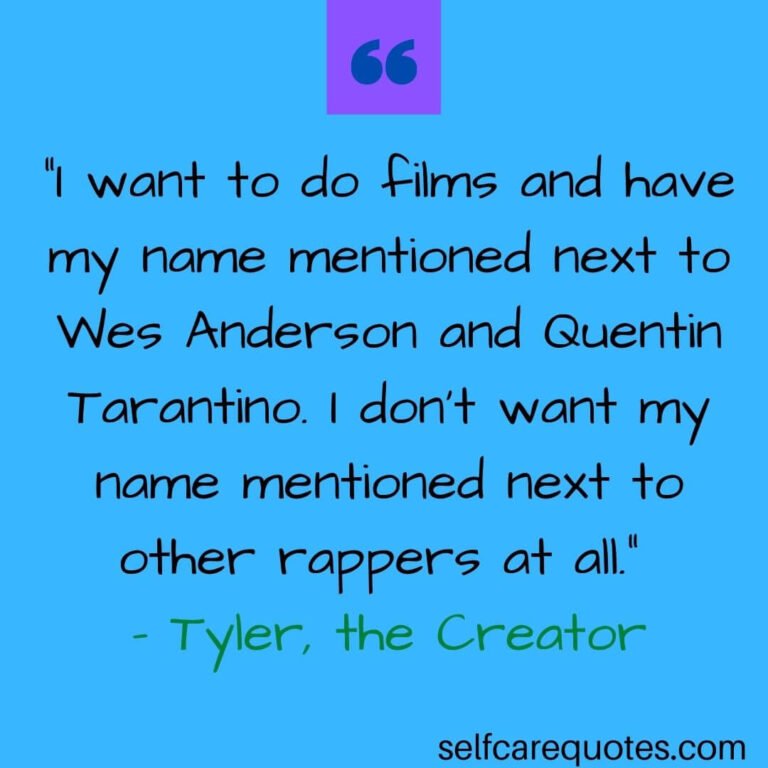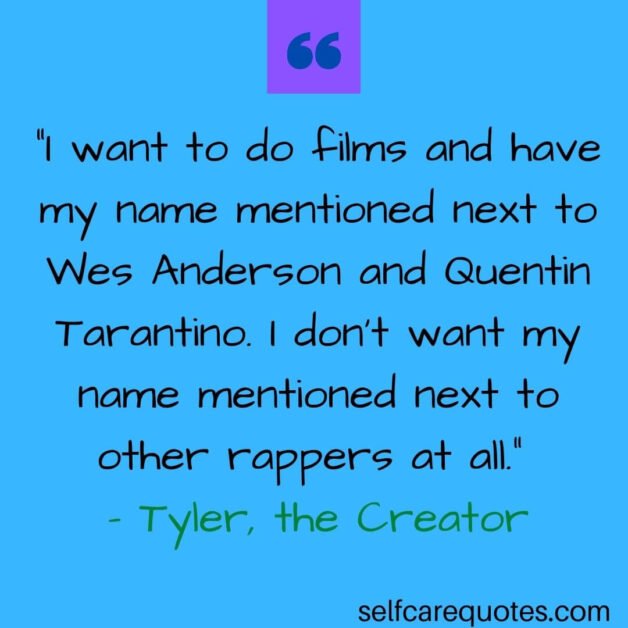 Biography of Tyler, the Creator:
Early Life:
The birth of this legendary artist was on the 6th March of 1991. His parents are from different countries. His father was a Nigerian and his mother was an Afro-American. Though he was born in Ladera Heights, California but grew up in Ladera Heights and nearby Hawthorne. This artist might have understood his future at the age of 7. That's why he removed the cover image from a song album case and added his own imaginary cover image. Even though he was not able to sing or make songs at that age.
Education:
There is obscurity about his Education. As much we know about his education is not enough to mention. In the early period of his life, Tyler Gregory Okonma changed his school every year. He studied 12 different schools in his 12 years of schooling. Recently he announced his higher education via Twitter. But he did not clear it.
Career:
I already told you about his talents and his profession. He is a full-time musician and songwriter. He also has many other professions too. He has a huge number of famous albums. Some of them from his band and others are solo. For his famous songs, he achieved many prestigious awards too. If we look at his early life, we will find him in 2 other professions too. We worked for FedEx for 2 weeks and for Starbucks for 2 years.
Why should we follow Tyler, the Creator?
You already know that Tyler, the Creator is a multi-talented person. His talents are not so casual, all of them are special but he gained them through his hard work. In this regard, he can be a followable person for many of us. Now, most people are lazy, we feel tired doing only one thing but Tyler is doing many things at times with full mastery. We can also follow his passion too. His passions make him perfect in his profession. He is an American-Nigerian mixed person and also a black human. We can follow his struggle to be famous under white dominance, though he is not white.
This is the life and quotes of the famous artist. As much he is famous for his songs, so much he is remembered for his quotes. He will be alive in the hearts of his fans for his creations.