Who was APJ Abdul Kalam ?
APJ Abdul Kalam was a popular Indian politician and a renowned scientist. His full name is Avul Pakir Jainulabedeen Abdul Kalam. The world mostly knows him as the eleventh president of India. People usually Know him as 'people's president '. He was involved in IGMDP, which was a missile development program.
We find his contribution to the development of the ballistic missile. Because of his active involvement in this program, people started to call him as "Missile Man of India". This legend died in 2015. He left his perspective and thinking in his quotes. If you want to learn this valuable thoughts and suggestions, you can go through the APJ Abdul Kalam quotes. 
Top 50 APJ Abdul Kalam Quotes:
You have to dream before your dreams can come true.  – A. P. J. Abdul Kalam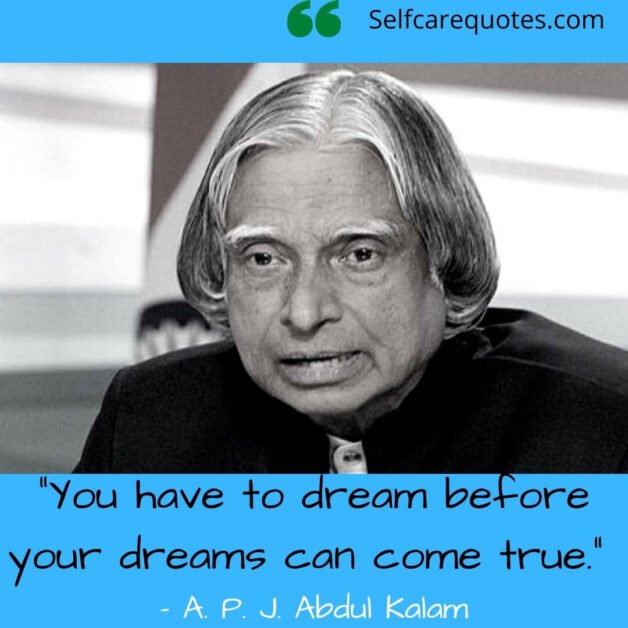 Life is a difficult game. You can win it only by retaining your birthright to be a person. – A. P. J. Abdul Kalam
Teaching is a very noble profession that shapes the character, caliber, and future of an individual. If the people remember me as a good teacher, that will be the biggest honour for me. – A. P. J. Abdul Kalam
Why are we, as a nation so obsessed with foreign things? Is it a legacy of our colonial years? We want foreign television sets. We want foreign shirts. We want foreign technology. Why this obsession with everything imported? – A. P. J. Abdul Kalam
Small aim is a crime; have great aim. – A. P. J. Abdul Kalam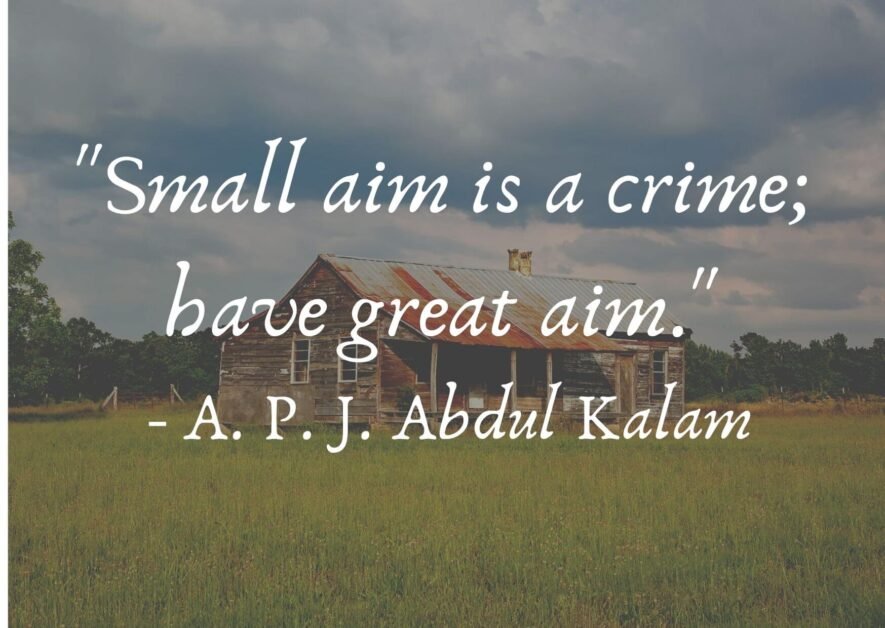 Look at the sky. We are not alone. The whole universe is friendly to us and conspires only to give the best to those who dream and work. – A. P. J. Abdul Kalam
Where there is righteousness in the heart, there is beauty in the character. When there is beauty in the character, there is harmony in the home. When there is harmony in the home, there is order in the nation. When there is order in the nation, there is peace in the world. – A. P. J. Abdul Kalam
Let us sacrifice our today so that our children can have a better tomorrow. – A. P. J. Abdul Kalam
If you want to shine like a sun, first burn like a sun. – A. P. J. Abdul Kalam
Never stop fighting until you arrive at your destined place – that is, the unique you. Have an aim in life, continuously acquire knowledge, work hard, and have perseverance to realise the great life. – A. P. J. Abdul Kalam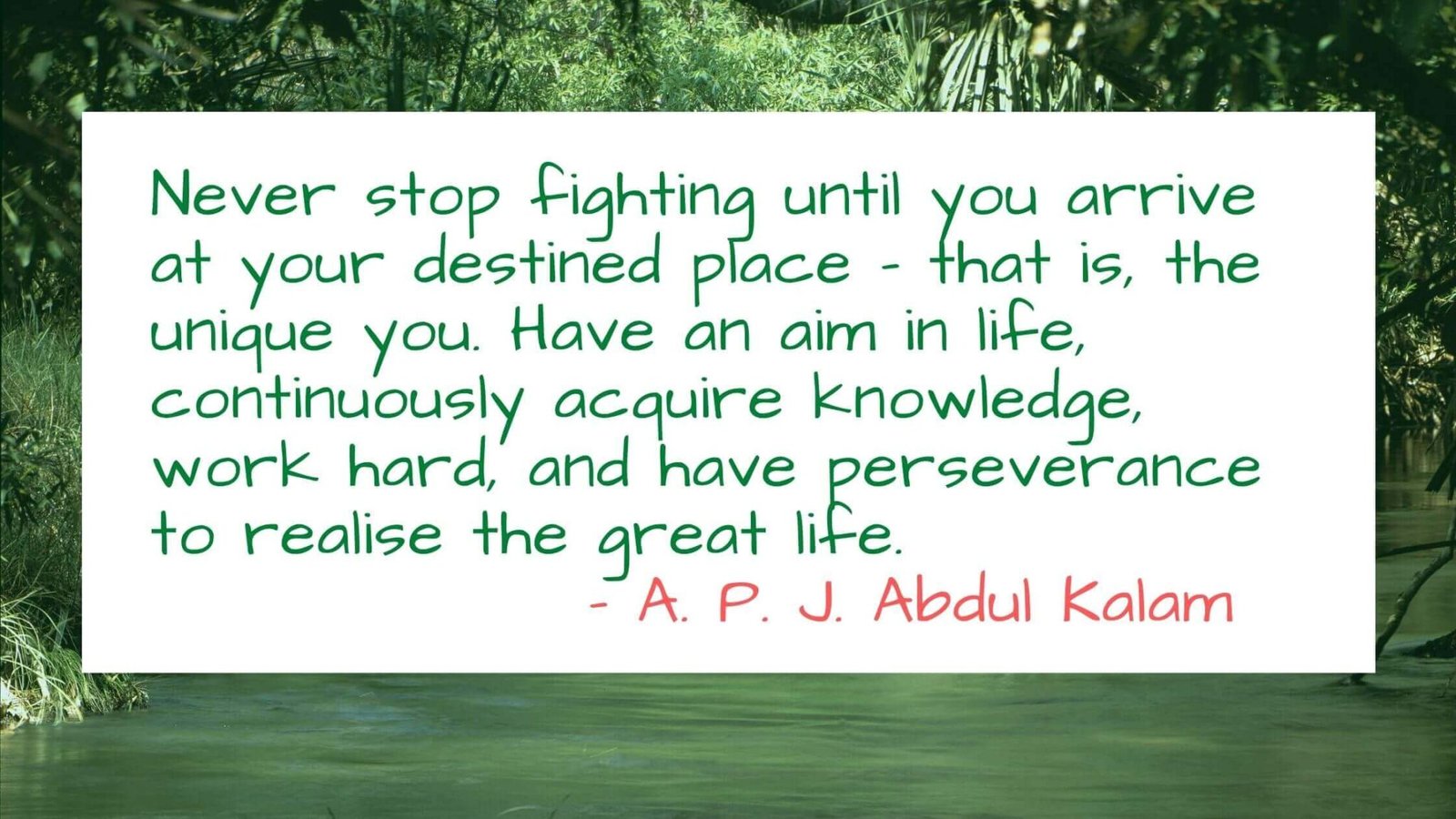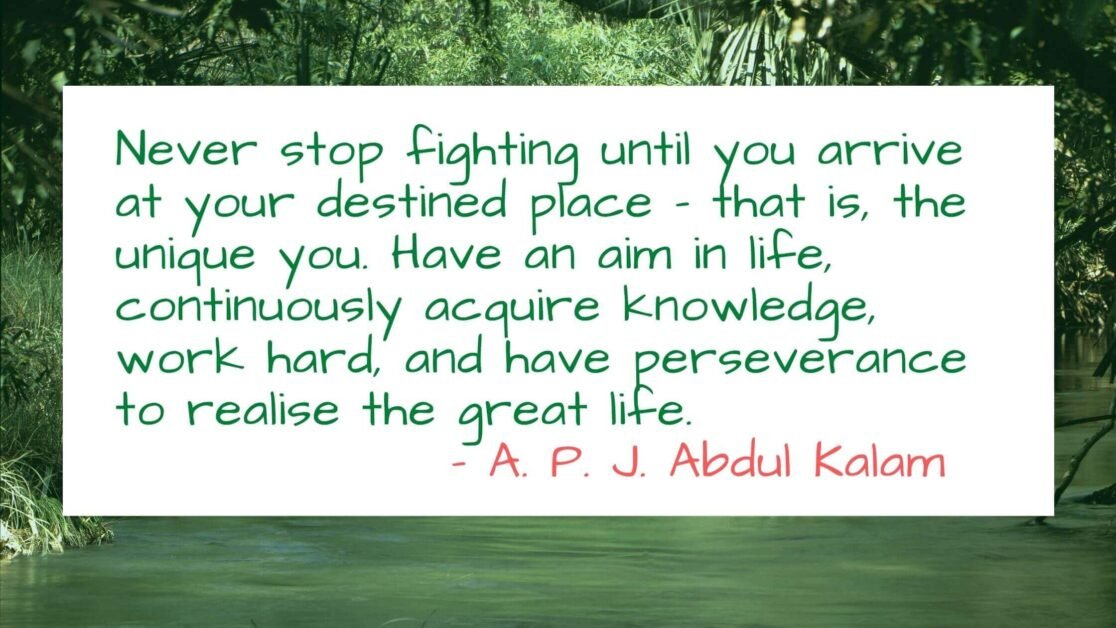 Science is a beautiful gift to humanity; we should not distort it. – A. P. J. Abdul Kalam
We should not give up and we should not allow the problem to defeat us. – A. P. J. Abdul Kalam
If four things are followed – having a great aim, acquiring knowledge, hard work, and perseverance – then anything can be achieved. – A. P. J. Abdul Kalam
If a country is to be corruption free and become a nation of beautiful minds, I strongly feel there are three key societal members who can make a difference. They are the father, the mother and the teacher. – A. P. J. Abdul Kalam
50 Top Popular APJ Abdul Kalam Quotes. You can see the Video
We must think and act like a nation of a billion people and not like that of a million people. Dream, dream, dream! – A. P. J. Abdul Kalam
The purpose of education is to make good human beings with skill and expertise… Enlightened human beings can be created by teachers. – A. P. J. Abdul Kalam
If we are not free, no one will respect us. – A. P. J. Abdul Kalam
My message, especially to young people is to have courage to think differently, courage to invent, to travel the unexplored path, courage to discover the impossible and to conquer the problems and succeed. These are great qualities that they must work towards. This is my message to the young people. – A. P. J. Abdul Kalam
To succeed in your mission, you must have single-minded devotion to your goal. – A. P. J. Abdul Kalam
Man needs his difficulties because they are necessary to enjoy success. – A. P. J. Abdul Kalam
A teacher should have a creative mind. – A. P. J. Abdul Kalam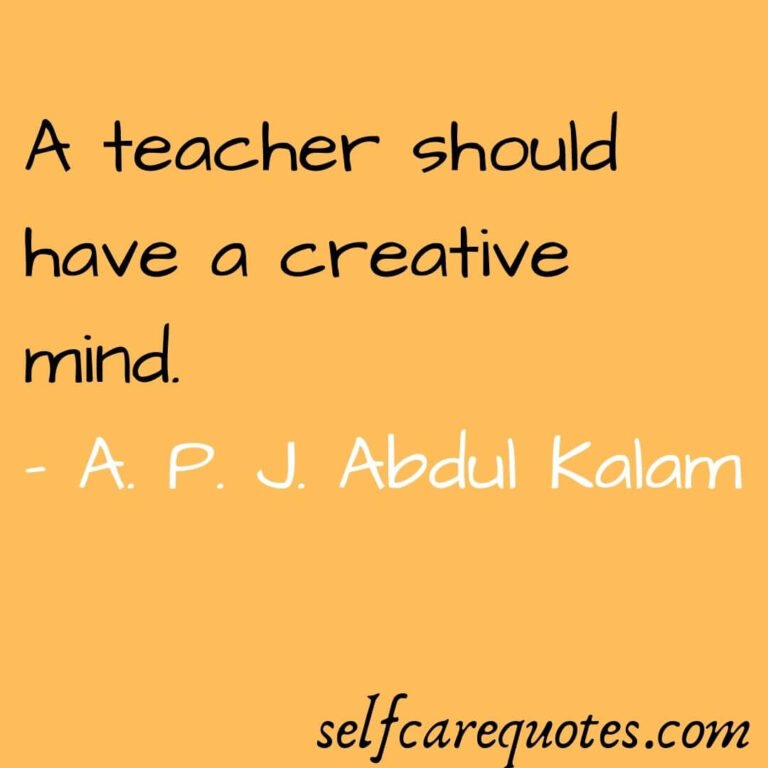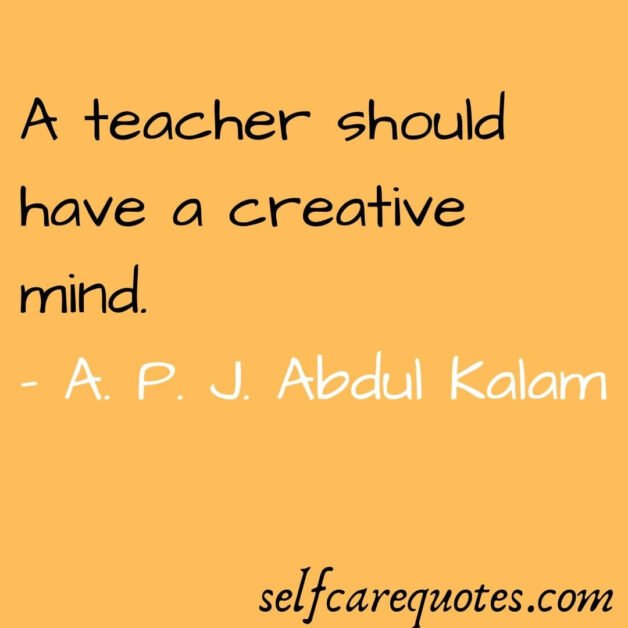 Excellence is a continuous process and not an accident. – A. P. J. Abdul Kalam
Great dreams of great dreamers are always transcended. – A. P. J. Abdul Kalam
Do we not realize that self respect comes with self reliance? – A. P. J. Abdul Kalam
Creativity is the key to success in the future, and primary education is where teachers can bring creativity in children at that level. – A. P. J. Abdul Kalam
Educationists should build the capacities of the spirit of inquiry, creativity, entrepreneurial and moral leadership among students and become their role model. – A. P. J. Abdul Kalam
No religion has mandated killing others as a requirement for its sustenance or promotion. – A. P. J. Abdul Kalam
Climbing to the top demands strength, whether it is to the top of Mount Everest or to the top of your career. – A. P. J. Abdul Kalam
To become 'unique,' the challenge is to fight the hardest battle which anyone can imagine until you reach your destination. – A. P. J. Abdul Kalam
War is never a lasting solution for any problem. – A. P. J. Abdul Kalam
God is everywhere. – A. P. J. Abdul Kalam
I was willing to accept what I couldn't change. – A. P. J. Abdul Kalam
The bird is powered by its own life and by its motivation. – A. P. J. Abdul Kalam
In a democracy, the well-being, individuality and happiness of every citizen is important for the overall prosperity, peace and happiness of the nation. – A. P. J. Abdul Kalam
Great teachers emanate out of knowledge, passion and compassion. – A. P. J. Abdul Kalam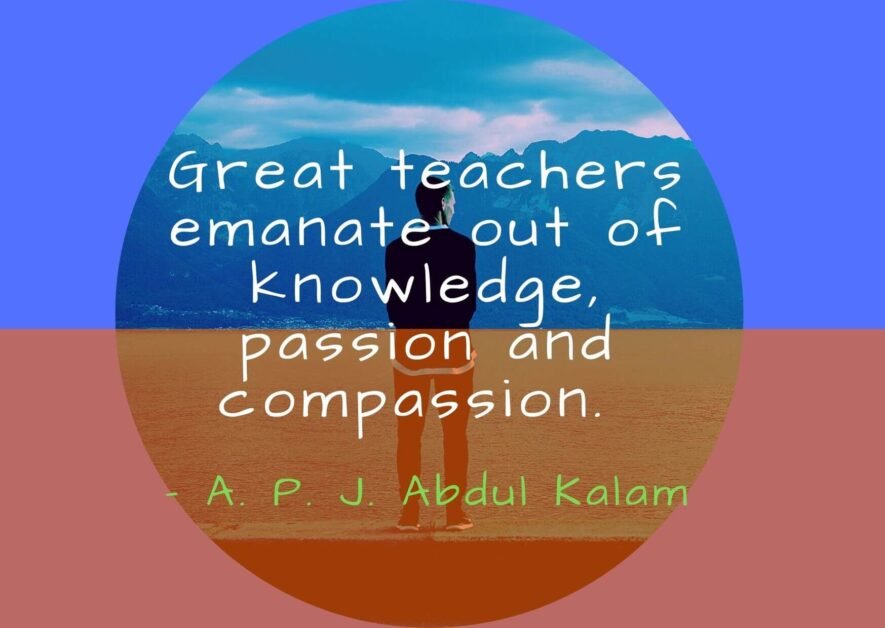 You see, God helps only people who work hard. That principle is very clear. – A. P. J. Abdul Kalam
The youth need to be enabled to become job generators from job seekers. – A. P. J. Abdul Kalam
One of the very important characteristics of a student is to question. Let the students ask questions. – A. P. J. Abdul Kalam
It means, people who are in high and responsible positions, if they go against righteousness, righteousness itself will get transformed into a destroyer. – A. P. J. Abdul Kalam
God, our Creator, has stored within our minds and personalities, great potential strength and ability. Prayer helps us tap and develop these powers. – A. P. J. Abdul Kalam
Ultimately, education in its real sense is the pursuit of truth. It is an endless journey through knowledge and enlightenment. – A. P. J. Abdul Kalam
I firmly believe that unless one has tasted the bitter pill of failure, one cannot aspire enough for success. – A. P. J. Abdul Kalam
I was a disadvantaged child from a non-educated family, yet I had the advantage of being in the company of great teachers.– A. P. J. Abdul Kalam
Economy forced me to become a vegetarian, but I finally starting liking it. – A. P. J. Abdul Kalam
When a nation is surrounded by weaponized nations, she has to equip herself. – A. P. J. Abdul Kalam
For me, there is no such thing as a negative experience. – A. P. J. Abdul Kalam
New markets could be created by rural potentials, which could lead to rise in the employment. – A. P. J. Abdul Kalam
For me, there are two types of people: the young and the experienced. – A. P. J. Abdul Kalam
Over the years, I had nurtured the hope to be able to fly; to handle a machine as it rose higher and higher in the stratosphere was my dearest dream. – A. P. J. Abdul Kalam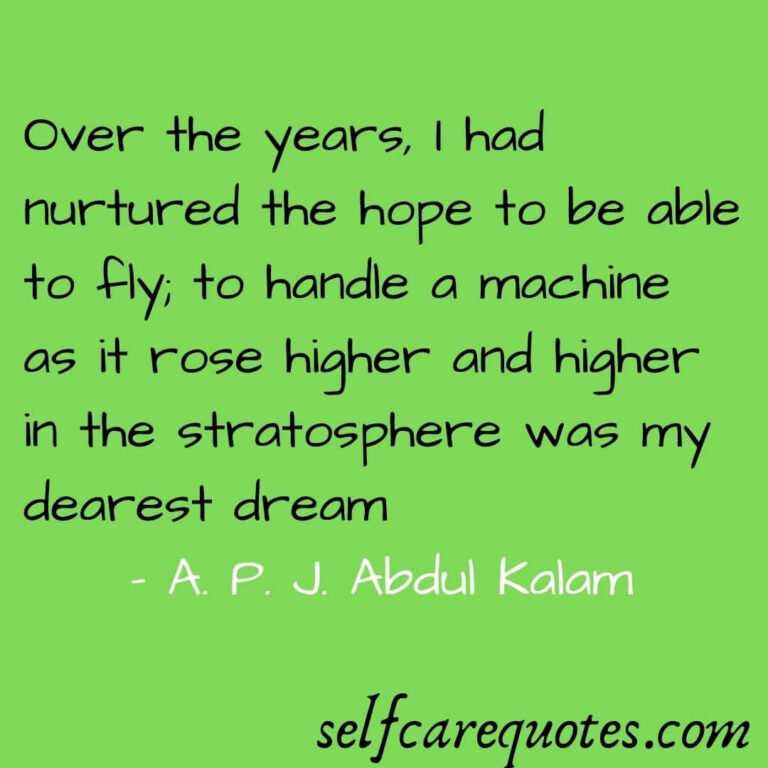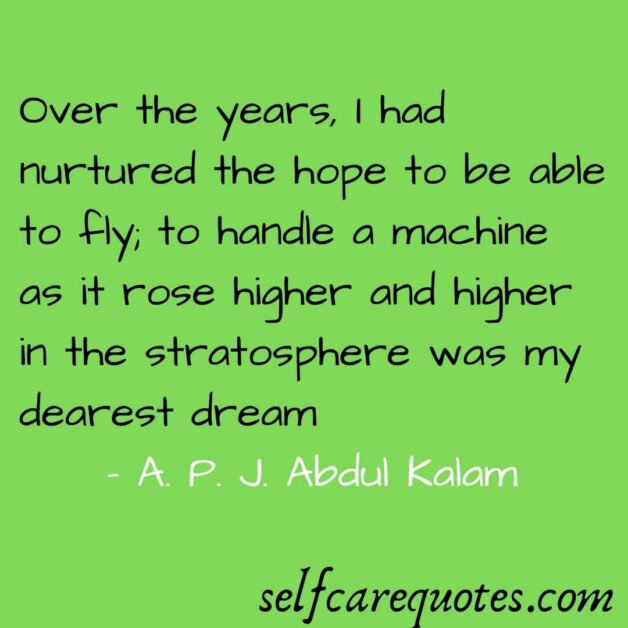 When grand plans for scientific and defense technologies are made, do the people in power think about the sacrifices the people in the laboratories and fields have to make? – A. P. J. Abdul Kalam
The government, whether state or central, is elected. That means we have a responsibility to elect the right kind of leaders. – A. P. J. Abdul Kalam
Biography of APJ Abdul Kalam:
Family Life:
Abdul Kalam was born in the year of 1931 in Madras Presidency, India. He was the son of Jainulabedeen and Ashiamma. They have five children. APJ Abdul Kalam was the youngest son of his parents. He worked as the imam of the mosque. He also owned a boat through they earned. They owned huge properties. But unfortunately, they have lost their fortune. Their business faced with great loss. Later they only own their house.
Education:
Kalam was known to his teachers as the student who is very eager to learn. From his childhood, he was very hard working. Abdul Kalam has a great interest in Mathematics. He could spend a huge amount of time with this subject. kalam attended to the Schwartz Higher Secondary School. He went to Saint Joseph's College. Later, he graduated from the department of Madras. We may also observe that Kalam later admitted to the Madras Institute of Technology.
. Career:
We observe a great variety in the career of APJ Abdul Kalam. In childhood, we find him as a newspaper vendor. Later, we find him as a scientist. Everybody knows his contribution as a politician. After completing his graduation, he joined the DRDO as a scientist. At the beginning of his career, he designed an air-cushion vehicle or a hovercraft.
We also find him as the project director of the Indian Space Research Organization. He also worked in a rocket project in DRDO. He has the contribution in developing the Polar Satellite Launch Vehicle. We also find his contribution to the 'project devil' and 'project valiant'.
Abdul Kalam worked as the chief executive in IGMDP. He contributed to developing many missiles. He became the secretary of DRDO. Abdul Kalam, along with another person, developed a coronary stent which was known as 'Kalam-Raju-Stent'. APJ Abdul Kalam was also successful and popular as the President of India.
Why should we follow him?
The life of APJ Abdul Kalam is a great inspiration for us. We find him as a "Bharat Ratna" award winner. He has successfully achieved the goals of his life. Abdul Kalam's life was not smooth from his childhood. At the beginning phase of his life, he faced difficulties.
Though his family had huge property and a successful business, they had lost it. When Abdul Kalam was a child, his family was struggling with poverty. So, Kalam's childhood was challenging.
During his childhood, he used to sell the newspaper to contribute to his family. We never find him breaking down. Kalam's dream was to be a pilot. The Indian Air Force took eight persons for the post, but he stood ninth.
However, he didn't lose hope in his life and ultimately proved his worth. We should follow his spirit of life. We should also be hard working like APJ Abdul Kalam.