Our achievements and success mainly depend on our focus. Giving focus to anything means to give priority to it. Our future life depends on our current priority and focus. If we look through a successful person's life, we'll find his focus behind his success. Behind every excellence and success, there lies the continuous actions and dedication. And people can dedicate towards his activities when his focus is fixed. 
Deciding the focus is significant for a person's success in life. If a person can fix his focus in his life, he can dedicate himself according to it. The focus quotes are useful to us as the quotations are inspirational and motivational. If we go through the quotes on focus and concentration, we'll feel the urge to focus on our lives.
Top Popular 165 Focus Quotes:
Top 15 Focus Quotes:
1.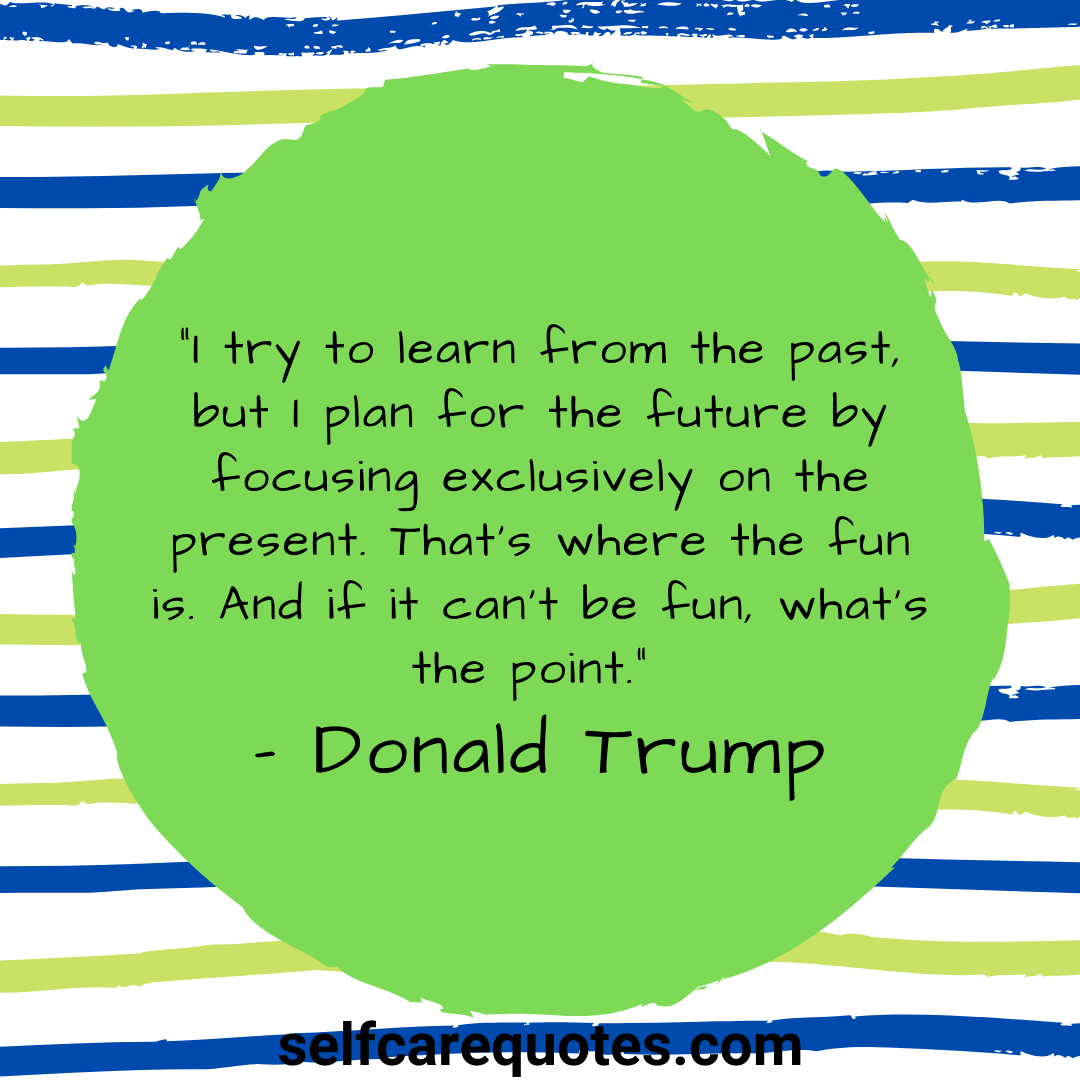 Your destiny is to fulfill those things upon which you focus most intently. So choose to keep your focus on that which is truly magnificent, beautiful, uplifting, and joyful. Your life is always moving toward something. -Ralph Marston
2. "I try to learn from the past, but I plan for the future by focusing exclusively on the present. That's where the fun is. And if it can't be fun, what's the point." – Donald Trump
3. "The earlier you learn that you should focus on what you have, and not obsess about what you don't have, the happier you will be." – Amy Poehler
4. "Who cares about winning? We should focus on serving." – Justin Trudeau
5. Don't focus on negative things; focus on the positive, and you will flourish. -Alek Wek
6. "That's been one of my mantras – focus and simplicity. Simple can be harder than complex: You have to work hard to get your thinking clean to make it simple. But it's worth it in the end because once you get there, you can move mountains." – Steve Jobs
7.
"To create something exceptional, your mindset must be relentlessly focused on the smallest detail." – Giorgio Armani
8. "The successful warrior is the average man, with laser-like focus." – Bruce Lee
9. "The focus and the concentration and the attention to detail that flying takes is a kind of meditation. I find it restful and engaging, and other things slip away." – Harrison Ford
10. "The three pillars on which I believe any business success is based are: Persistence, Enthusiasm and Focus." – Max Markson
11. Focus on the journey, not the destination. Joy is found not in finishing an activity but in doing it. -Greg Anderson
12. "When walking, walk. When eating, eat." – Zen Proverb
13. Realize deeply that the present moment is all you ever have. Make the Now the primary focus of your life. -Eckhart Tolle
14.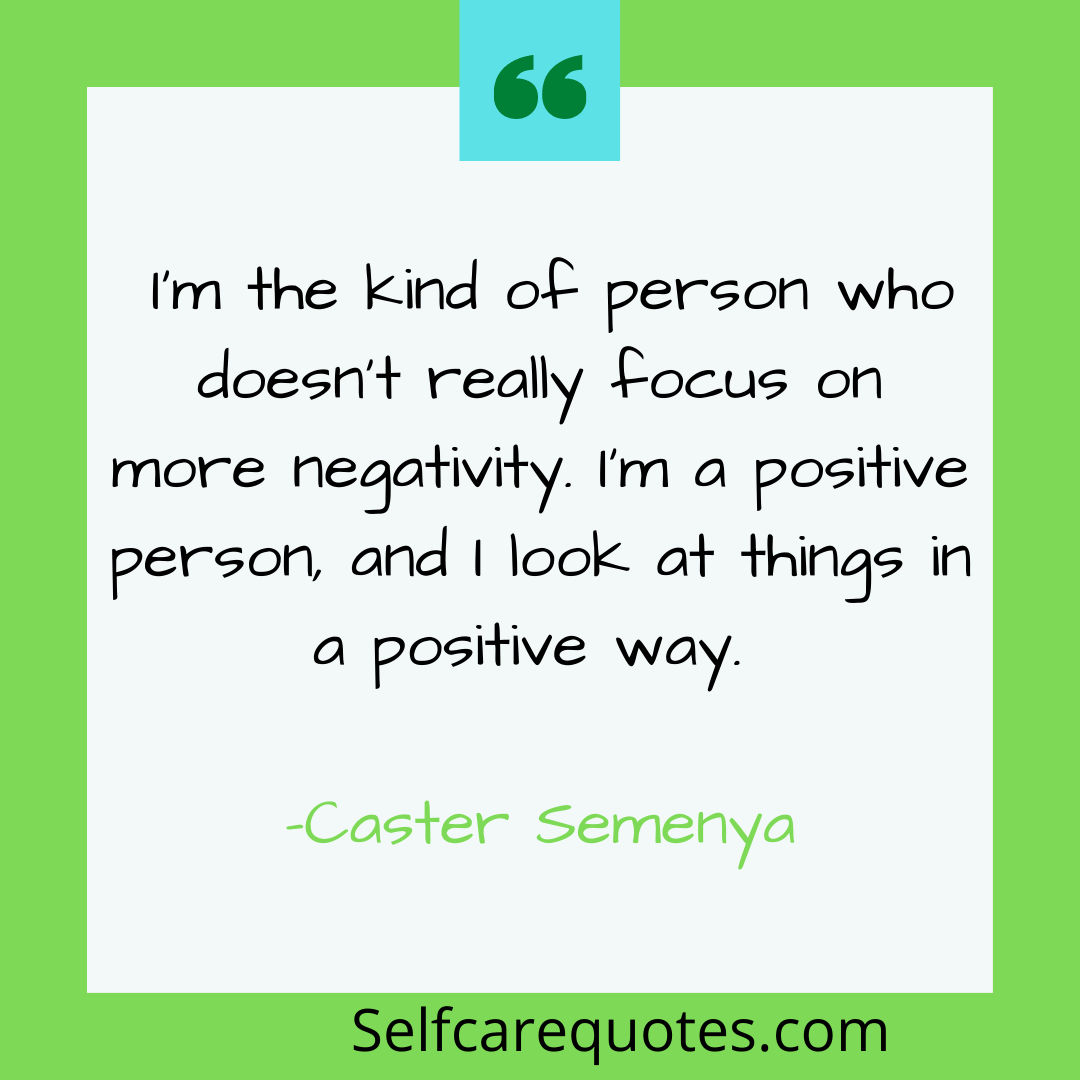 I'm the kind of person who doesn't really focus on more negativity. I'm a positive person, and I look at things in a positive way. -Caster Semenya
15. "We are what we repeatedly do. Excellence, then, is not an act but a habit." – Aristotle
Focus on Yourself Quotes:
If we observe, we'll find almost everybody around us are thinking about their benefit. To keep pace with this cruel world, we should also think about ourselves. We have to focus on ourselves. Concentrate on yourself does not mean you'll not think about the people around you. 
Of course, you'll think and work for the benefit of the people. But your focus should be on yourself. You can do anything for people only when you are successful. You may go through the self focus quotes. The quotes explain the necessity to be self-focused in your life. You should keep your mental peace.
16.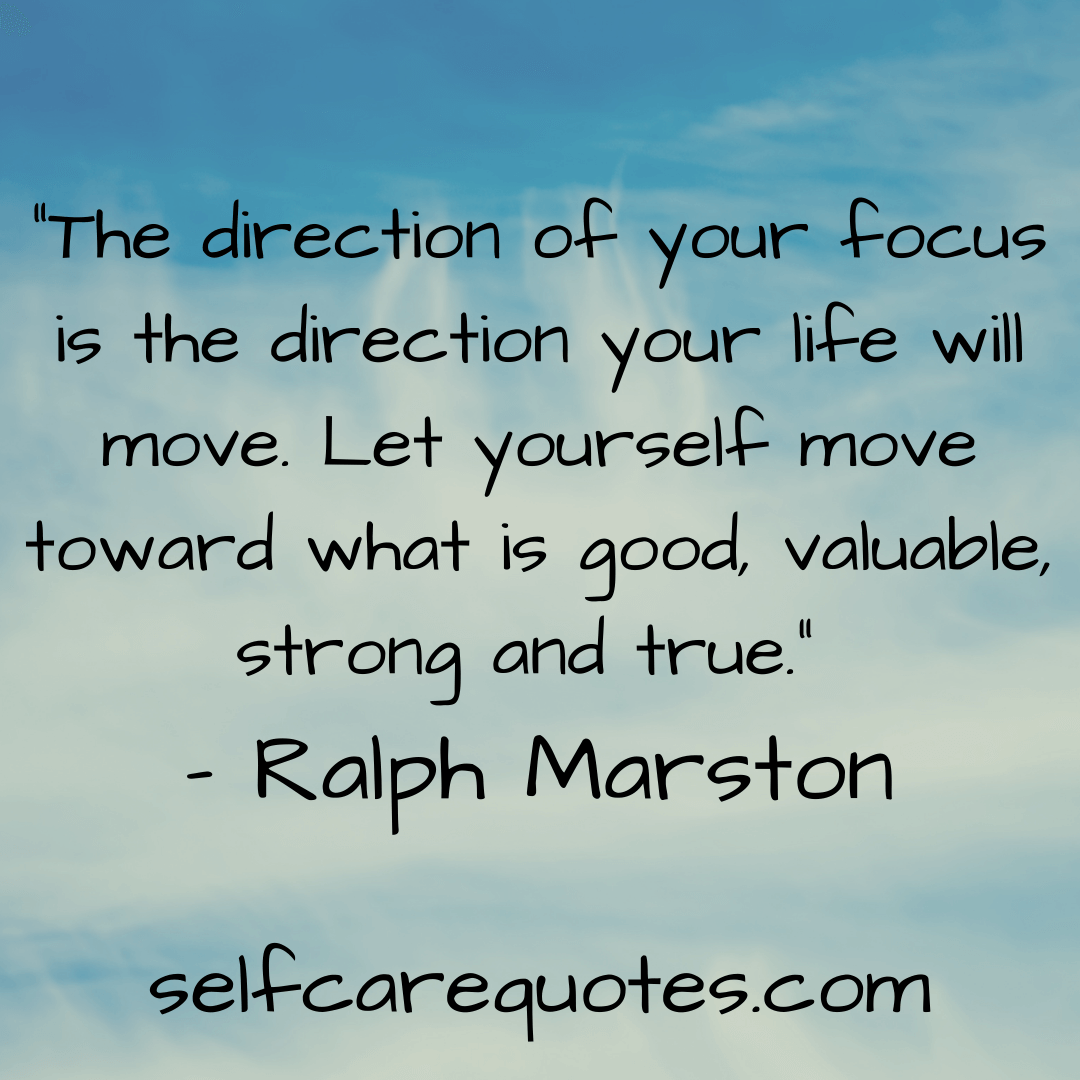 "The direction of your focus is the direction your life will move. Let yourself move toward what is good, valuable, strong and true." – Ralph Marston
17. "I think being a competitive diver for years helps you focus and dedicate yourself to what's needed." – Jason Statham
18. "Give yourself a gift of five minutes of contemplation in awe of everything you see around you. Go outside and turn your attention to the many miracles around you. This five-minute-a-day regimen of appreciation and gratitude will help you to focus your life in awe." – Wayne Dyer
19. "I believe that as much as you take, you have to give back. It's important not to focus on yourself too much." – Nicole Kidman
20. "If you want to be truly successful invest in yourself to get the knowledge you need to find your unique factor. When you find it and focus on it and persevere your success will blossom." – Sydney Madwed
21. "One of the lessons that I grew up with was to always stay true to yourself and never let what somebody else says distract you from your goals. And so when I hear about negative and false attacks, I really don't invest any energy in them, because I know who I am." – Michelle Obama
22. "Don't focus on the negativity. Focus on the positivity and the people that want you to do well; then, do it for them and for yourself. Sometimes I do things for myself. Sometimes I do things for my family. Sometimes I do things for my friends." – Roman Reigns
23. "Stop allowing yourself to focus on depressing life circumstances – including focusing on being depressed about your weight. All this negative focus will only lead you to feel bummed and wanting to pig out. Instead, consciously focus on happy life circumstances you enjoy doing, and create more of them!" – Karen Salmansohn
24. "Where focus goes, energy flows. And where energy flows, whatever you're focusing on grows. In other words, your life is controlled by what you focus on. That's why you need to focus on where you want to go, not on what you fear. When you next find yourself in a state of uncertainty, resist your fear. Shift your focus toward where you want to go and your actions will take you in that direction." – Tony Robbins
26. "If you only focus on your own advancement, you run out of fuel quickly. But if you focus on something bigger than yourself, that power…ultimately helps you endure."
27. "For me, I've learned that the best thing is to focus on the team you play for and yourself and what you need to do." – Sidney Crosby
28. "Focus on your opinion of yourself and not the opinion others have of you." – Winnie Harlow
29.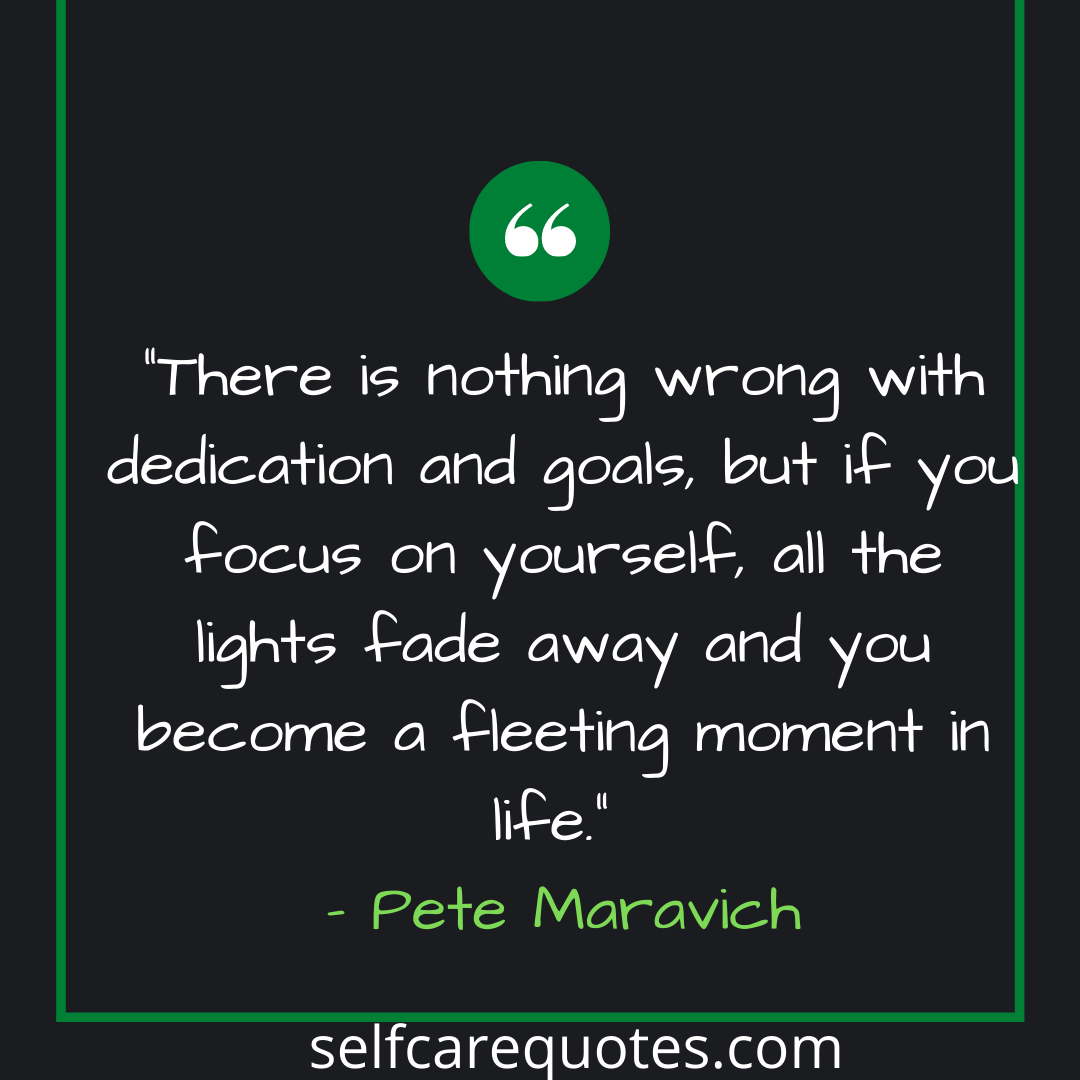 "There is nothing wrong with dedication and goals, but if you focus on yourself, all the lights fade away and you become a fleeting moment in life." – Pete Maravich
30. "Having children is my greatest achievement. It was my saviour. It switched my focus from the outside to the inside. My children are gifts, they remind me of what's important." – Elle Macpherson
31. "When you focus on being a blessing, God makes sure that you are always blessed in abundance." – Joel Osteen
32. "Let me encourage you to get up every day and focus on what you do have in life. Be thankful for the blessings of the little things, even when you don't get what you expect." – Victoria Osteen
Focus on Myself Quotes:
We have the responsibility to do something good for ourselves. We all know, our future is mostly depends on our actions. If we focus on our activities and do according to our plans, we'll get a good outcome. We have to be focus on the activities which are helpful to improve our skills. 
We should be honest about our activities. We should always be truthful to ourselves. Giving priority to ourselves is mandatory to be successful in life. If you lack the spirit and inspiration, you may go through the encouraging quotes on staying focused.  
33. "Focus is a matter of deciding what things you're not going to do." – John Carmack
34. "I work hard. I focus on myself and putting food on my dinner table before anything else. I don't worry about other artists. Worrying about the next person in a negative way is the wrong way to be." – Meek Mill
35. "My main focus is to always try to be myself first, and then, hey, if I wear a cool jacket, that's a bonus." – John Krasinski
36. "I've told myself I have a chance to make history, and that's my focus." – Jordan Spieth
37. "I don't think about the press or the crowds or the other leaders of the race. The focus is only on myself. As soon as I see the targets, I tune them out." – Magdalena Neuner
38. "And I kind of said to myself if I get my voice back I'm not going to take back the old anxiety about it and just focus on the limitations. I'm really going to enjoy it." – Rosanne Cash
39. "My focus is on love and inclusiveness." – RuPaul
40.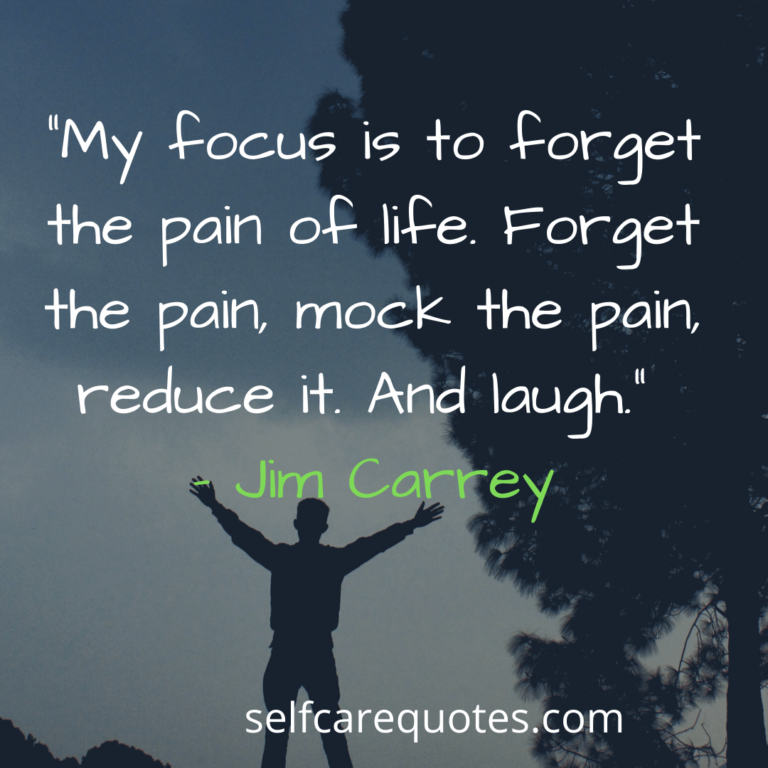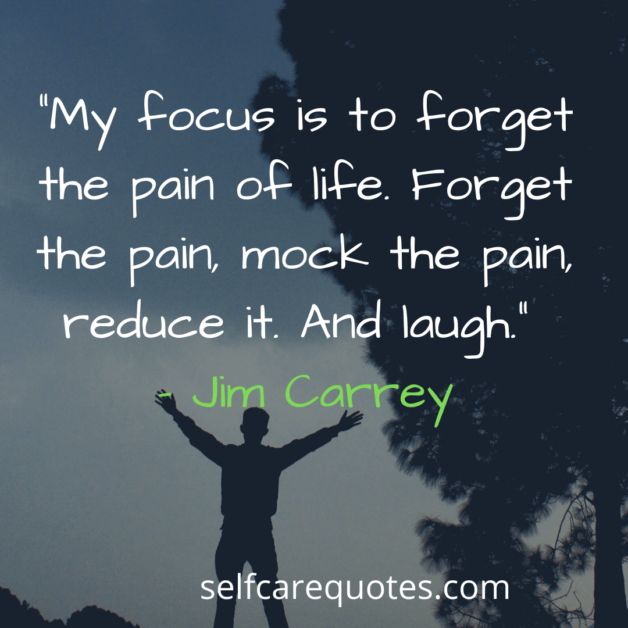 "My focus is to forget the pain of life. Forget the pain, mock the pain, reduce it. And laugh." – Jim Carrey
41. "When I chased after money, I never had enough. When I got my life on purpose and focused on giving of myself and everything that arrived into my life, then I was prosperous." – Wayne Dyer
42. "I'm happiest when I have something to focus my energy on." – Scarlett Johansson
43. "I worried that people wouldn't like me. Now I try not to worry and focus on being happy." – Lea Michele
44. "Focus in on the genre you want to write, and read books in that genre. A LOT of books by a variety of authors. And read with questions in your mind." – Nicholas Sparks
45. "At the end of the day, you can't control the results; you can only control your effort level and your focus." – Ben Zobrist
46. "My focus is not on solving nature's deeper mysteries. It is on using nature's deeper mysteries to solve important societal problems." – Philip Emeagwali
47. "I finally learned to live in the present and focus only on what I want rather than what I don't want." – Darren L. Johnson
Focus on You Quotes :
To be prosperous in life, we need to give priority to our goals in life. But, at first, we should focus on our physical and psychological soundness. Our experience is one kind of struggle, and we can face this struggle only when we are sound. Everyone should have the utmost focus on themselves. The focus and belief quotes emphasize the necessity of giving priority to ourselves.  
48.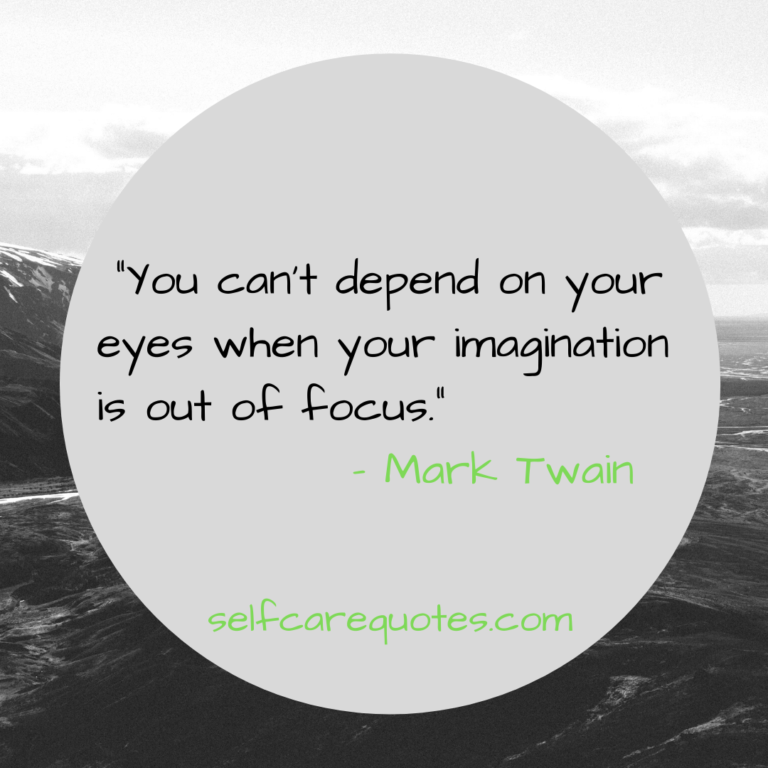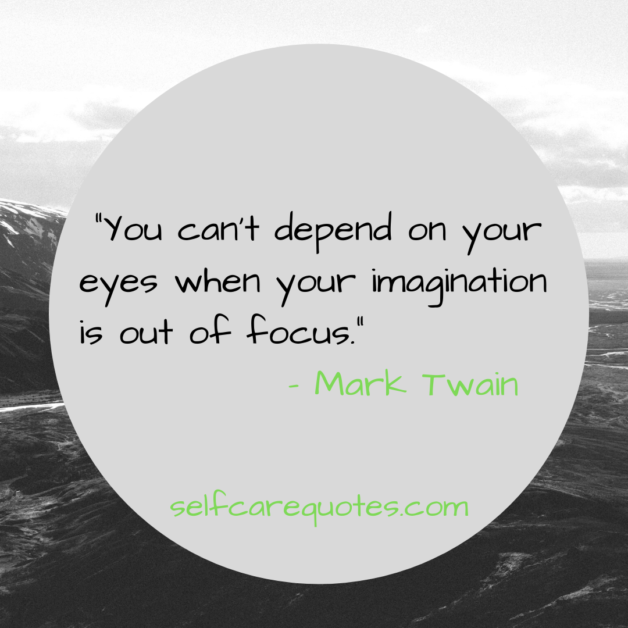 "You can't depend on your eyes when your imagination is out of focus." – Mark Twain
49. "Focus on your problem zones, your strength, your energy, your flexibility and all the rest." – Jack LaLanne
50. "I think everybody should focus on inner beauty." – Paloma Faith
51. "One look at an email can rob you of 15 minutes of focus. One call on your cell phone, one tweet, one instant message can destroy your schedule, forcing you to move meetings, or blow off really important things, like love, and friendship."
52. "One of the secrets of a successful life is to be able to hold all of our energies upon one point, to focus all of the scattered rays of the mind upon one place or thing." – Orison Swett Marden
53. "Don't focus on you, focus on what you can give others." -Unknown
54. "If you want to have a good life, you should focus on your family, on your business, on your dog, on your fun, and you'll have a good life." – Adam Carolla
55. "Beware lest you lose the substance by grasping at the shadow." – Aesop
56. "I don't care how much power, brilliance or energy you have, if you don't harness it and focus it on a specific target, and hold it there you're never going to accomplish as much as your ability warrants." – Zig Ziglar
Self-focus Quotes :
We should be honest in our attitudes and manner. We should have a belief in ourselves. We should be focused on ourselves to uplift our manner to be an honest and good human being. We have to care for our mental soundness. If we want to achieve mental peace, we need to abide by our religion's rules and regulations.  
57. "It is really hard to do comedy; it takes a lot of energy and focus. It's rather like music: It's a lot of hitting notes precisely." – Christine Baranski
58. "A major stimulant to creative thinking is focused questions. There is something about a well-worded question that often penetrates to the heart of the matter and triggers new ideas and insights." – Brian Tracy
59. "When you focus on being a blessing, God makes sure that you are always blessed in abundance." – Joel Osteen
60. I try to just focus on being in the same routine every single day. -Patrick Mahomes
Stay Focus Quotes :
Behind every successful person, there are some special techniques and actions that he had followed in his life. Suppose you ask a successful person what he has done to achieve his goal and aim in life. At the very first, he will tell you that he was hard working. 
The person who is successful in achieving their goals is very focused on their life. They decide their aim work according to that. They don't become demotivated; instead, they stay focused on their particular goals in life. To refresh our mind and get the motivation, we may stay focused on funny quotes.
61.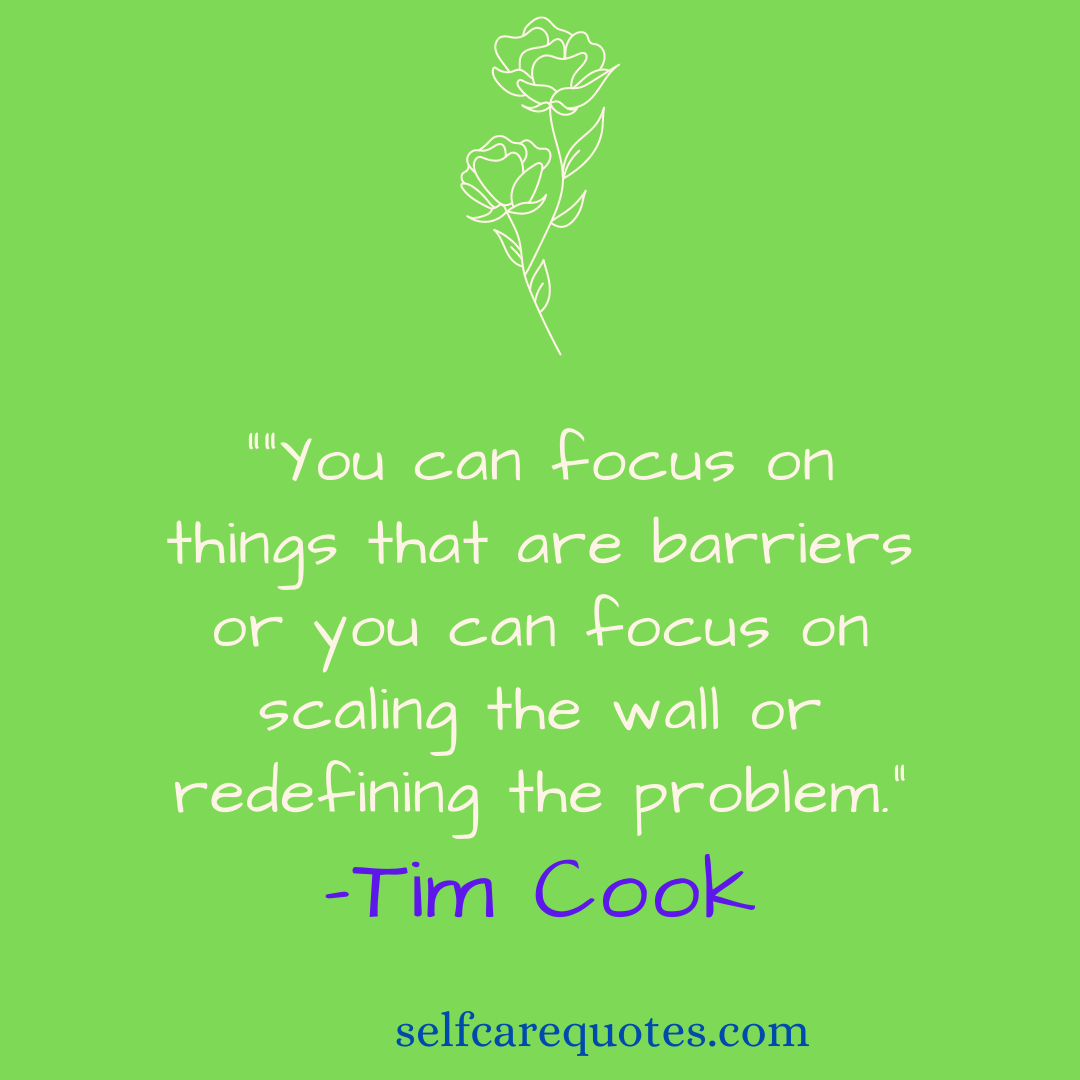 "You can focus on things that are barriers or you can focus on scaling the wall or redefining the problem." – Tim Cook
62. "You cannot help the world by focusing on negative things. As you focus on the world's negative events, you not only add to them, but you also bring more negative things into your own life." – Rhonda Byrne
63. "You have got to have discipline and focus – on the customer and how you run the business." – Jim Cantalupo
64. "I learned long ago to focus on things you can control and don't even pay attention to things you don't." – Bryan Cranston
65. "Focus on the journey, not the destination. Joy is found not in finishing an activity but in doing it." – Greg Anderson
66. "The best way to build the best workforce is to focus on the largest talent pool you have." – Mary Dillon
67. "One of the keys to thinking big is total focus. I think of it almost as a controlled neurosis, which is a quality I've noticed in many highly successful entrepreneurs." – Donald Trump
68. "If you want to live a long life, focus on making contributions." – Hans Selye
69. "I believe that in life, you have to give things your best shot, do your best. You have to focus on what needs to be done, do the right thing, not the popular thing." – David Cameron
70. "You shouldn't focus on why you can't do something, which is what most people do. You should focus on why perhaps you can, and be one of the exceptions." – Steve Case
71. "We can always choose to perceive things differently. You can focus on what's wrong in your life, or you can focus on what's right." – Marianne Williamson
72. "It's always hard to deal with injuries mentally, but I like to think about it as a new beginning. I can't change what happened, so the focus needs to go toward healing and coming back stronger than before." – Carli Lloyd
73. "I just want to focus on one thing at a time." – Josh Silver
74. "I do what I do, and I do it well, and focus and take it one moment at a time." – James Caviezel
75. "You've just got to focus on excellence and try not to be distracted by the news and the rumors and the absurdities of the stories that were coming out." – James Daly
76. "Don't dwell on what went wrong. Instead, focus on what to do next. Spend your energies on moving forward toward finding the answer."
77. "I focus on the writing and let the rest of the process take care of itself. I've learned to trust my own instincts and I've also learned to take risks." – Sue Grafton
78. "One who chases after two hares won't catch even one."
79. "It is those who concentrate on but one thing at a time who advance in this world. The great man or woman is the one who never steps outside his or her specialty or foolishly dissipates his or her individuality." – Og Mandino
80. "The more a person feels skilled, the more her moods will improve; while the more challenges that are present, the more her attention will become focused and concentrated." – Mihaly Csikszentmihaly
Focus on Your Goals Quotes :   
Focusing on our goals is the pre-requisite for achieving our goals in our life. If a person decides his goal but does not work according to that, it will not be fruitful. After determining our goals, we need to focus on it. We should work hard to make our aims successful. We should not only dream in our life; we should work hard to make it real. If we focus adequately on our goals, we can culminate our dreams into reality.
81.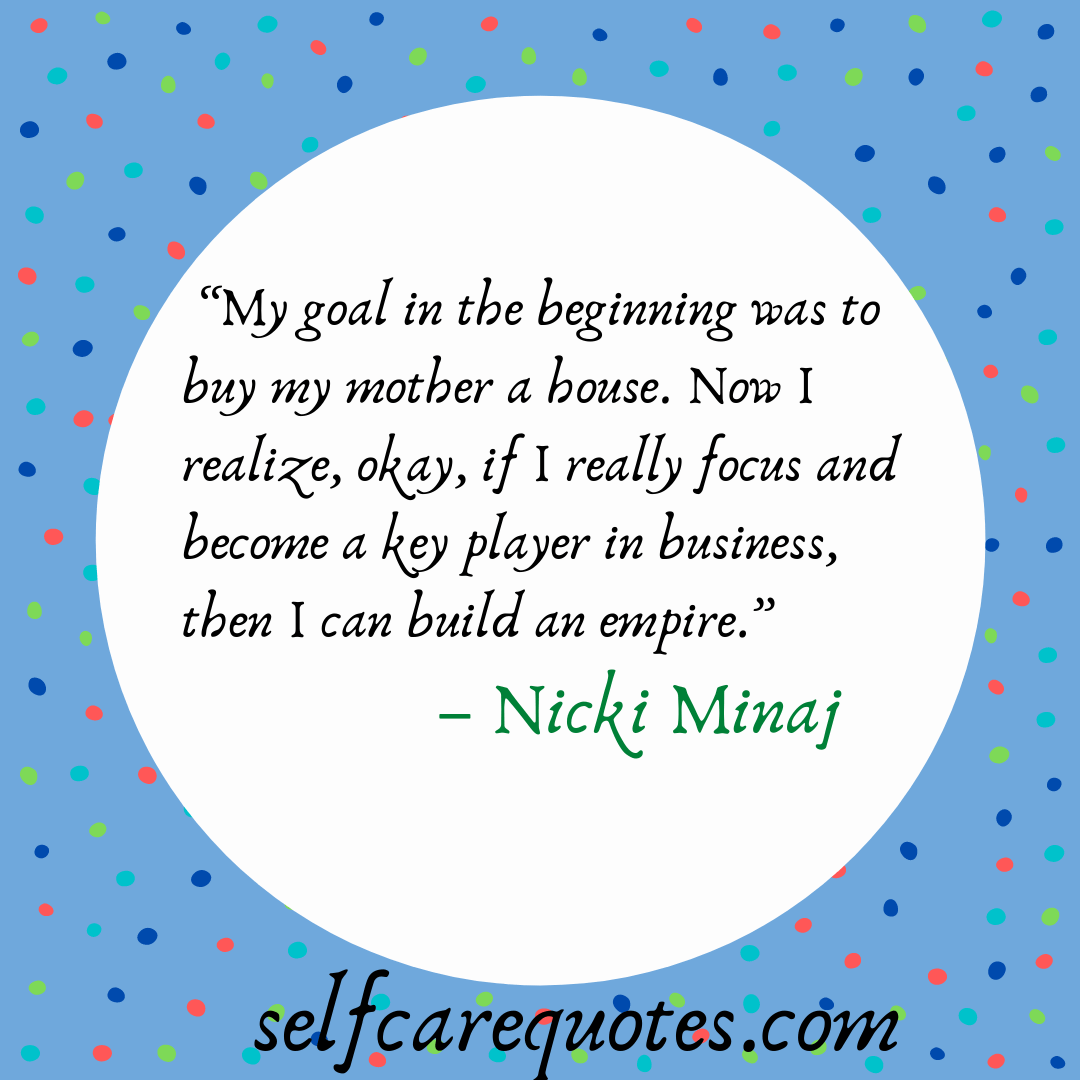 "My goal, in the beginning, was to buy my mother a house. Now I realize, okay, if I really focus and become a key player in business, then I can build an empire." – Nicki Minaj
82. "Successful people maintain a positive focus in life no matter what is going on around them. They stay focused on their past successes rather than their past failures, and on the next action steps they need to take to get them closer to the fulfillment of their goals rather than all the other distractions that life presents to them." – Jack Canfield
83. "You can never let anything distract you from your main objective. My only goal is to be great. That's all I want. That's all I ever aspire to be. Greatness is something nobody can ever take away from you, no matter what happens. So I put all my energy and focus into my craft." – Larry Fitzgerald
84. "A business leader has to keep their organization focused on the mission. That sounds easy, but it can be tremendously challenging in today's competitive and ever-changing business environment. A leader also has to motivate potential partners to join." – Meg Whitman
85. "Energy is the essence of life. Every day you decide how you're going to use it by knowing what you want and what it takes to reach that goal, and by maintaining focus." – Oprah Winfrey
86. "Each day, you can awake and focus on small, easy goals you can accomplish in the short term – goals that, over time, will lead you to your long-term goal." – Karen Salmansohn
87. "Goals provide the energy source that powers our lives. One of the best ways we can get the most from the energy we have is to focus it. That is what goals can do for us; concentrate our energy." – Denis Waitley
88. "I don't focus on what I'm up against. I focus on my goals and I try to ignore the rest." – Venus Williams
89. "Concentrate all your thoughts upon the work at hand. The sun's rays do not burn until brought to a focus." – Alexander Graham Bell
90. "If you chase two rabbits, you will not catch either one." -Unknown
91. "Only one thing has to change for us to know happiness in our lives: where we focus our attention." – Greg Anderson
92. "You have to figure out what that is, and you have to make a plan to get to it. And the plan has got to have a timeline. You have to choose something that you can afford to do and then lock it in and passionately do it." – Dr.Phil
93. "Your current conditions do not reflect your ultimate potential, but rather the size and quality of goals upon which you currently are focusing." – Tony Robbins
94. "A man should never be appointed into a managerial position if his vision focuses on people's weaknesses rather than on their strengths." – Peter Drucker
95. "We believe this combination of excellence in operations and strong execution of our strategy is critical to achieve our vision. We will continue to focus on both in future as well." – Azim Premji
96. "So I think instead of focusing on the competition, focus on the customer." – Scott Cook
97. "Ultimately, we wanted Nike to be the world's best sports and fitness company. Once you say that, you have a focus. You don't end up making wing tips or sponsoring the next Rolling Stones world tour." – Phil Knight
98. "Figuring out what the next big trend is telling us what we should focus on." – Mark Zuckerberg
99. "Our thoughts create our reality – where we put our focus is the direction we tend to go." – Peter McWilliams
100."I think the lack of precision and deep focus is why it took me years to build up my work." – Gil Kane
101. "To attract money, you must focus on wealth. It is impossible to bring more money into your life when you are noticing you do not have enough because that means you are thinking thoughts that you do not have enough." – Rhonda Byrne
102. "Over the years, I've learned, focus on the job at hand, and opportunities will open after." – Antonio Villaraigosa
103. "Most people have no idea of the giant capacity we can immediately command when we focus all of our resources on mastering a single area of our lives." – Tony Robbins
104. "Whenever you want to achieve something, keep your eyes open, concentrate and make sure you know exactly what it is you want. No one can hit their target with their eyes closed." -Unknown
105. "Focus comes a lot more easily when you desperately want the results of your own work – nobody else is going to do it for you." – Palmer Luckey
Focus on the Good Quotes :
A good quote can be the reason to change your life. The excellent and positive quotes contain valuable advice and suggestion from knowledgeable people. The good quotes bear the message of the person for them. If we get the message properly, it may prove as beneficial for us. 
We may learn about the experience of the writer through their excerpts. Good quotes are precious to us. The quotations increase our knowledge as well as impart inspiration to us. Good quotes can change our outlook and the perspective of our life. 
106. "Focus on doing the right things instead of a bunch of things." – Mike Krieger
107.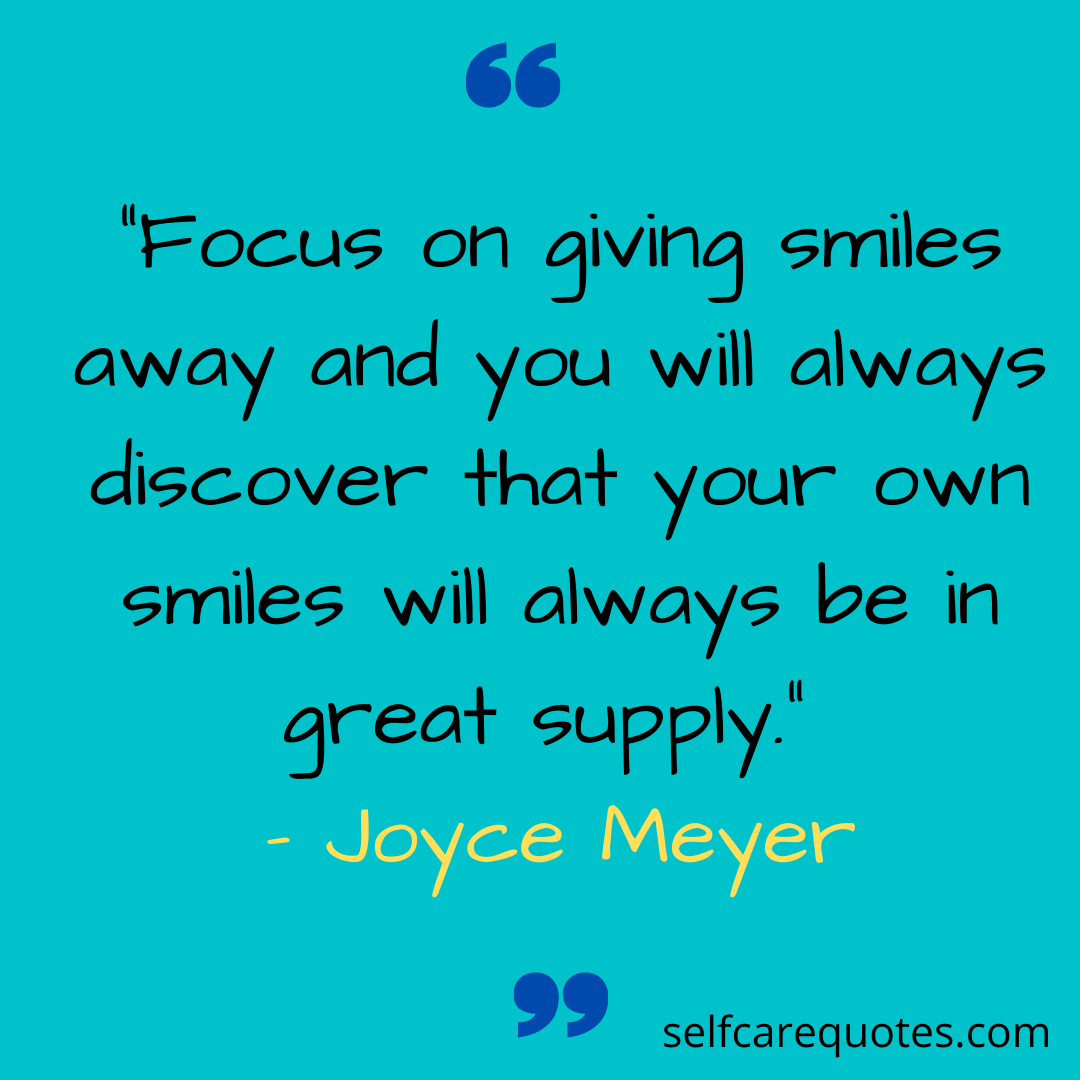 "Focus on giving smiles away and you will always discover that your own smiles will always be in great supply." – Joyce Meyer
108. "Maintaining good health should be the primary focus of everyone." – Sangram Singh
109. "If you focus more on the inside, you'll feel just as great about the outside. I feel attractive when I'm doing good and helping people." – Keke Palmer
110. "My success, part of it certainly, is that I have focused in on a few things." – Bill Gates
111. "The greatest gift is the ability to forget – to forget the bad things and focus on the good." – Joe Biden
112. "90% of every art form is garbage – dance and stand-up, painting and music. Focus on the 10% that's good, suck it up, and drive on." – Patton Oswalt
113. "When trouble comes, focus on God's ability to care for you." – Charles Stanley
114. "I just saw the emotion in everything, so I got to feel everything that was going on and that I was viewing, but I couldn't think in terms of structure, which is the whole point of deep focus." – Gil Kane
115. "When there is a voice in a piece of music, we tend to focus on the voice. That is probably something from when we were babies and we depended on hearing our mother's voice." – Robert Wyatt
116. "Instead of focusing on the world's problems, give your attraction and energy to trust, love, abundance, education, and peace." – Rhonda Byrne
117. "When we focus on our gratitude, the tide of disappointment goes out and the tide of love rushes in." – Kristin Armstrong
118. "If we focus on our health, including our inner health, our self-esteem, and how we look at ourselves and our confidence level, we'll tend to be healthier people anyway, we'll tend to make better choices for our lives, for our bodies, we'll always be trying to learn more, and get better as time goes on." – Queen Latifah
119. "Your destiny is to fulfill those things upon which you focus most intently. So choose to keep your focus on that which is truly magnificent, beautiful, uplifting, and joyful. Your life is always moving toward something." -Unknown
120. "Good performance is about the capacity to focus and concentrate." – Betty Buckley
121. "I'm someone who loves to enjoy life and tries to focus on real things and real friendships. That's why I live very simply." – Cameron Diaz
122. "We don't focus as much in schools on educational knowledge which requires thinking and application, as we do on acquiring facts." – William Glasser
Focus Motivational Quotes :
Motivation is also essential for us to face the challenges in our life. Most people lose hope in their life when they face difficulties and problems in their life. In this situation, inspiration and motivation work as medicine for the people. Motivational quotes are beneficial for pessimistic people. 
When you lose hope, you can read the quotes about focus and determination to increase your belief and get back your hope. Motivation is beneficial to us. When we feel despair in our life, inspiration and motivation can heal our depression. We can easily come out from our depression by going through the inspirational quotes.
123.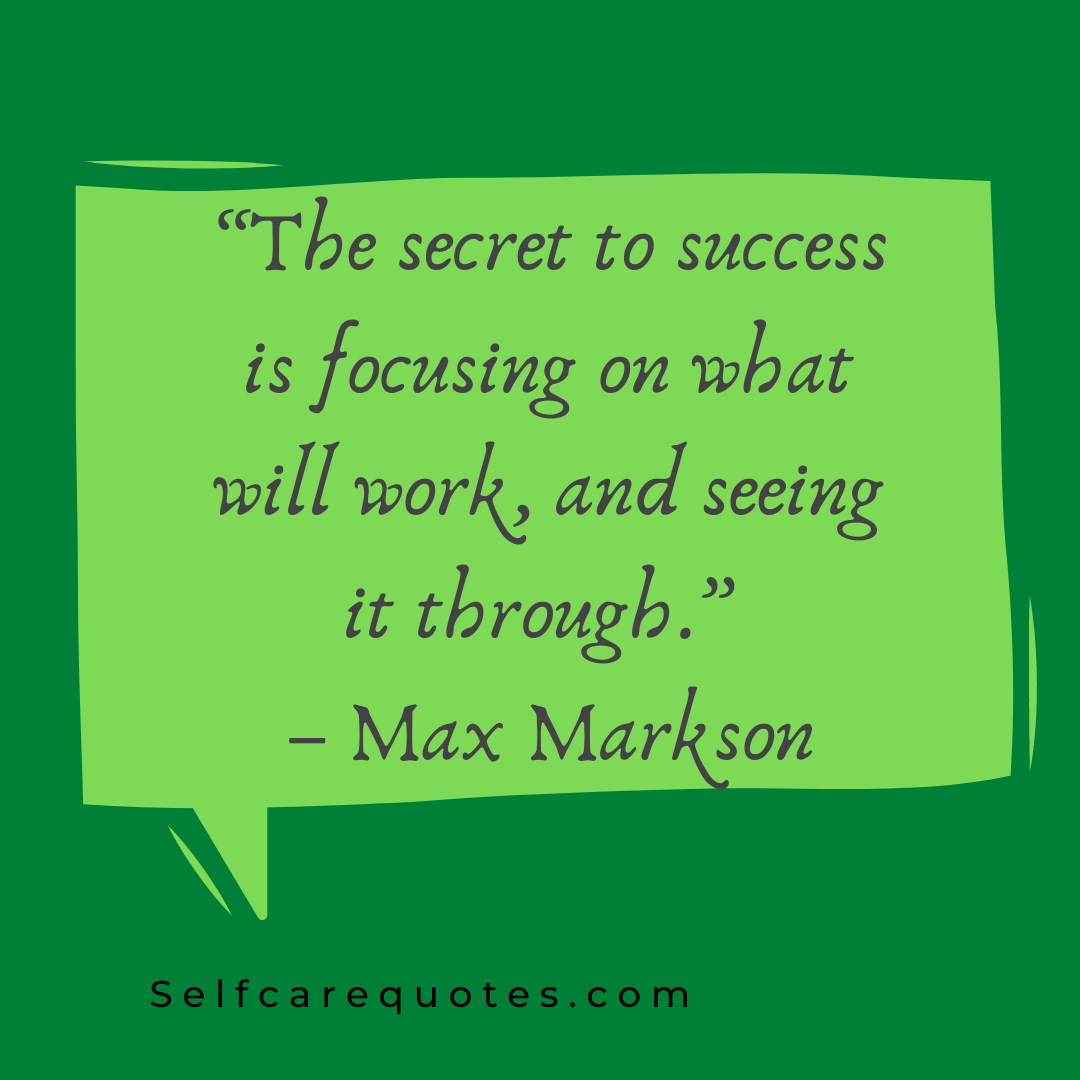 "The secret to success is focusing on what will work, and seeing it through." – Max Markson
124. "I focus on one thing and one thing only – that's trying to win as many championships as I can." – Kobe Bryant
125. "I fear not the man who has practiced 10,000 kicks once, but I fear the man who has practiced one kick 10,000 times." – Bruce Lee
126. "My sole focus as far back as I can remember was all about my dream to become a singer." – Sheena Easton
127. "One very important aspect of motivation is the willingness to stop and to look at things that no one else has bothered to look at. This simple process of focusing on things that are normally taken for granted is a powerful source of creativity." – Edward de Bono
128. "I learned to focus and work hard and not give up. I learned that every obstacle is really an opportunity." – Jenna Ushkowitz
129. "It's very important that we re-learn the art of resting and relaxing. Not only does it help prevent the onset of many illnesses that develop through chronic tension and worrying; it allows us to clear our minds, focus, and find creative solutions to problems." – Thich Nhat Hanh
130. "Don't dwell on what went wrong. Instead, focus on what to do next. Spend your energies on moving forward toward finding the answer." – Denis Waitley
131. "Along with a strong belief in your own inner voice, you also need laser-like focus combined with unwavering determination." – Larry Flynt
132. "I meditate and pray before going onstage – it helps me focus." – Harry Styles
133. "Focus on something that you have a passion for and hone that skill; it will make you feel confident about your ability." – Victoria Justice
134. "I think everybody's got different methods of working which suit the particular individual. Mine is to sort of play the part and give 100%, to concentrate and focus on it while I'm actually working, but then leave it behind until the next day." – Sean Bean
135. "The more you focus, the more that focus becomes a habit." – Charles Duhigg
136. "Do it! People who succeed don't just sit and think about what they want to do. They take meaningful, purposeful, directional action consistently, and persistently. Every step they take puts them toward the outcome they're looking for." – Dr.Phil
137. "The secret of change is to focus all your energy not on fighting the old but on building the new." -Unknown
138. "Your focus should be on creating an environment where growth can occur and then letting nature take its course." – Patrick Lencioni
139. "To me, living in the present means being aware of your conscious choice to focus on the past, present or future – it is not necessarily having to focus on the present." – Bo Bennett
140. "My focus has been and will continue to be on doing my job." – Ted Cruz
141. "The key to success is to focus our conscious mind on things we desire not things we fear." – Brian Tracy
142. "Your destiny is to fulfill those things upon which you focus most intently. So choose to keep your focus on that which is truly magnificent, beautiful, uplifting and joyful. Your life is always moving toward something." – Ralph Marston
143. "Every day is a gift from God. Learn to focus on the Giver and enjoy the gift!" – Joyce Meyer
Focus on Positive Quotes :
Positivity is essential for the struggle of our life. We can achieve our goal with hard work, intense focus, and inspiration. To complete every task, we need the motivation within ourselves. We should be optimistic about our life. A positive mind can overcome all the obstacles in their life. Positive thinking is constructive to avoid all the obstacles and the negativities in our life. Our positive thinking helps us to cope with all the adverse situations.
144.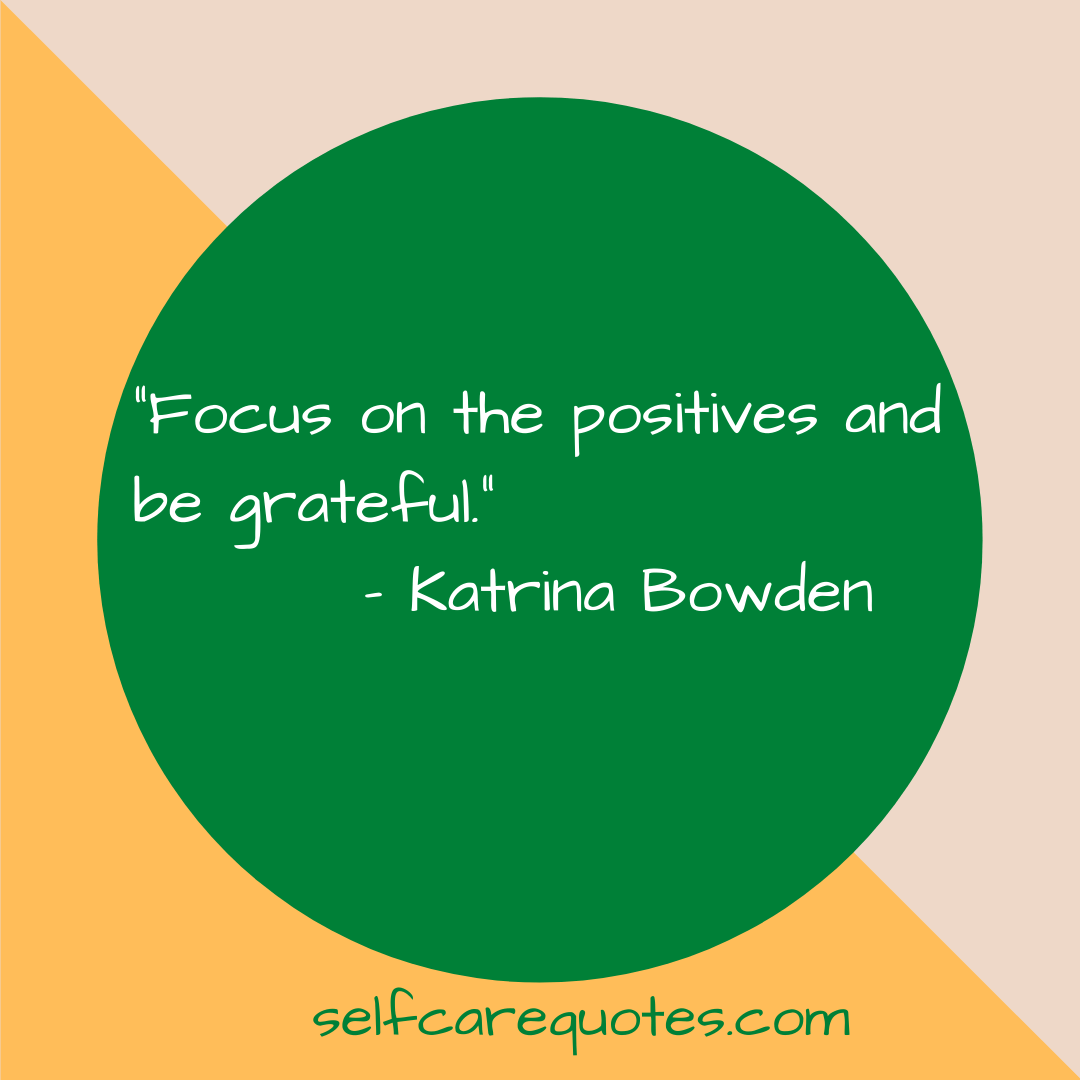 "Focus on the positives and be grateful." – Katrina Bowden
145. "I meditate. I breathe out what I can't control and focus on the positives." – Deepika Padukone
146. "True health infuses positive energy in the mind, body and spirit; it is a main focus in my life." – Maximillian Degenerez
147. "Live life to the fullest, and focus on the positive." – Matt Cameron
148. "I believe the only thing that we really have control over is our attitude. If we focus on the positive things in our lives and learn how to cope with all the surprises, we will be happier people." – Brandon Jenner
149. "Don't focus on negative things; focus on the positive, and you will flourish." – Alek Wek
150. "Anything that's not positive, I don't have the energy to focus on it. Anything that's not going in the right direction, I don't have the time or the energy." – DMX
151. "I'm the kind of person who doesn't really focus on more negativity. I'm a positive person, and I look at things in a positive way." – Caster Semenya
152. "Choose to focus your time, energy and conversation around people who inspire you, support you and help you to grow you into your happiest, strongest, wisest self." – Karen Salmansohn
153. "Anything I learned was just work hard, just keep working and don't worry about the outside stuff. Whatever happens, will happen." -Unknown
154. "Instead of focusing on that circumstance that you cannot change – focus strongly and powerfully on the circumstances that you can." – Joy Page
156. "You can do anything as long as you have the passion, the drive, the focus, and the support." – Sabrina Bryan
157. "You have to make sacrifices. You have to work out, to be relaxed in your mind, to focus on what you're doing." – Stan Wawrinka
158. "We just want to win. That's the bottom line. I think a lot of times people may become content with one championship or a little bit of success, but we don't really reflect on what we've done in the past. We focus on the present." – Derek Jeter
159. "It is during our darkest moments that we must focus to see the light." – Aristotle Onassis
160. "The future is finally something that we can now put into focus." – Lou Gramm
161. "One of the nice things about being busy is it makes you focus on what's important to you and how you use your time." – Lorne Michaels
162. "We only have a certain amount of energy for each day. If we use it for the wrong purpose, if we focus on the negative or dwell on whoever hurt us, then we're not going to have the energy we need for the right purposes." – Victoria Osteen
163. "You have to focus on the future and know that you can succeed in life, and you have to keep working hard." – Dele Alli
164. "Champions get what they want because they know what they want. They have a vision that keeps them motivated and efficiently on track. They see it, feel it, and experience it in their minds and hearts. What is success for you? You won't get there without knowing what it feels and looks like." – Dr.Phil
165.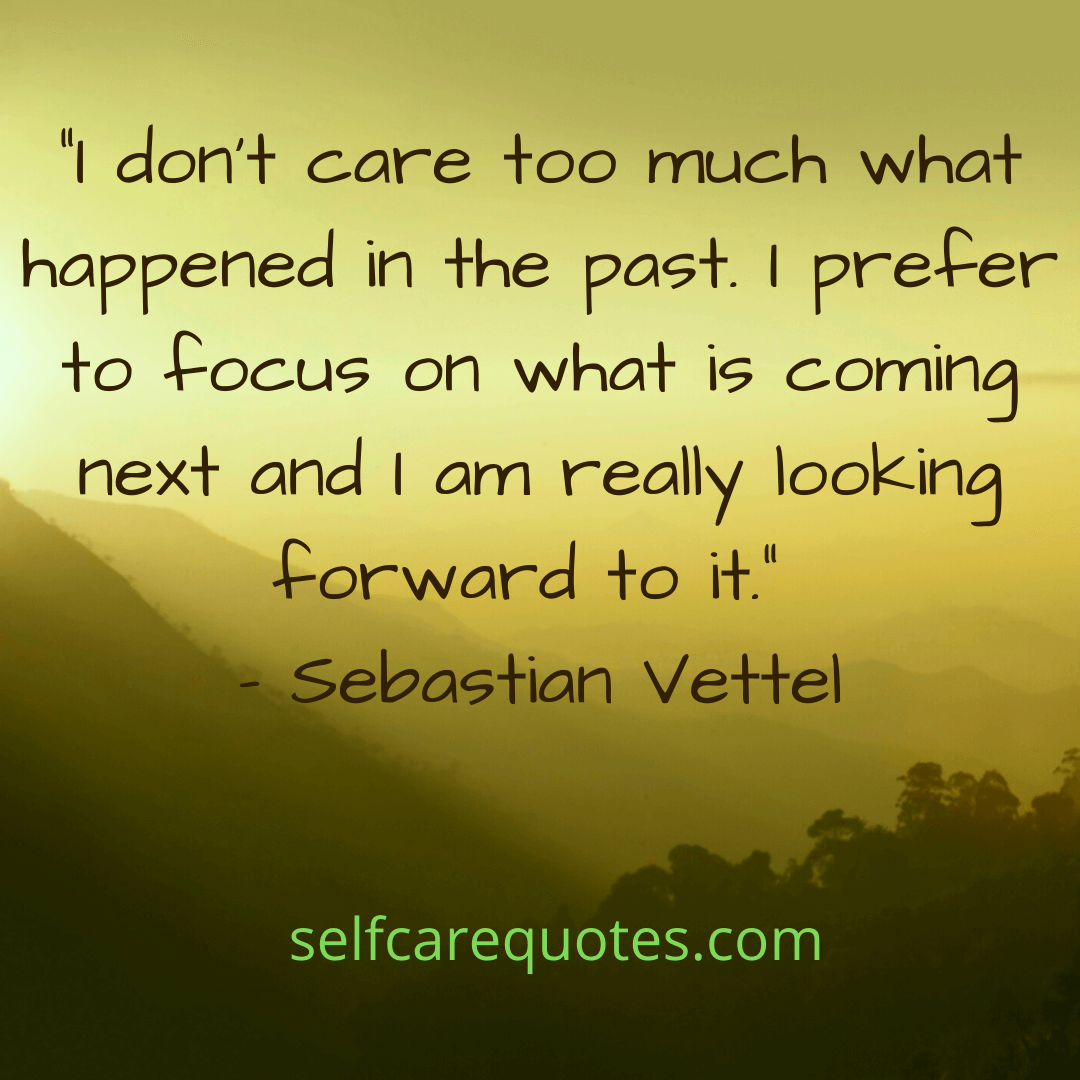 "I don't care too much what happened in the past. I prefer to focus on what is coming next and I am really looking forward to it." – Sebastian Vettel
Final Thoughts :
Our firm focus is mandatory for the success of our life. If we can focus on our lives and our goal, we can achieve what we want from our lives. Determination is necessary for the successful completion of any work. If the question is the accomplishment of our goal, then we need the determination and the focus. We all should give the proper priority to our life, health, peace, goals, and ambitions. We should focus on our goals and cling to it.