On September 30, 1206, a small child was born to Sultan ul Ulama, Baha Uddin Walad, and Muimina Khatun in the city of Balkh (present-day Afghanistan) on the Anatolian Peninsula. His father named him Jalal Uddin. But later when he became the famous Maulana and poet of Anatolia in Rome,
he became known as Maulana and Rumi. And today we will hear the story of the famous Maulana or poet Jalal Uddin Rumi, whose words cut a scar in our hearts, whose poems teach us a new definition of love, whose poems teach us not to be afraid of the Creator but to be found in love. We will discuss the History of Rumi.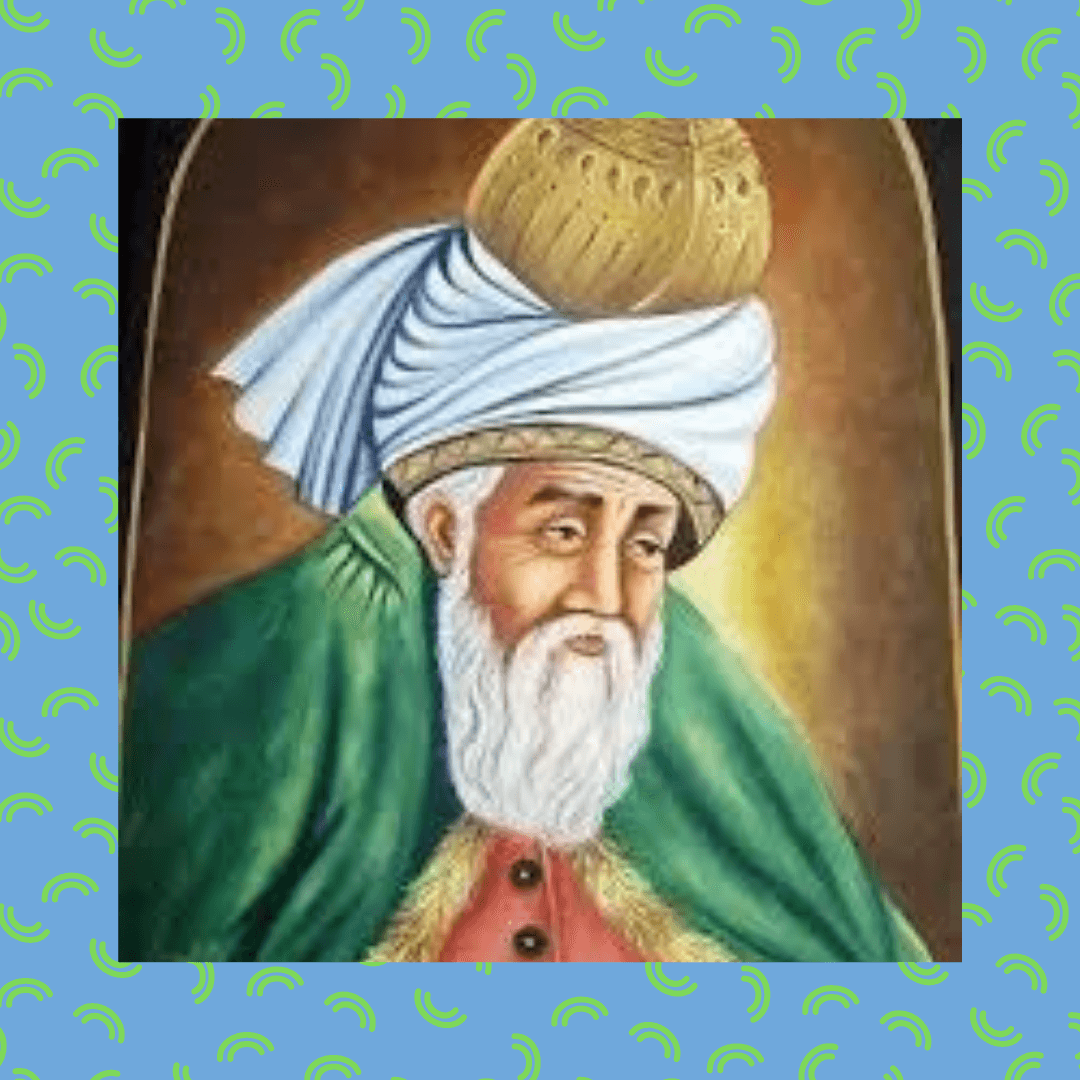 Since his father was a famous ulama and jurist of that time, Rumi had the opportunity to acquire in-depth knowledge of various aspects of Islamic scriptures from an early age. And since his mother Muimina Khatun is a descendant of the Khwarizmi dynasty, Rumi has been growing up in the company of high-ranking people since childhood.
When Rumi was 11 years old, Baha'u'llah Walad emigrated with his family and hundreds of followers to various countries in the Middle East over a dispute with the king of Balkh. And during this migration, all the famous sages of that time started meeting Rumi. At the age of 18, on their way to Mecca, they were met at Nishapur by the famous Persian spiritual poet Attar.
He sees Rumi walking behind his father and says, "A sea is going behind a lake." He presented Rumi with a book on the spirit of the hereafter, Asarnama. Which had a profound effect on Rumi's adolescence and he became fascinated with the mystery. Rumi married Gawhar Khatun in 1225 while he was in Karaman during the Hijrah.
They have two sons – Sultan Walad and Alauddin Chalabi. After the death of Gawhar Khatun, Rumi married a widow, who had a daughter named Kimia Khatun. Rumi's one son Amir Alim Chalabi and one daughter Malakhi Khatun were born here.
In 1226, Alauddin Kaikobad, the ruler of Anatolia, invited Bahauddin and his family to Konya, Anatolia, and asked them to stay.
Bahauddin was appointed the headmaster of the madrasa there. Shortly after his death, Rumi succeeded him at the age of 25, and gradually he became known as Maulvi Sahib or Maulana Sahib. While still a teacher,
Syed Burhan Uddin Mohakkiki, a student of Rumi Bahauddin, studied Islamic Sharia and Sufism with Tirmizi for nine consecutive years and at one point became the chief judge of the Konya Mosque.
So from this it is understood that Rumi's life in Konya was going very well. He was a high-ranking dignitary in Konya. As the then king of Konya was his student, he was often considered higher than the king. But in the midst of all this, he was a bit of an exception. He mingled with people of all levels. Class inequality did not find a place in him.
Sometimes a shoemaker, sometimes a goldsmith would become his intimate friend. And thus on November 15, 1244, Shams Tabrizi became acquainted with him. Shams Tabrizi was an unruly nomadic saint, whom people called a 'bird'. Because he could not stay in one place for long and be common, he could be seen in two places at the same time, so that it seemed that he could fly or change his position in the blink of an eye.
Shams Tabrizi first saw Rumi when Rumi was 21 years old, and he saw Rumi and realized that Rumi could be his worthy disciple and representative, who could fully comprehend his spiritual knowledge and abilities. But he did not catch Rumi because he was too young.
So when Rumi reaches the age of forty and he becomes qualified to hold that spirituality, Shams Tabrizi finds him again. Rumi was also overwhelmed when he met Shams Tabrizi.
He understands that there is so much more to life than just the faith he lived in. There is a lot to understand and contain. So he brought Shams Tabrizi to his house. Spend a lot of time alone with him and continue to receive an education.
But not everyone could take this excess of Rumi's association with Shams Tabrizi well. His family and high-ranking members of society continue to think that Rumi's 'disgrace' is happening because of his association with Shams Tabrizi.
So they kept threatening Shams Tabrizi and Tabrizi also left Konya and went to Damascus at one stage. But when Rumi was devastated by this incident, his eldest son Sultan Walad was forced to bring him back to Konya.
Then Rumi did a strange thing to keep Shams Tabrizi in Konya. He married his 12-year-old honest daughter Kimia Khatun to 60-year-old Shams Tabrizi. Rumi's youngest son, Abdullah Chelebi, was furious because he liked Kimia Khatun.
When Kimia Khatun died a few months after the marriage, Abdullah Shams Tabrizi was assassinated with the tacit consent of the upper echelons of the society, and Rumi was buried in the dark of night. Rumi never knew about this incident in his lifetime. At first, he could not believe that Shams Tabrizi was dead. So he writes,
Thus he waited for forty days and then after the black dress he announced the death of Shams Tabrizi. It was this grief of losing him that turned Rumi's life around. And the beginning of his poetry came after this injury. His love for his favorite teacher and friend makes him a poet of love and friendship. He writes,
Thus he waited for forty days and then after the black dress he announced the death of Shams Tabrizi. It was this grief of losing him that turned Rumi's life around. And the beginning of his poetry came after this injury. His love for his favorite teacher and friend makes him a poet of love and friendship. He writes,
"When you left, blood flowed through my eyes. I cried and shed blood. The sorrows grew bigger and bigger, sorrow was born. You left, how can I cry now? It's not just that you're gone, it's with you." My eyes are gone too. How can I cry now without eyes dear! "
To commemorate Shams, Rumi named his first epic, Shams's Collective Poems from the City of Tabriz. He also uses the pseudonym 'Shams' in his numerous poems, the compilation of which is called 'Dewane Shams'.
His various ghazals and four-line poems reflect different levels of his love for Shams. Again, many say that after the death of Shams Tabrizi, Rumi became Shams Tabrizi. So the poems written by Rumi are basically the poems of Shams Tabrizi.
The fresh language and rhythm of Rumi's poems easily took place in people's minds. Hearing his every word, it seemed that these were not ordinary languages, but translations of every human heartbeat, the language of every human heart.
He was inspired to write his poems or ghazals by his surroundings. Sometimes he hears the sound of a shepherd's flute, sometimes he hears the sound of a drum, sometimes he hears the sound of a goldsmith's hammer.
He believed that it was not possible to find a mosque or a church in search of the Creator, but to seek the Creator in one's own heart. So, he said
"I was looking for the Creator. So, I went to the temple and did not find him. I went to Church; I didn't find him there either. Then I went to the mosque and did not find him there. Then I looked for him in my heart and found him there."
He also believed that love was the best way to find the Creator. That is why he said,
Rumi often went to enjoy the natural beauty with his followers. He believed that in the midst of nature God spread the message of the invisible world. He saw nature as a reflection of God's love and was inspired to compose ghazals. He said
"Every tree carries the message of the unseen world. Look, there is good in every fallen leaf. "
Often he would become distracted while composing poems or songs. Sometimes he would become so engrossed with his ghazals that he would start dancing in deep immersion.
Seeing her dance, it seemed that she had gone to another world in the middle of the dance, she had no connection with the real world.
He danced when he felt oneness with the Creator and the love of the Creator. Her dancing was a kind of worship to her. He said
"We have come from zero to turn
As the stars spread out in the sky.
Together they form a circle,
And we dance in the middle of it. "
Several years after the death of Shams Tabrizi, Rumi rekindled a close friendship with a goldsmith named Salauddin Jacob. One day as he was passing in front of Salauddin Jacob's shop, he started dancing when he heard the sound of his hammer hitting him. From then on, Jacob was Rumi's close companion for a long time.
Rumi married the daughter of Salauddin Jacob to his eldest son. After the death of Salauddin Jacob, he became close to Husam al-Chelebi, a student of Rumi. He called Husam al-Chelebi "Dia al-Haq." Which meant 'lamp of truth'.
At his suggestion, Rumi started writing his most popular book, Masnavi. There are many traces of 13th century Sufism in the middle of Masnavi. Rumi also spoke in Masnavi about his love for Shams Tabrizi, Salauddin Jacob and Husam al-Chelebi.
Jalal Uddin Rumi died shortly after writing Masnavi. He was buried in Konya next to his father. He was a highly respected member of Konya's society. Apart from Muslims, people of other religions also respected him.
So innumerable people of all religions and castes attended his janaza. His shrine or green shrine in Konya is still considered a place of pilgrimage for followers of various religions, especially Muslims in Turkestan.
Following this dance, Sultan Walad later performed a special dance in honor of his father, in which one person is placed in the center as a metaphor for Rumi and the others revolve around him, as the planets revolve around the sun. And this is how the famous 'Sufi Dance' or 'Summer' started with the hands of Sultan Walid and not Rumi.
In addition to Rumi's various poems and songs, there is a collection of his various sayings called 'Fihi Ma Fihi', which were written by his followers and friends at different times.
Several of his letters to different people at different times have also been found. It is not possible to mold Rumi's thoughts or ideas in any specific way.
Many times they see different differences and variations among themselves. The use of its various metaphors and the variability of concepts often puzzle readers.
His poems or writings are in fact a reflection of human expression in various mysterious and diverse experiences where people find different feelings in his daily life.
That is why it is not possible to tie Jalal Uddin Muhammad Rumi to any particular race or group, because he speaks to the hearts of people all over the world, and he feels everything with his heart. And that's why he blends in with everyone's heart.
Related Topics:  Top Popular 330 Rumi Quotes