Joan Jett, full name is Joan Marie Larkin, she is an American rock singer, songwriter, and also an actress. That's not the end, she is also a composer, record producer, and musician.
She is not known by her name only. She has many famous works which introduce her in a different way. Joan Jett is most loved for her music like "I Love Rock 'n Roll",  "Cherry Bomb", and "Bad Reputation".
He also performed as a lead singer for two bands. One of them is founded by herself. The name of it "Joan Jett & the Blackhearts" and another was someone else's band where she performed many great songs.
Joan Jett is also known for her famous quotes. Joan Jett's quotes are loved by people all over the world. She also becomes famous for those quotes.
50 Joan Jett Quotes:
1. Life is strong and fragile. It's a paradox… It's both things, like quantum physics: It's a particle and a wave at the same time. It all exists all together.  ― Joan Jett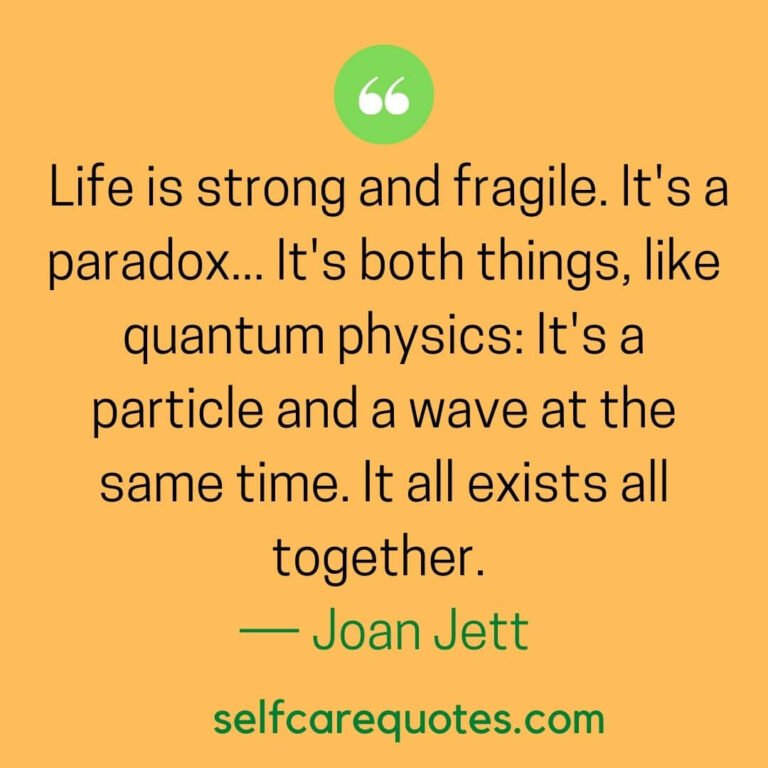 2. Other people will call me a rebel, but I just feel like I'm living my life and doing what I want to do. Sometimes people call that rebellion, especially when you're a woman.― Joan Jett
3. Don't let anyone tell you that you can't do something. Make your own victories. Make your own mistakes.― Joan Jett
4. I don't give a damn about my reputation. You're living in the past, it's a new generation.― Joan Jett
5. A girl playing rock and roll, it's saying I own my sexuality and I'm going to tell you what I'm going to do. And I think people just find that threatening.― Joan Jett
6. If you really believe in yourself, you cannot listen to other people.― Joan Jett
7. Women play cellos and violins in symphony orchestras. They're playing Beethoven and Bach. What do you mean they can't play rock and roll?― Joan Jett
8. You got nothing to lose. You don't lose when you lose fake friends.― Joan Jett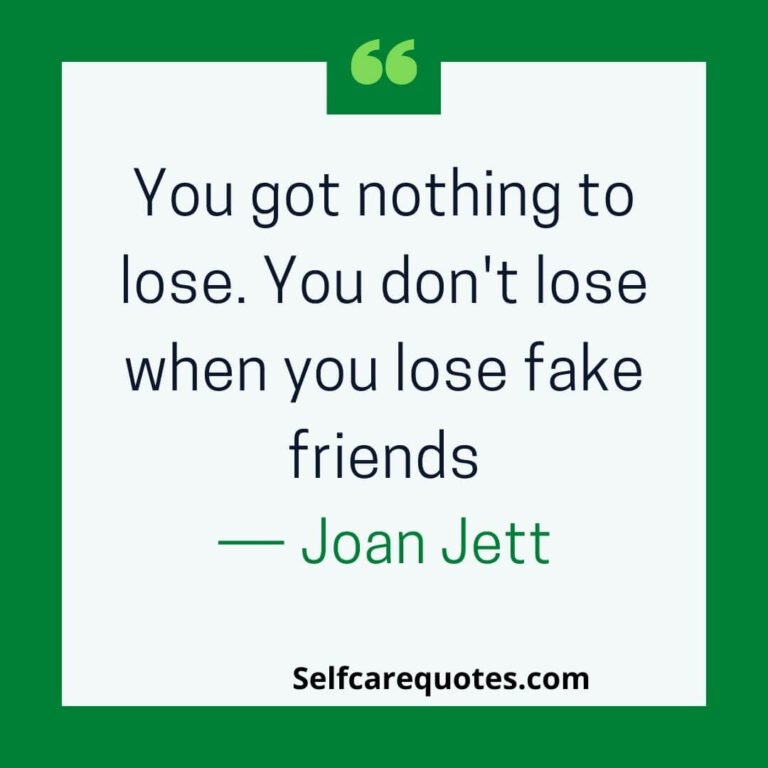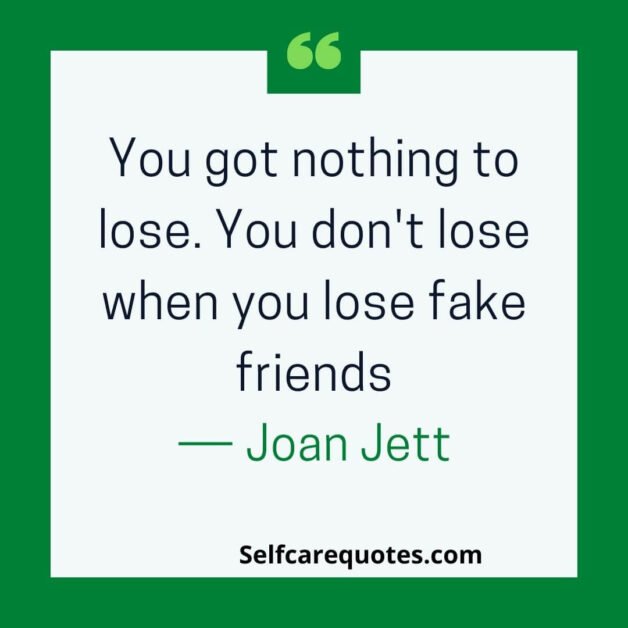 9. I figured out it was a social thing, what women were allowed to do. At a very young age, I decided I was not going to follow women's rules.― Joan Jett
10. I'm concentrating on staying healthy, having peace, being happy, remembering what is important, taking in nature and animals, spending time reading, trying to understand the universe, where science and the spiritual meet.― Joan Jett
11. Girls have got balls. They're just a little higher up, that's all.― Joan Jett
12. Just be yourself and everything will fall in line, the way it's supposed to be. If you're yourself, that's the best thing you can do, because you can never go "damn if I'd only been myself." Live an authentic life and you don't have to worry about your reputation.― Joan Jett
13. A girl can do what she wants to do / And that's what I'm gonna do.― Joan Jett
14. I don't really care if you think I'm strange–I ain't gonna change!― Joan Jett
15. I think I was born strong-willed. That's not the kind of thing you can learn. The advantage is, you stick to what you believe in and rarely get pushed out of what you want to do.― Joan Jett
16. Rock and roll by its nature is sexual. So girls playing rock and roll is saying to the world, "We own our sexuality." I think that pop music is sort of about "you can do what you want to me" kind of energy, while rock and roll is "I'm going to do what I want to you" kind of energy.― Joan Jett
17. I grew up in a world that told girls they couldn't play rock 'n' roll.― Joan Jett
18. Success isn't one straight line – it's a ladder, and there's always another rung above you to reach out for. Like anything else, there are ups and downs.― Joan Jett
19. I think it's important to have mystique.― Joan Jett
20. I love rock and roll, so put another dime in the juke box, baby.― Joan Jett
21. My guitar is not a thing. It is an extension of myself. It is who I am.― Joan Jett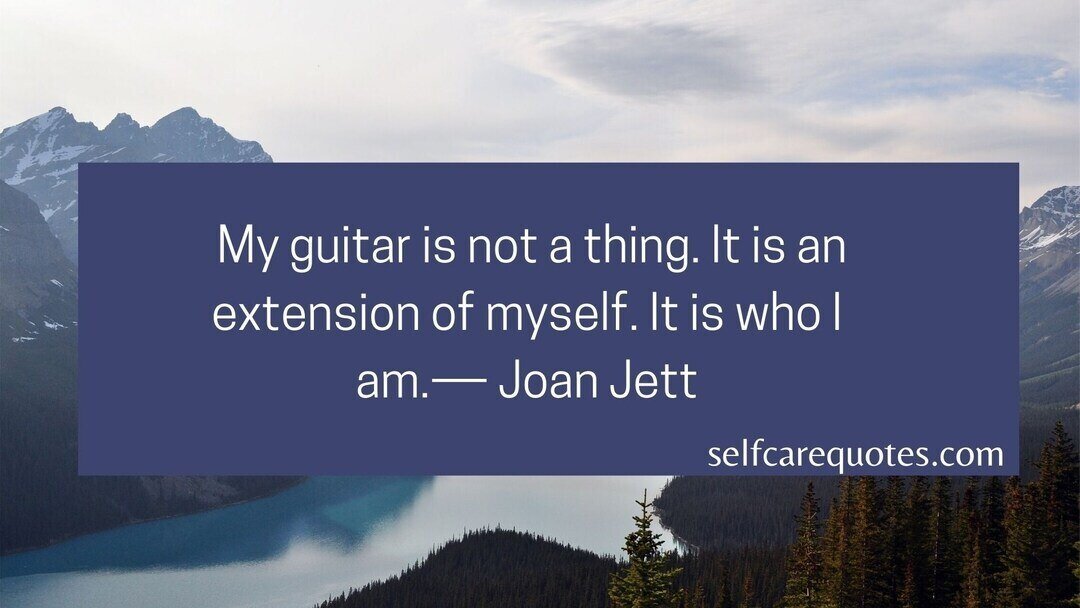 22. At this point, a lot of people have made their mind up about me one way or another. I'm sure there's a certain segment of writers who won't ever give me the time of day, hate me, don't get me, don't think I'm good, or whatever. I guess that's fine.
It's only an opinion. There are other people who do get it, and can be objective. I could be wrong, but a lot of people, except for really young people, have made up their minds one way or the other.― Joan Jett
23. I'm having fun opening up. Sort of struggling to get the audience into it. It's good. It makes you fight. Not fight like antagonistic. But fight for what you believe.― Joan Jett
24. I remember thinking that Janis Joplin sang like Mae West talked. When I
first heard the primal scream in 'Piece Of My Heart,' I was hooked. 'Cheap
Thrills,' Janis 'Live' with Big Brother And The Holding Company, was one of
my all time faves.
During the 'whoa, whoa, whoa, whoa's' in 'Combination Of
Two,' I couldn't help but go to the mirror and pretend I was a wild woman
like Janis, in a rock band.― Joan Jett
25. I don't wait till stage to use my sexuality. My zipper's down right now. I mean, I use it all the time.― Joan Jett
26. You gotta not care about what people think in general about you. I'm not talking about bad stuff, if you're a nasty person, because I don't consider myself a mean person, I consider that I know what i want and I'm tough. But I'm very emotional and un-tough on a lot of levels, I cry very easily, I'm sensitive and I don't think that's a bad thing.― Joan Jett
27. If you are gonna live your life, just try to not be crazy, have fun but have some focus and some purpose and try to know what that is. If you don't know now, try to figure it out.― Joan Jett
28. People are very sincere in their praise, and you can't take it lightly.― Joan Jett
29. I'd like to just be a little bit more open to making mistakes and not worrying about it so much.― Joan Jett
30. Women are still second-class citizens.― Joan Jett
31. The only good thing you ever said was goodbye.― Joan Jett
32. God, I always just think of myself as a jeans and T-shirt kind of person.― Joan Jett
33. For me the challenge isn't to be different but to be consistent.― Joan Jett
34. I want to be singing to everybody, and I want everybody to think that I'm singing to them. Guys, girls and everyone in between.― Joan Jett
35. People like to tear you down. People are always going to take shots. You've just got to go for it.― Joan Jett
36. I don't know if I get recognized necessarily, though I do get looked at a lot – but I don't know if it's because of who I am, or if people just think I look weird.― Joan Jett
37. I think there's nothing better than seeing a three-chord straight up rock 'n' roll band in your face with sweaty music and three minute good songs.― Joan Jett
38. My parents taught me I could be anything in the world I wanted to be.― Joan Jett
39. Nobody knows what anticipation is anymore. Everything is so immediate.― Joan Jett
40. That was exactly why people didn't want to give us any kind of life, because we were threatening their status quo, and they just didn't want to have room for girls playing rock 'n' roll. It bothered them. First, people just tried to get around it by saying, "Oh, wow, isn't that cute?
Girls playing rock 'n' roll!," and when we said, "Yeah, right, this isn't a phase; it's what we want to do with our lives," it became, "Oh! You must be a bunch of sluts. You dykes, you whores." That's what it became. Then it became a name-calling contest.― Joan Jett
41. Being the first is kind of dirty, and it's great― Joan Jett
42. People don't want to see women doing things they don't think women should do.― Joan Jett
43. Happiness doesn't necessarily lie in material things. You just have to put yourself in a position to be happy. If you can do what you love for a living, that's a good start.― Joan Jett
44. Partly, I like a bad reputation. But I also want a reputation of being a good person.― Joan Jett
45. I started The Runaways with Sandy West. We shared the dream of girls playing rock and roll. Sandy was an exuberant and powerful drummer. So underrated, she was the caliber of John Bonham. I am overcome from the loss of my friend. I always told her, we changed the world.― Joan Jett
46. Girls see these defined roles they're supposed to follow in life, but when I was a young child, my parents told me I could be anything.― Joan Jett
47. The thing I get out of it is the connection. I remember going to shows as a kid and meeting eyes with the people in the band, and knowing they are meeting eyes with you, and that moment, that smile, and that's your moment. I want to create millions of little moments for other people.― Joan Jett
48. Something happens, you can't even put your finger on it, and then you don't quite feel the same way anymore. All of a sudden, there's fights or something and you are going "who is this person?" I've seen this happen to other people and it has happened to me.― Joan Jett
49. If you're secure in yourself, and even if you're not secure in yourself, you don't need to bully.― Joan Jett
50. When I met you you were oh so sweet, now you give me the bread and you take all the meat.― Joan Jett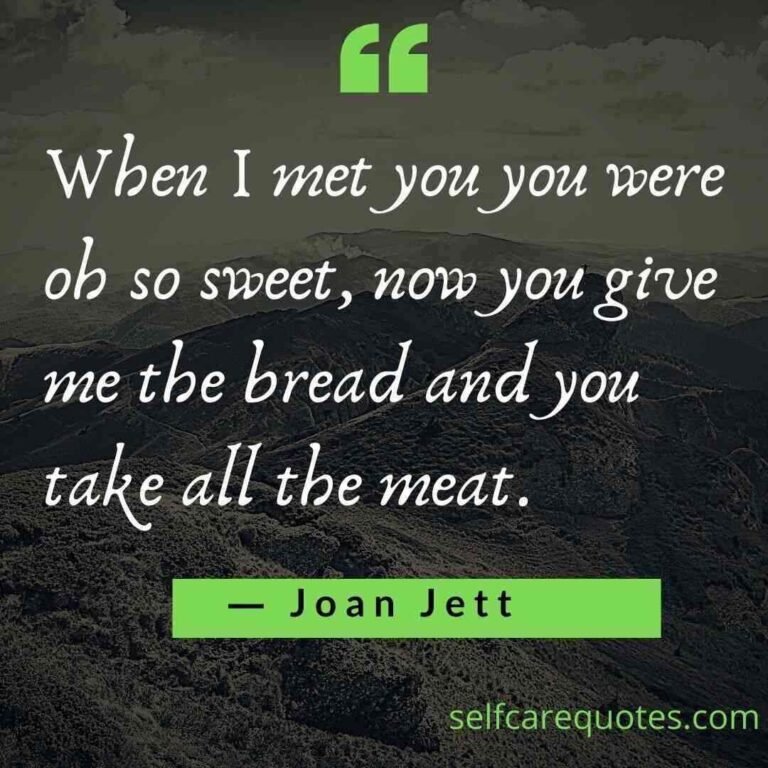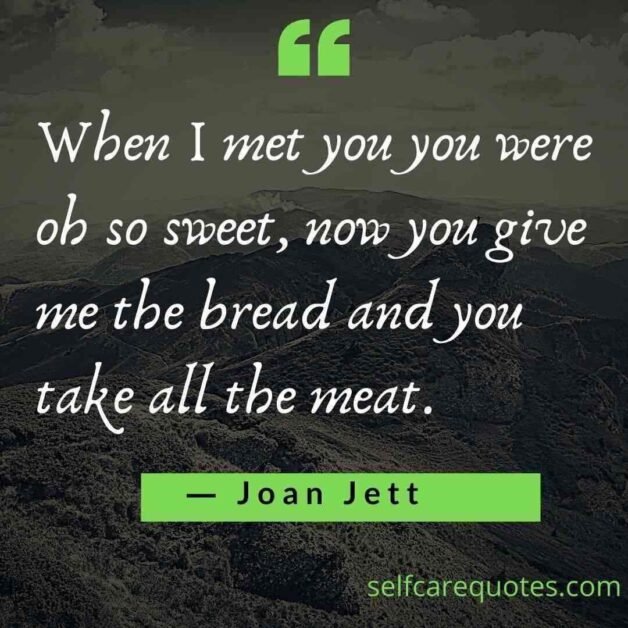 The follow your dreams thing is really important because so many people are railroaded into taking other paths by their family, their friends, people who should be supportive going,
'What are you talking about?' Even just seemingly regular career paths, but if it's not what people expect for you they kind of react funny.― Joan Jett
Early Life:
Joan Jett was born on 22 September 1958. Her birthplace is Wynnewood, Pennsylvania. James is her father's name and her mother is Dorothy Larkin. Her birth name is Joan Marie Larkin.
But thinking of a Rock name she changed this name just after her parent's divorce. Nine years after her birth, Joan Jett's family moved to Maryland to settle there.
At the age of 13, Joan Jett showed her interest in music. She started playing guitar at this time.
Education:
Joan Jett started her education at the Sunday school of Church. She just attended there for her family pressure. The religious rule of the church was intolerable to Joan Jett.
For this reason, she left the Sunday school. At the age of nine, when her family moved to Maryland, she admitted herself to Wheaton High School and Randolph Junior school. Nobody knows about her higher education.
Career:
The career of Joan Jett was totally based on music and art. She started her singing career with the band The Runaways, here she started playing guitar, and later she became a side singer.
She also sang and still singing alone. Though he has a band and she performs regularly there as a lead singer but she loves singing along too.
Why should we follow Joan Jett?
Joan Jett is a famous singer and songwriter as we knew earlier. But Joan Jett has many other things to follow. He is a renowned artist in many sections of songs.
She had a passion for playing guitar and for this reason, she started learning to play guitar. But her teacher was trying to teach her folk songs. For this reason, she left the teacher not the passion for Rock songs.
Some people said that Joan Jett is a secret lesbian lover. But she did not want to expose that. In an interview in 2018, she confessed that she supports LGBT.
The LGBT followers can support her for this reason. She delivers many famous quotes. These quotes are also followable. People can follow Joan Jett for her realistic quotes.
One of the most famous American female singers, musicians, and songwriters Jett is. Her songs and music are loved by people. But besides this, Joan Jett's quotes are also loved by some of her followers.