Travis Scott is a renowned American singer. He is also acknowledged as a famous rapper and songwriter.
We also find his contribution as the record producer. Travis Scott is his professional name. The original name of Travis Scott is Jacques Bermon Webster II.
People also call him 'La Flame.' Travis Scott mixed the hip-hop and ambient with lo-fi and made his unique musical style.
If you go through the Travis Scott quotes, you'll be acquainted with his style. Travis Scott quotes represent the uniqueness of his creation. 
Travis Scott Quotes:
1.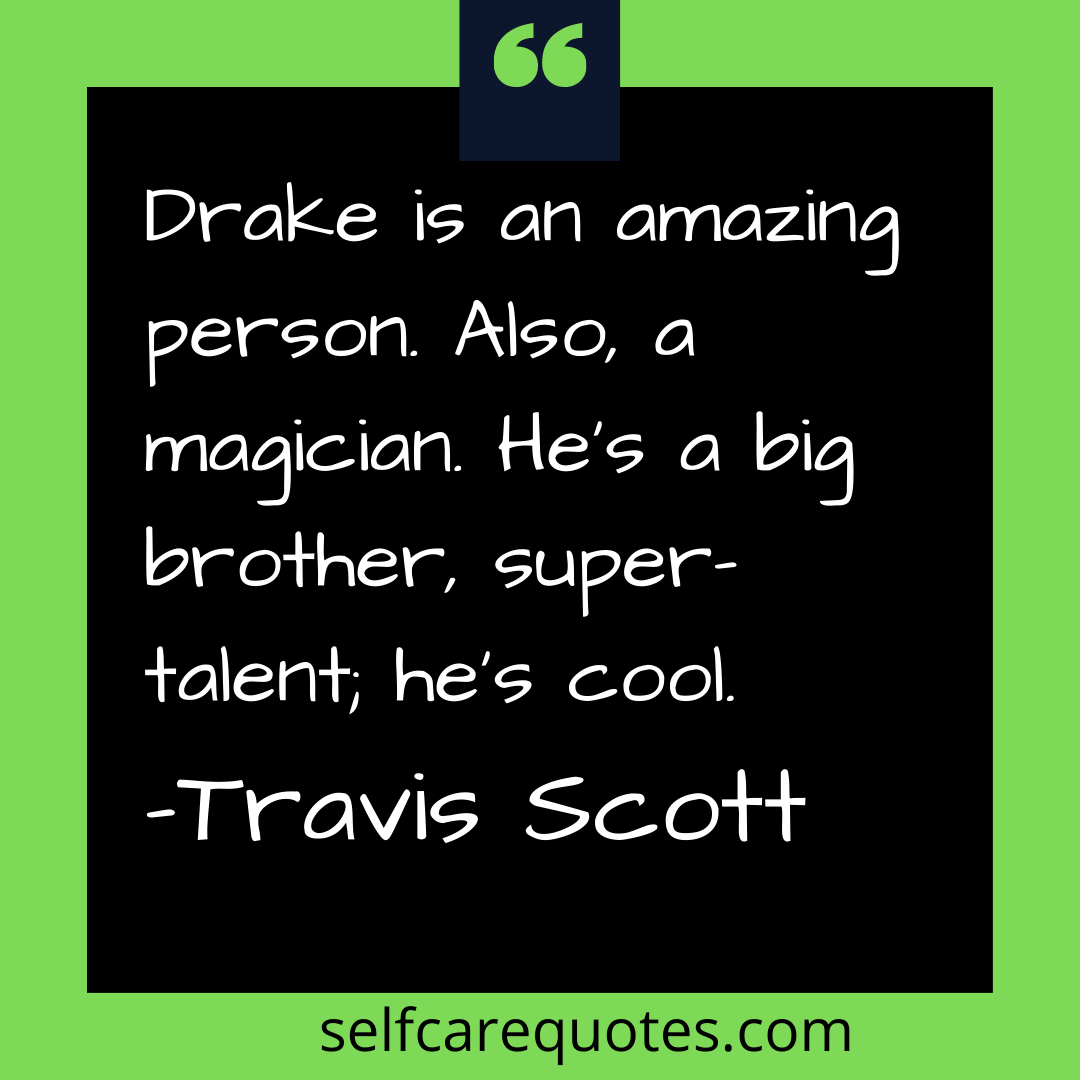 Drake is an amazing person. Also, a magician. He's a big brother, super-talent; he's cool. -Travis Scott

2. I'm just here for good times, man. I want people to have the best time ever. Especially if they're around me. -Travis Scott

3. There's a lot of us out here that are birds, man. We all need to just fly. -Travis Scott

4. I'm a magician, like David Blaine. I could never fall. -Travis Scott

5. Beyonce is, like, the highest level. We all reach that level. -Travis Scott

6. I feel like Houston is one of the leading things in music culture. Everyone loves the Houston culture. It needs to have its own monument, its own moment for artists like me, artists like Beyonce who set it off. -Travis Scott

7. I feel like everything needs to be stylised; that's always been my mindset. -Travis Scott

8. I'm not into just one thing; I always felt like I had to have my hand in everything revolving around what I do, whether it's directing videos, making beats, making music, performing. -Travis Scott

9. James Blake is a real good friend of mine. He's real different than what you thinks. He's super turned up. -Travis Scott

10.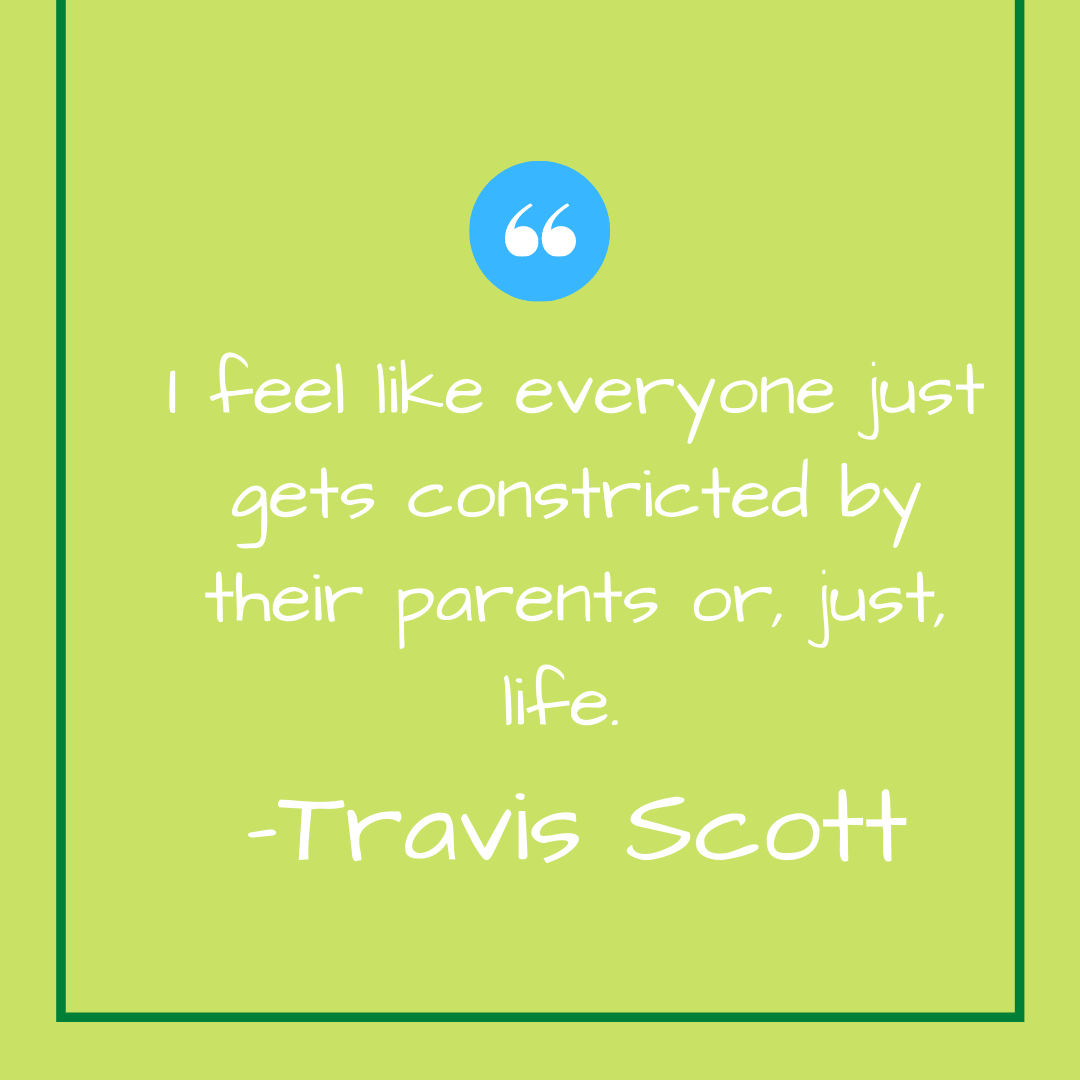 I feel like everyone just gets constricted by their parents or, just, life. -Travis Scott
11. My mom worked for Apple, and my dad owned his own business. -Travis Scott
12. I was born in Houston, Texas. I grew up in Houston, by Missouri City. It's, like, a suburb in the area; it's middle-class. But I used to stay with my grandma in the hood from ages one to six. -Travis Scott
13. I'm big on diversity. My music is very diverse; I don't want it to ever be typecasted. -Travis Scott
14. I'm La Flame at all times. That, at times, can be bad, at times can be good. -Travis Scott
15. Sometimes I might be sleepy, and sometimes I've literally been sleeping backstage, woken up, gone straight on stage or gone crazy. It's not like I psyche myself; I don't do any of that. -Travis Scott
16.I have devoted myself to the Rockets. –Travis Scott
17. In my whole career, all I wanted was acceptance from Kid Cudi. I don't care about nothing else! This dude saved my life. -Travis Scott
18. I see hip-hop as going in a self-managing place. It's very culturally controlled and artist-controlled. It's not really based on a label anymore. Everything is pretty much in the control of the artist. Which is amazing. -Travis Scott
19. Everybody just has different steps in their life that they take to do what they should. -Travis Scott
20.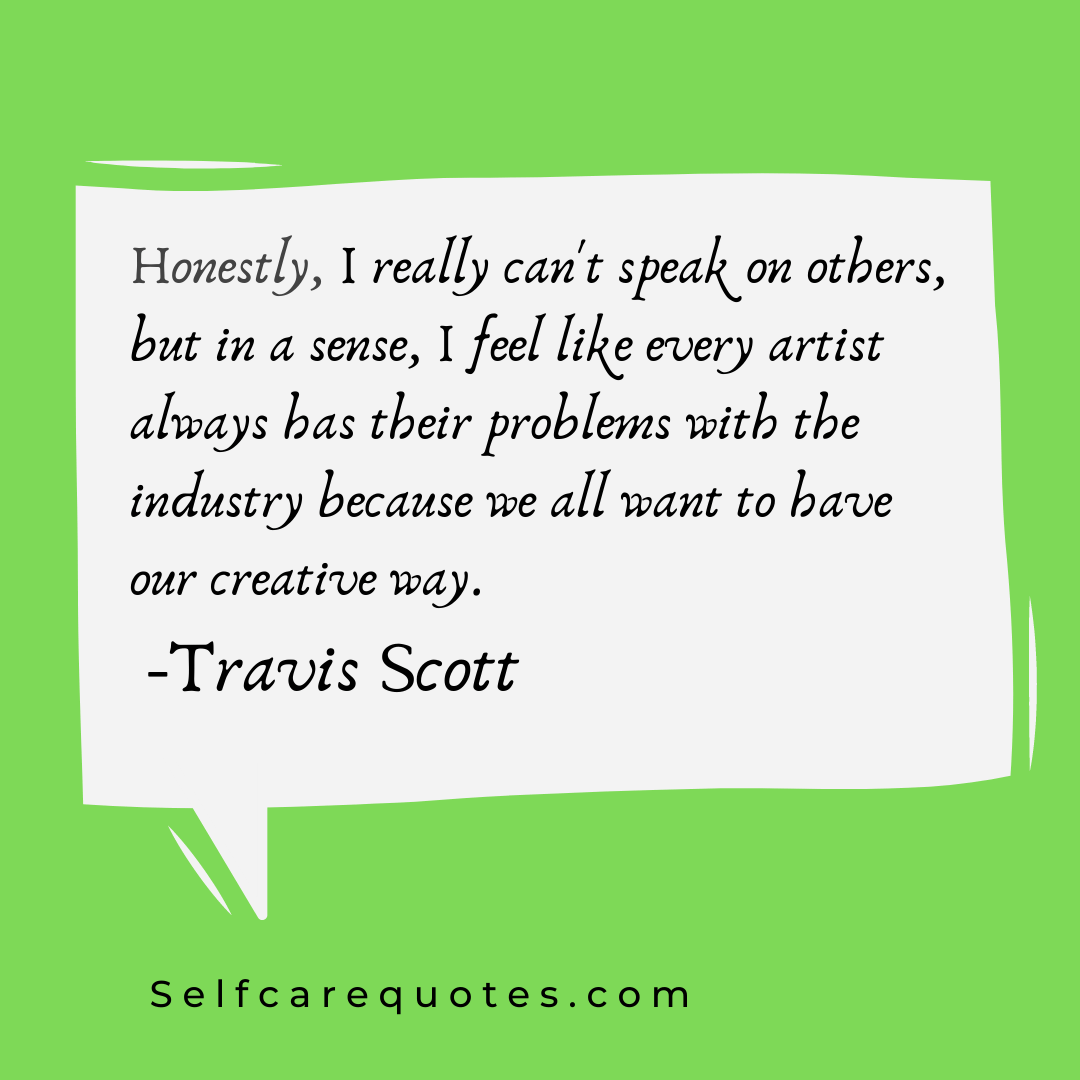 Honestly, I really can't speak on others, but in a sense, I feel like every artist always has their problems with the industry because we all want to have our creative way. -Travis Scott
21. I consider myself an artist, which is, like, the most played term, but I believe it. -Travis Scott
22. I love my fans more than anything. -Travis Scott
23. My whole story is straight mythical. It's tangible, but it's also what life could be. -Travis Scott
24. I remember my mom bought me one of their shirts for Easter so that I could wear Helmut Lang for Easter. That was my first piece. -Travis Scott
25. I don't look at myself as a designer; I'm focused on music. -Travis Scott
26. There are people who take fashion at different levels, but personally, I'm just a kid with it. -Travis Scott
27. I'm always up for collaborating with brands and people who actually design, but doing your own line is a whole other beast. I don't think I could deal with the criticism. -Travis Scott
28.I want first and foremost to help other artists, launch new names, to provide opportunities. I want to do for them what happened to me, but better. -Travis Scott
29. I'm an artist. I produce, I direct, and all of that goes into the music. -Travis Scott
30.You've gotta really touch people to move them to buy your records. -Travis Scott
31.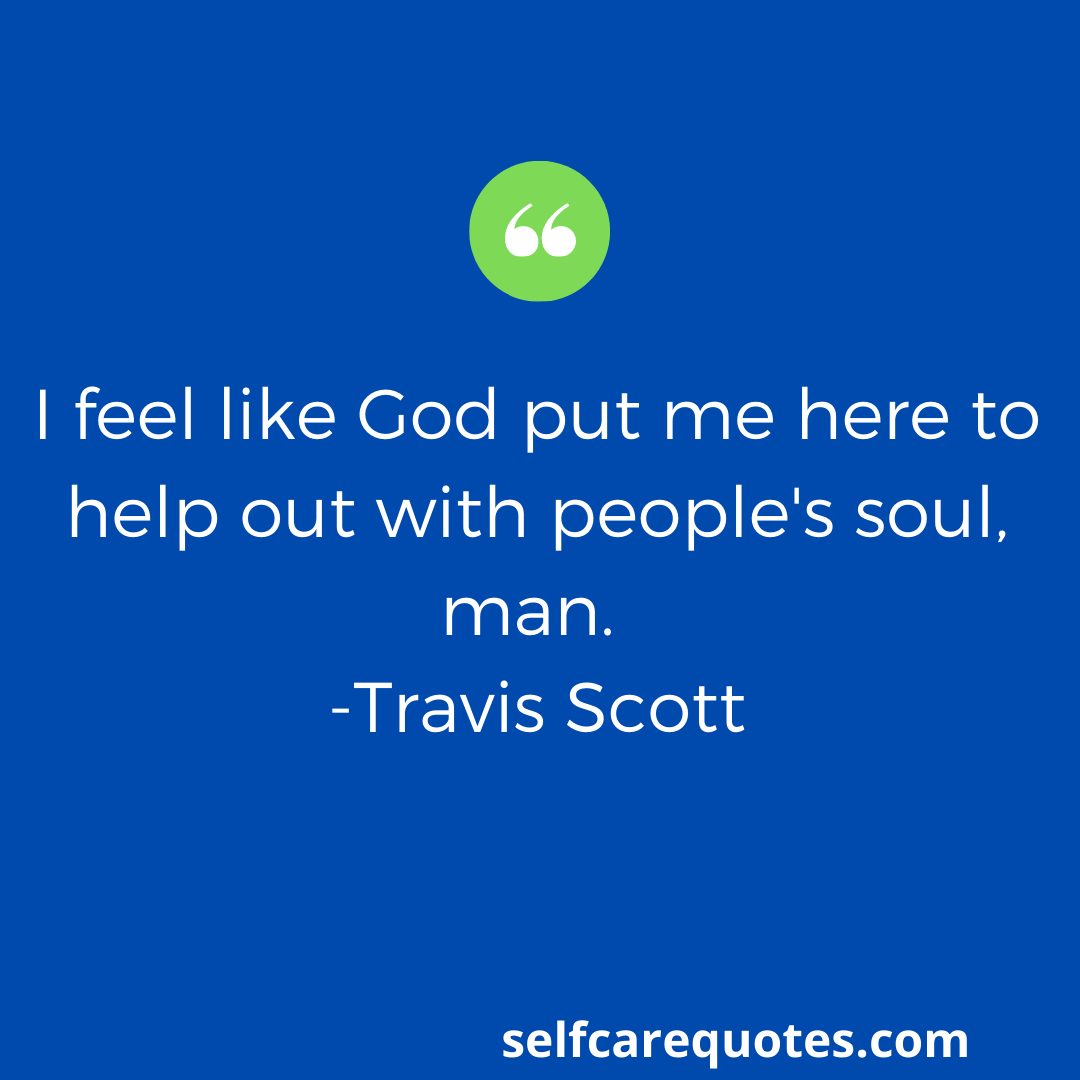 I feel like God put me here to help out with people's soul, man. -Travis Scott
32. I think of Westernized culture as a good visual for my music. -Travis Scott
33. I don't write; I just go in the booth. -Travis Scott
34. I think, with production, I pay very close attention. 'Cause that's my favorite thing in music. That's the whole drive. That's the reason. -Travis Scott
35. I know what my identity is. -Travis Scott
36. I always hate when, like, my favorite performer has a boring moment. Especially when they got mad hits. -Travis Scott
37. Every time I go into the studio, it's some next level, man. -Travis Scott
38. I have this old Polo jacket. I've got to bring it wherever I go. And I have this one cape that somebody gave to me. It's this jumpsuit with this cape on the back that this one person gave to me. It's clutch. -Travis Scott
39.I feel like more artists like me should be on the radio. Everything is, like, so controlled by, like, super popular music. You know what I'm saying? Like, c'mon. -Travis Scott
40.I don't really write. I'm an on-the-spot type of person. This beat, let's listen to it; let's vibe. And then I'll do a melody, and then we'll go back and do it. -Travis Scott
41.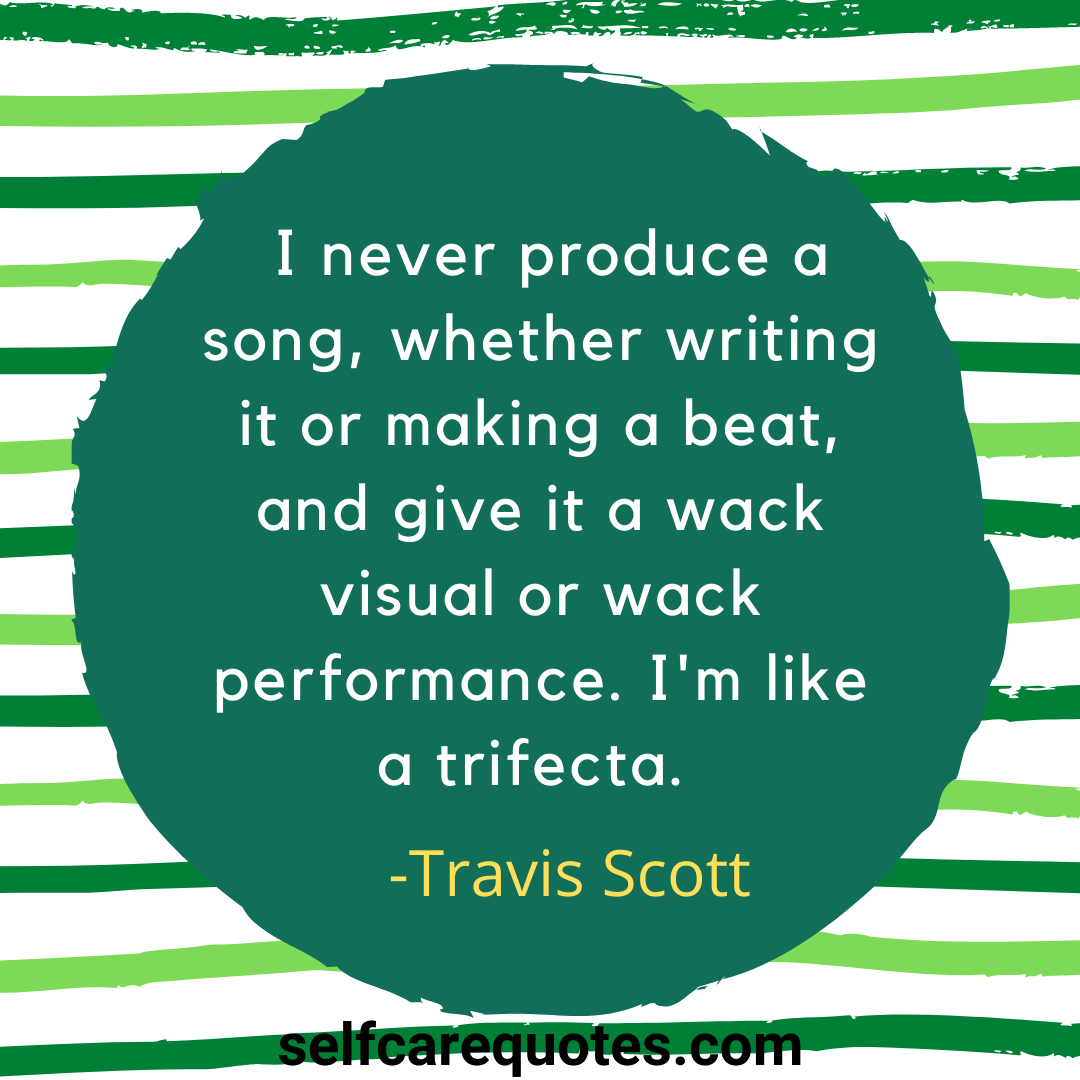 I never produce a song, whether writing it or making a beat and give it a wack visual or wack performance. I'm like a trifecta. -Travis Scott
42.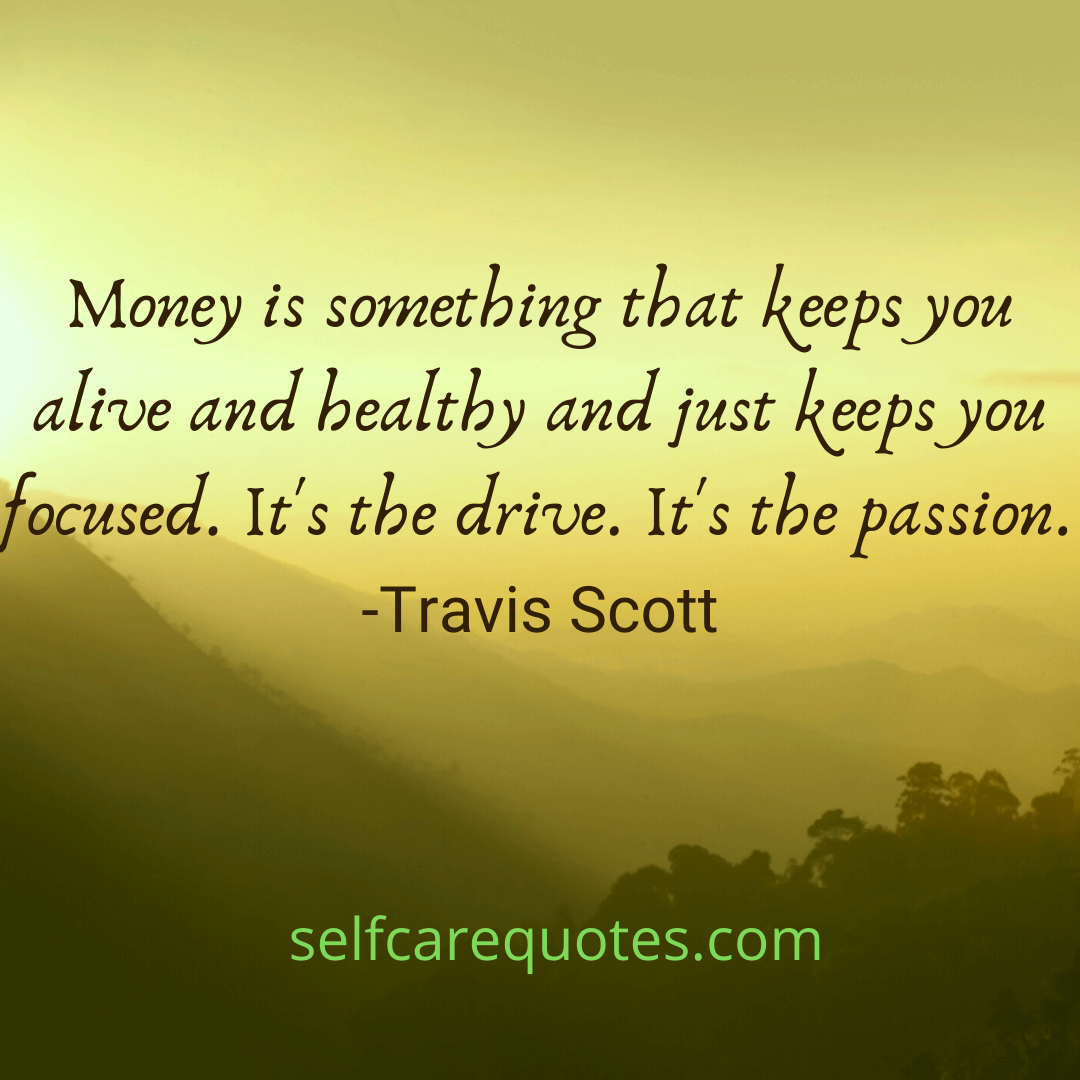 Money is something that keeps you alive and healthy and just keeps you focused. It's the drive. It's the passion. -Travis Scott
43. Yes, money is important. But it's all about the creative process. -Travis Scott
44. The most ironic thing is my grandfather has his master's in music composition; he was a jazz composer. My dad was a musician, too. He played more, like, soul music. -Travis Scott
45. I have black friends, but I don't just hang out with black kids. I might pull up with Indian kids, white kids, black kids, whatever. -Travis Scott
46. I'm not a gangsta. -Travis Scott
47. I felt like 'Owl Pharoah,' not everyone understood who I was as an artist. -Travis Scott
48. I was in early on with 'Yeezus.' -Travis Scott
49. 'Days Before Rodeo' is just the journey of me finding out who I am. -Travis Scott
50.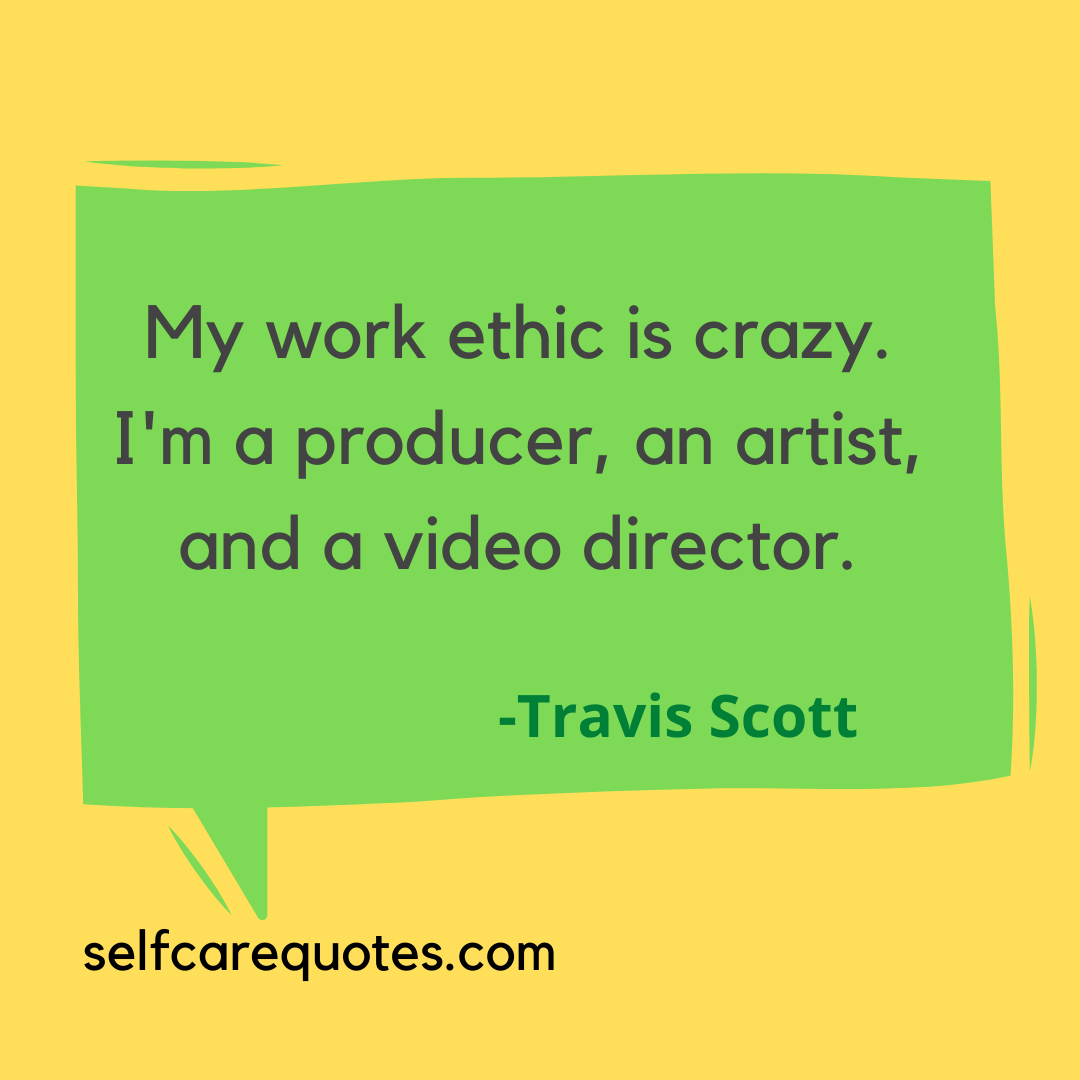 My work ethic is crazy. I'm a producer, an artist, and a video director. -Travis Scott
Early Life:
Jacques Bermon Webster was born in 1991 in Texas. He is the child of Jacques Webster and Wanda Webster.
His father was both a musician and a businessman. In childhood, Travis Scott stayed with his grandmother in the South Park of Houston. Later he moved back to his parents in Missouri City. 
Education:
Travis Scott admitted to the Lawrence E. Elkins High School. It is situated in the Missouri City of Texas. He completed his graduation from this school.
Later he joined the University of Texas-San Antonio. But he could not complete his study here. He was dropped out of this institution. 
Personal Life:
Travis Scott made a relationship with Kylie Jenner. Kylie Jenner is a well-known TV star. Travis has a daughter with her. Travis Scott's daughter's name is Stormy Webster. Now, it is heard that their relationship has been broken up.  
Positive Minded:
Travis Scott's life was full of struggle and challenge. But you'll find him very positive towards life. If you go through the Travis Scott quotes about life, you'll find his magical power of motivation and inspiration. His only wish to make people the people around him happy. 
We find Travis Scott to express his philosophy and feelings on social media, named 'Tumblr.' If you want to learn about his philosophy, you may go through the Travis Scott quotes Tumblr.
Career:
After dropping out of the University, Travis Scott gave his full concentration to his musical career. He started his career in 2008. Travis Scott, along with friend Chris Holloway, released their album for the first time. It was released in 'Myspace.'
Later, he made a group 'The Classmates' with his friend, OG Chess. The group released two projects before 2012. When he shifted to New York, he worked with Mike wax. He was not successful in New York.
Then Travis Scott moved to California. However, 'Owl Pharaoh' is his solo mix-tape. Later he released the music video 'Quintana.' Some of his famous songs are 'Can't Say,' 'SICO MODE,' 'Antidote,' 'Wake Up,' 'Pick-up the Phone' etc. Some of his albums' names are 'Rodeo,' 'Days before Rodeo,' 'Days before Birds,' 'JACK BOYS,' 'Black Panther,' 'Travis La Flame' etc.   
Jarad Anthony Higgins, aka Juice Wrld, is Travis Scott's contemporary famous American singer and rapper. Travis also worked this legend. Juice Wrld died at the age of twenty-one. In this short time, he has proved his excellence. You may observe it in Juice Wrld Quotes.
Why should we follow him?
Travis Scott shows his excellence in various aspects. He was a positive minded person with full of will power. After dropping out of the University, Travis Scott didn't lose hope. Instead, he focused on his career.
Travis didn't rely on institutional education. He used his skill to achieve his goal in his life. You may percipience his individuality and his excellence in the Travis Scott lyrics. 
We should also have confidence in our skills. We should not rely on the institutional certificate. We should learn things practically.
In the difficult situation of life, Travis Scott showed his courage. We should also be courageous like Travis Scott during our hard times.