Henry Rollins is a famous American musician and singer. He is also well known as an actor, comedian, and presenter. Though he is popularly known as Henry Rollins, his original name is Henry Lawrence Garfield.
We also find Henry Rollins as the Host of a popular radio show on KCRW. He is a multi-talented person. We find him a successful musician, actor, singer, writer, TV Host, and producer.
You may acquaint yourself with this talented person by going through Henry Rollins quotes.
Top 50 Henry Rollins Quotes:
1. Loneliness adds beauty to life. It puts a special burn on sunsets and makes night air smell better. ―Henry Rollins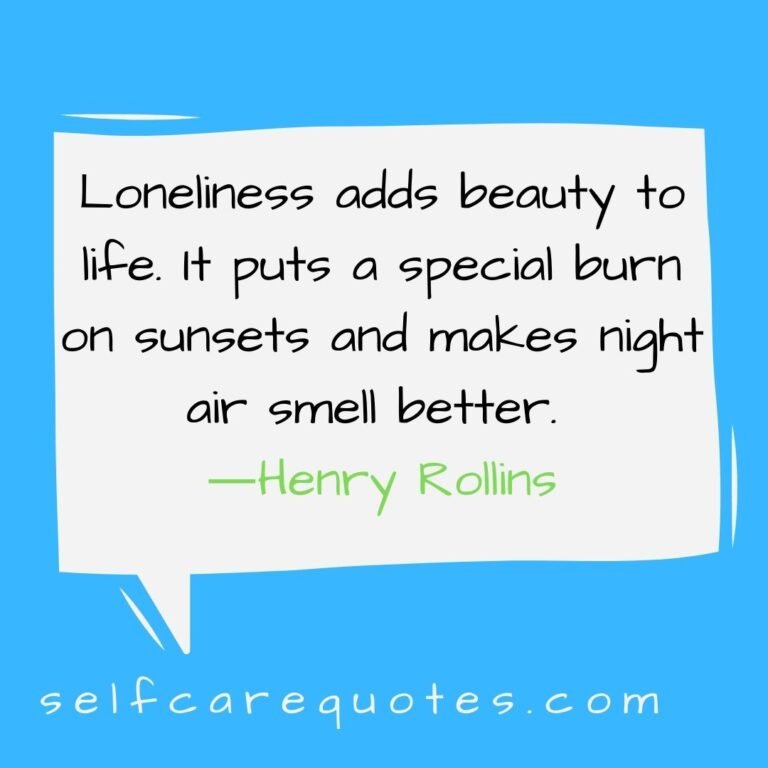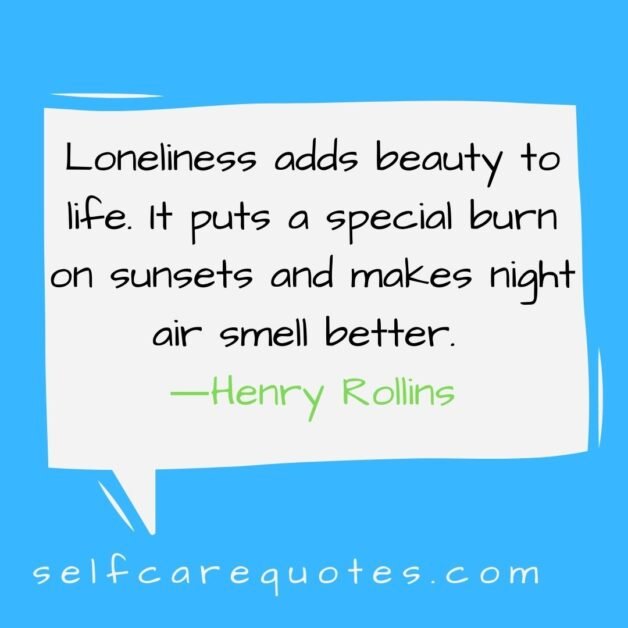 2. Never once have I thought that Social Security would be something that would ever be available to me.―Henry Rollins
3. Yes, I guess you could say I am a loner, but I feel more lonely in a crowed room with boring people than I feel on my own. ―Henry Rollins
4. Sometimes the truth hurts. And sometimes it feels really good.―Henry Rollins
5. The month of November makes me feel that life is passing more quickly. In an effort to slow it down, I try to fill the hours more meaningfully.―Henry Rollins
6. My optimism wears heavy boots and is loud. ―Henry Rollins
7. It's sad when someone you know becomes someone you knew.―Henry Rollins
8. I don't want to pass through life like a smooth plane ride.―Henry Rollins
9. I think self-reliance and self-responsibility and self-accountability will help you as a parent, a teacher, as a citizen as a friend.―Henry Rollins
10. It is only our humanity that can deliver us from the brutality of our achievements.―Henry Rollins
11. Life will not break your heart. It'll crush it.―Henry Rollins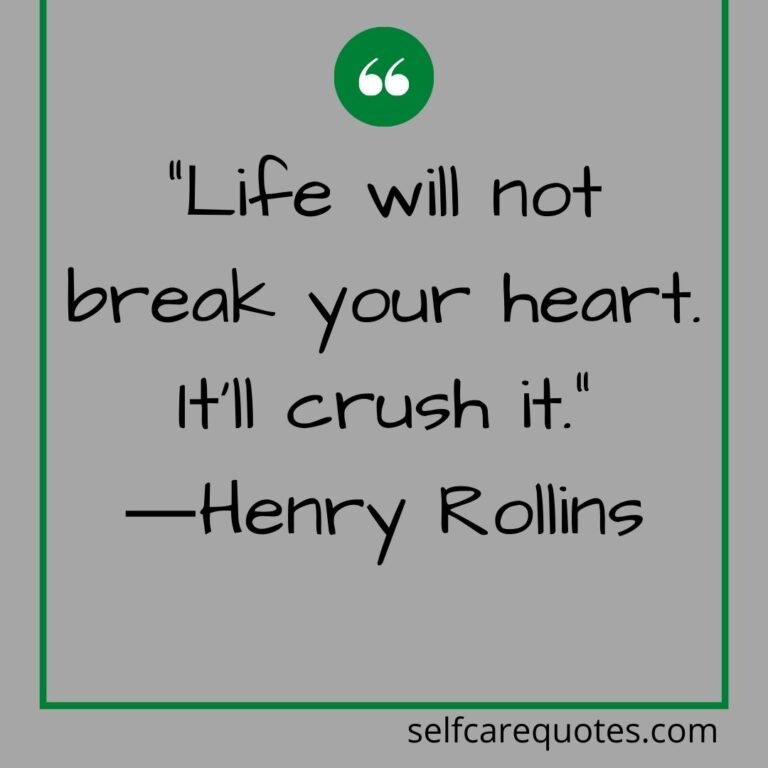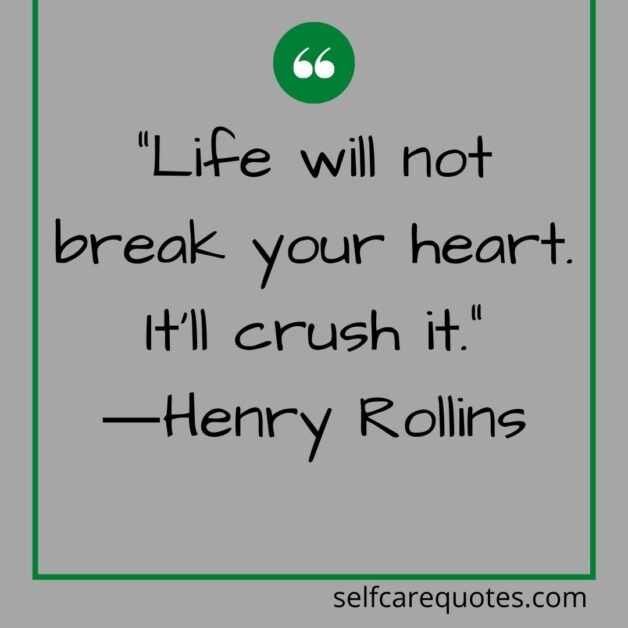 12. I try to get myself up and moving as early as possible. Optimum is to be on the treadmill while it is still dark outside.―Henry Rollins
13. Hope is the last thing a person does before they are defeated.―Henry Rollins
14. Weakness is what brings ignorance, cheapness, racism, homophobia, desperation, cruelty, brutality, all these things that will keep a society chained to the ground, one foot nailed to the floor.―Henry Rollins
15. I believe that one defines oneself by reinvention. To not be like your parents. To not be like your friends. To be yourself. To cut yourself out of stone.―Henry Rollins
16. You need a little bit of insanity to do great things.―Henry Rollins
17. Everyone who knows me knows that I'm a hopeless romantic who listens to love ballads and doo-wop songs all the time.―Henry Rollins
18. Scar tissue is stronger than regular tissue. Realize the strength, move on.―Henry Rollins
19. Keep your blood clean, your body lean, and your mind sharp.―Henry Rollins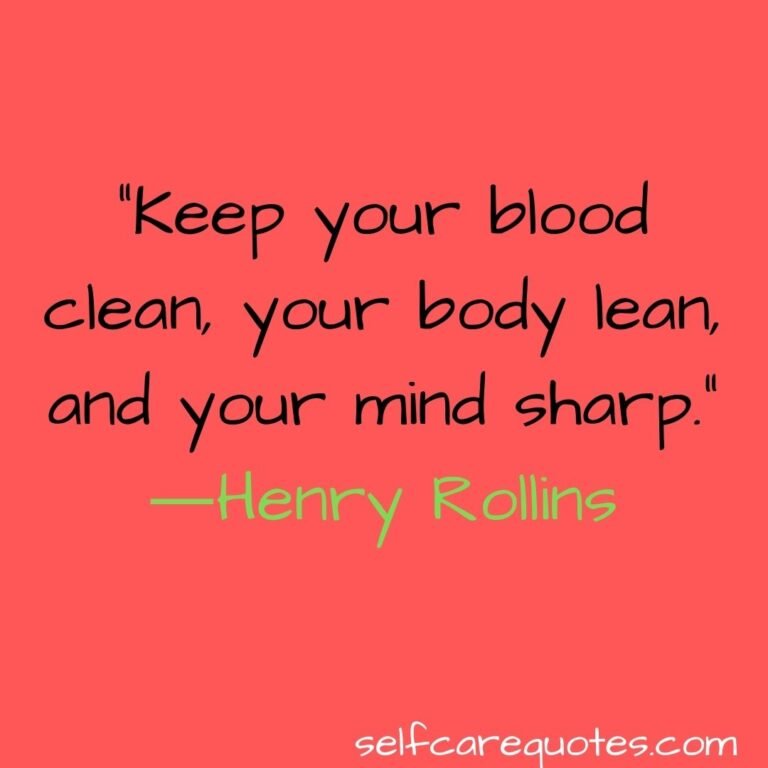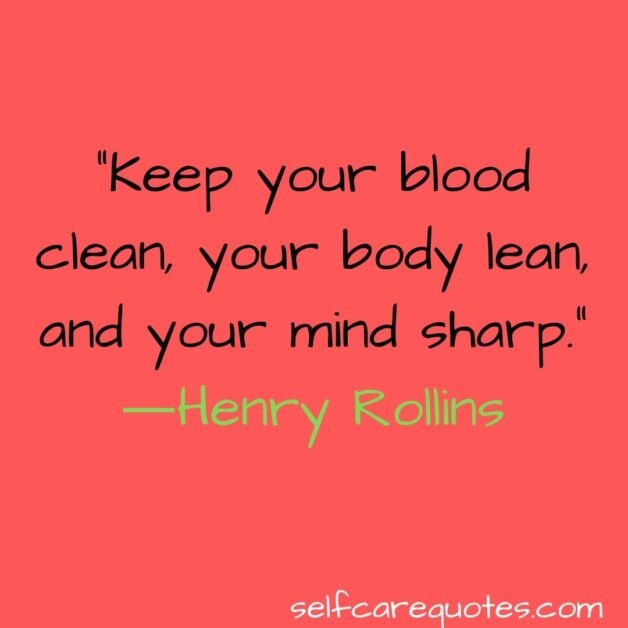 20. Don't do anything by half. If you love someone, love them with all your soul. When you go to work, work your ass off. When you hate someone, hate them until it hurts.―Henry Rollins
21. When you are young, there is so much ahead of you, it's like the Saharan desert. You can't even see across it.―Henry Rollins
22. In winter, I plot and plan. In spring, I move.―Henry Rollins
23. If the Constitution was a movie, the Preamble would be the trailer, the First Amendment the establishing shot, the 13th the crowd pleaser and the 14th the ultimate hero scene.―Henry Rollins
24. I am on until I am dead, like a light bulb.―Henry Rollins
25. The truth is an anti-war statement in itself.―Henry Rollins
26. Nothing brings people together more, then mutual hatred.―Henry Rollins
27. We all learn lessons in life. Some stick, some don't. I have always learned more from rejection and failure than from acceptance and success.―Henry Rollins
28. Voting is completely important. People in America think democracy is a given. I think of it as an ecosystem, and what gets in the way of it is politicians and apathy.―Henry Rollins
29. There is not one single police officer in America that I am not afraid of and not one that I would trust to tell the truth or obey the laws they are sworn to uphold. I do not believe they protect me in any way.―Henry Rollins
30. I don't believe in fate or destiny. I believe in various degrees of hatred, paranoia, and abandonment. However much of that gets heaped upon you doesn't matter – it's only a matter of how much you can take and what it does to you.―Henry Rollins
31. Questioning anything and everything, to me, is punk rock.―Henry Rollins
32. Maybe I'm just a psycho, and the stage is a better place to go than either the loony bin or somewhere else.―Henry Rollins
33. You must never lower yourself to being a person you don't like.―Henry Rollins
34. When you start to doubt yourself the real world will eat you alive.―Henry Rollins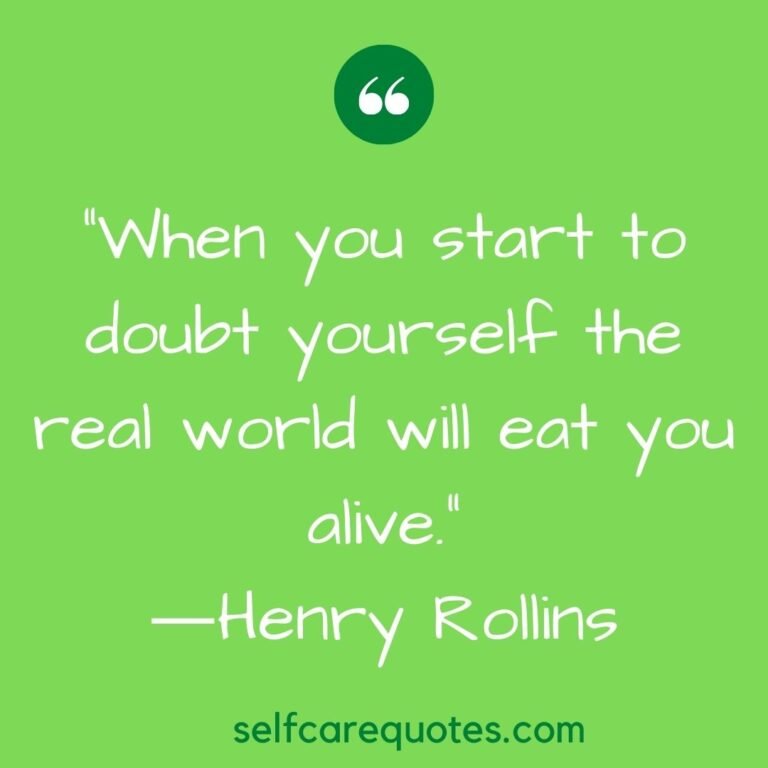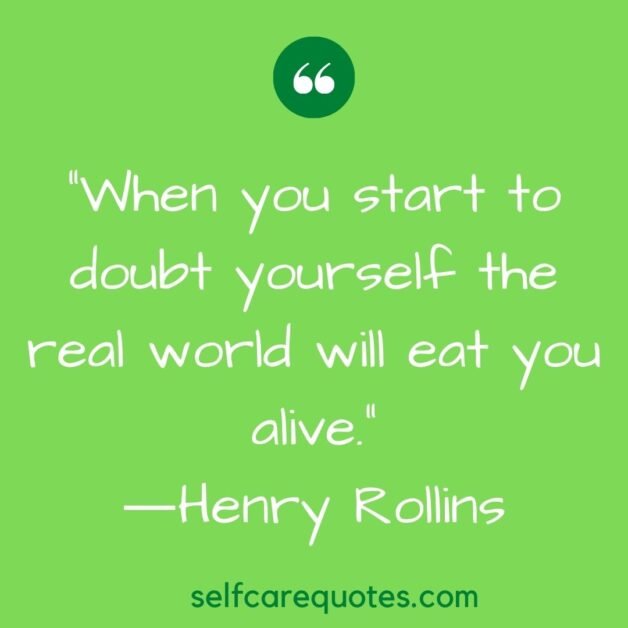 35. I like boring black and white films with subtitles. I'm basically a drip.―Henry Rollins
36. When people hold you in high esteem, it's very delicate relationship. When they meet you they're putting all their chips up. It makes or breaks.―Henry Rollins
37. I think about the meaning of pain. Pain is personal. It belongs to the one feeling it. Probably the only thing that is your own. I like mine.―Henry Rollins
38. To this day, my haircut is the number two clippers, which I apply to myself every month.―Henry Rollins
39. I think that humans have a huge capacity to carry pain and sadness. There are things that haunt us our entire lives; we are unable to let them go. The good times seem almost effervescent and dreamlike in comparison with the times that didn't go so well.―Henry Rollins
40. If I lose the light of the sun, I will write by candlelight, moonlight, no light, If I lose paper and ink, I will write in blood on forgotten walls. I will write always. I will capture nights all over the world and bring them to you.―Henry Rollins
41. I'm not interested in censorship. I like the First Amendment very much.―Henry Rollins
42. I am an optimist because I want to change things for the better and I know that blood has to be spilled and disharmony and cruelty are necessary to do that.―Henry Rollins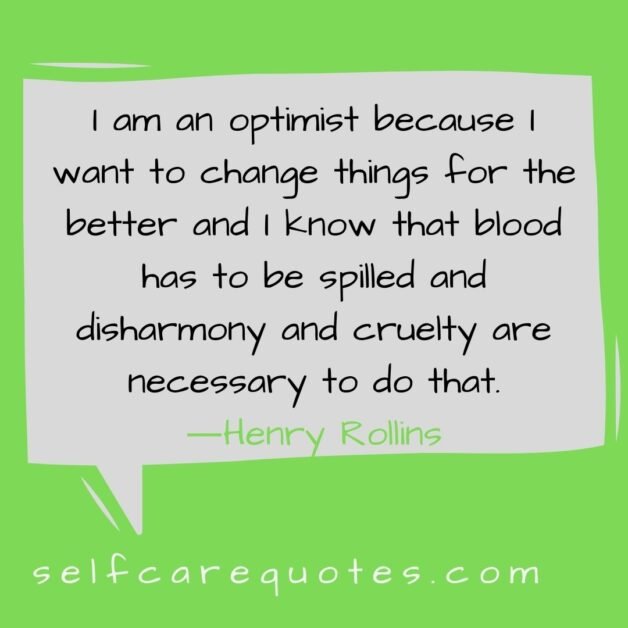 43. I once asked Ozzy Osbourne, truly one of my favorite people in the world, if he was cool with singing Black Sabbath songs year after year, whether he was performing with Black Sabbath or out on a solo tour. He said it was great.―Henry Rollins
44. One person's disaster is another person's talking point.―Henry Rollins
45. I tend to gravitate to the darkest or most obscure part of any venue in an effort to have my own space to experience the music on my own, free from unwanted conversations and other distractions.―Henry Rollins
46. With any advent in technology, any technological innovation, there is the good and the bad.―Henry Rollins
47. Now and then, someone is able to look at an empty space, conclude it would be a great place to start a revolution, and bravely go forward.―Henry Rollins
48. I love capitalism. It rewards me for being brave – it awards me for being innovative and thinking out of the box.―Henry Rollins
49. Where there are young people and vitality, you're going to find punk rock.―Henry Rollins
50. Change is hard, but change is good. ―Henry Rollins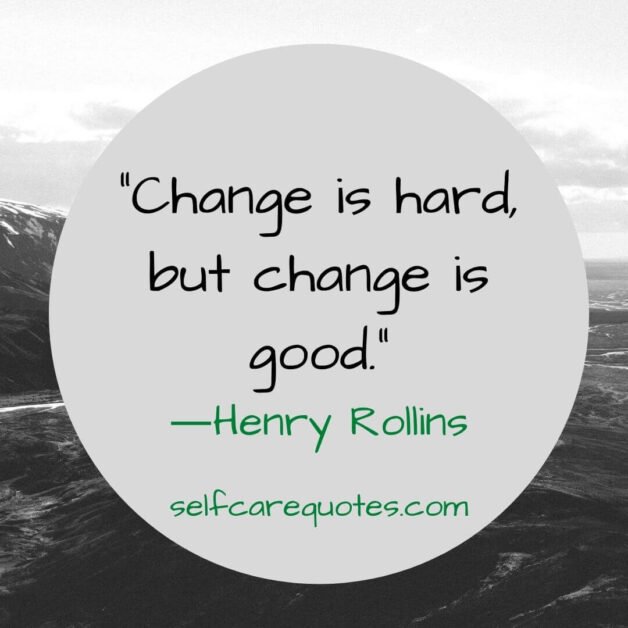 Early Life:
The birth year of Henry Rollins is 1961. He was born in Washington; D. C. Henry Rollins' parents' names are Paul Garfield and Iris. He possesses Irish and Jewish origins. Henry Rollins' childhood was not so pleasant. Rollins' parents were separated in his childhood.
He was grown up at Glover Park. Henry Rollins' mother took his responsibility. His early life was very challenging, with different adverse incidents. He was suffering from hyperactivity.
Education:  
Henry Rollins studied at The Bullis School, which was situated in Maryland. This school has a significant impact on him to learn discipline and work ethic.
He acknowledged this fact. When Rollins was a student at this school, he started to write. Later, he joined the American University, Washington. Unfortunately, he dropped out of this University.
Early Career:
Henry Rollins started his interest in music from his early childhood. But he was not a musician from the beginning of his career. We find Rollins working with low-payment.
It was the beginning of his later great success. He worked as a courier of kidney samples in the National Institute of Health.
Later career:
At the initial phase of his musical career, he had an interest in Punk Rock. He worked with the Washington Bands for two years. He performed in the state of Alert in 1980. We find him performing with the Black Flag Group as an audience. Later he formed his band named 'Rollins Band.'
During the 1990s and the early 2000s, this band presented many successful works. Some of the works are Hot Animal Machine, Bid Ugly Mouth, Life time, Hard Volume, The End of Silence, The Boxed Life, Eye Scream, Come in the Burn, Think Tank, etc.
In 1994, we found Rollins' first appearance in Hollywood. His first movie is The Chase. Later, we also find him in the movies named Lost Highway, Johnny Mnemonic, Heat. He acted in some TV series such as The Legend of Korra, Sons of Anarchy, etc. He also worked in a radio show. We also observe Rollins as a successful writer, Producer, and Host. Black Coffee Blues is his successful book.
Why should we follow him?
Henry Rollins' childhood was harrowing and challenging. At his very young age, his parents got divorced. He was separated from his father's love and affection at the age of three.
If we look over the story of his early life, we'll find that he had faced sexual assault in his childhood. He could not tolerate this incident. We'll find him suffering from severe depression. All his childhood, he faced with low self-esteem.
In his childhood, he was suffering from neurodevelopmental disorder. He had to take medicine for this for a long time. He faced adversities in his life. But he never broke down in his life. Instead, he had proved his abilities and talent to the world. We should also face all of our difficulties with courage.
Related Quotes:   Top 50 Powerful Abraham Lincoln Quotes on Life and Leadership
Top 50 Warren Buffett Quotes On Investing, Success, Life and Leadership