The most loveable word in the field of social work is Humanitarianism. Anyone can define this word in a line but its importance is unexplainable. The act of helping people in their crisis is called humanitarianism. Now, the world needs this a lot. People from different parts of the world are suffering from the inhuman activity of some people. For these inhuman people, being human is very important.
We also should improve our feeling for the oppressed people of the world. The importance of this characteristic feature in the human heart is felt by a lot of scholars and benevolent people.
They utter some immortal words about humanitarianism in their speech. These are called Humanitarian Quotes. These Humanitarian Quotes can change our attitude toward in-need people.
Top 50 Humanitarian Quotes :
1. Humanitarian response, sustainable development, and sustaining peace are three sides of the same triangle. —Antonio Guterres
2. Don't look for big things, just do small things with great love...the smaller the thing, the greater must be our love. —Mother Teresa Click To Tweet
3. We are afraid to care too much, for fear that the other person does not care at all. —Eleanor Roosevelt
4. Sometimes it falls upon a generation to be great, you can be that generation —Nelson Mandela
5. Art to me is a humanitarian act and I believe that there is a responsibility that art should somehow be able to effect mankind, to make the word a better place. —Jeff Koons
6. The most wonderful study of mankind is man. Relieving human suffering and diffusing universal knowledge is humanitarian. —Daniel D. Palmer
7. For to be free is not merely to cast off one's chains, but to live in a way that respects and enhances the freedom of others. —Nelson Mandela Click To Tweet
8. Life's most persistent and urgent question is, 'What are you doing for others?' —Martin Luther King, Jr.
9. Don't be content in your life just to do no wrong, be prepared every day to try and do some good. —Nicholas Winton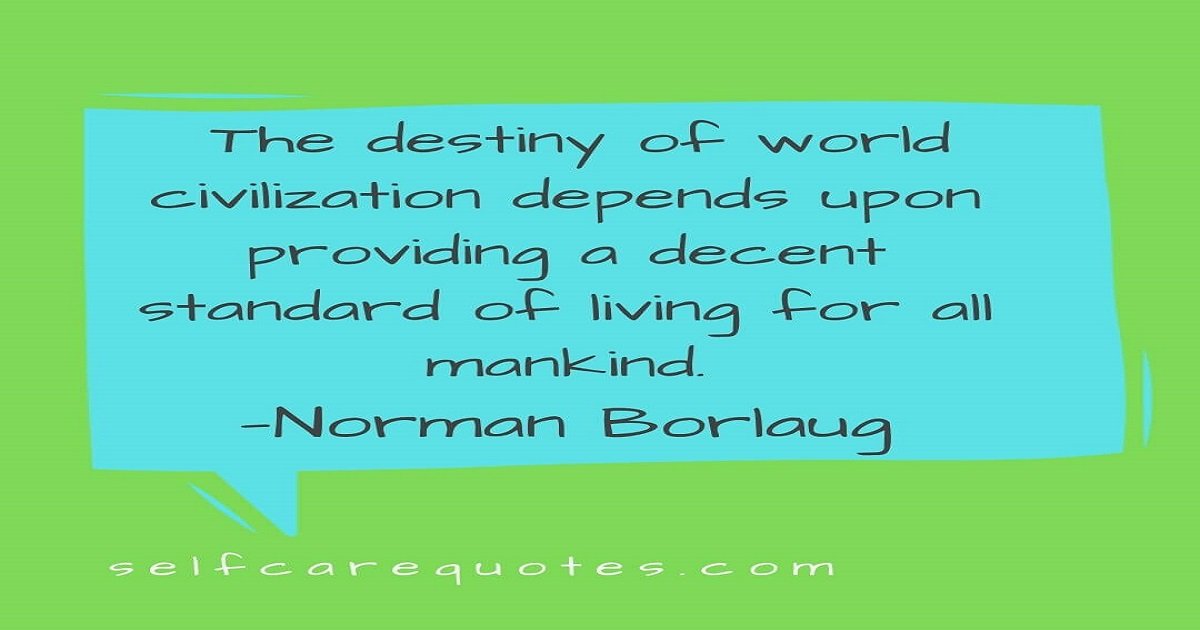 10. The destiny of world civilization depends upon providing a decent standard of living for all mankind.—Norman Borlaug
11. To say that on a daily basis you can make a difference, well, you can. One act of kindness a day can do it.—Betty Williams
12. A person who has sympathy for mankind in the lump, faith in its future progress, and desire to serve the great cause of this progress, should be called not a humanist, but a humanitarian, and his creed may be designated as humanitarianism. —Irving Babbitt
13. I'm not a do-gooder. It embarrassed me to be classified as a humanitarian. I simply take part in activities that I believe in. —Gregory Peck
14. Nobody grows old merely by living a number of years. We grow old by deserting our ideals. Years may wrinkle the skin, but to give up enthusiasm wrinkles the soul. —Samuel Ullman
15. Isn't that why we're put on this earth to begin with, to make it a better place? It's not a religious quest; it's a humanitarian one. —Simone Elkeles
16. Give young people a chance, our generation may just surprise you.—Marc Kielburger
17. The basic problem affecting the Pakistan today is human rights. Islamic fundamentalists have no roots among the common people and while they are pushing hard for religious fundamentalists to take hold, the common people still seek change through humanitarian and common human rights law. —Abdul Sattar Edhi
18. Since the world has existed, there has been injustice. But it is one world, the more so as it becomes smaller, more accessible. There is just no question that there is more obligation that those who have should give to those who have nothing. —Audrey Hepburn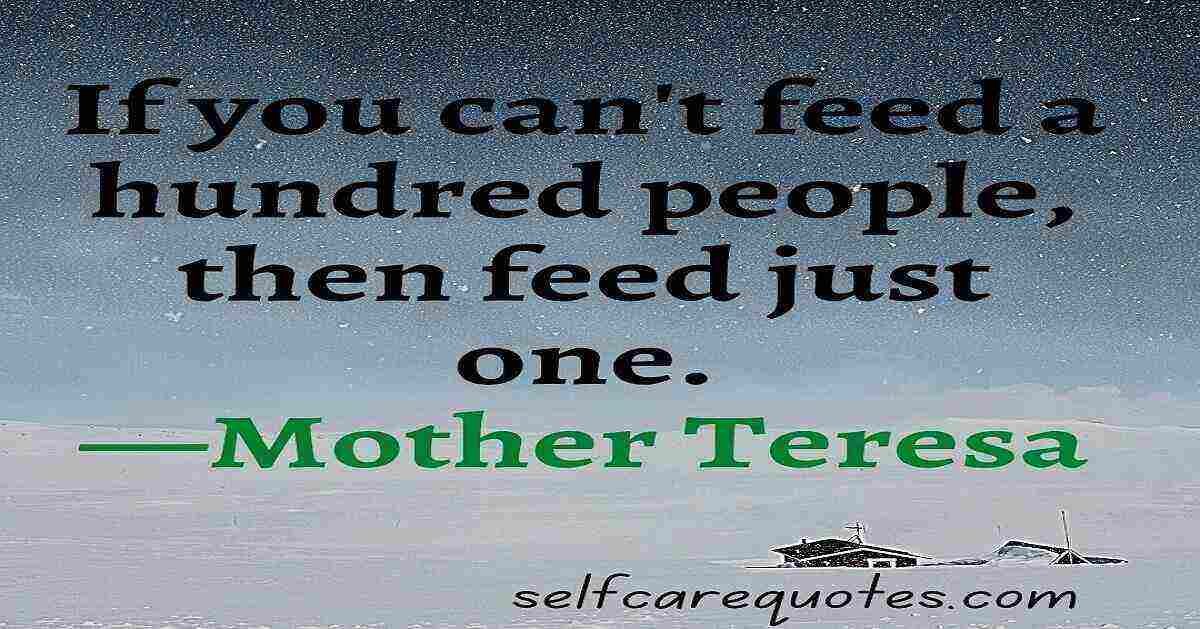 19. If you can't feed a hundred people, then feed just one.—Mother Teresa Click To Tweet
20. My religion is humanitarianism, which is the basis of every religion in the world.—Abdul Sattar Edhi
Who is a Humanitarian Leader?
Anyone can answer this question very easily. But it needs some explanation. From the surface level, we can say that the person who works for the welfare of the masses and leads humanitarian activities is called a humanitarian leader. But when we will explain it, we will find some unique features of a humanitarian leader. These features make him humanitarian.
A humanitarian leader is always kind-hearted to the oppressed people but strong against the oppressors. They have only one goal, which is working for human beings. A true humanitarian leader never compromises with injustices. These are the common features of a humanitarian leader. Nelson Mandela, Mahatma Gandhi, Dalai Lama, Mother Teresa are some famous names on the list of Humanitarian leaders.
21. Nelson Mandela quote: Like slavery and apartheid, poverty is not natural. It is man-made and it…
Like slavery and apartheid, poverty is not natural. It is man-made and it can be overcome and eradicated by the actions of human beings. —Nelson Mandela
22. The question shouldn't be what we ought to do, but what we can do.—Rory Stewart
23. Every State has the primary duty to protect its own population from grave and sustained violations of human rights, as well as from the consequences of humanitarian crises, whether natural or man-made.—Pope Benedict XVI
24. The true measure of the justice of a system is the amount of protection it guarantees to the weakest.—Aung San Suu Kyi
25. What are you doing for others?—Martin Luther King, Jr.
26. I see this as my humanitarian legacy. We're prepared to pay billions.—Sheldon Adelson
27.If something's not impossible, there must be a way of doing it.—Nicholas Winton
28. Anyone who is speaking of a greater compassion, a greater humanitarian concern, is a leader paving the path we all need to follow.—Marianne Williamson
29. I support concrete and progressive immigration reform based on three primary criteria: family reunification, economic contributions, and humanitarian concerns.—Jeff Bingaman
30. The humanitarian lays stress almost solely upon breadth of knowledge and sympathy.—Irving Babbitt
31. I gave a very dear friend of mine my humanitarian award. Because you don't need an award to be, or not be, a humanitarian.—Elizabeth Taylor
32. No one can make you feel inferior without your consent.—Eleanor Roosevelt
33. As regards humanitarian issues and how to handle them, that was the Prime Minister's [Shinzō Abe] initiative. He brought the matter up at our last meeting in Lima and asked me straightforwardly whether we would agree to let Japanese citizens travel on a visa-free basis, resolve the issue in such a way as to enable them to visit the South Kurils, visit their native areas. I said at once that it was quite possible.—Vladimir Putin
34. Throughout his many years, he enriched the lives of countless others and served as a model of generosity and discipline to those he met, fostering an atmosphere of compassion, harmony, and unity. Sri Chinmoy was a leader, humanitarian, artist, athlete, and public servant who will be sorely missed. His legacy of kindness, reflection, and resolve will endure for many years to come.—William J. Clinton
35. He was a great patriot, a humanitarian, a loyal friend; provided, of course, he really is dead.—Voltaire
36. Being a humanitarian, supporting animal rights activists, human rights activists, it's all the same.—Daryl Hannah
What is Humanitarian Attitude?
The attitude that has humanitarianism in it is called humanitarian attitude. We all should have this attitude to the helpless people. This makes a man a true human. The importance of this attitude is very important in the present time. People are being oppressed by the rulers in different parts of the world.
If you look at them then you will find a very severe condition. If any one of us doesn't come forward to help them then they will be extinguished from the world. For this reason, all of us should have a humanitarian attitude toward the world of humanity.
37. The saving of labour of the individual should be the object and honest humanitarian considerations, and not greed, the motive.—Mahatma Gandhi
38. A humanitarian is always a hypocrite.—George Orwell
39. My humanitarian work evolved from being with my family. My mom, my dad, they really set a great example for giving back. My mom was a nurse, my dad was a school teacher. But my mom did a lot of things for geriatrics and elderly people. She would do home visits for free.—Cat Cora
40. We've killed a million Iraqis since the start of the Gulf war – mostly by blocking humanitarian aid.—Woody Harrelson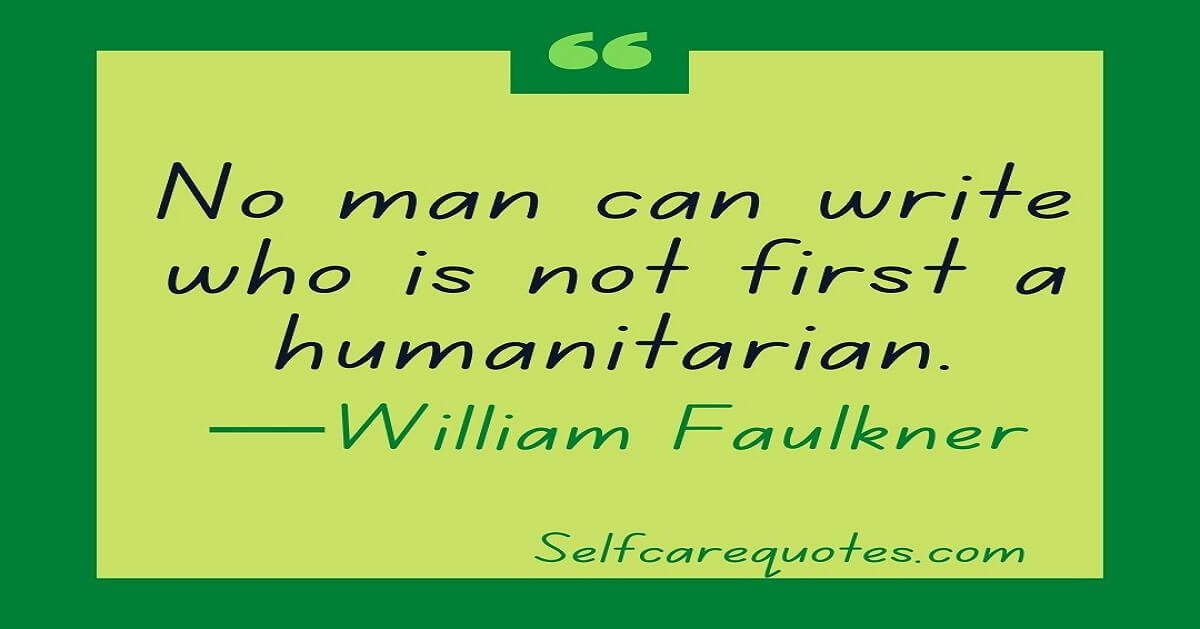 41. No man can write who is not first a humanitarian—William Faulkner
42. The fact is that ours is the first generation that can look disease and extreme poverty in the eye, look across the ocean to Africa, and say this, and mean it. We do not have to stand for this. A whole continent written off – we do not have to stand for this.—Bono
43. Anytime you and I question the schemes of the do-gooders, we're denounced as being against their humanitarian goals. They say we're always "against" things-we're never "for" anything. Well, the trouble with our liberal friends is not that they're ignorant; it's just that they know so much that isn't so.—Ronald Reagan
44. We need to change society's ordering principle from economic to humanitarian values, from money as the bottom line to love as the bottom line.—Marianne Williamson
45. Most wars, after all, present themselves as humanitarian endeavors to help people.—Howard Zinn
46. The humanitarian would, of course, have us meddle in foreign affairs as part of his program of world service.—Irving Babbitt
47. Rising sea levels, severe draughts, the melting of the polar caps, the more frequent and devastating natural disasters all raise demand for humanitarian assistance and disaster relief.—Leon Panetta
48. If you think about Audrey Hepburn, I think she became more beautiful when she stopped being an actress and started working with humanitarian campaigns. The more engaged you can become the more you can shed your self-consciousness.—Cate Blanchett
49. Today, no walls can separate humanitarian or human rights crises in one part of the world from national security crises in another. What begins with the failure to uphold the dignity of one life all too often ends with a calamity for entire nations.—Kofi Annan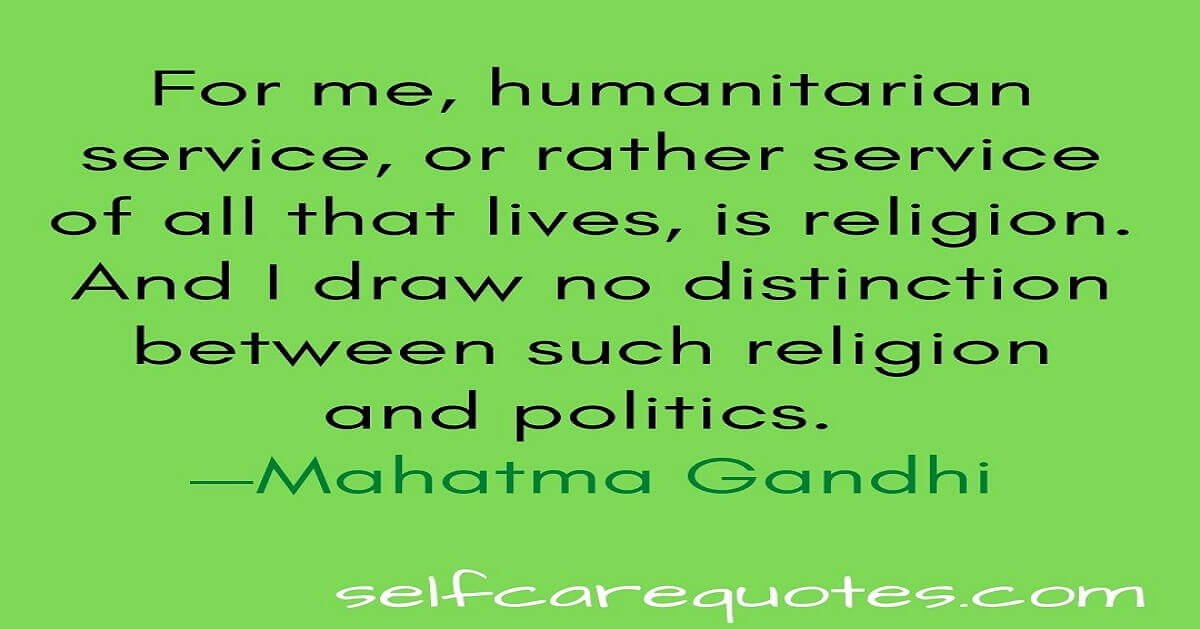 50. For me, humanitarian service, or rather service of all that lives, is religion. And I draw no distinction between such religion and politics. —Mahatma Gandhi
Humanitarian Thoughts and Quotes
Our thinking has very strong power. As we think, our life goes on that way. If we can think positively then our life will go on a positive way. This is the importance of thinking. For this reason, we should think about humanity. Thinking about humanity is indirectly thinking about ourselves because we are also a member of this class. Humanitarian thoughts and quotes will help us to be more human lovers.
Appreciation for Humanitarian
The people who think about humanity and work for them are called humanitarian. These are great people in society because there are very few people like them who think about others and work hard for their betterment. We all are busy with our happiness and money-earning activities. But they are investing their money and time without any chance of getting a return from them. They should be appreciated for their great work and mind.
We are busy with our business but none of us thinking about our brothers around the world. The people think that getting more money and using them for personal use is not famous. Rather the people who do work for helpless people are more respectfully remembered. We should think about the people around us not to get any return rather from our God-assigned responsibility. This is the teaching of humanitarian quotes.