At present, coffee has become an essential part of our life. It has become a habit of a large section of people. Some people are so addicted to coffee that they cannot think of their day without a cup of tea.
It is good news for them to drink coffee regularly, that coffee contains around one hundred anti-oxidants. We know that; anti-oxidant is an essential element for our health.
It protects our cells from damage. You'll find various coffee quotes that represent the benefits of coffee to our health.
Top 50 Coffee Quotes for Coffee Lovers:
Good Morning Coffee Quotes:
If you feel weak and fatigue after waking up in the morning, you may take a cup of coffee to refresh yourself. The people who are used to drinking coffee; it is hard for them to start their day without taking it.
It makes us energetic and refreshes us. If you are a coffee lover, then you may go through various good morning coffee quotes. The quotes represent the significance of the benefits of coffee in our daily life.
1.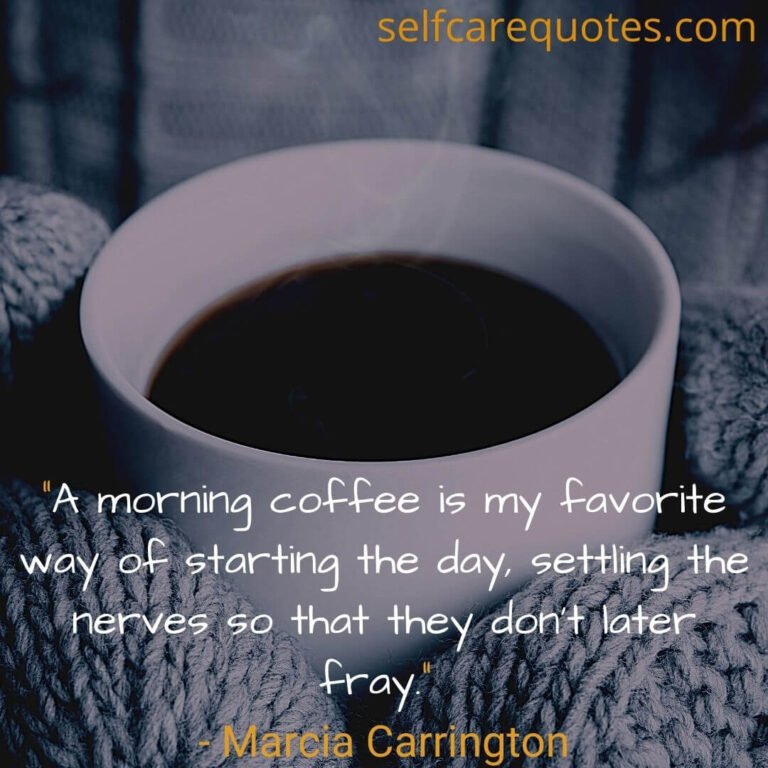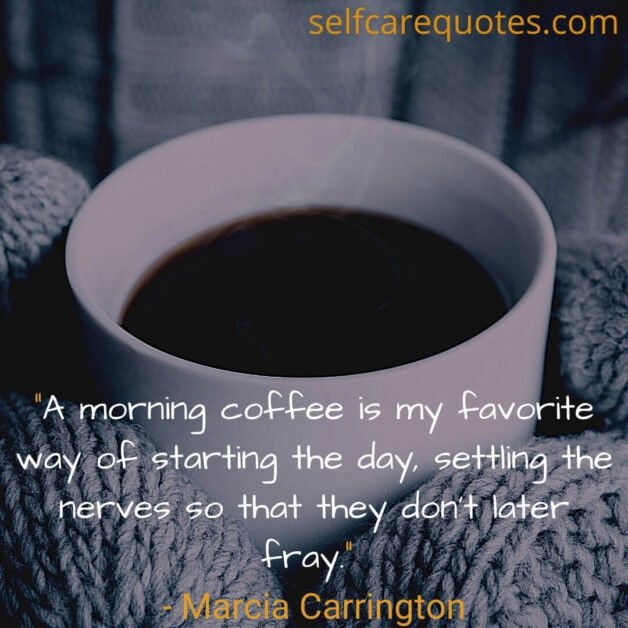 "A morning coffee is my favorite way of starting the day, settling the nerves so that they don't later fray." – Marcia Carrington
2. A morning without coffee is like sleep.— Unknown
3. My perfect morning is spent drinking coffee, eating porridge and reading the paper at a local cafe. -Anton du Beke
4. Every morning I long to hold you…I need you, I want you, I have to have you…your warmth, your smell, your taste…ohhh coffee, I love you. -Unknown
5.When I wake up in the morning, I just can't get started until I've had that first, piping hot pot of coffee. Oh, I've tried other enemas. -Emo Philips
6. I start every morning at 7 or 7:30 in the same place – my little office where it's dark and cozy – with a cup of the same really strong black coffee. It's my little cocoon. There's no phone or fax or Internet. And no music. -John Grisham
7. Every morning, we choose between milk or tea or coffee. Usually, I know what I like, but I don't rule out changing my idea sometimes. The editing process is one of the most important parts in everyday life. The same is with my work: mistakes are part of the decision-making process. -Maurizio Cattelan
8. I love the sunrise, as I am definitely a morning person! It's a great time to get up and have a coffee in the garden by myself before everybody wakes up. -Bianca Balti
9. I have to have coffee in the morning. -Olivia Culpo
10. I drink coffee in the morning and a few cups throughout the day. Among coffee's health benefits are lower risk of Parkinson's, Type 2 diabetes, heart disease and dementia. -David H. Murdock
11. I wake up at 5:30, 6 in the morning, but don't head into the office right away. I like to hang out with my wife, talk about things, get some coffee, you know. -Ice Cube
12. I always have coffee and porridge for breakfast. -Hans-Ulrich Obrist
 You Can see Youtube Video About Coffee Quotes
13. Too much coffee. Too much coffee and Gatorade. It's a hell of a mix. If you're ever tired in the morning, just try that mix, and tell me what you think. -Kevin Garnett
14. I get up, get coffee, and go into my home office. I check email and Twitter before I start work, but I have to try not to get too distracted. -Julie Kagawa
15. I like coffee in the morning and decaf green tea throughout the day… When I was younger and modeling, to kick-start a diet I would do a juice cleanse. -Christie Brinkley
16. I'm a morning person: if I don't get up, put the coffee on and get to my desk by 8, the day has already lost a lot of its promise. -Jennifer Gilmore
17.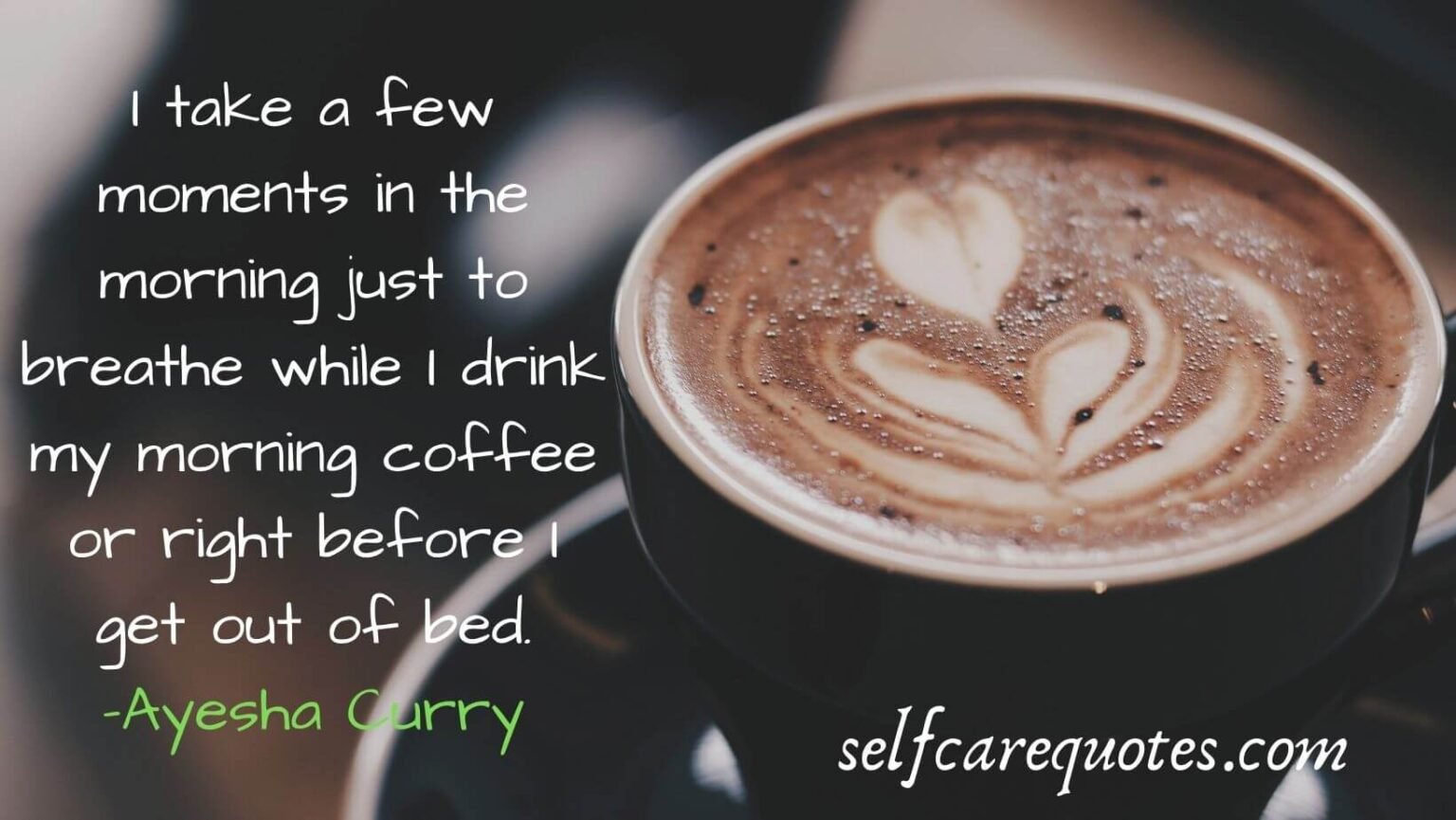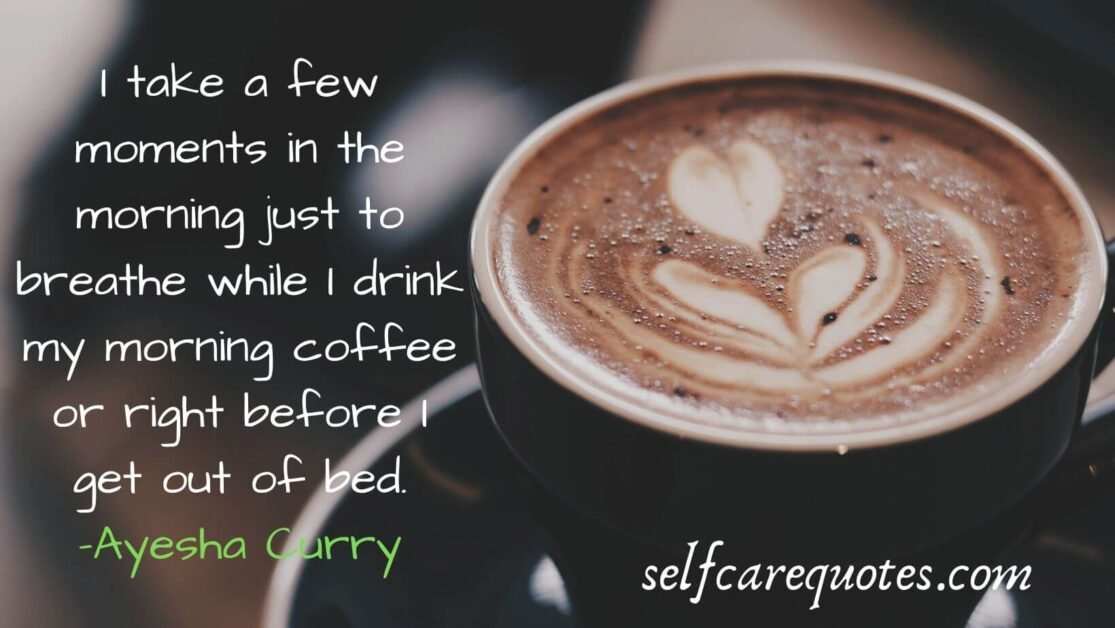 I take a few moments in the morning just to breathe while I drink my morning coffee or right before I get out of bed. -Ayesha Curry
18. I made it a morning show. We have the coffee cup, we have the morning papers. It's got that feel to it, that's what I wanted. -Regis Philbin
19. In the morning we received some very thin coffee. For lunch we had potato soup with a few pieces of meat in it, in the evening we had a very thin meat soup with some potatoes in it. -Leon Askin
20. "I wake up some mornings and sit and have my coffee and look out at my beautiful garden, and I go, 'Remember how good this is. Because you can lose it.'" – Jim Carrey
Start Your Day With Coffee Quotes:
The coffee lovers cannot but start their days with a cup of coffee. If you are a coffee lover, it is a beneficial drink to start your day. The steam of the coffee can reduce all the tiredness.
The delicious smell of the coffee and its amazing taste are the reasons for increasing the popularity of coffee. At present, people are taking coffee for various positive effects.
Various coffee quotes would express the popularity of coffee. You may look over the 'start your day with coffee quotes.' You'll learn about the increasing popularity of coffee from the quotes.
21.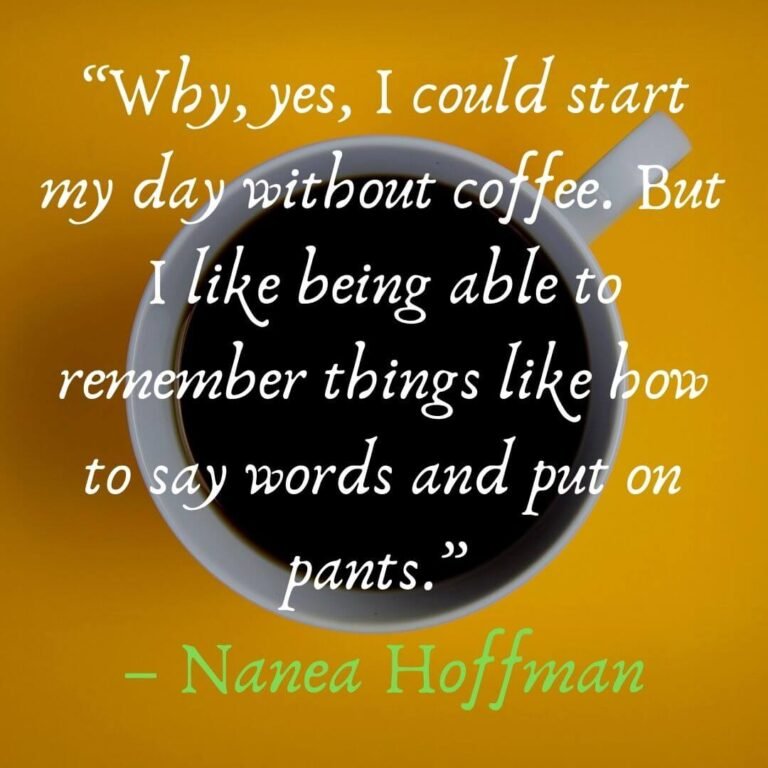 "Why, yes, I could start my day without coffee. But I like being able to remember things like how to say words and put on pants." – Nanea Hoffman
22. When I wake up in the morning, I just can't get started until I've had that first, piping hot pot of coffee. Oh, I've tried other enemas. -Emo Phillips
23. "A morning coffee is my favorite way of starting the day, settling the nerves so that they don't later fray." ― Marcia Carrington
24. Good communication is just as stimulating as black coffee, and just as hard to sleep after. -Anne Morrow Lindber
25. "I was taken by the power that savoring a simple cup of coffee can have to connect people and create community." – Howard Schultz
26. "Having charged your heart and brain with a cup of coffee, you're ready to face the challenges of life."― Sahara Sanders
27. "The powers of a man's mind are directly proportioned to the quantity of coffee he drinks." ― Sir James Mackintosh
28. "To me, the smell of fresh-made coffee is one of the greatest inventions." – Hugh Jackman
29. "There are three intolerable things in life – cold coffee, lukewarm champagne, and overexcited women…" ― Orson Welles
30. "Coffee is the common man's gold, and like gold, it brings to every person the feeling of luxury and nobility." – Sheik-Abd-al-Kadir
31. "It doesn't matter where you're from – or how you feel… There's always peace in a strong cup of coffee." ― Gabriel Bá
32. "Way too much coffee. But if it weren't for the coffee, I'd have no identifiable personality whatsoever." – David Letterman
33. I love coffee. I sometimes get excited at night thinking of the coffee I'll get to drink in the morning. Coffee is reason to wake up. There are other reasons, of course. But coffee is the incentive, at the very least." ― Annie Clark
34. "It's when you look over the top of your coffee cup, that you can smile at life." ― Anthony T. Hincks.
35. "Please pour me some coffee and sit beside me. I want to have a perfect start to this day." ― Nitya Prakash
36. "Four cups of coffee a day may keep depression at bay." ― Steven Magee
Cold Coffee Quotes:
You may enjoy the flavor and taste of coffee from the cold coffee too. The popularity of cold coffee is increasing day by day. Cold coffee is also beneficial to our health.
The cold coffee and iced coffee are different from each other. Do not get confused with cold coffee with iced coffee. When we make the normal coffee cold with ice, then it is called the iced coffee.
The method of preparing iced coffee is similar to regular coffee. After preparing the normal coffee with the boiled water, make it cold with the ice to prepare an iced coffee. The method of cold coffee is a lengthy process.
We prepare it with the water of normal temperature. To prepare a cold coffee, we need to keep the water for four to twenty-four hours. Though the preparation of cold coffee takes time, it is getting popular with time. You may look over the cold coffee quotes to learn about its popularity as well as its increasing demand.
37.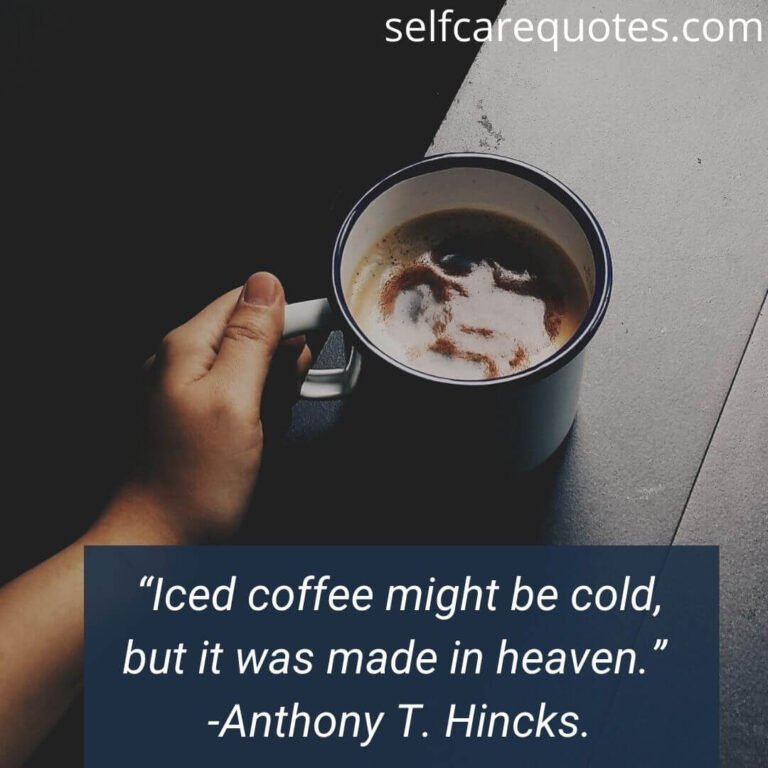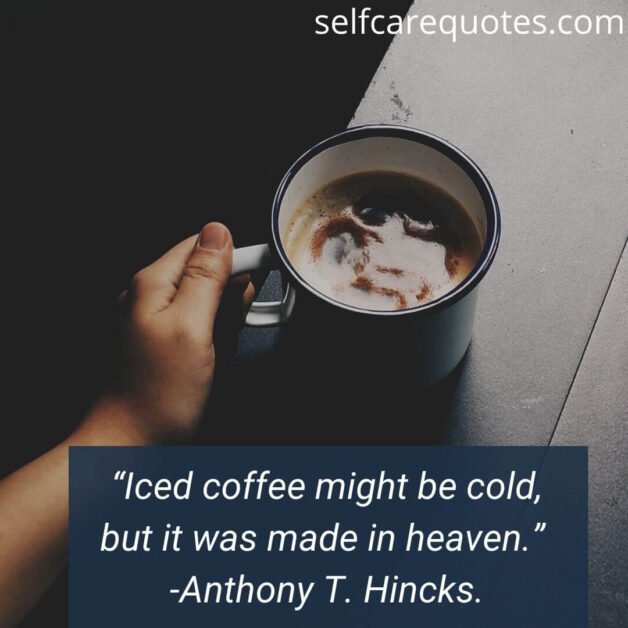 "Iced coffee might be cold, but it was made in heaven." -Anthony T. Hincks.
38. "When coffee's hot, it comes to the rescue.
When coffee's cold, it just chills out." – Anthony T. Hincks
Black Coffee Quotes:
If you want to lose your weight by taking a drink, you may take black coffee. Black coffee is very useful to burn our fat. It is free of cholesterol. Black coffee has a positive effect on our mind and our body.
If we don't add any sugar, milk, or cream to a cup of regular coffee, then it is called black coffee.
Though the taste of black coffee is bitter, it is helpful for our health. It is getting a popular drink day by day for its beneficial predisposition. With the increasing popularity of black coffee, black coffee quotes are also getting popular.
39.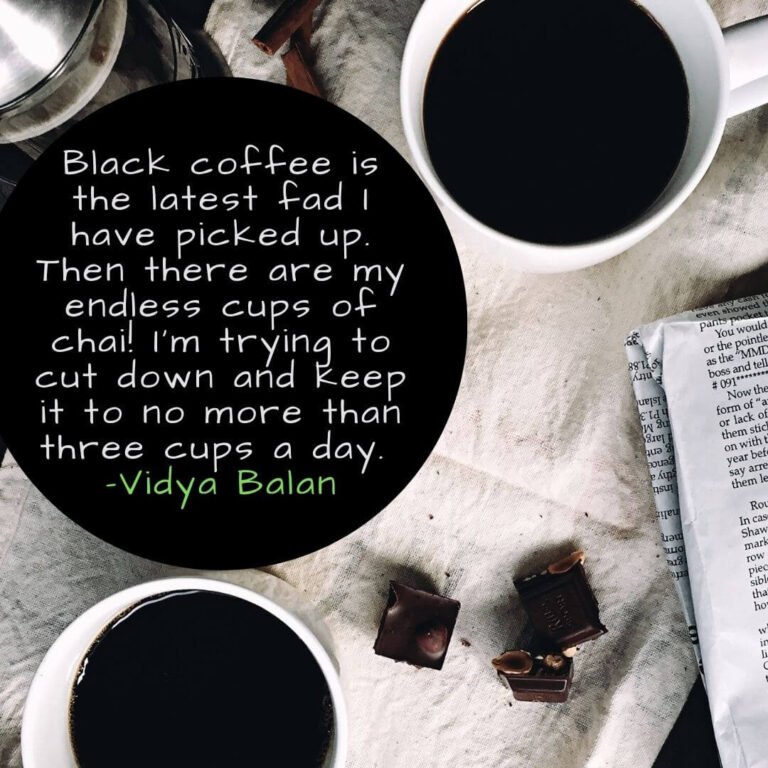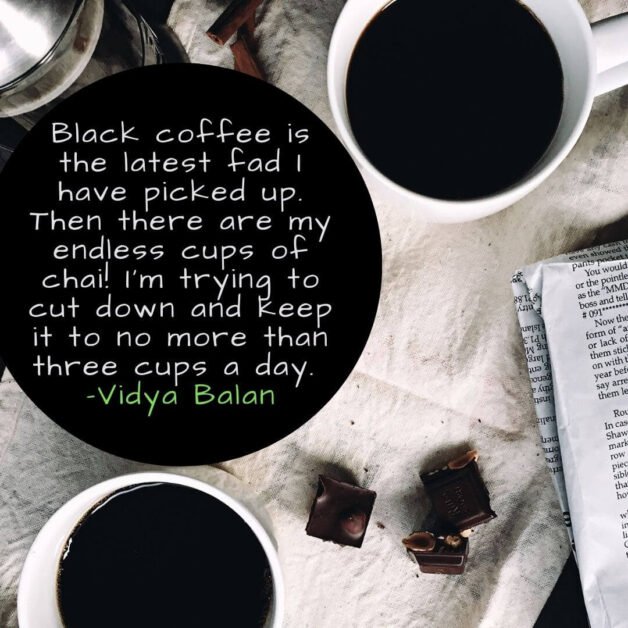 Black coffee is the latest fad I have picked up. Then there are my endless cups of chai! I'm trying to cut down and keep it to no more than three cups a day. -Vidya Balan
40. I'm a morning bird. I love getting up before it's light out if it's possible. I wake up, I have a black coffee. I'm an 86-year-old man. I try to work out first thing to get it over with. When I do it, I feel good because I have the endorphins all day. -Ellie Kemper
41. I'm a traditionalist, so for me, black coffee is cool. -Graham Elliot
42. I like to have straight-up black coffee, but when you get it, sometimes you'll burn your tongue, or it spills on your hands, and you get third degree burns. I happen to be the kind of human being who doesn't want to sue coffee companies for money, so I just say, 'Hey, can you give me some coffee, but can you also give me like, eight ice cubes.' -Hasan Minhaj
43. The first thing I do when I wake up is cardio on an empty stomach. I'll just drink water, or maybe I'll have a black coffee with no sugar, and I'll do about 25 minutes of cardio, six days a week. -Jinder Mahal
44. Never drink black coffee at lunch; it will keep you awake all afternoon. -Jilly Cooper
45. For four to six months at a time, I would barely eat. I lived on a diet of Melba toast, carrots, and black coffee. -Alanis Morissette
46. My workday begins around 11 A.M., with a cup of black coffee in each hand. If I had more hands, there would be more coffee. -Aaron Levie
47. I don't know how my body would react if I don't eat for 10 days. In order to go through that experience, I almost did not eat or drink water for 15-20 days. I only had one carrot a day, a cup of black coffee, and a few sips of water. -Rajkummar Rao
48. The Soft Pack's self-titled full-length debut is straighter than black coffee, and twice as bitter: Frontman Matt Lamkin isn't afraid to fly his philosophical flag and face hard realities. -Anthony Fantano
49. Few men in their 70s looked as good as my father did. What was his secret? Genes, maybe, since he didn't exercise or diet, and he kept a candy drawer, drank a pot of black coffee every day, and read in the middle of the night. Still, he took such joy in being a dad – and in life in general – and his happiness showed. -Jennifer Grant
50.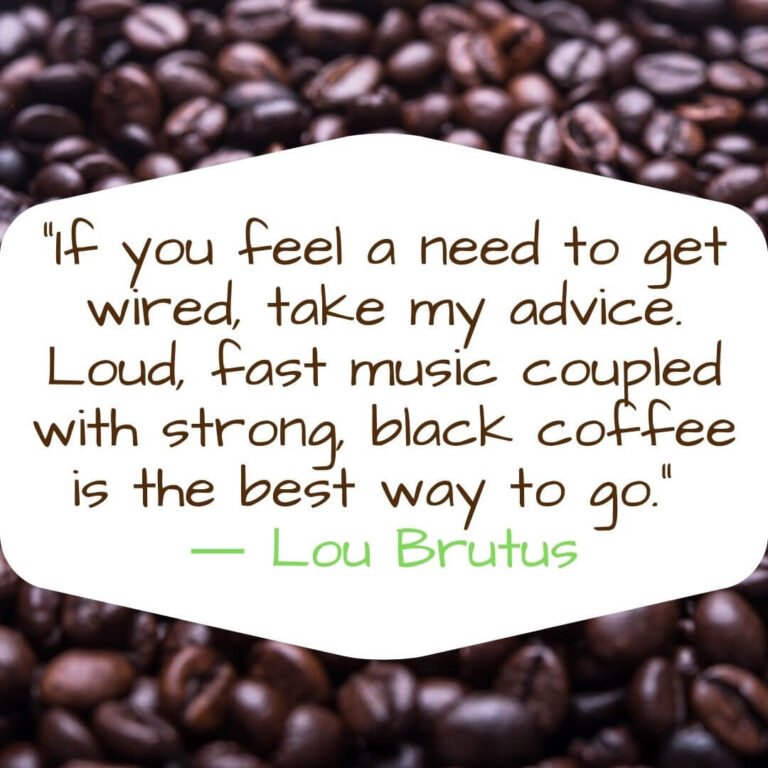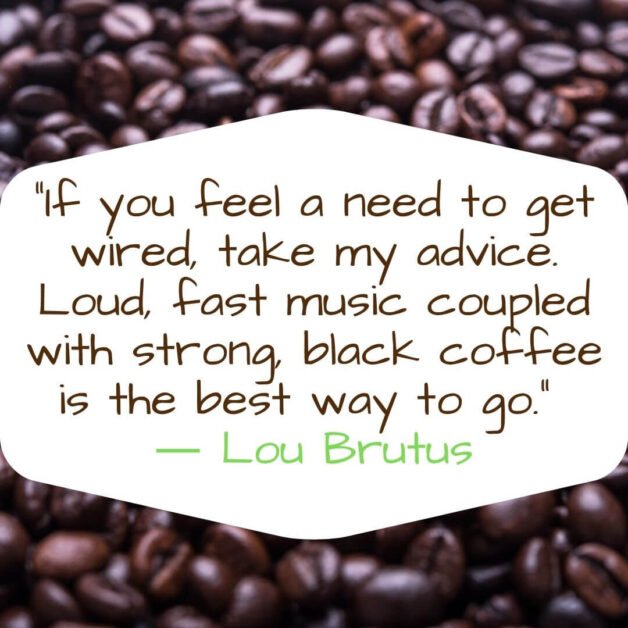 "If you feel a need to get wired, take my advice. Loud, fast music coupled with strong, black coffee is the best way to go." ― Lou Brutus
Final Thoughts:
With time, the use and the popularity of coffee are increasing. As it is a potential source of anti-oxidant, coffee is beneficial to our health.
Different scientific studies prove that coffee is beneficial for the remedy of various diseases. It boosts our minds and makes us feel fresh. It makes us fresh by removing the gloominess from us.