Paul Mooney is one of the famous American comedians. He is also renowned as a film actor, writer and social critic. Paul Mooney is his stage name. His original name is Paul Gladney. Paul Mooney has a significant role in the history of American comedy. He is termed as the 'godfather of the black comedy.' Paul Mooney has gained this position through the hardworking of a long time.
Paul Mooney is also very popular as a writer. He contributes to the most famous American TV series like 'Saturday Night Live' and 'Good Times.' Paul Mooney is the writer of the famous 'In Living Color.' Through his excellence in writing, he has created some famous characters like 'Tom,' 'Homey the Clown' etc. Paul Mooney quotes represent his tendency to speak and spread the truth. Through his comedy, he shows the truth of society. 
Paul Mooney quotes:
1.
I'm as American as apple pie. ―Paul Mooney
2. People think you're crazy if you turn money down… people worship money. ―Paul Mooney
3. People think you're crazy if you turn money down… people worship money. ―Paul Mooney
4. America has a rap sheet. You can't police the world and tell the world how to act when you're just as bad yourself. ―Paul Mooney
5. I have nothing to do with racism in America; it was here when I got here. ―Paul Mooney
6. I'm passionate about what I do. I'd be naive to be passive. ―Paul Mooney
7. Julie Christie, I used to hang out with her. She was friends with Richard Pryor and Warren Beatty and all of them. There was a club in Beverly Hills called the Candy Store, a private club. I used to hang out with them all. ―Paul Mooney
8. I read a lot of history. The passive Jews in Germany didn't survive. The smart ones got out. ―Paul Mooney
9. We have a lot of black Anglo-Saxons. Their skin is black, but their brain is white. When I get real mad at them, I call them 'graham crackers.' ―Paul Mooney
10. Robin Williams learned techniques. He has the technique of being funny. ―Paul Mooney
11.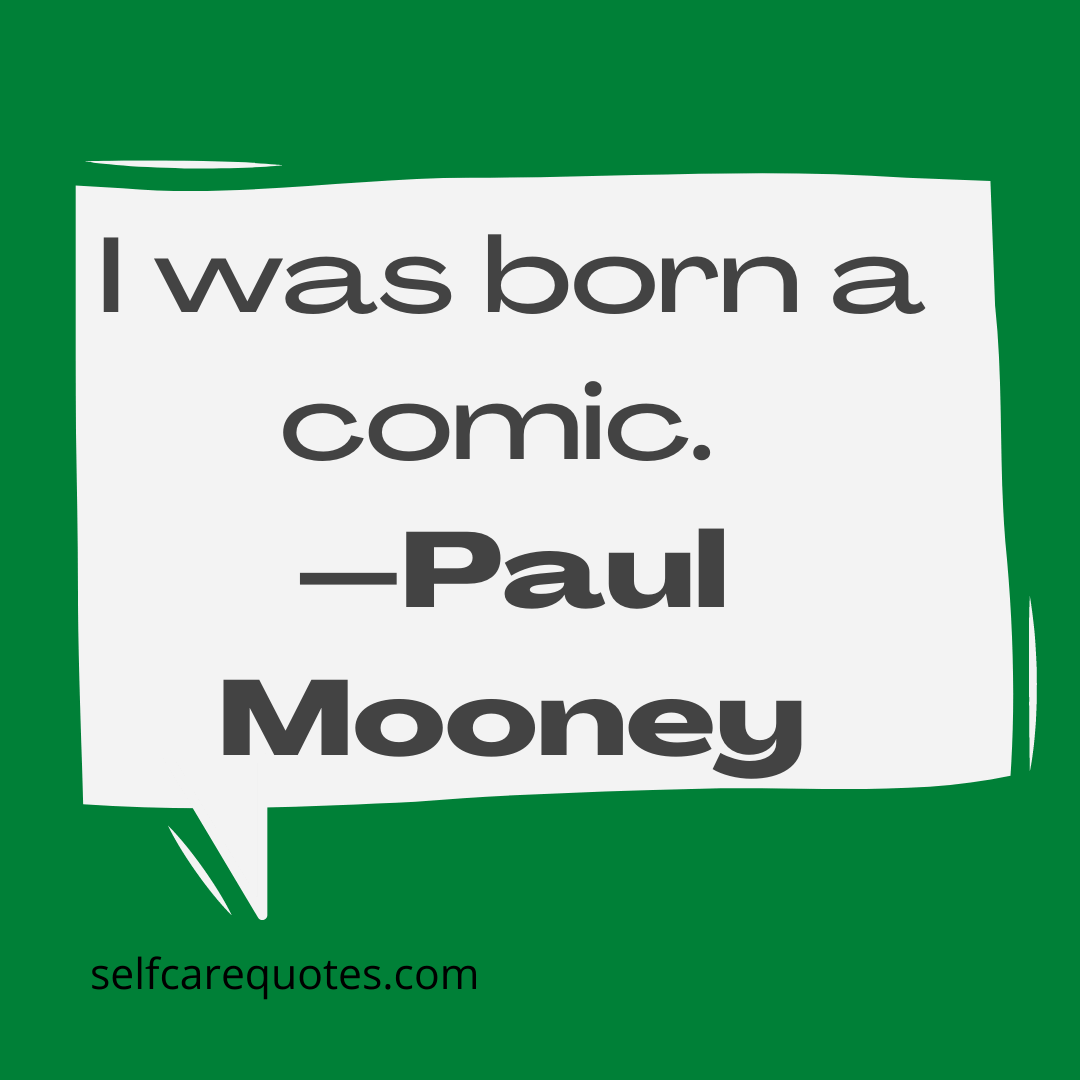 I was born a comic. ―Paul Mooney
12. You white folks see UFOs in your dreams. You don't hear about Martians in Harlem. ―Paul Mooney
13. I think about never losing my voice, never giving in, never selling out, always keeping black, always sticking to the street. Staying neighborhood and not Hollywood. ―Paul Mooney
14. I've never seen anyone more messed up over success than Richard Pryor. For him, it's a constant battle between success in the white world and keeping it real for his black self. ―Paul Mooney
15. What does it mean to be too black for Hollywood? It's self-explanatory. Hollywood has certain kinds of blacks that they like. ―Paul Mooney
16. People ask me when was my best time? I always say, 'Today.' ―Paul Mooney
17. Hillary Clinton could say she was a woman and running for president. And Sarah Palin could say she was a woman and running for vice-president. But Obama couldn't say, 'I'm black and I'm running for president.' It couldn't come out of his mouth. He couldn't say that because, if he did, he'd lose votes. ―Paul Mooney
18. There are still plenty of movie people peddling black stereotypes. I guess Tyler Perry's probably the most massively successful. ―Paul Mooney
19. If you have money and you have fame, but you don't have any confidence in your blackness, then it's all for nothing. ―Paul Mooney
20. If you're happy with what you're doing, then you don't get bored. ―Paul Mooney
21.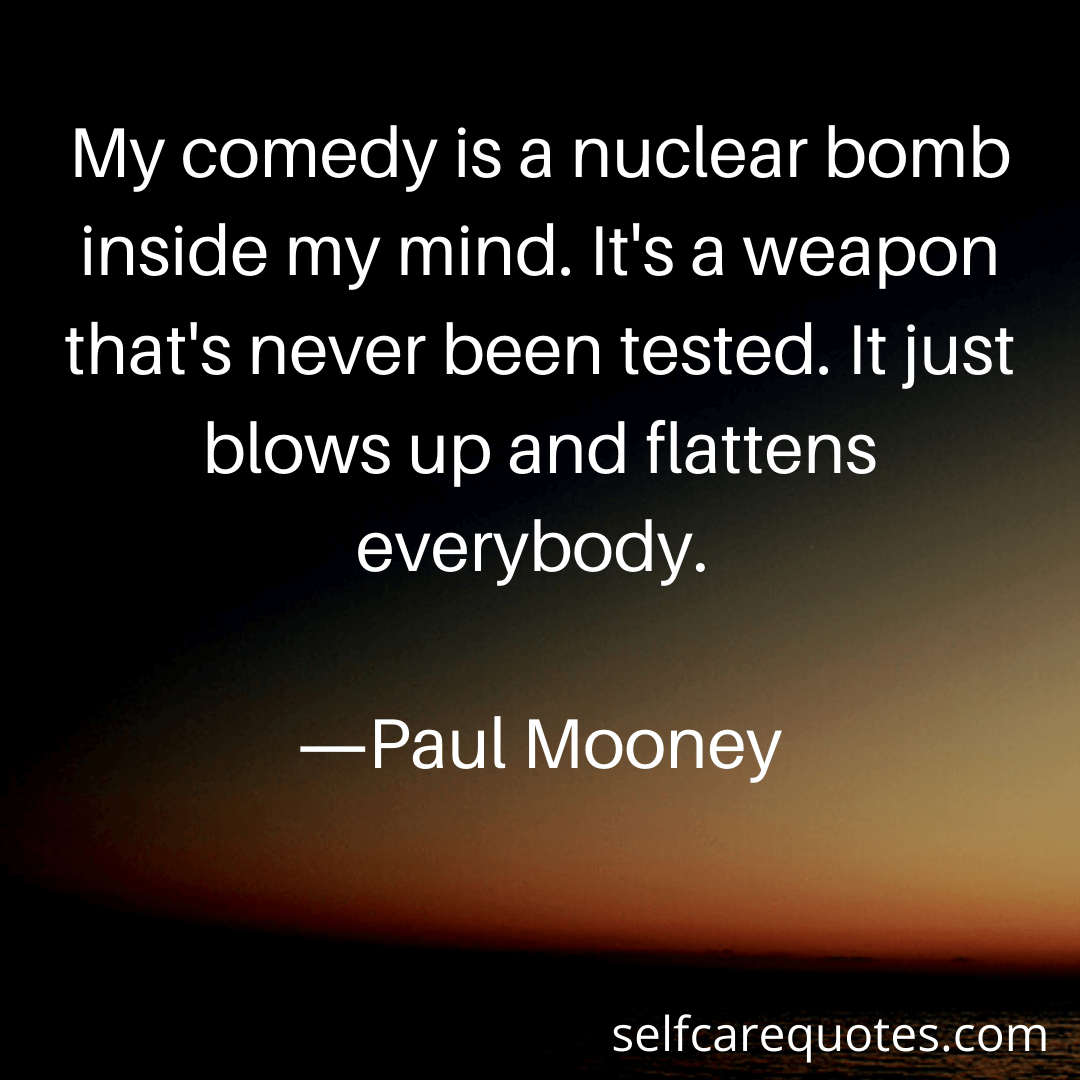 My comedy is a nuclear bomb inside my mind. It's a weapon that's never been tested. It just blows up and flattens everybody. ―Paul Mooney
22. There's always a message in my comedy. ―Paul Mooney
23. I love Obama because he is proof all black people don't look alike. Nobody ever told me, 'Good morning, Mr. President.' We don't all look alike. ―Paul Mooney
24. Handshaking means, 'I don't have a weapon.' ―Paul Mooney
25. Hollywood doesn't even have respect for itself. Hollywood lies to itself. ―Paul Mooney
26. My grandmother was the best. She loved you for you. She loved me for me. She was old-school. They broke the mold with her. They don't make them like that anymore. ―Paul Mooney
27. If your hair is relaxed, white people are relaxed. If your hair is nappy, they're not happy. ―Paul Mooney
28. America is racial. America was founded on race. Race is America. The code name for America is 'race.' ―Paul Mooney
29. I like when people are trapped in the joke when there's no escape. I like to lead people down the wrong path and then trap them. ―Paul Mooney
30. When I was 16 or 17, I saw Lenny Bruce being taken to jail. They took him off stage because he talked about race. ―Paul Mooney
31. I think I have a mental nappy attitude. ―Paul Mooney
32. Whatever that thing is that white people like blacks, I don't have it. Maybe it's my arrogance or my self-assurance or the way I carry myself, but whatever it is, I don't have it. ―Paul Mooney
33.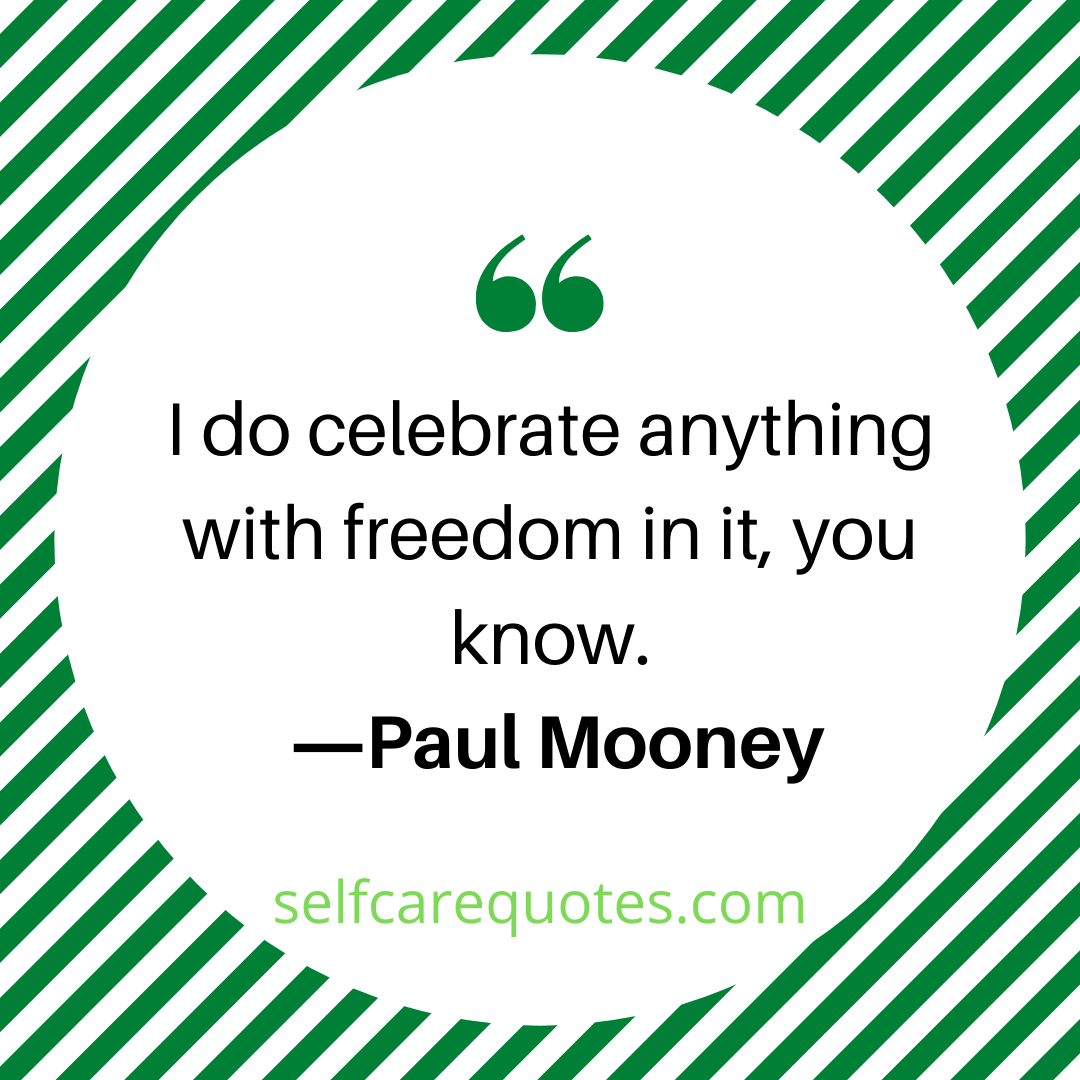 I do celebrate anything with freedom in it, you know. ―Paul Mooney
34. I don't want affirmative action – too much affirmative, not enough action. ―Paul Mooney
35. You got to remember that slavery's very complex. It has a lot of levels to it. ―Paul Mooney
36. Comedians period, in general, have demons, and myself included. ―Paul Mooney
37. I am very concerned about Barbara Streisand using the 'H' word – 'honkey.' That's what I am concerned about. I am worried about Barbara. ―Paul Mooney
38. I have such an ego 'cause I'm a double Leo. I can't let go of me, you know, so it's very difficult for me to be somebody else and not me. I'm so into me. ―Paul Mooney
39. You know who you are. If my mother is a nun and someone comes up to me and they go, 'Your mother is a prostitute.' It is not going to bother me, because I know my mother is a nun, she's not a prostitute. ―Paul Mooney
40. There's no such thing as reverse racism. ―Paul Mooney
41.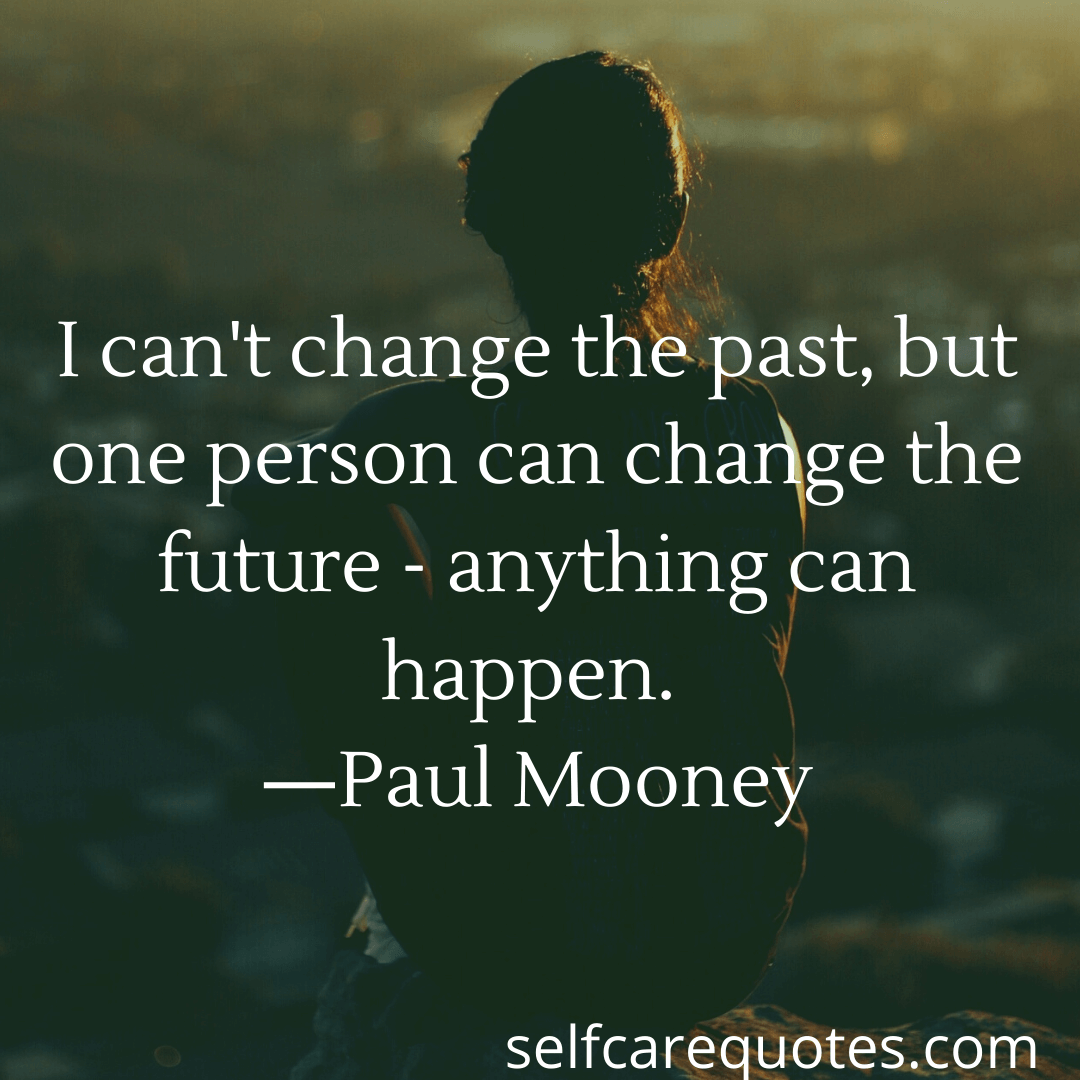 I can't change the past, but one person can change the future – anything can happen. ―Paul Mooney
42. People don't want to hear the truth; they never do. They wanna live in some kind of fantasy. ―Paul Mooney
43. Sometimes, what you do you have no control over because it's predestined. It's gonna happen in spite of you. There's nothing you can do about it. ―Paul Mooney
44. When you know who you are, you know who you are. That's the real dangerous thing in Hollywood because they all want to create you and mold you. ―Paul Mooney
45. The king of comedy is dead. Richard Pryor was the king of comedy. The rest of them are the king of copycats. ―Paul Mooney
46. I like comedy, I mean, in all forms. ―Paul Mooney
47. An audience can be like a pack of wolves. ―Paul Mooney
48. A woman can tell me about her having a baby, but I'll never know what it is to have a baby. ―Paul Mooney
49. I got my sense of humor from my grandmother. You know, my grandmother was very funny. ―Paul Mooney
50.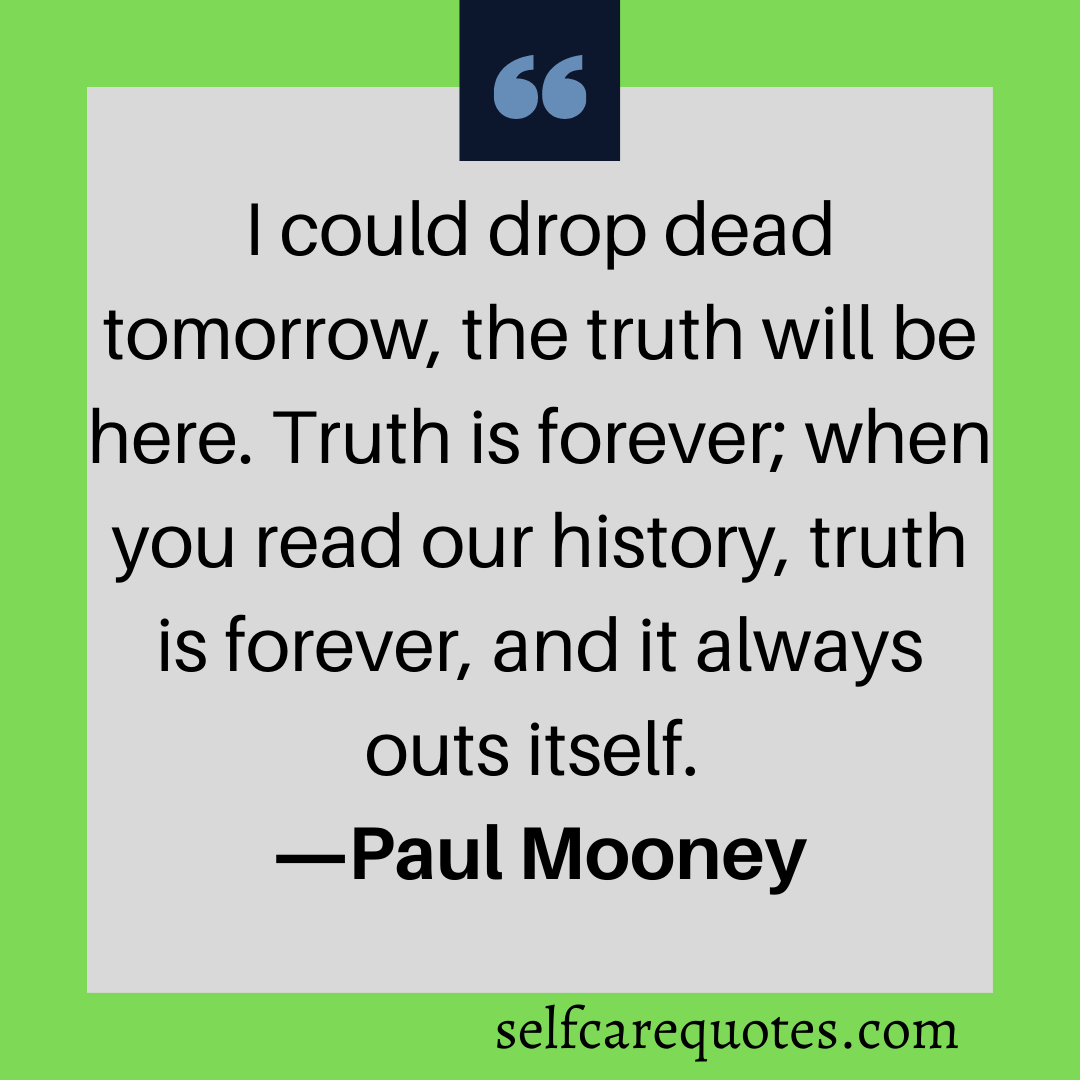 I could drop dead tomorrow, the truth will be here. Truth is forever; when you read our history, truth is forever, and it always outs itself. ―Paul Mooney
 Why should we follow him?
Today we all know Paul Mooney as a successful and famous person. But he was not so renowned from his early stage of career. Paul has started his career as a member of a circus. He has achieved the present status and fame with his struggle. We should follow his patience and mental strength for the struggle.
He didn't lose hope in his long career.  He continued to work hard. We should also be serious about our work. We may also find him as truthful and honest about his work. Paul Mooney had also faced with the controversy. But he never lost hope. Despite his being affected by cancer, he has continued his work. 
Biography of Paul Mooney:
Early Life and Family Life:
Paul Mooney was born in Louisiana, the U.S. in 1941. His birth name was Paul Gladney. Paul Mooney is the son of George Gladney and LaVoya Ealy. In childhood, Paul Mooney moved to California with his family. In his childhood, his grandmother Aimay Ealy had taken care of him. Paul Money and his wife had separated from each other. They have four children. Their names are Shane, Daryl, Symeon, and Dwayne.
 Career:
At the early phase of the career, Paul Mooney worked as the ringmaster. He worked in the circus of Gatti-Charles. Later, Paul wrote comedies for the great comedian Richard Pryor. He had written 'Live on the Sunset Strip,' 'Bicentennial Bigger,' 'Is it Something I Said' with Richard Pryor. In his career, he has written for many shows.
Acting and Writing:
Paul Mooney is also acknowledged for talent in acting. He has acted in 'Real Husbands of Hollywood,' 'The Lary Sanders show,' 'The Richard Pryor Show' etc. Paul Mooney has written a book named Black is the New White with Dave Chappelle.
In his book, he has written about his childhood memories and the story of his partnership with Richard Pryor. This book was published in 2009. Paul Mooney also has a significant impact on the standup and the filmography. 
Awards and acknowledgment:
'Daytime Emmy Awards' is one of the prestigious awards. Paul Mooney got the nomination for this award in 1985. He was nominated for his "Pryor's Place' in the category of 'Outstanding Writing.' Paul Mooney shared this award with another three persons.
Related Topic: David Bowie Quotes,Pablo Escobar quotes, Tyler Durden Quotes, Prison Mike quotes