We are concerned about tomorrow because what will happen tomorrow is not known to us. Tomorrow is uncertain for us. Because of that uncertainty, we always fear tomorrow's happiness, security, and many other things. The concern for tomorrow affects all of us. For that reason, famous people talked about tomorrow. These talkings are considered as quotes. Tomorrow's quotes mainly suggest us to be optimistic and hard working. If we want to make our tomorrow a better tomorrow then we may follow famous tomorrow quotes from famous people. These quotes about tomorrow are very famous. Let's read some famous quotes about tomorrow.
Top 50 Quotes About Tomorrow :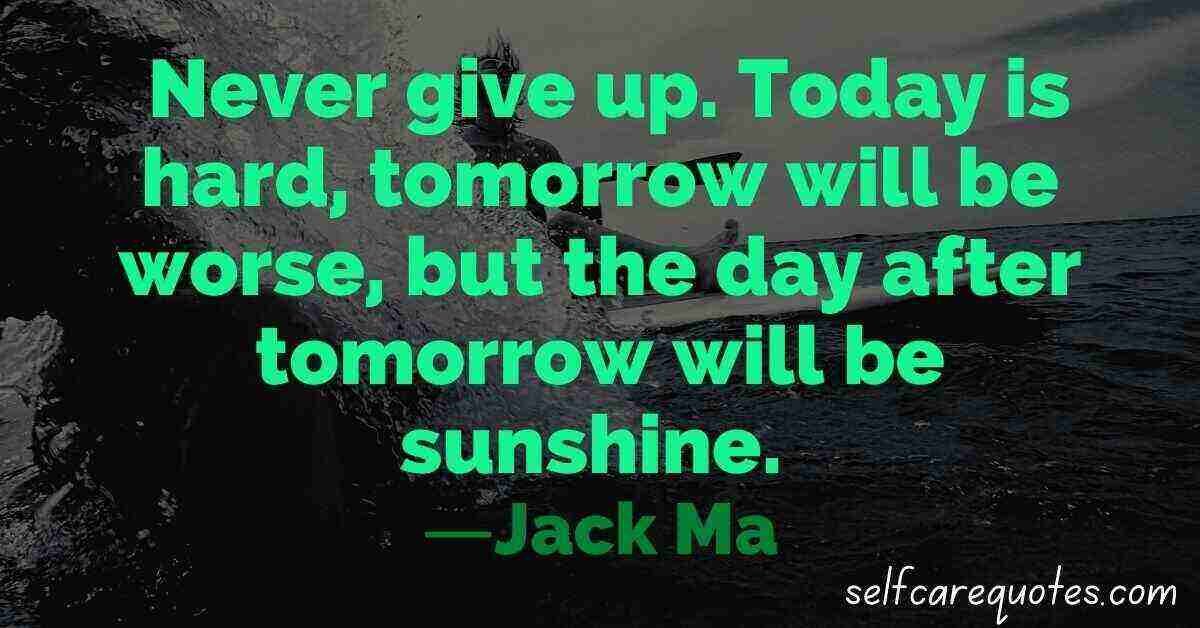 1. Never give up. Today is hard, tomorrow will be worse, but the day after tomorrow will be sunshine. ―Jack Ma
2. The best preparation for tomorrow is doing your best today. ― H. Jackson Brown, Jr.
3. The truth is you don't know what is going to happen tomorrow. Life is a crazy ride, and nothing is guaranteed.― Eminem
4. Yesterday is not ours to recover, but tomorrow is ours to win or lose.― Lyndon B. Johnson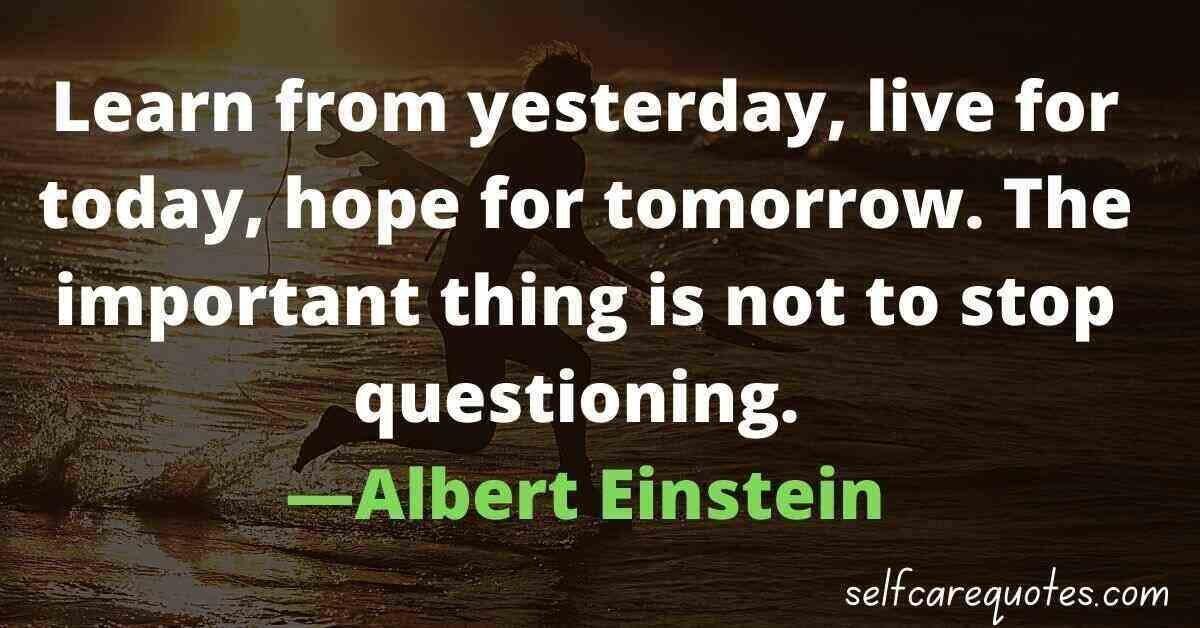 5. Learn from yesterday, live for today, hope for tomorrow. The important thing is not to stop questioning. ―Albert Einstein
6. You cannot escape the responsibility of tomorrow by evading it today. ―Abraham Lincoln
7. Yesterday's the past, tomorrow's the future, but today is a gift. That's why it's called the present.―Bil Keane
8. It is difficult to say what is impossible, for the dream of yesterday is the hope of today and the reality of tomorrow. ―Robert H. Goddard
9. Even if I knew that tomorrow the world would go to pieces, I would still plant my apple tree.― Martin Luther
10. Yesterday is history, tomorrow is a mystery, today is God's gift, that's why we call it the present. ―Joan Rivers
11. The science of today is the technology of tomorrow. ―Edward Teller
12. I am not afraid of tomorrow, for I have seen yesterday and I love today! ―William Allen White
13. Live as if you were to die tomorrow. Learn as if you were to live forever. ―Mahatma Gandhi
14. I am tomorrow, or some future day, what I establish today. I am today what I established yesterday or some previous day. ―James Joyce
15. I'm not perfect; I make mistakes all the time. All I can do is to try my best to learn from my mistakes, take responsibility for them, and do a better job tomorrow. ―Lana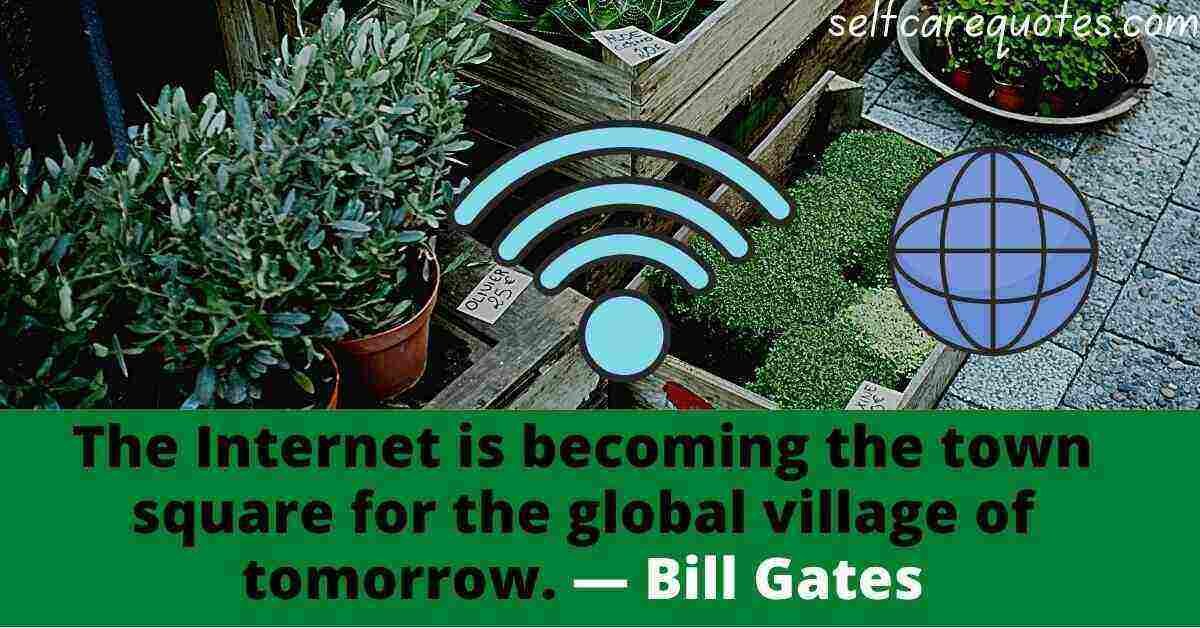 16. The Internet is becoming the town square for the global village of tomorrow.― Bill Gates
17. Today a reader, tomorrow a leader. ―Margaret Fuller
18. Never regret yesterday. Life is in you today and you make your tomorrow. ―L. Ron Hubbard
19. Remember, tomorrow is promised to no one. ―Walter Payton
20. When you wake up each morning, you can choose to be happy or choose to be sad. Unless some terrible catastrophe has occurred the night before, it is pretty much up to you. Tomorrow morning, when the sun shines through your window, choose to make it a happy day. ―Lynda Resnick
21. Light tomorrow with today! ―Elizabeth Barrett Browning
22. We crucify ourselves between two thieves: regret for yesterday and fear of tomorrow. ―Fulton Oursler
23. You never know the plan. You never know what's going to happen. We are not even promised tomorrow. I just try to focus on one day at a time. ―Morgan Wallen
24. Learning and innovation go hand in hand. The arrogance of success is to think that what you did yesterday will be sufficient for tomorrow.― William Pollard
25. Be thou the rainbow in the storms of life. The evening beam that smiles the clouds away, and tints tomorrow with prophetic ray. ―Lord Byron
26. Anxiety does not empty tomorrow of its sorrows, but only empties today of its strength. ―Charles Spurgeon
27. All we have is today. Just live it. We don't know about tomorrow. So, enjoy the day. Love yourself, and spread love around. ―Charlotte Rae
28. What a child can do in cooperation today, he can do alone tomorrow. ―Lev Vygotsky
29. Let us make our future now, and let us make our dreams tomorrow's reality. ―Malala Yousafzai
30. Tomorrow belongs to those who can hear it coming. ―David Bowie
31. I believe I can do anything. If I decide I want to be a doctor tomorrow, I'm going to be a doctor. ―Amy Jo Johnson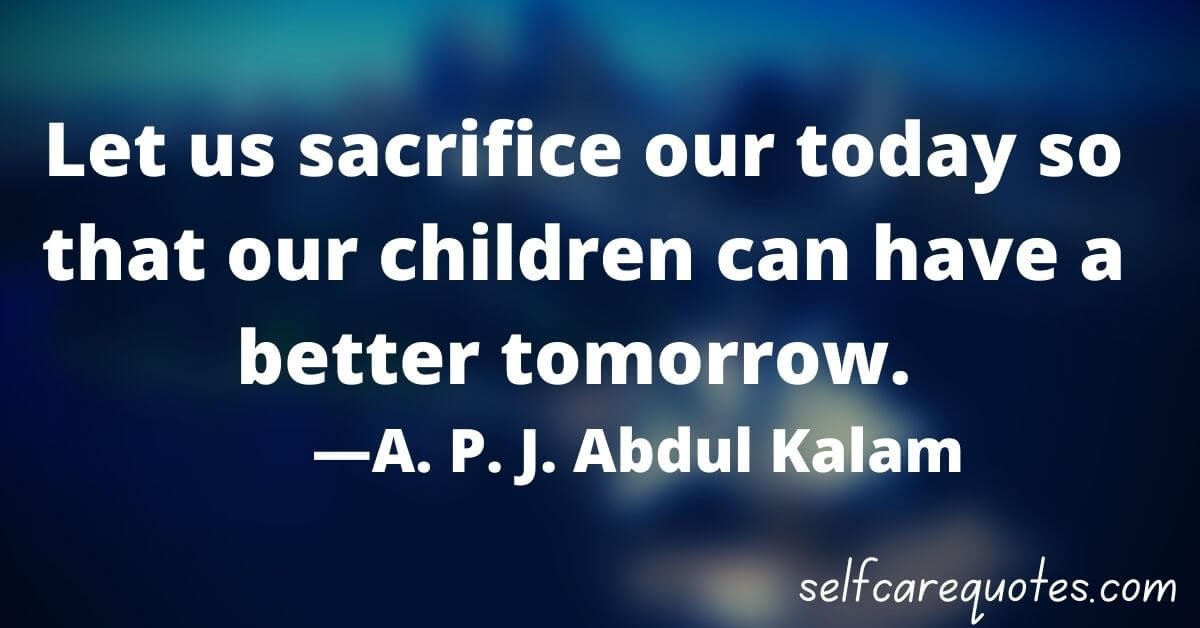 32. Let us sacrifice our today so that our children can have a better tomorrow. ―A. P. J. Abdul Kalam
33. Never leave that till tomorrow which you can do today. ―Benjamin Franklin
34. There is no medicine like hope, no incentive so great, and no tonic so powerful as expectation of something better tomorrow.― Orison Swett Marden
35. A good plan today is better than a perfect plan tomorrow. Don't wait for an inspired ending to come to mind. Work your way to the ending and see what comes up. ―Andy Weir
36. I, not events, have the power to make me happy or unhappy today. I can choose which it shall be. Yesterday is dead, tomorrow hasn't arrived yet. I have just one day, today, and I'm going to be happy in it. ―Groucho Marx
37. Gratitude makes sense of our past, brings peace for today, and creates a vision for tomorrow. ―Melody Beattie
38. Don't look too far into the future, just look at tomorrow. One day at a time. Can you win tomorrow? Can you make progress? The answer is yes, you have a choice and tomorrow you're going to win. ―Joe Wicks
39. Tomorrow doesn't exist, yesterday is gone. The more I remind myself of that, the stronger I feel. ―Liam Hemsworth
40. Let us dream of tomorrow where we can truly love from the soul, and know love as the ultimate truth at the heart of all creation. ―Michael Jackson
41. I draw the line in the dust and toss the gauntlet before the feet of tyranny, and I say segregation now, segregation tomorrow, segregation forever. ―George Wallace
42. Worry never robs tomorrow of its sorrow, it only saps today of its joy.― Leo Buscaglia
43. Many things we need can wait. The child cannot. Now is the time his bones are formed, his mind developed. To him we cannot say tomorrow, his name is today.― Gabriela Mistral
44. You can't have a better tomorrow if you are thinking about yesterday all the time. ―Charles Kettering
45. Never do today what you can do tomorrow. Something may occur to make you regret your premature action.― Aaron Burr
46. Life is fragile. We're not guaranteed a tomorrow so give it everything you've got.― Tim Cook
47. Make a difference today for someone who's fighting for their tomorrow. ―Jim Kelly
48. There can be neither today without yesterday nor tomorrow without today. ―Kim Jong-un
49. Yesterday is a cancelled check. Today is cash on the line. Tomorrow is a promissory note. ―Hank Stram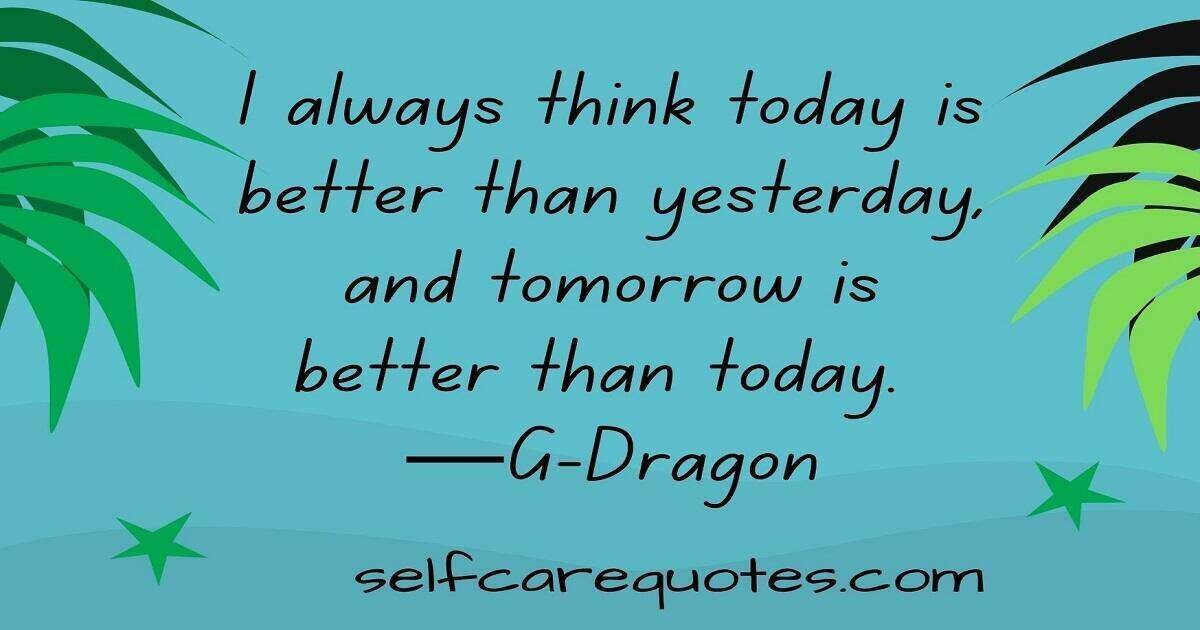 50. I always think today is better than yesterday, and tomorrow is better than today. ―G-Dragon
Tomorrow is the most important thing in life. Comes into us at midnight very clean. It's perfect when it arrives and it puts itself in our hands. It hopes we've learned something from yesterday. ―John Wayne
Know the true value of time; snatch, seize, and enjoy every moment of it. No idleness, no laziness, no procrastination: never put off till tomorrow what you can do today. ―Philip Stanhope, 4th Earl of Chesterfield
Tomorrow let us do or die! ―Thomas Campbell
The moment is everything. Don't think about tomorrow; don't think about yesterday: think about exactly what you're doing right now and live it and dance it and breath it and be it. ―Wendy Whelan
What's happened has happened, so what can we do to make it better for tomorrow and the day after? That's why we're here. ―Ian Botham
Tomorrow is always fresh, with no mistakes in it. ―Lucy Maud Montgomery
Do for this life as if you live forever, do for the afterlife as if you die tomorrow. ―Ali ibn Abi Talib
That the sun will not rise tomorrow is no less intelligible a proposition, and implies no more contradiction, than the affirmation, that it will rise. ―David Hume
The focus is what is right before you – to give it your best. It sows the seeds of tomorrow. ―Kiran Bedi
An economist is an expert who will know tomorrow why the things he predicted yesterday didn't happen today.― Laurence J. Peter
An economist is an expert who will know tomorrow why the things he predicted yesterday didn't happen today.― Laurence J. Peter
You've got to believe in the possibilities. You've got to believe that tomorrow can be better than today. And here's the big one. Believe in yourself. ―Jim Rohn
What tomorrow may bring quotes?
As I already told you that the main concern of people about tomorrow is the uncertainty of tomorrow. We always think about what tomorrow may bring to us. We search for a better tomorrow for us and also for our loved people. We want a safe and secure tomorrow. For that expectation, we start overthinking which is not good for us. But most of the scholars advise us to be passionate about tomorrow. We should not be too tense about our tomorrow. They told us to be positive and work hard today. They think that tomorrow is the result of today. That's why if you want a better tomorrow then work hard today.
Is tomorrow the future?
This is not a yes or no question. The answer to it will be more complex and psychological. That's why a good explanation is needed to answer this question. According to Wikipedia, tomorrow is "a temporal construct of the relative future". Some other people say that tomorrow is the counter to yesterday. That means we can not call tomorrow present or future. This is actually the start of the future and the end of the present. This is the connector of both present and future. So, we can not say tomorrow is the future, rather tomorrow is a form of future that connects with the present.
Funny Quotes About Tomorrow
Quotes are usually instructive, inspirational, motivational. But sometimes some quotes are funny for many reasons. Some quotes are funny because of subject matter, some quotes are famous for expression and some others are funny for their diction. Among these funny quotes, some are about tomorrow. These tomorrow-related quotes are funny for many reasons. Most of the time funny quotes about tomorrow are related to Monday. As Sunday is a public holiday, students and workers don't want Monday to come. For this reason, some people make fun of it. Besides funny Monday quotes, some other funny quotes are also famous.
Finally, tomorrow is not a part of our concrete life, it is a conception, thinking, and also a form of tension for some people and a dream for other people. Some people wait for tomorrow and other people try to escape from it. Some people don't worry about tomorrow because they know about the happy upcoming day. On the other hand, other people fear tomorrow. They know, nothing good is going to happen tomorrow with them. Tomorrow is different from person to person. But quotes about tomorrow are the same for all. These quotes try to teach them something new about tomorrow.